These easy to make Winter Cupcakes begin with a Raspberry Cupcake and topped with Vanilla Almond Icing. Learn how to make simple Snowmen Cupcakes, Snowflake Cupcakes and piled high "snow" cupcakes for fun Winter themed cupcakes.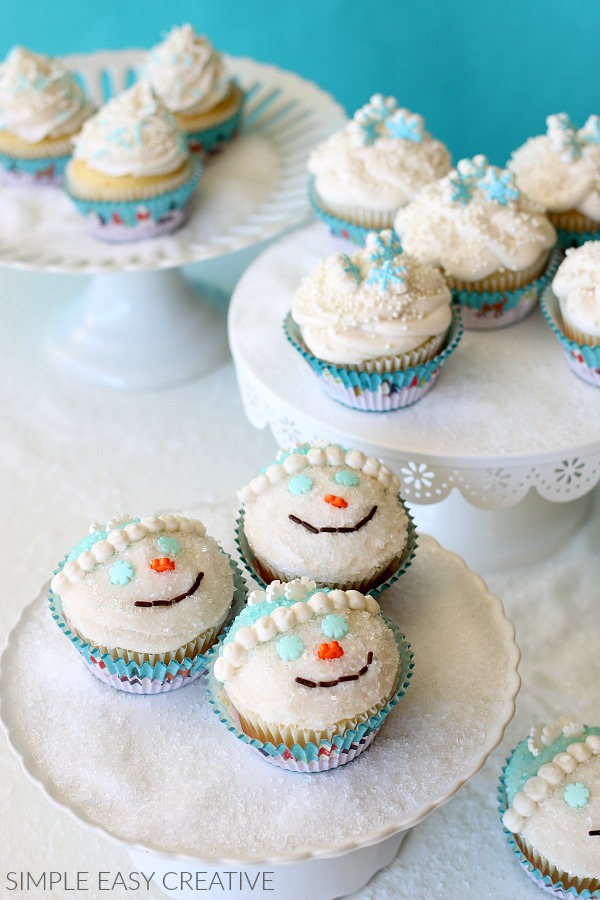 This post is brought to you by Wilton. As always, the opinions are my own. 
As we wind down after the holidays, sometimes the winter days can be long, especially if have you a lot of snow and cold weather where you live. Why not brighten up those winter days? These cupcakes are perfect for a snow day, Winter themed party, baby shower or even a birthday.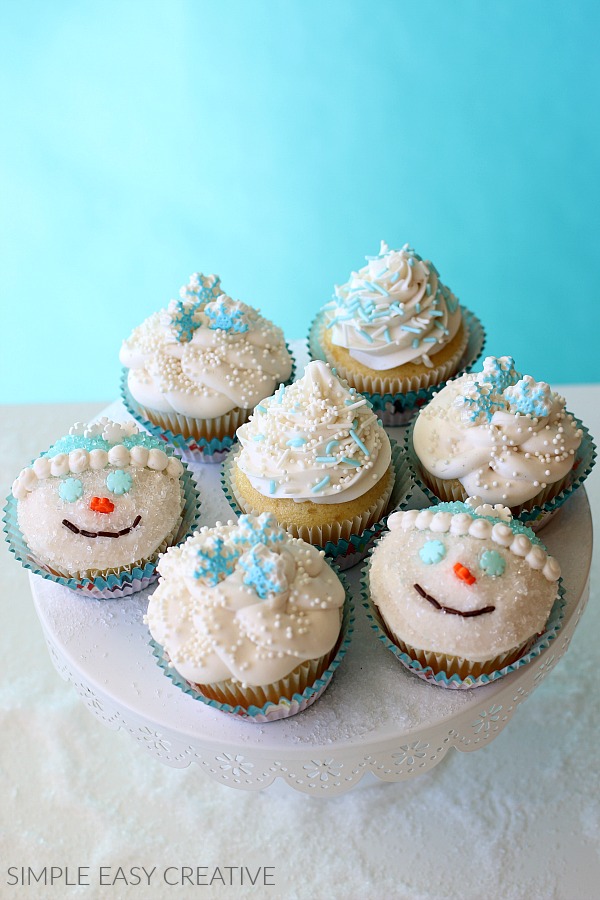 The kids will have so much fun helping you decorate these cupcakes. You know we like to keep things simple around here, so we started with a cake mix and added ingredients to make it taste more like homemade – 4 room temperature eggs, milk and oil. By adding the milk instead of water, it gives the cake a little richer taste, replace the amount of water on the instructions with milk. And add an extra egg. The oil will remain the same amount that the instructions call for.
After the cake batter is ready, it's time to add a little more flavor.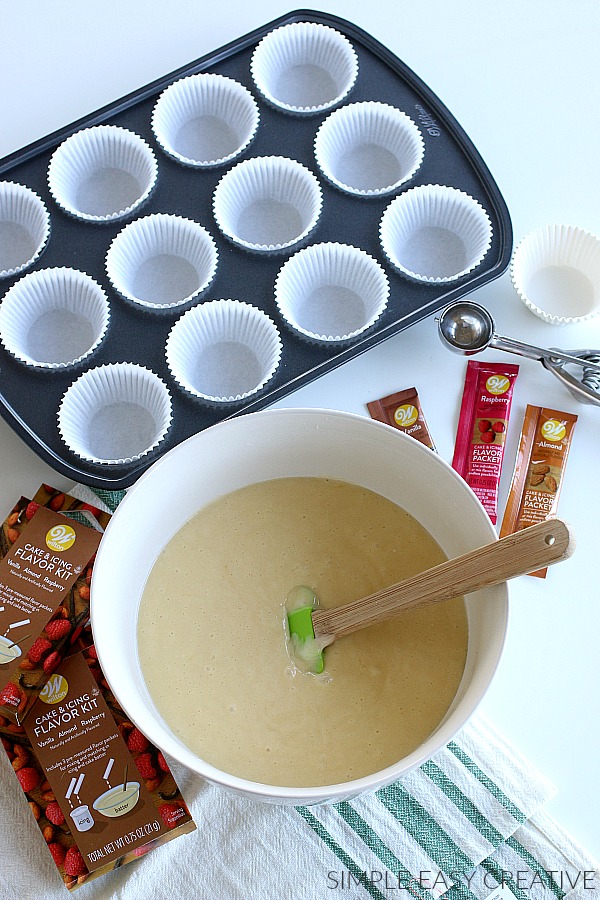 Adding flavor to the cupcake batter and frosting just got a lot easier. The Wilton Flavor Kits are specifically designed to be mixed into cake batter and icing, however you can also use them for a variety of baked goods like cheesecake or cookies, and even milkshakes.
To give these Winter Cupcakes extra flavor, I used the Vanilla, Almond and Raspberry Flavor Kit. The cupcakes are Raspberry and the frosting is Vanilla Almond.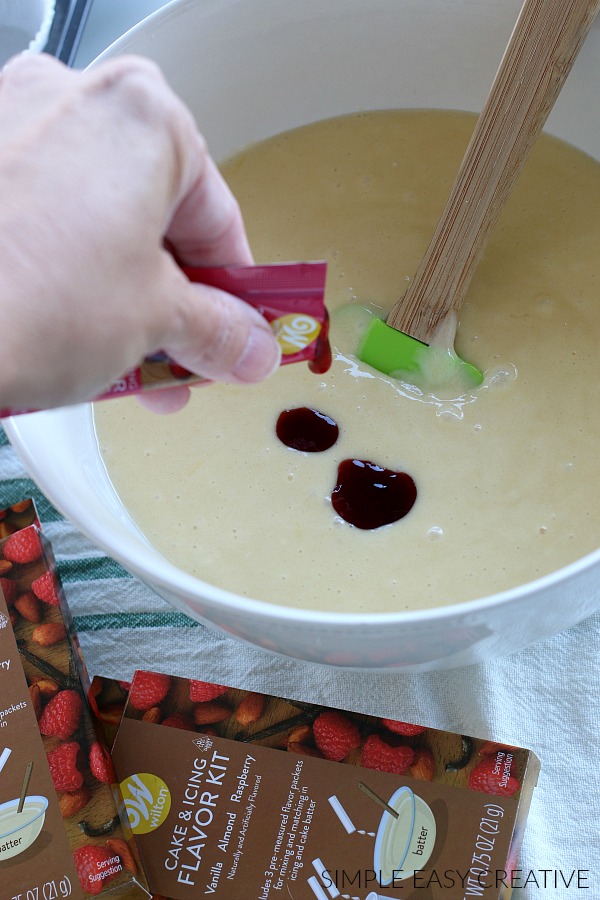 Each of the kits comes with three packets, one for the batter and two for the icing. Simply prepare the cake mix, and add the flavor packet. Wilton has six new tempting flavor kits to choose from – Coffee, Caramel and Mocha, Strawberry Blueberry and Raspberry, Lemon, Blueberry and Cream Cheese, Brown Sugar, Apple and Cinnamon, Brown Butter, Maple and Pecan and the one I used Vanilla, Almond and Raspberry. Or become a mixologist, mix and match the flavors to create your own new flavor combination.
Which flavor would you choose?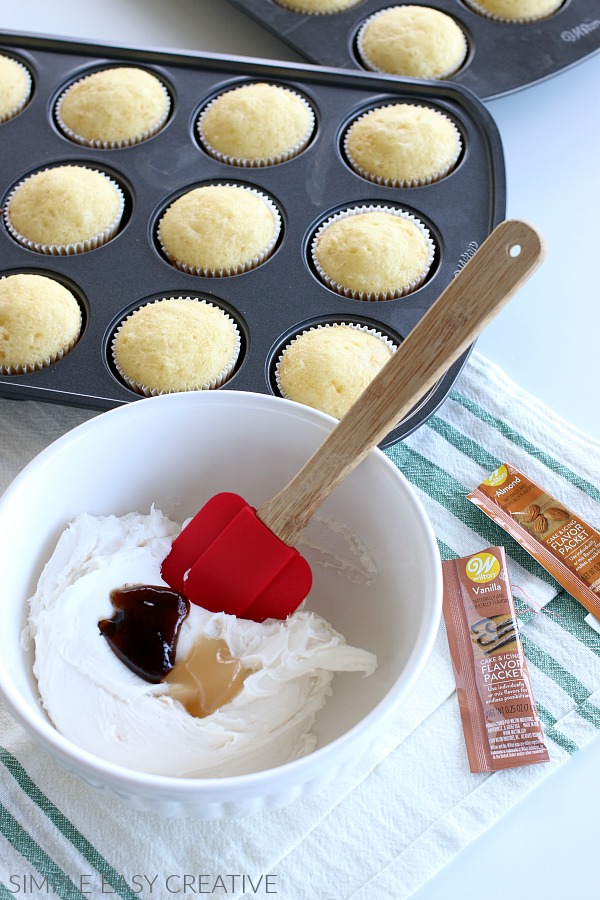 After the flavor packet is added, stir in the flavoring until well combined and divide the batter into cupcake lined muffin pan.
To flavor the frosting, I added the vanilla and almond packets to one can of Wilton Decorator Icing. I have used this frosting for decorating cupcakes for many years, it's my favorite because it has the perfect consistency to make a beautiful swirl on top of the cupcake, it holds up well and tastes good as well.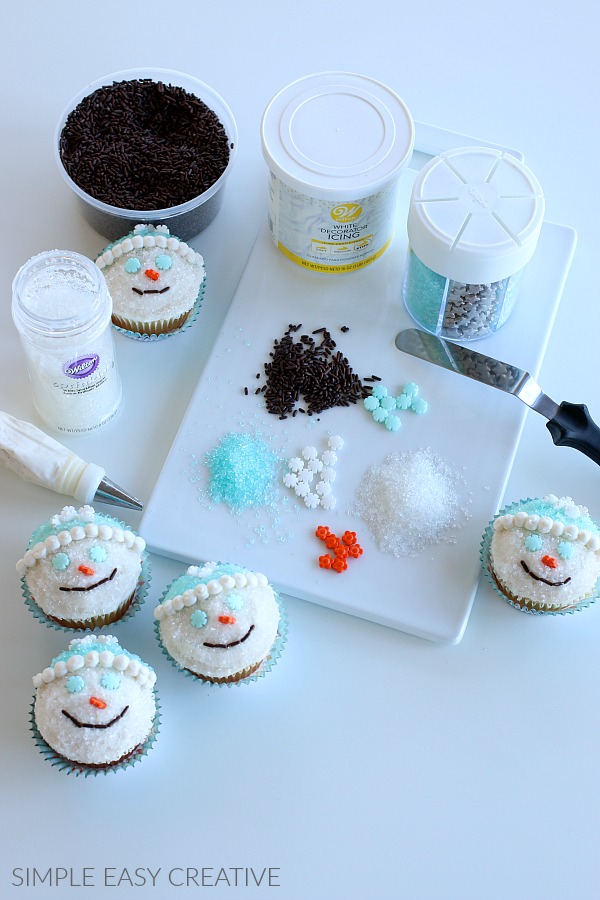 Now it's time to start decorating, let's begin with the Snowmen Cupcakes. Here is what you will need –
Snowmen Cupcakes
Cupcakes
Decorator Icing
Sprinkles – blue for the hat and snowflakes in blue and white
Daisy Sprinkles
Chocolate Jimmie Sprinkles
Tools
Decorator Tip #5
Offset Spatula
Toothpicks
Paper Plate
Instructions
Frost cupcakes with a good layer of frosting – you don't need a lot of frosting, but you want enough that it will taste good and so the decorations will stay.
Add white sparkling sugar sprinkles to 2/3 of cupcake
Add blue sprinkles to 1/3 of cupcake
Add eyes, nose and mouth
Fit decorating bag with tip and fill with small amount of frosting
Add line for hat
If the balls on the hat have a tip formed – flatten by dipping your finger in a little water and dab the tip down gently
Add the white snowflakes to the top of the hat
Baker's Tip #1: When working with sprinkles, it's easiest to work over a paper plate or tray, it makes the clean up a lot easier.
Baker's Tip #2: Using a spoon to add the sprinkles helps with the control
Baker's Tip #3: Use a toothpick or tweezers to place the sprinkles for the mouth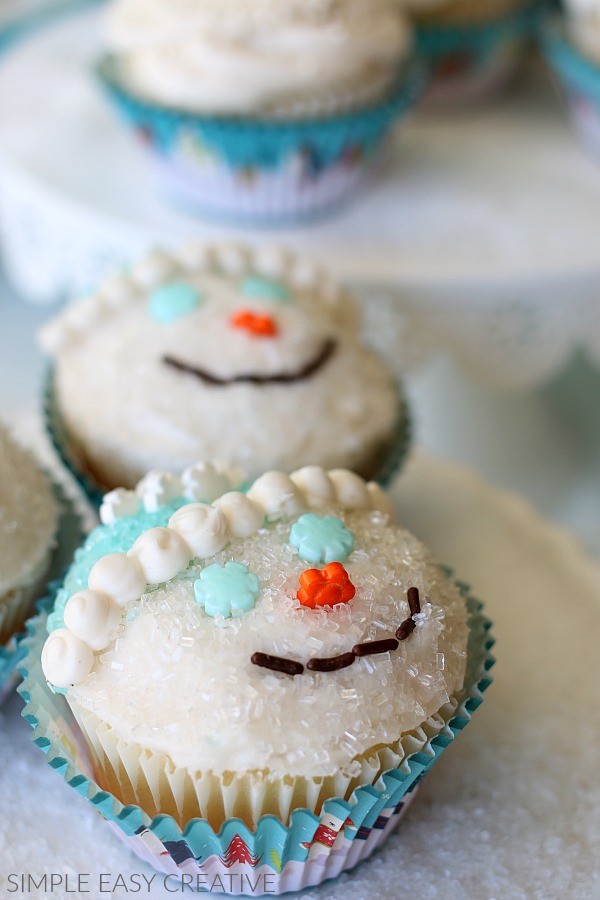 Snowmen Cupcakes are the best part of Winter! If I could have the snow without the cold, I'd be a happy girl.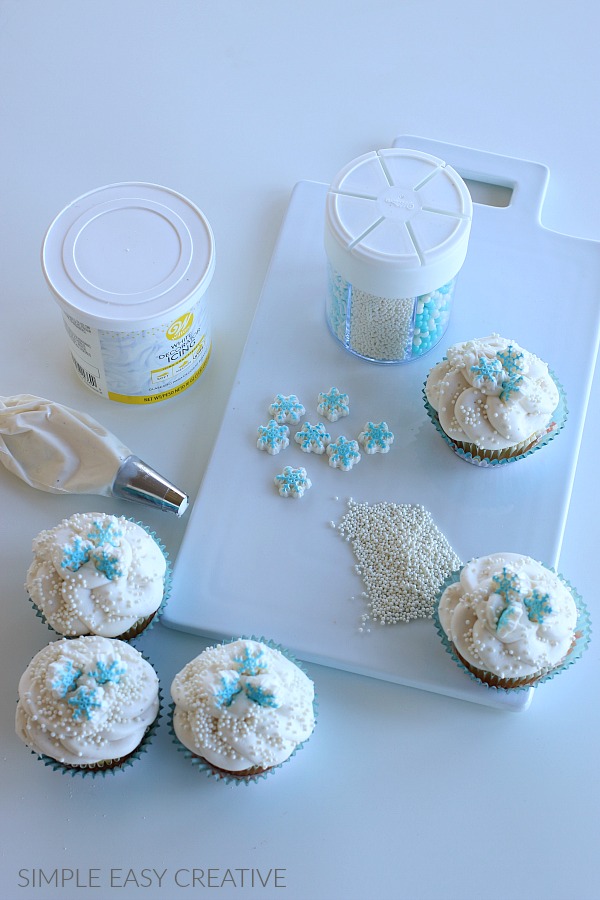 Next are these simple Snowflake Cupcakes. Here is what you will need –
Snowflake Cupcakes
Cupcakes
Decorator Icing
White Nonpariels
Candy Snowflakes
Tools
Instructions
Fit decorating bag with tip, add frosting
Swirl frosting onto cupcake in a circular motion to look like snow
Add white nonpariels
Add snowflakes
Baker's Tip #1: Instead of swirling the frosting, you could also add small "piles" of snow by adding dollops of frosting
Baker's Tip #2: Add sprinkles right after frosting, they stick better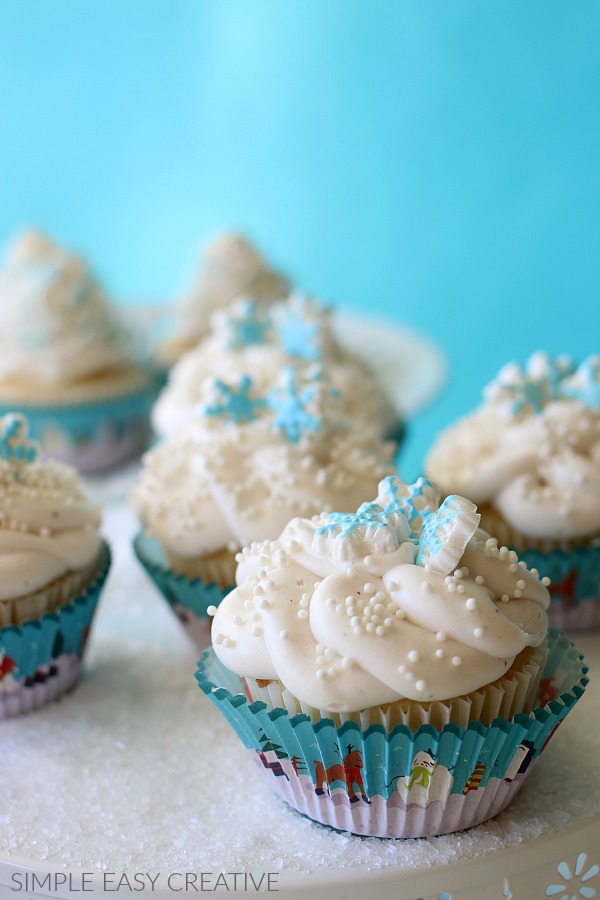 Did you notice the flecks of vanilla bean in the frosting? That's from the vanilla flavor packet from the kit.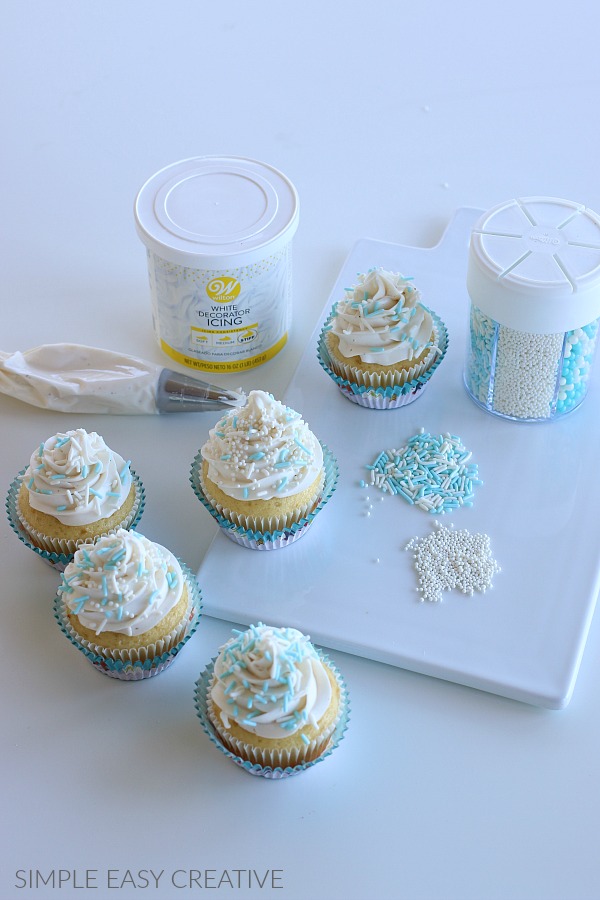 And last are the Winter Cupcakes. Here is what you will need –
Winter Cupcakes
Cupcakes
Decorator Icing
Sprinkles
White Nonpariels
Tools
Instructions
Fit decorating bag with tip, add frosting
Pipe frosting on for swirl
Add sprinkles
Add white nonpariels
Baker's Tip #1: To easily add the tip to the bag – drop the tip into the bag, push it to the bottom as far as it will go, then using scissors, cut the bag to expose the tip
Baker's Tip #2: For a good swirl, add 3-4 circles, for a tall swirl, add more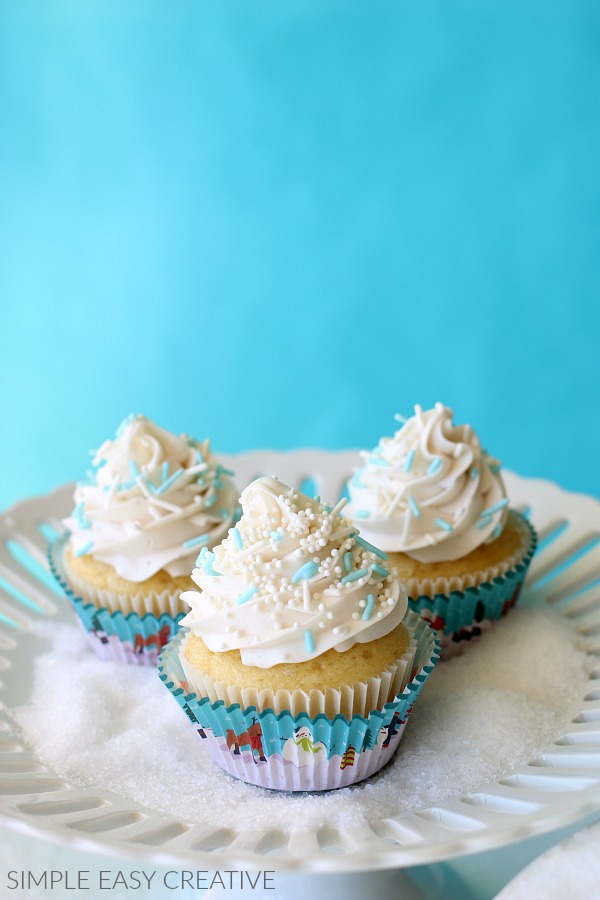 The cupcakes were baked in white liners, and then for a fun touch, the Snowman and Friends Cupcake Liners were added.