Chocolate Caramel Nut Bars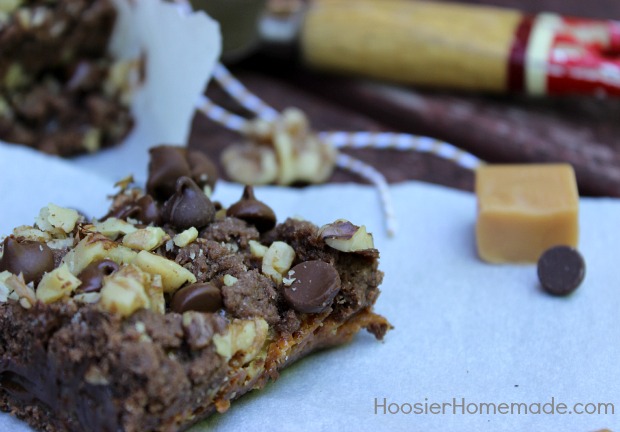 What do you get when you combine a German Chocolate Cake, Caramels, Chocolate Chips and Nuts? Pure deliciousness, that will have the family begging for you to bake them again and again!
Sandwiched between soft layers of chocolate cake is more chocolate, nuts and ooey gooey caramel in these Chocolate Caramel Nut Bars. The boys all gave them two thumbs up, and then quickly returned for another try.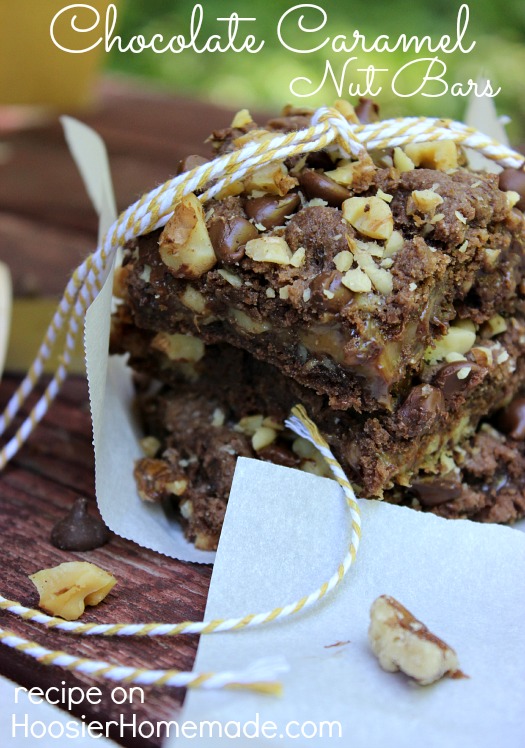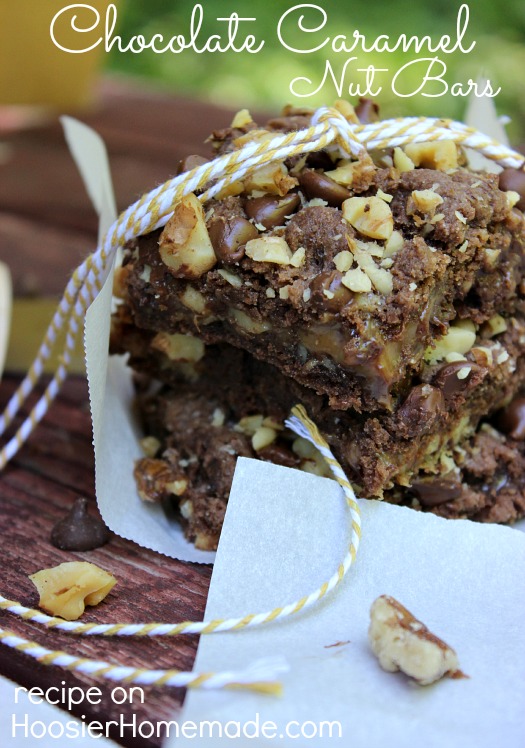 Aside from a quick no bake dessert, bar cookies are my favorite treats to serve. They go together in a snap, and you have usually 25 or 30 servings per recipe. Add these to the other Desserts for Picnics, Potlucks and Memorial Day celebration, that I shared and you have quite the long list of treats to choose from.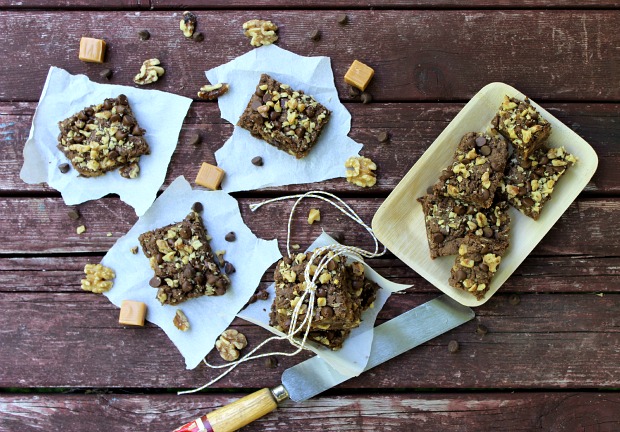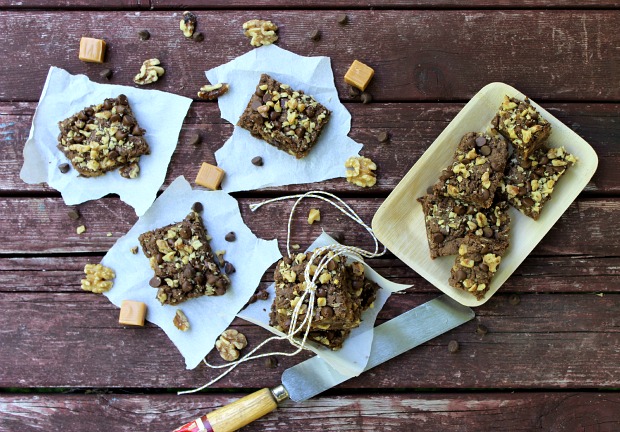 With only 6 ingredients in these Chocolate Caramel Nut Bars, you can hardly go wrong! Not to mention they are delicious! Beginning with a German Chocolate Cake Mix, layers of chocolate, caramel and nuts and added for a wonderfully easy bar cookie.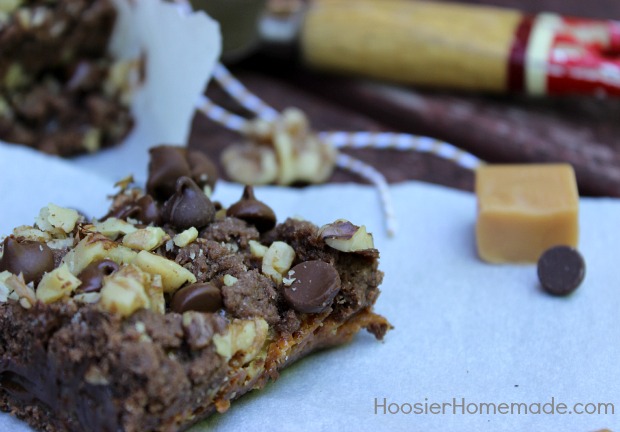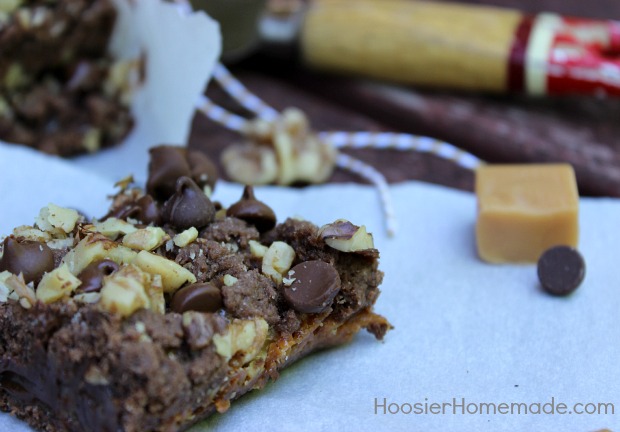 These cookies are easy enough for a weeknight, yet special enough to take to a party, cookout, holiday celebration.
Love Bar Cookies? Here are 6 of my favorites…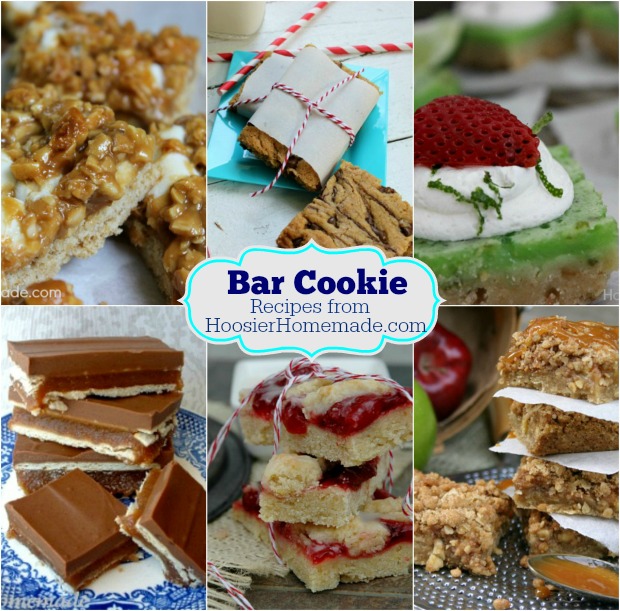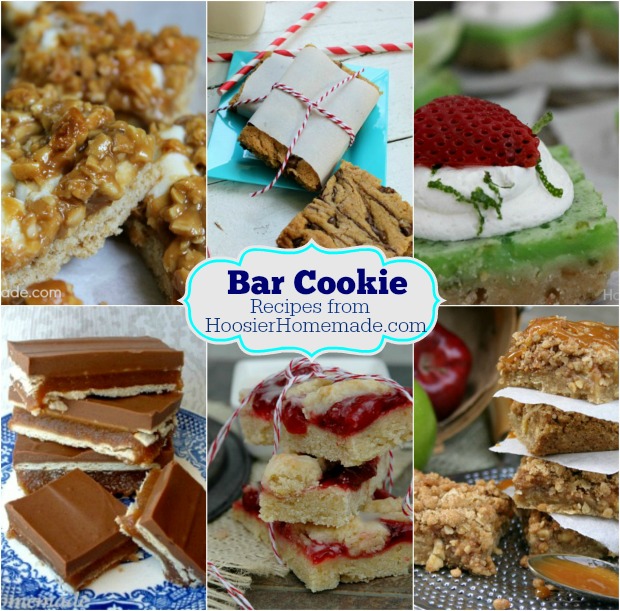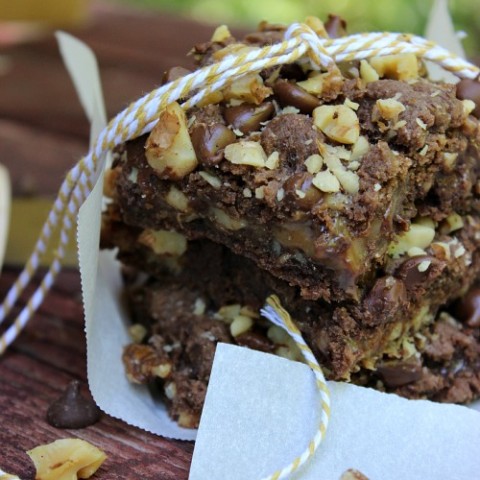 Chocolate Caramel Nut Bars
Chocolate Chips, Nuts and Ooey Gooey Caramel sandwiched between layers of German Chocolate Cake. Recipe from HoosierHomemade.com
Ingredients
1 bag (14 oz) caramels - I used 1 bag (11 oz) + 10 more caramels
1 can (5 oz) evaporated milk, divided
1 German Chocolate Cake mix with pudding in the mix
1/2 cup (1 stick) butter, melted
1 1/2 cups Fisher Walnuts, divided
1 cup chocolate chips, divided
Instructions
Combine caramels and 1/3 cup evaporated milk in a small saucepan and cook over low heat until completely melted, stirring frequently, remove from heat and set aside
Chop nuts and set aside
Preheat oven to 350 degrees and spray a 13x9 baking dish with cooking spray
In a large bowl, combine cake mix, butter and remaining milk, until combined well. Batter will be very thick and cookie dough consistency.
Press 1/2 of dough into baking dish evenly and bake for 10 minutes at 350 degrees
Remove from oven and sprinkle with 1 cup nuts and 1/2 cup chocolate chips
Spread caramel mixture evenly over top, using an offset spatula to help spread to the edges
Crumble remaining cake batter evenly over the caramel and carefully press into caramel
Sprinkle with remaining nuts and chocolate chips
Bake for 18 minutes or until golden brown
Cool and cut into rectangles
Store leftovers in fridge, serve at room temp