Caramel Cashew Bar Cookies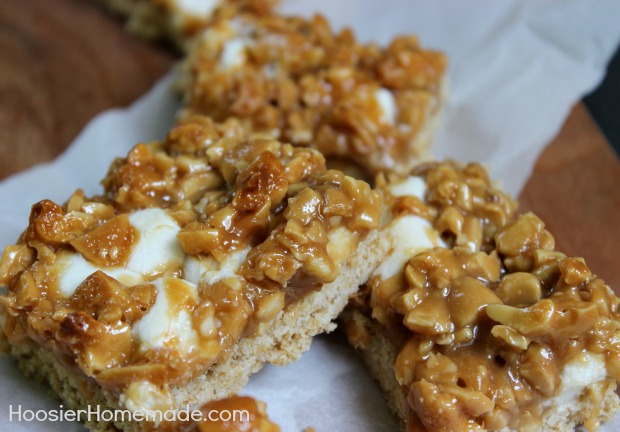 I have often confessed my love for bar cookies to you. They are easy to make, easy to transport, easy to serve at a party or potluck, easy to give as gifts and certainly easy to eat. We all love easy – right?
Well today I have the most delicious recipe for you that combines all of those easy things into one sweet treat. These Caramel Cashew Bar Cookies start with a cookie crust made with only 3 ingredients – cake mix, butter and an egg. Then topped with mini marshmallows and melted caramel with cashews mixed in.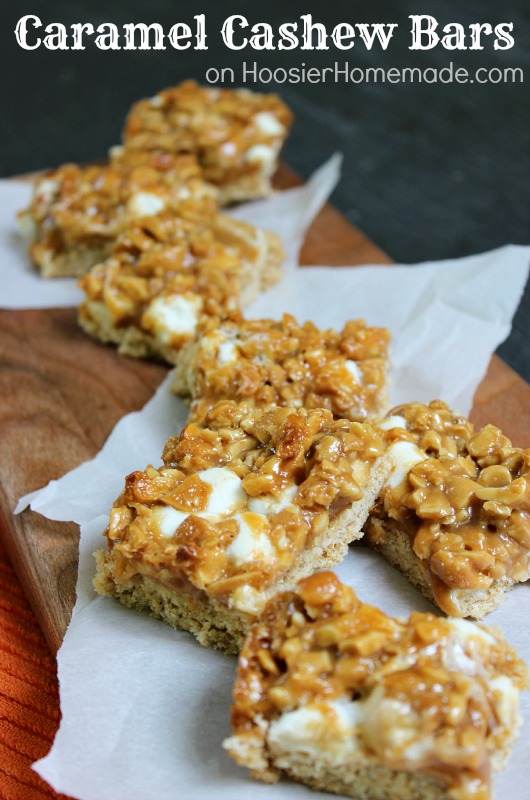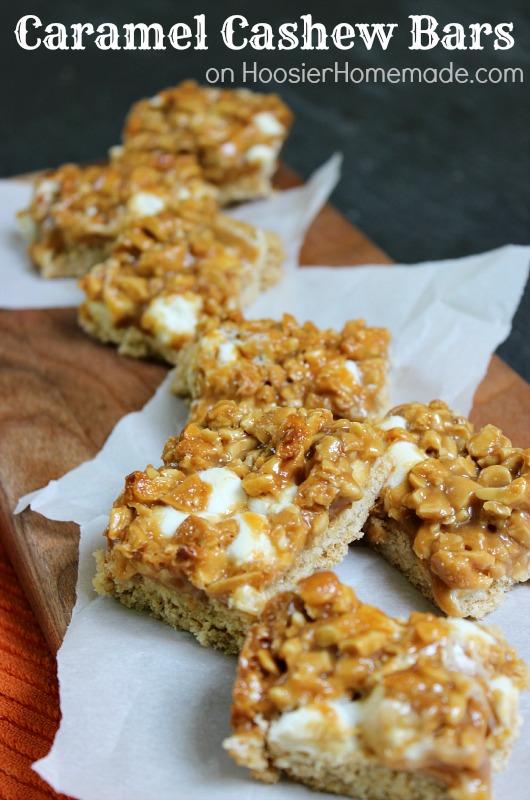 With Labor Day right around the corner, you are sure to be the hit of the cook out when you share these bar cookies. These little gems are truly the best cookie I have tried in awhile.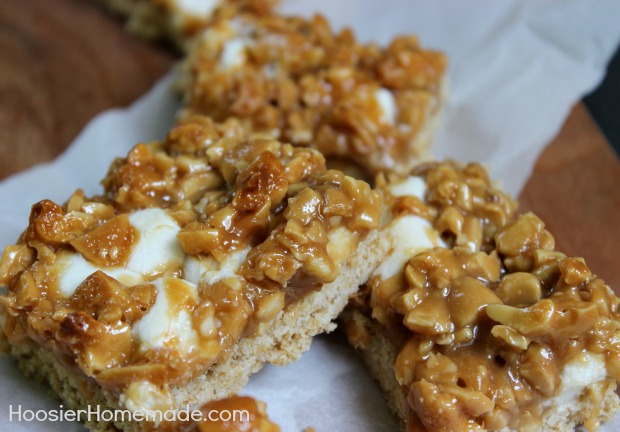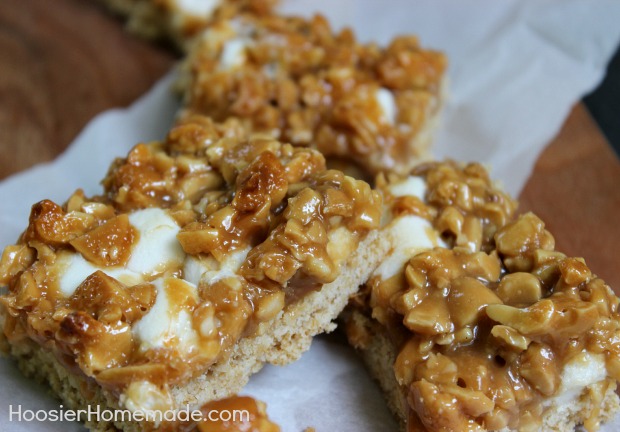 The original recipe started with a shortbread cookie crust, but to simplify the recipe and also make them a little softer, I decided to make the cookie crust like I used on the Peanut Butter Cup Bar Cookies.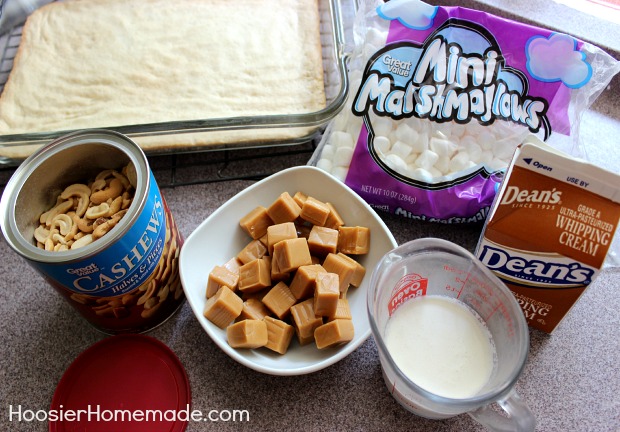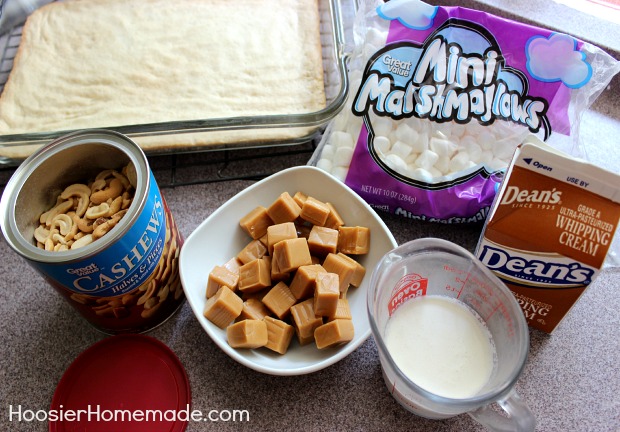 After baking the crust, you will need cashews, mini marshmallows, caramels and whipping cream. I found all the simple ingredients at Walmart. Cashews can be pricey, but the Great Value brand at Walmart are just over $5 for the container.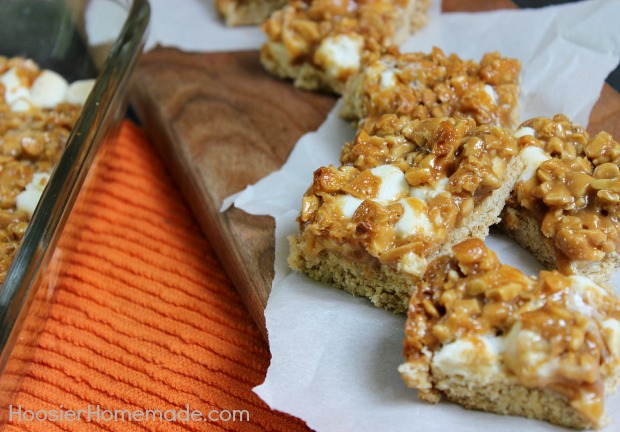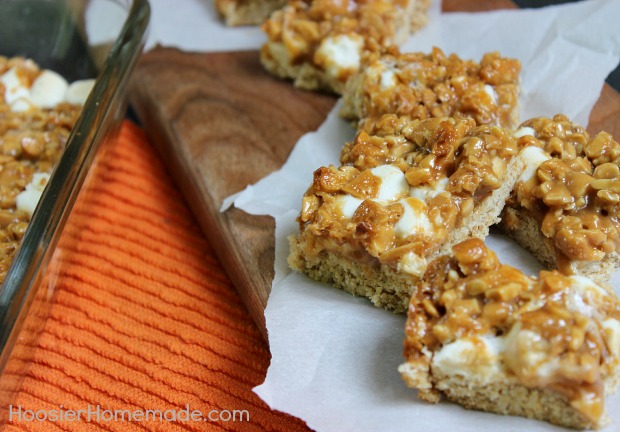 Perfect for your Labor Day celebration! Wouldn't you say?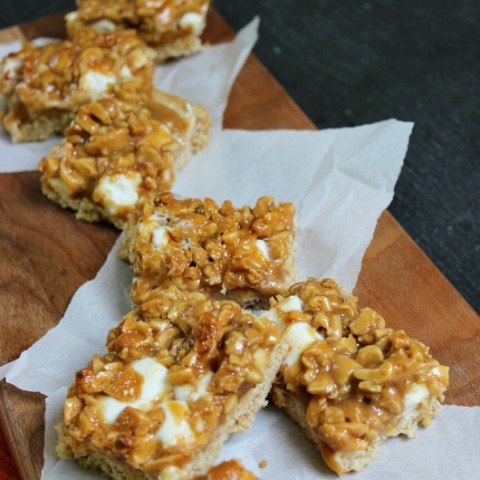 Caramel Cashew Bar Cookies
Easy and delicious bar cookie. Perfect for any occasion. Recipe from HoosierHomemade.com
Ingredients
Crust
1 white cake mix
1/3 cup butter, melted
1 egg
Topping
2 cups mini marshmallows
36 caramels (11 oz bag) caramels, unwrapped
1/2 cup whipping cream
2 cups cashews or peanuts, chopped coarsely
Instructions
Preheat oven to 350 degrees and coat a 13x9 pan with cooking spray
In a large bowl, combine the ingredients for the crust. The dough will be very thick.
Press into the pan evenly and bake at 350 degrees for 15-17 minutes or until golden brown.
Let cool.
While the crust is cooling, combine the caramels and whipping cream in a medium pan on the stove. Heat over medium-low heat until completely melted
Add cashews and mix well
Sprinkle marshmallows over crust and top with caramel mixture
Return to oven bake for 8-10 minutes or until bubbly around the edges
Cool completely and cut into bars
Notes
To store, layer bars between sheets of wax paper. Store at room temperature up to 3 days or freeze up to 3 months.