Run…run as fast as you can…and grab the ingredients for these Caramel Apple Nut Bars! But, be prepared to share them with your friends, neighbors, co-workers, family…anyone, because if you don't…you will eat the whole pan full! Trust me…they are THAT good!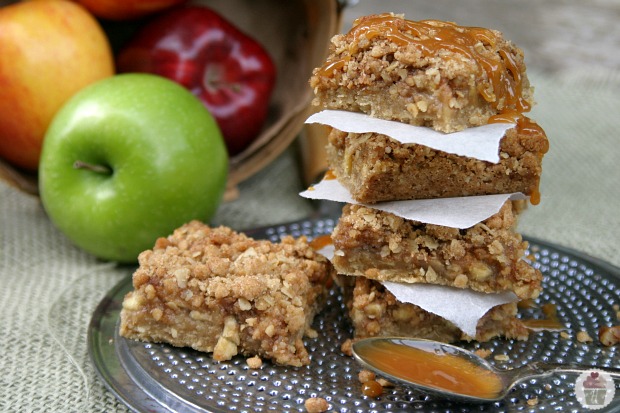 Like most bar cookies, these Caramel Apple Nut Bars are easy to put together and easy to serve. They start with a partially baked crust, topped with chopped apples, nuts and caramel topping, then more crust.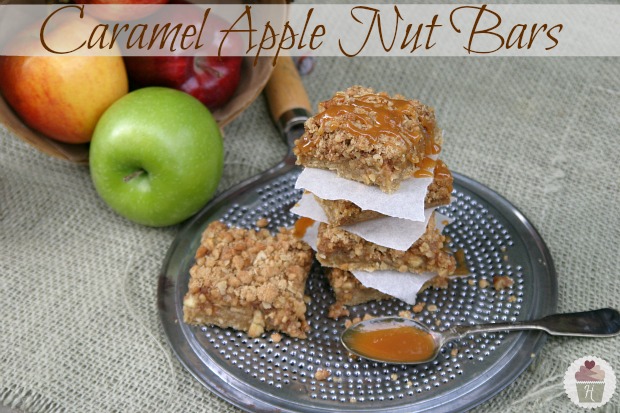 Apple season is early this year around here. The orchards already have some varieties gone. I think it's because of the crazy weather we had in the Spring. But I'm not complaining, any excuse that I have to bake with apples is fine by me. Did you see the Caramel Apple Nut Cupcakes I made last Friday? They are frosted with a fluffy Marshmallow frosting…Yum!
Oh and the Homemade Apple Cinnamon Marshmallows…oh my! You MUST try them!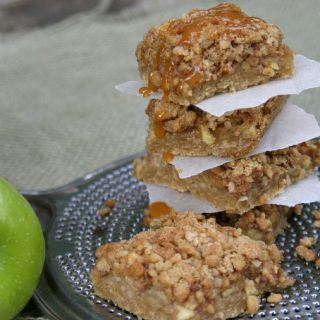 Caramel Apple Nut Bars
Soft, delicious bar cookie with a burst of apples, oats and cinnamon. A perfect Fall treat! Recipe from HoosierHomemade.com. Adapted from Betty Crocker
Ingredients
Crust
2 cups flour, all-purpose
2 cup quick cooking oats
1 1/2 cups brown sugar, packed
1 teaspoon soda
1/2 teaspoon salt
1 teaspoon cinnamon
1 1/2 cups butter or margarine, softened
Filling
1 cup apple, peeled and chopped finely
1/2 cup nuts, chopped
1/2 cup caramel topping
3 tablespoons flour
Instructions
Preheat oven to 350 degrees and spray a 13x9 baking dish with non-stick spray
In a medium bowl, stir together ingredients for crust except butter. Softened butter and mix into dry ingredients until well combined.
Press about 3 cups of the crust mixture into the bottom of the baking dish. Bake for 10-12 minutes.
Meanwhile, combine the caramel topping and flour in the small bowl and set aside.
Chop the apples and nuts
Pull the partially baked crust from the oven, sprinkle with apples and nuts
Drizzle with caramel topping mixture and top with remaining crust
Bake for 20-25 minutes or until golden brown
Cool completely
Serve with a drizzle of caramel topping or ice cream and more caramel topping
Notes
Like this recipe? Add it to your personal recipe box to make later or add the ingredients to your online shopping list to make it this week. Just click the blue Save Recipe button to get started.
Do you love to bake? Check out my Fall Baking Pinterest Board for more delicious recipes!
Linking to…Show & Tell Friday, Weekend Wrap Up Party, Sundae Scoop Party, Saturday Sevens, Ingredient Spotlight