Fall Cupcakes: How to make Candy Acorns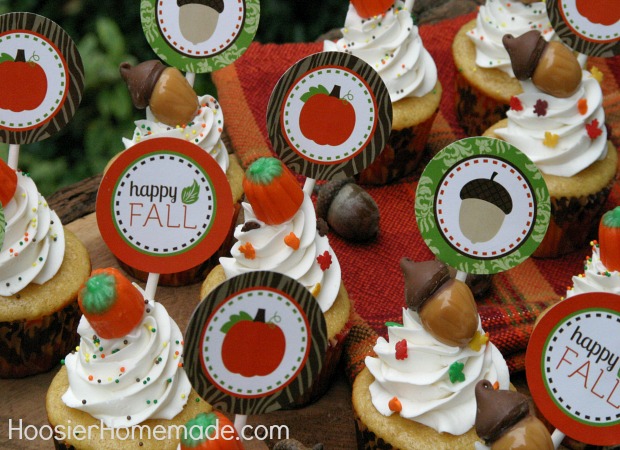 Pumpkin – Apple – Spice – are you ready to start baking with all the wonderful Fall flavors? I am. These Fall Cupcakes are simply adorable. The Candy Acorns only take 2 ingredients and can be made in just a few minutes. And I have a bonus for you – FREE Fall Cupcake Toppers!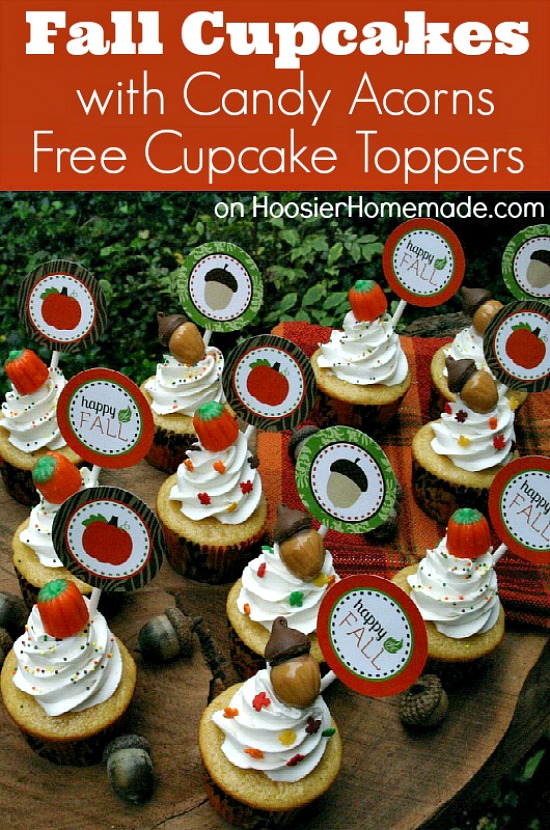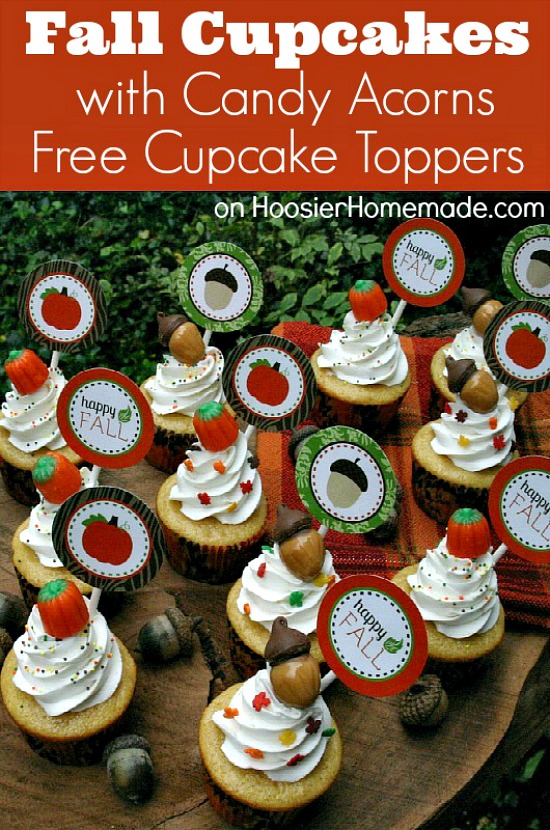 Happy Cupcake Tuesday! I'm so excited you are here! Looking for a cupcake recipe? Be sure to check out the Cupcake Heaven page, there are over 250 cupcake recipes and decorating ideas!
These fun Fall Cupcakes have three different elements to them – 1) the cupcakes are Snickerdoodle, you can grab the recipe for them or make your favorite, 2) the Printable Cupcake Toppers – more on those below and 3) the Candy Acorns.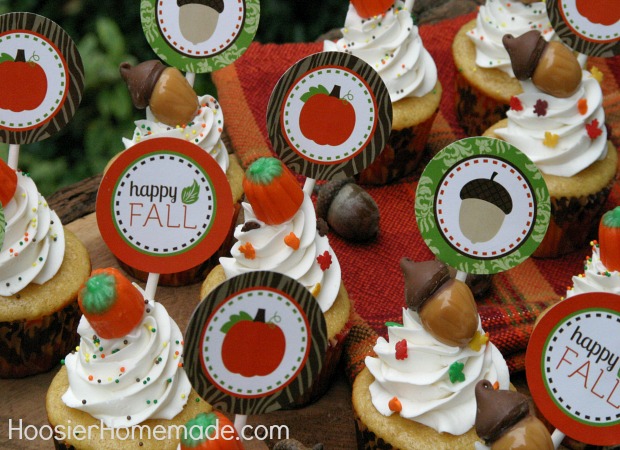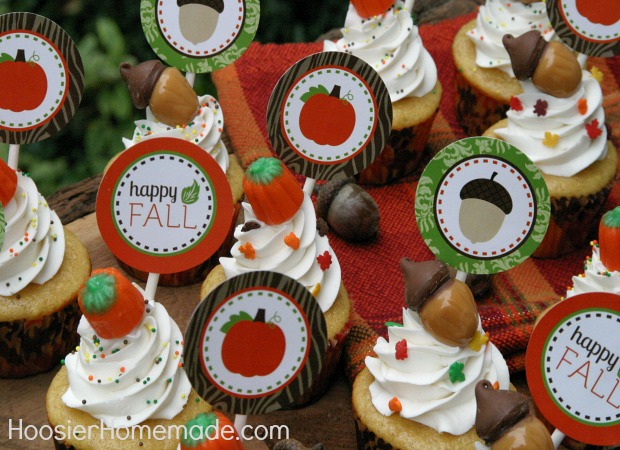 The Candy Acorns are of course great on top of cupcakes, but you can also put them on top of cookies, brownies or even put them in a bag for a fun treat for a Fall Party.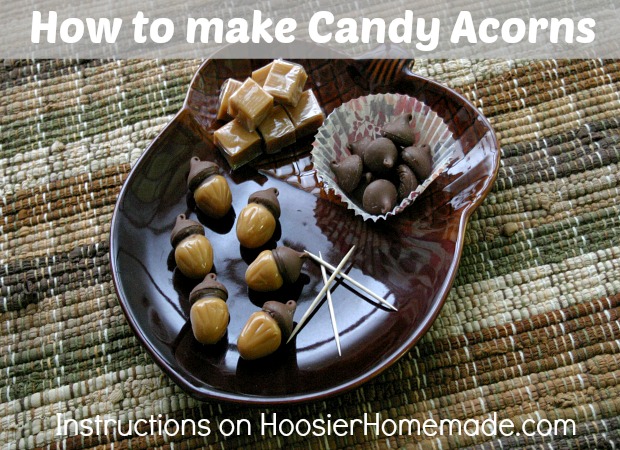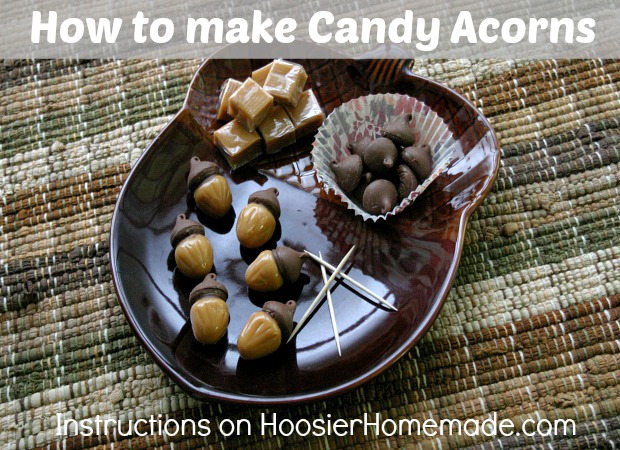 Acorn Supplies:
Caramels
Chocolate Kisses – these are a little smaller than the regular Hershey Kiss, I found them at Albanese Candy Store, but you could use the regular size as well
Small amount of melted chocolate
Toothpicks
Instructions:
Unwrap caramel and heat in microwave only 4-5 seconds. Be careful they may be hot!
Roll caramel into a ball, then form into a slight cone shape
Melt chocolate in microwave
Dip end of caramel in chocolate and attach to the bottom of the chocolate kiss, mold a little if needed
Using the side of a toothpick, make a few random marks to give the acorn a little dimension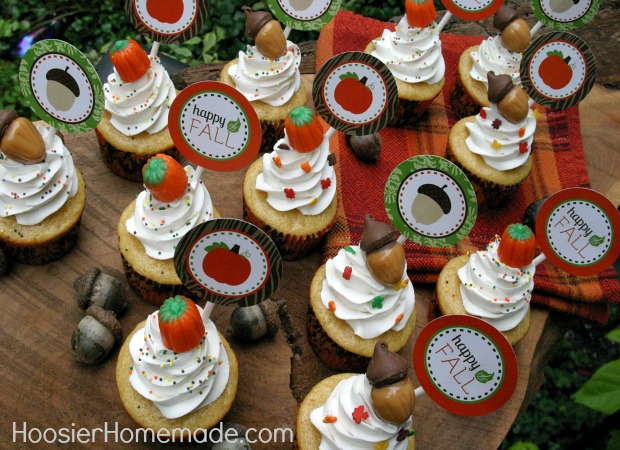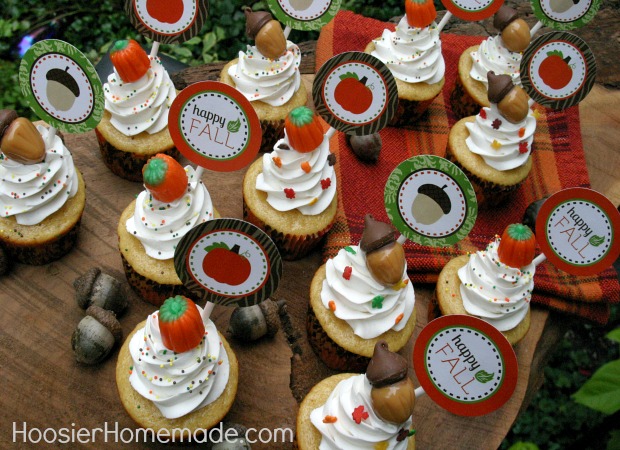 Printable Fall Cupcake Toppers