Well, here we are again, another week gone by, just as fast as ever! My week was crazy, busy with the Back to School Giveaway Bonanza.(4 of the giveaways are still open, Hurry!) I hope you all enjoyed it! I did, but am really glad to be back to my regular posting and sharing yummy recipes and my home with you!
I typically share a Main Dish with you and our Menu Plan, but since these Blueberry Muffins go so well with breakfast, I thought you might like them.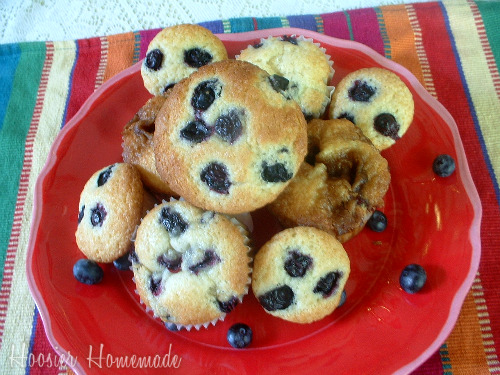 I baked them in regular size, plain and some with cinnamon streusel topping, and also some mini size. My youngest, likes them better in the mini size. It's the exact same recipe, but for some reason, he says they taste different. And of course, I don't mind baking them different sizes. I have shared these before, but it's been over a year, so I thought you might like to have the recipe again. Plus, my camera skills have gotten a little better.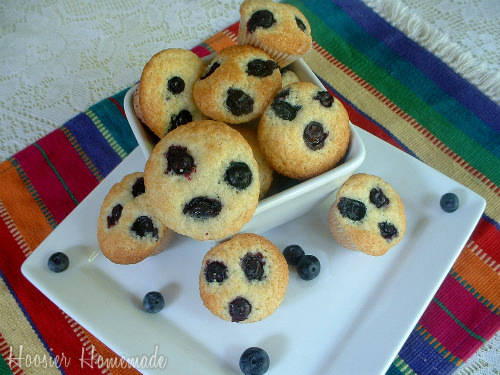 Ingredients
1 1/2 cup flour
3/4 cup sugar
1/2 teaspoon salt
2 teaspoons baking powder
1/3 cup oil
1 egg, beaten
1/3 cup milk
1 cup blueberries, fresh or frozen are fine
Instructions
Preheat oven to 400 degrees. Place liners in muffin tins, set aside
Whisk together dry ingredients
Pour oil into 1 cup measuring cup, beat egg and add to cup, fill with enough milk to measure 1 cup, beat until mixed well
Add to dry ingredients
Combine, just until all ingredients are incorporated, don't overmix
Place washed berries in a bowl
Add a pinch of flour
Coat berries with flour, I do this so the berries don't sink to the bottom of the muffin
Add to muffin mixture
Fold berries in gently
Fill liners about 2/3 full. Bake for about 15-20 minutes depending on the size. For the minis, I baked them about 10 minutes.
http://hoosierhomemade.com/blueberry-muffins-and-our-menu-plan/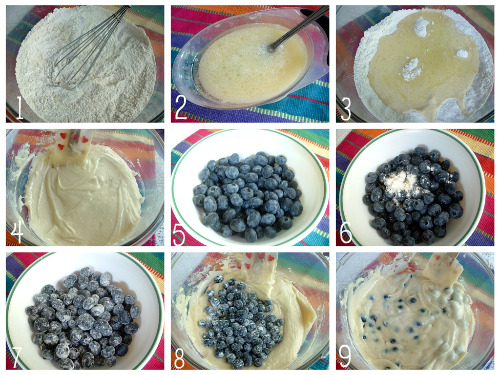 Here is Our Menu Plan for the rest of the week…
Monday ~ Quick and Easy Taco Salad (The Little Brown House), Taco Dip
Tuesday ~ Creamy Chicken Taquitos (Let's Dish) and Brown Rice
Wednesday ~ Back to school!! Special Dinner and Back to School Cupcakes
Thursday ~ Mostacolli, Garlic Bread and Salad
Friday ~ Pizza Rolls (A little bit of Everything) and Salad
Saturday ~ Burgers, Corn on the Cob, Fried Zucchini
Sunday ~ Appetizers – Cheesy Bacon Crescents, Sausage Cheese Balls, and Fruit Tray (these never got made last week)
Are you looking for some great recipes to use up that garden harvest? The Harvest Party is going on right now over at Blog Party. Add your recipe or grab one to try!
I'm linking to the Blog Parties in my footer, please visit them! You might just find one or two that are new to you!