Weekly Menu Plan~Chinese Chicken Salad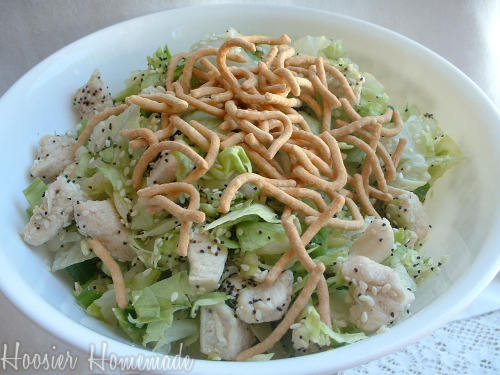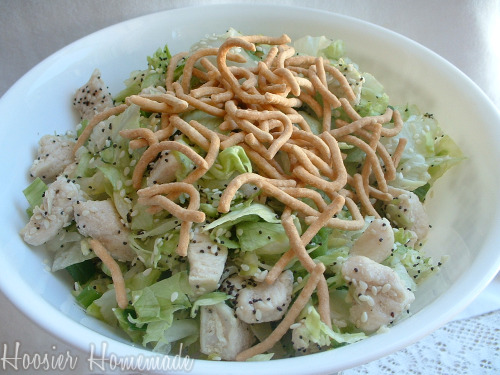 Wow! What a week I had last week! Did you enjoy the Dads Rock Giveaway Bash? You can still enter, thru midnight tonight (Monday). I'm just thrilled with the response from everyone.
And…I launched It's A Blog Party! I host a different linky party everyday, so be sure to link up your Crafts, DIY projects, Food, Wordless Wednesday or Photography, Decorating, Deals, Favorites and Gardening!
Most of last week's menu plan went pretty well, considering how busy I was. We missed a couple of the planned meals, because I was simply too tired to cook, but it all turned out fine.
Today I'm sharing a wonderful Chinese Chicken Salad recipe. It's a favorite of ours and great to have during the heat of the summer. I served it during our Graduation Party for Andrew last Sunday, and it was once again, a hit with all.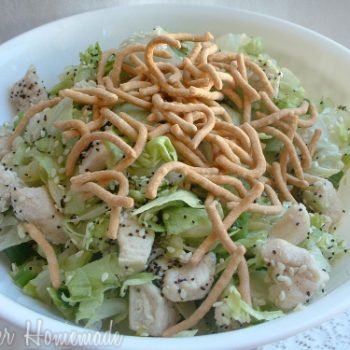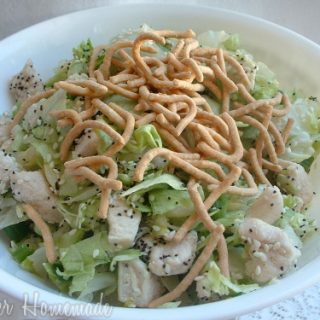 Chinese Chicken Salad
A favorite summertime salad from HoosierHomemade.com: Chinese Chicken Salad
Ingredients
Salad
1 head lettuce, torn
3-4 chicken breasts, cooked and cut into bize sized pieces (you can also use left over chicken or even a store-bought rotisserie chicken)
3 green onions, cut small
1 small can Chow Mein noodles
1 small package slivered almonds
1/4 cup sesame seeds
1 tablespoon poppy seeds
Dressing
3 tablespoons sugar
3 teaspoons salt
1/2 teaspoon pepper
4 tablespoons vinegar
1 1/2 cup oil
Instructions
Combine lettuce, chicken and onions, chill.
Mix and chill dressing ingredients.
Add noodles, seeds and almonds, right before serving.
Notes
I mix the dressing in a pourable container. And if I'm not feeding a huge crowd and think the salad will get eaten in one day, I serve the noodles and dressing on the side. That way, the salad doesn't get soggy. This is also a great Make-Ahead Salad.
Here is what we are having this week…
Monday ~ Fettuccini Alfredo, Parmesan Knots, Salad
Tuesday ~ Sloppy Joes, Veggies and Dip
Wednesday ~ Tex Mex Chicken Skillet
Thursday ~ Chef Salad
Friday ~ Bacon Cheeseburger Buns (think I'll use Crescent Rolls though), Roasted Potatoes
Saturday ~ Out of Town
Sunday ~ Out of Town
Be sure to enter the Dads Rock Giveaways! I will also be hosting a couple giveaways this week on Blog Party!
And tomorrow is Cupcake Tuesday! I'll be sharing some fun Father's Day Cupcakes!
I'm linking to the Blog Parties in my footer, please visit them! You might just find one or two that are new to you!