Weekly Menu Plan ~ Cheesy Pasta, Ham & Peas
Our dinner time was a breeze last week, mostly due to my Make-Ahead Meal Cooking Day. If you missed out, let me catch up you a bit. I reviewed the Make-Ahead Meals for Busy Moms cookbook, and created a week's worth of meals, the grocery list and the recipes. Last Monday, I prepared and cooked our meals for the week. It was alot of work, but went really well. We have had all but one of the meals and loved every one of them.
One of the dinners I fixed was the Cheesy Pasta, Ham & Peas. The recipe even made enough for 2 meals, which was even better. I cooked a Spiral Ham that I had bought on sale at Aldi's, they had them a couple weeks ago for $5 off, it cost $7.15 and we got 4 meals out of it. One night we had sliced ham, the 2 Cheesy Pasta, Ham & Peas that I prepared on Monday and I put the rest in the freezer with the bone to make Ham, Bean and Bacon Soup.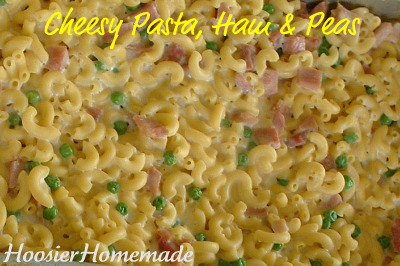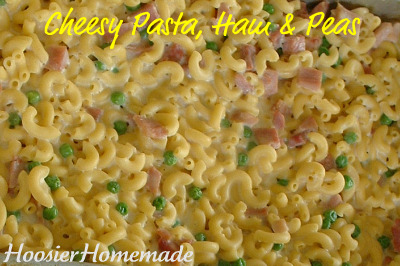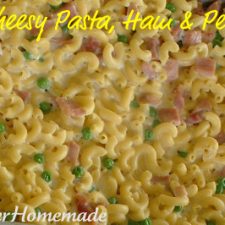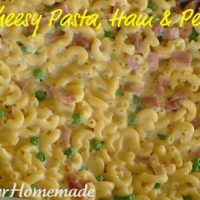 Cheesy Pasta, Ham & Peas
An easy make-ahead dinner from HoosierHomemade.com: Cheesy Pasta, Ham & Peas
Ingredients
4 cups large elbow pasta, uncooked
5 cups milk
1/2 cup butter
1/2 cup flour
1/2 cup Cheeze Whiz Original Cheese Dip (I bought the Aldi's brand)
1/2 teaspoon salt
1/2 teaspoon ground black pepper
4 cups ham, cubed
1 1/2 cups frozen peas
Instructions
Spray 13×9 pan with nonstick spray, set aside.
Cook the pasta according to directions on the box, drain and set aside.
Warm the milk in the microwave for about 2 minutes, set aside.
In a large skillet, melt the butter, add the flour and whisk for one minute.
Slowly add the milk, whisk constantly.
Turn the heat up to medium and stir until thickened.
Remove from heat, add the Cheeze Whiz and stir until melted.
Season the sauce with salt and pepper.
Stir in ham, peas and pasta, mix well.
Transfer to baking dish and spread evenly.
Allow to cool before covering with foil.
Refrigerate until time to reheat.
Cooking Directions
If you make this meal ahead, take the dish from the refrigerator 30 minutes before cooking.
Preheat oven to 350 degrees.
Bake, covered for 30 – 45 minutes or until bubbly.
Freezing Directions
After dish is cool, wrap tightly with foil, label and freeze.
Remove from freezer 24 hours before cooking.
I bought some foil 13×9 pans at the Dollar Store, they had plastic lids that worked out great.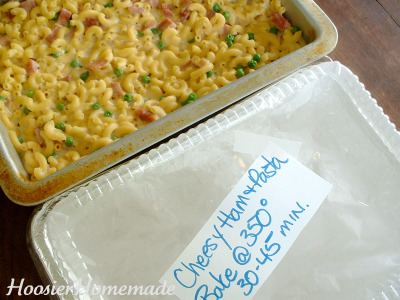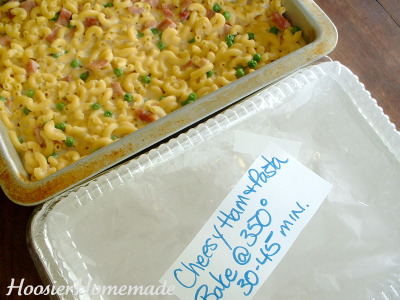 Weekly Menu Plan for this week…
Monday ~  Chicken Tortellini Tetrazzini (carrying over this dish from the Make-Ahead Meal Cooking Day)
Tuesday ~ Pulled Chicken BBQ Sandwiches, veggies and dip
Wednesday ~  Chef Salad, Homemade Rolls
Thursday ~  Chicken Stir-Fry and Rice
Friday ~  Taco Ring, Mexican Rice, Nacho Bar
Saturday  ~  Stuffed Crust Pizza