There are many great things about having all boys. Not being able to ever sew a frilly dress, have a tea party or buy a tutu are some fun things I missed out on. But, now since the boys have girlfriends, I'm getting a chance to make some cute girly things.
Last weekend, we celebrated Nick's girlfriend, Brittney's 16th birthday.(remember, she shared her Snickers Cupcakes with you)  Her parents had a surprise Luau Party for her. I had the privilege of baking cupcakes, which I will share soon, I sewed her an apron with cupcakes on it and these super easy, fun wooden initials.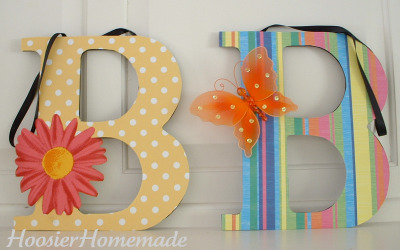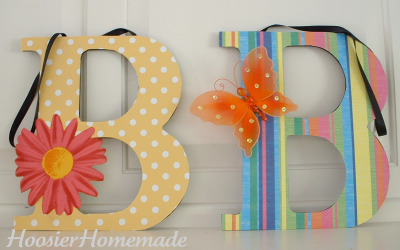 She actually has 2 bedrooms, 1 at her Dad's and 1 at her Mom's, so I made her one for each room that match her decorations.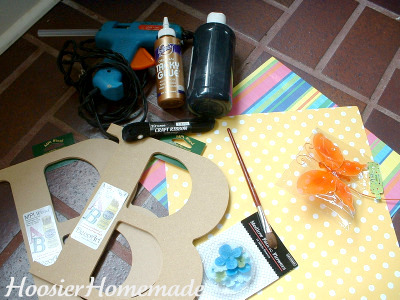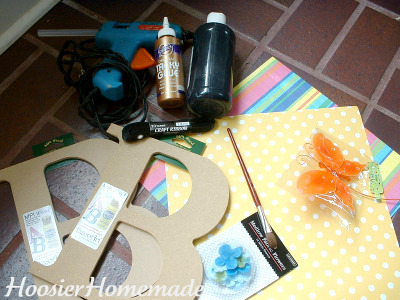 I bought the unfinished wooden initials and the embellishments at my favorite craft store, Hobby Lobby. You may notice that I didn't use the small blue flowers. While looking for an exacto knife, I came across some old wallpaper border that had the bright colored daisies on it. When Brittney re-decorated her bedroom last summer, I had given her some silk daisies that I wasn't using any longer that matched that wallpaper. So, I decided to cut out one of the daisies and use it instead.
I had the scrapbook paper, ribbon, paint and glue on hand.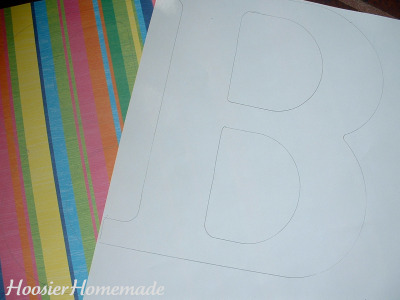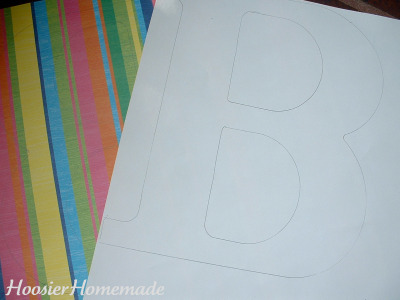 Using the unfinished wooden initials as a pattern, I traced them onto the paper first. For the striped paper, I traced on the front because I wanted to be sure to position the stripes so they looked right. The other paper didn't matter, so I traced it on the back.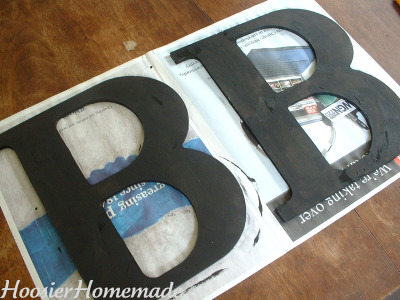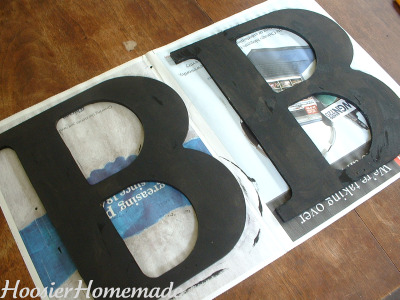 I used regular black craft paint to paint the edges and back of the unfinished wooden initials.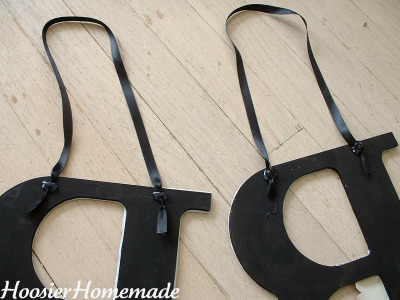 After the paint dried, I added the ribbon, for a hanger, to the back with my glue gun. I tied a knot in the ribbon so it would hold the glue better, and after I glued down the knot, I put another small amount of glue on top of it to make it a little stronger.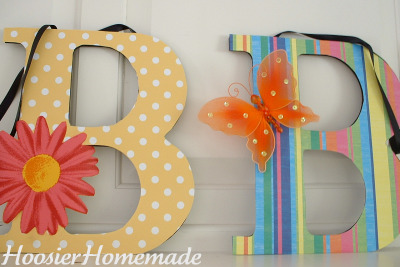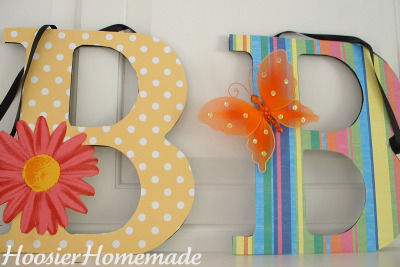 Then I added the embellishments. For the butterfly, I simply cut the wire off and for the daisy, I just glued it on with tacky glue.
I think these initials would also be super cute in a babies room or even a college dorm. They cost less than $5 for both initials. And she really loves them. 🙂
What fun DIY project have you done lately? Share your ideas!