You are out to dinner with your husband, his boss and a couple co-workers. Dinner is almost done and your husband says to his boss, we would love for you to stop by the house for dessert. Yikes! Really? Even though you love to bake, you have nothing ready. So your mind starts racing through the ingredients in your pantry and fridge – oh what to make, what to make – then you remember this quick, 15 minute dessert you saw recently – Sweet Cream Banana Tartlets. Perfectly! They aren't too heavy after dinner, they go together in under 15 minutes, and they look impressive like you spent all afternoon on them!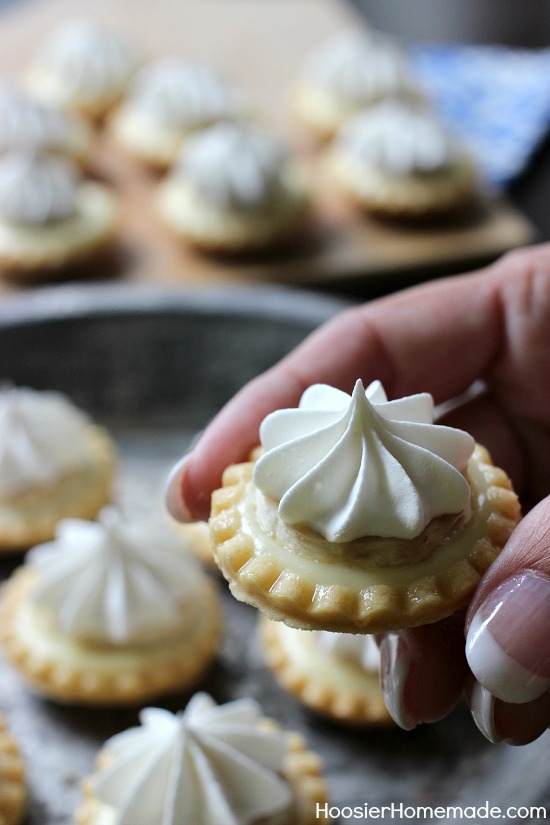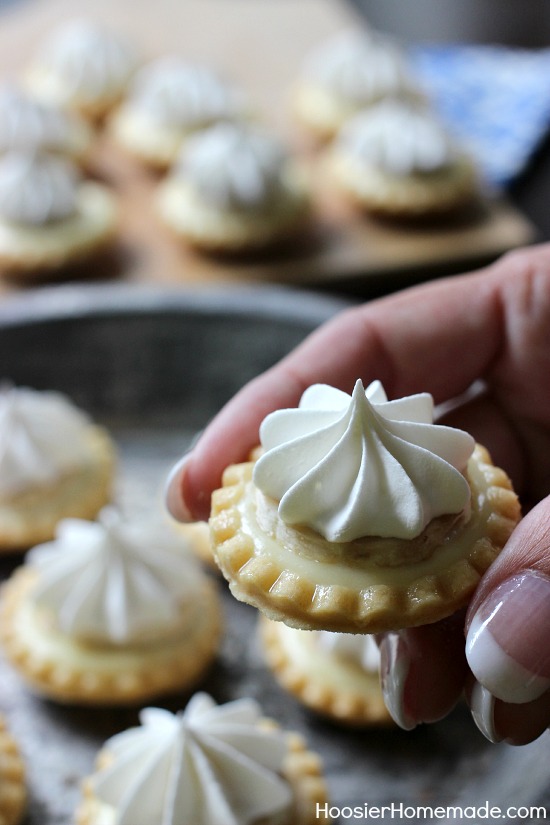 This recipe is brought to you by International Delight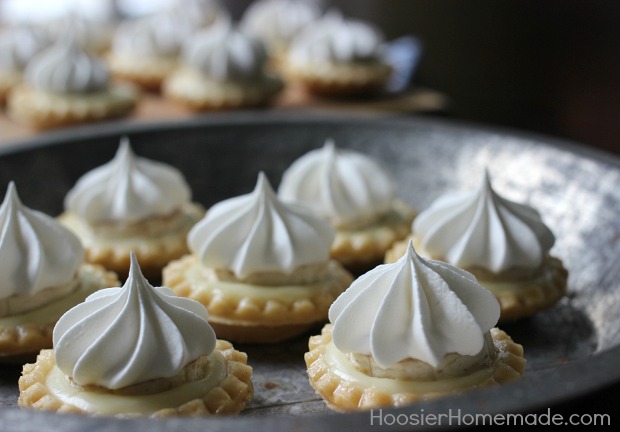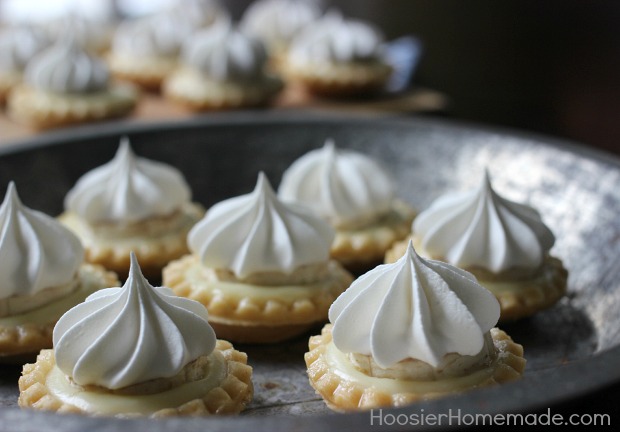 Sometimes I make a dessert that I know will be delicious, but then it just blows my socks off! These Banana Tartlets were that way. I love banana, love pudding, love whipped topping, love pie – but these, these I really loved! And you know the best part – they are done in under 15 minutes with little effort, yet they look impressive.
The other day in my Better Homes and Gardens post, I shared why I do what I do. Then I was later asked, if you could put what you do into one sentence, would people "get" it. So you tell me…
Simple – Easy – Creative ideas for the everyday Mom
Do you love it? I do, it's why I work so hard to share my passion with you. It's why I make 15 minute desserts and share them with you because let's face it my friends, YOU are Busy, with a capital "B". And who doesn't want to be able to spend more time with their families? I know I do.
So let's learn how to whip up these delicious Sweet Cream Banana Tartlets…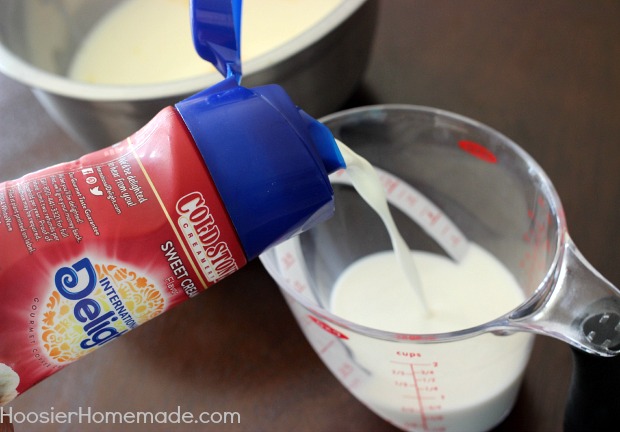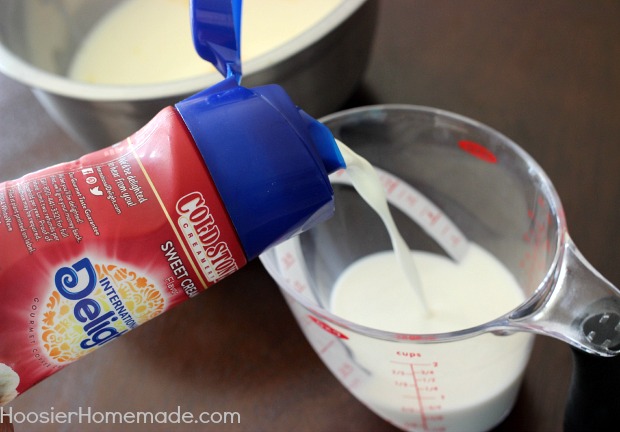 The secret ingredient here is International Delight Coldstone Sweet Cream Coffee Creamer. Who doesn't love the flavor of Ice Cream mixed into their pudding? I have used many different flavors of International Delight in a variety of baked goods. The Butter Pecan Poke Cake I made a couple months back was a huge success! And the York Peppermint Pattie Cupcakes and Irish Cream Push Pops were also delicious!
It doesn't get any easier than changing the flavor of pudding with a flavored creamer. I used half creamer and half milk because I didn't want the pudding to be too sweet, and the flavor turned out amazing. You could also use any flavor of creamer you like along with vanilla pudding for a totally different dessert.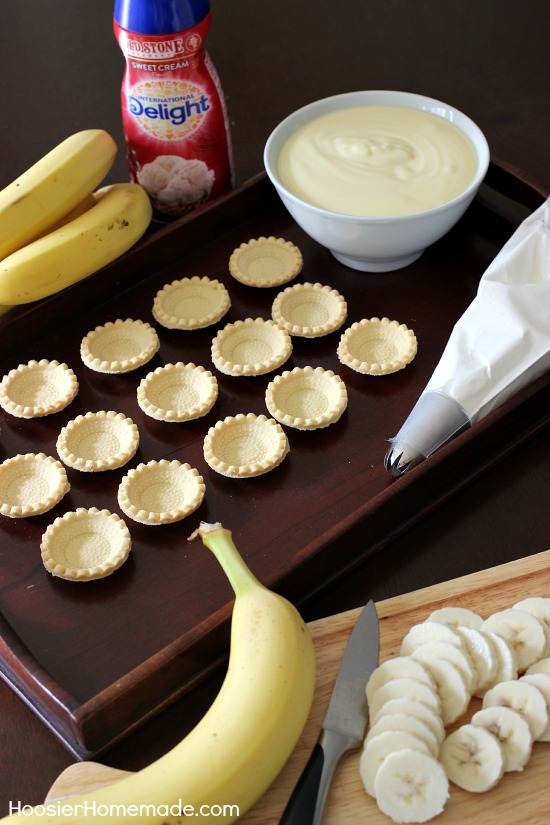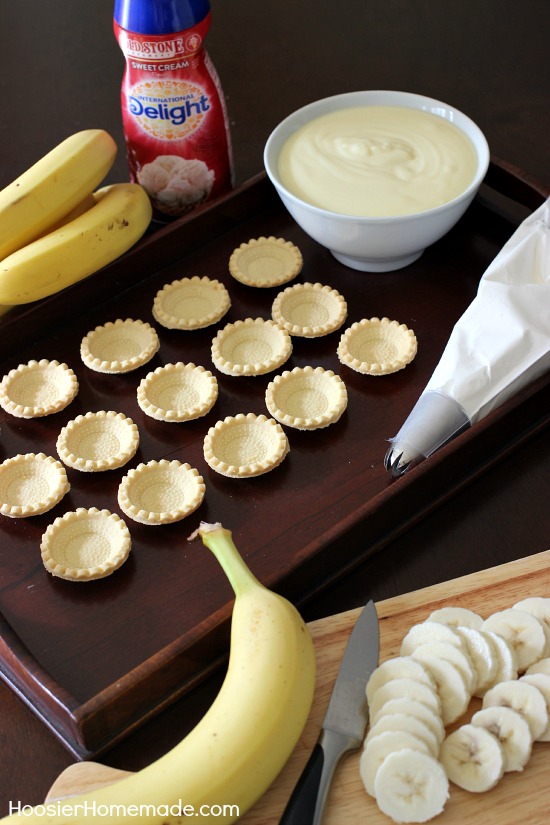 For the pie shells, I used Shortbread Tartlet Shells that I found at Kroger in the baking aisle, fresh bananas, and whipped topping. Yes, they are that easy!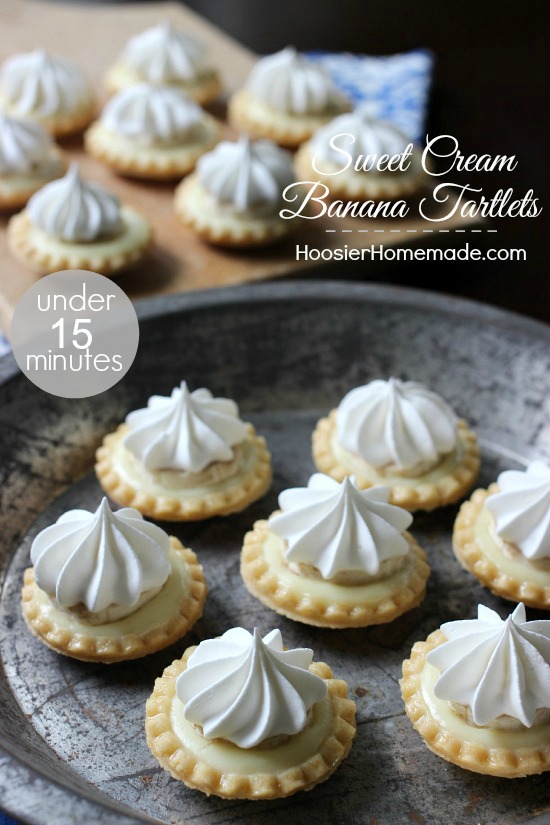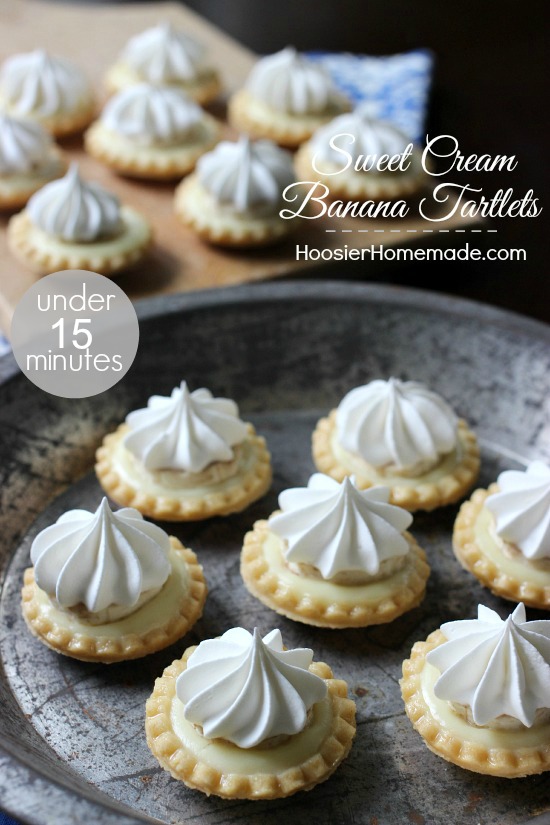 Like I said, you can have these done in under 15 minutes, here's how…
Combine the pudding, International Delight Coldstone Sweet Cream Creamer and milk in a bowl and whisk. Place in fridge.
While the pudding is setting up, open the Tartlet Shells and place on a tray
Get the bananas out and ready. You don't want to slice too early though, they will brown quickly.
Grab the whipped topping, a decorator bag and a jumbo star tip. I found my decorator tip at Bake Pretty.
Place the tip into the bag, snip off the end of the bag, and fill with whipped topping.
Now, the pudding should be ready (give it about 5-8 minutes to set), whisk it a bit
Fill shells using a small cookie dough scoop, I added about 1 tablespoon of pudding to each shell
Slice the bananas, add 1 slice to each tartlet.
Pipe on a dollop of whipped topping
And that's it! Serve your beautiful desserts!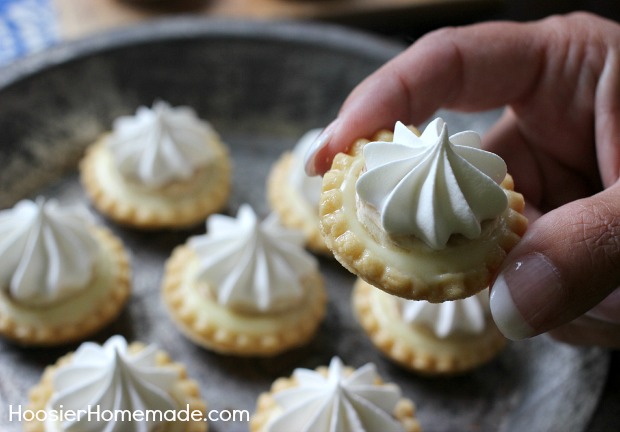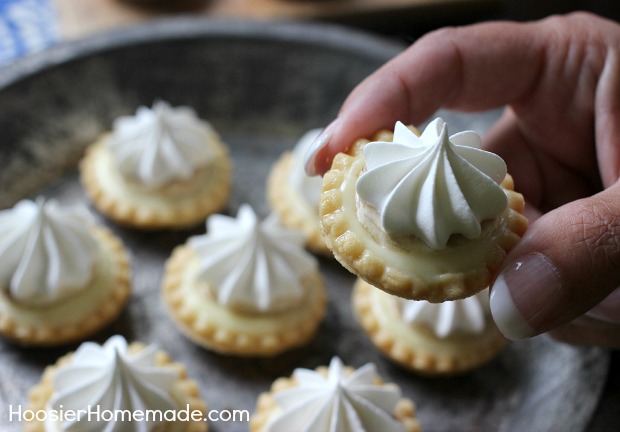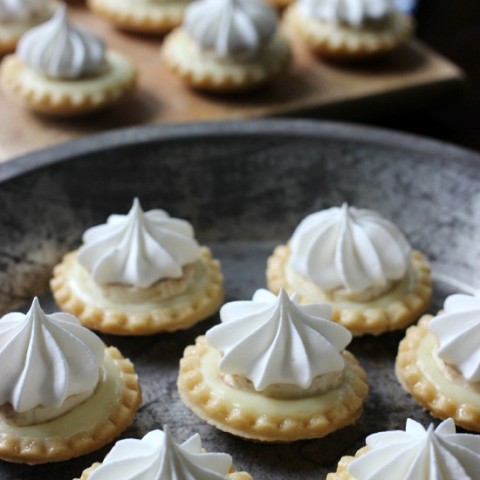 Sweet Cream Banana Tartlets
Delicious and impressive looking dessert that you can make in under 15 minutes. Recipe on HoosierHomemade.com
Ingredients
1 small box instant Banana Pudding
1 cup International Delight Coldstone Sweet Cream Creamer
1 cup milk
1 box (16 shells) Shortbread Tartlet Shells (found at Kroger)
1 large Banana
1/2 cup (from 8 oz container) whipped topping, thawed
Instructions
Combine pudding, creamer and milk, Whisk until slightly thickened. Place in fridge to set 5-8 minutes
Remove tartlets from box and place on tray
Add whipped topping to decorator bag
Remove pudding from fridge, spoon about 1 tablespoon into each tartlet. You will probably have leftover pudding.
Slice banana and add a piece onto of pudding
Pipe on dollop of whipped topping
Serve immediately or place in fridge up to 3 hours
Notes
You can also make this same recipe into a large pie. Use a store bought gramah cracker crust. Slice bananas and place on bottom of crust, top with pudding. Place in fridge at least 3 hours.
Nutrition Information:
Amount Per Serving:
Calories:

0
Total Fat:

0g
This is a sponsored conversation written by me on behalf of International Delight. The opinions and text are all mine.