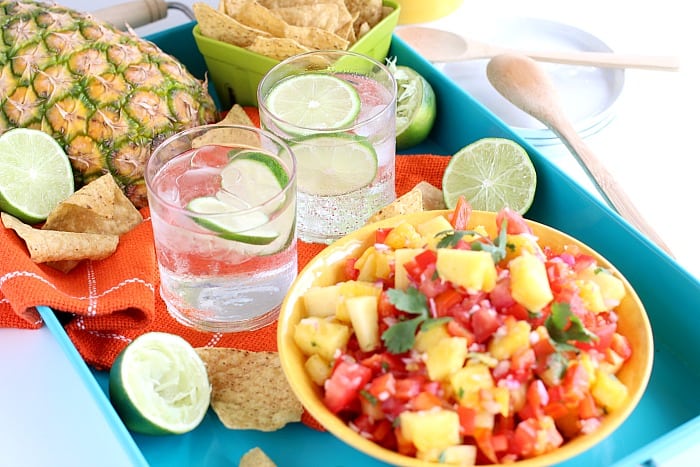 In the mood for something easy to make, great for entertaining, and also perfect for weeknights? This Pineapple Salsa has the right amount of sweetness with just a little heat! Using the freshest ingredients, this salsa is sure to be the hit of your next get together.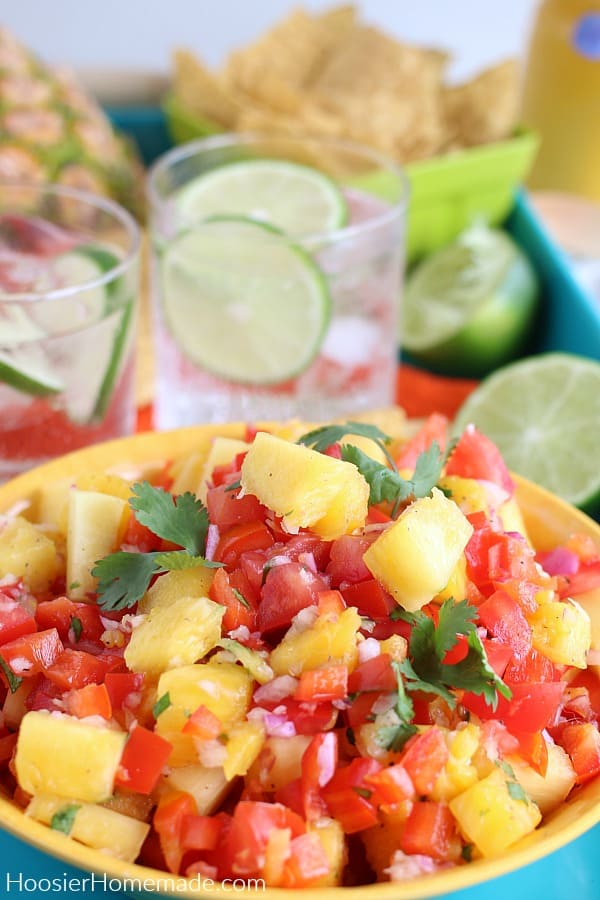 Our family loves to host barbecues during the summer months. Of course, with any barbecue, you need to have some finger foods as well as some condiments.
The great thing about this Pineapple Salsa is that it has multiple purposes at any family get together. Serve it with tortillas chips, as a side dish or even add it to the top of hamburgers, hot dogs, chicken and it's delicious on salmon as well.
We all need to spice up our lives a little and this salsa gives us the opportunity to do just that. Not everyone thinks about putting Pineapple Salsa on their food, but after this recipe, they will start expecting it at the next gathering.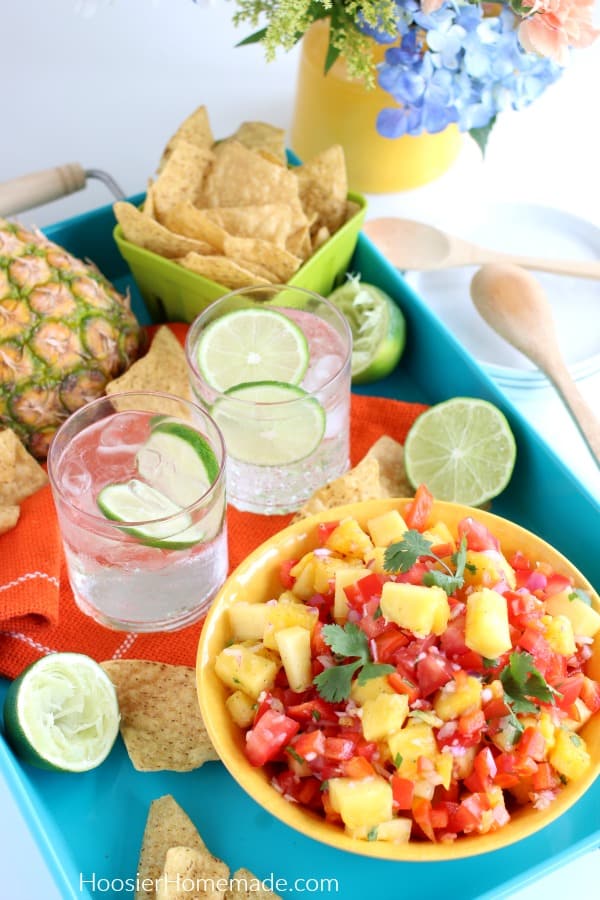 In my opinion, Summer is the best time for snacking. I even love creating a fun Charcuterie Board for our Friday night dinners. And this Pineapple Salsa fits in perfectly with the easy breezy days of Summer!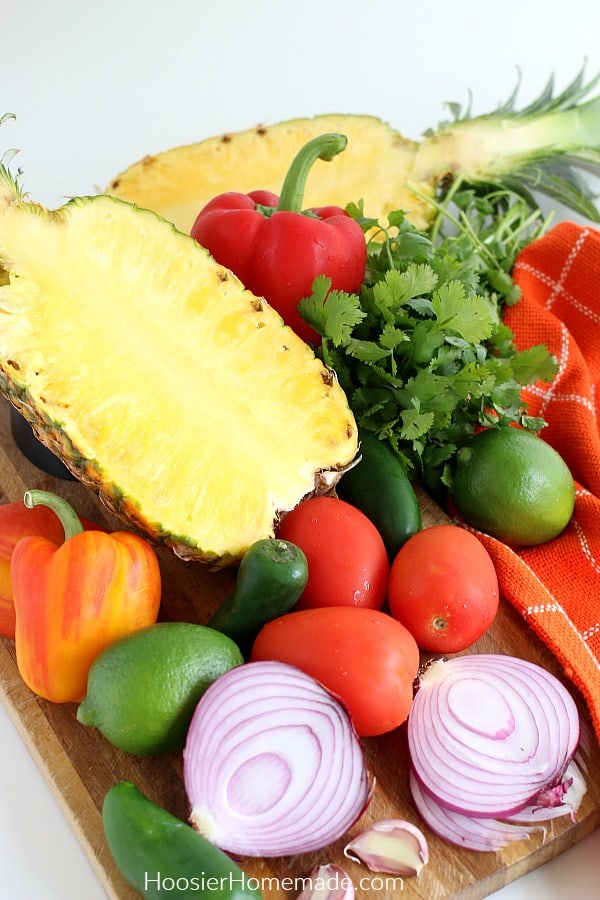 Using the freshest ingredients you can find are key when you put together this salsa. The Farmer's Market is a great place to find locally grown fresh ingredients.
Pineapple Salsa
Ingredients
Pineapple – The Pineapple should be fresh, using frozen or canned won't taste very well because it contains a lot of water. Be sure to save the shell of the pineapple to serve the Pineapple Salsa in, it's just fun that way
Tomatoes – for this Pineapple Salsa Recipe I like using Roma tomatoes the best, but really any variety will work
Red Onion – this onion adds a bit of savory to the salsa, and balances out the sweetness of the pineapple.
Bell Peppers – any variety is fine in this recipe, I recently found tiger stripe peppers and they added a lot of color. I also like using tri-color peppers.
Limes – fresh are best, but you can also use bottled lime juice
Garlic
Cilantro
Jalapeno – leave the seeds in if you like your salsa spicy – or leave out the Jalapeno (like I did) if you like it more mild
Salt and Pepper
Kitchen Essentials Needed
Large Mixing Bowl
Sharp Knife
Measuring Cups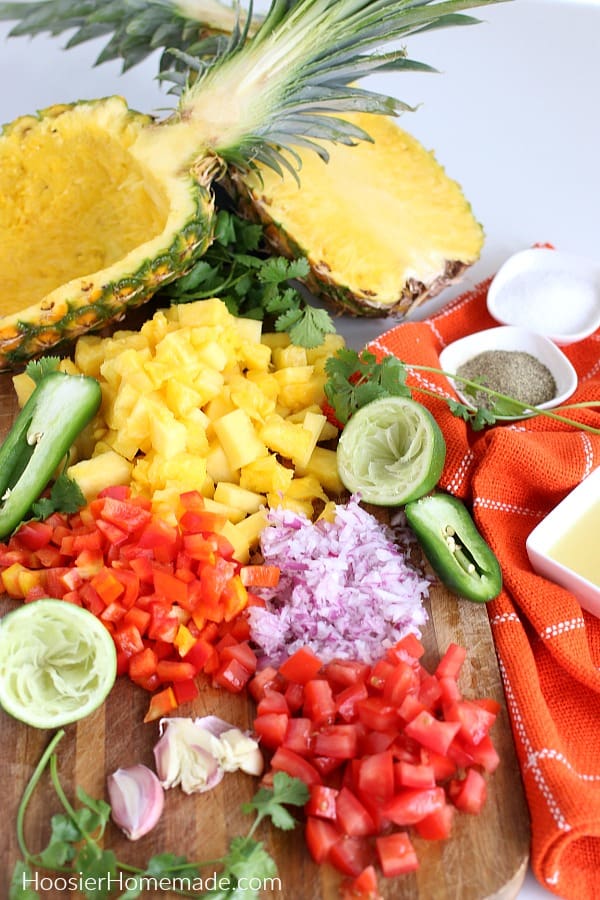 How to make Pineapple Salsa
Begin by cutting the pineapple. If you want to serve the salsa in the pineapple boat, cut the pineapple in half lengthwise and score the pineapple all the way around the edges. Then remove the pineapple and cut into bite size pieces
Continue cutting the rest of the ingredients – tomatoes, peppers, cilantro and onions. Then add all the ingredients to a large mixing bowl. Stir to combine.
Squeeze the limes, mince the garlic and cut the Jalapeno. Add them to the bowl. Stir to combine.
Give the salsa a taste, then add salt and pepper to your liking.
Now, cover the bowl with plastic wrap and put it in the fridge to chill for at least 3 hours, overnight is fine.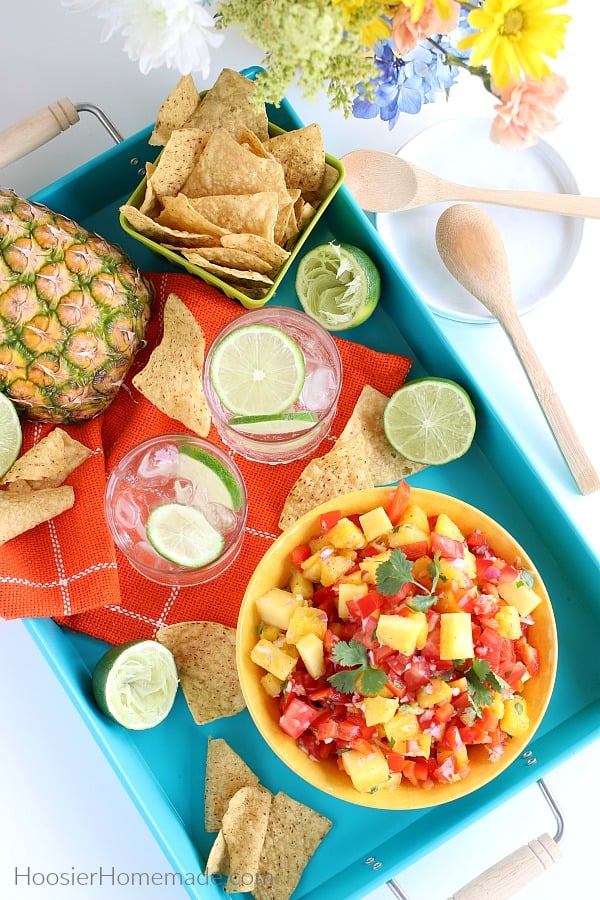 What to serve with Pineapple Salsa –
Appetizer – serve with drinks and tortilla chips for a delicious and super easy appetizer or snack on movie night
Mexican – serve with your favorite Mexican dinner – tacos, quesadillas, or your favorite
Chicken – Grilled Chicken, or these Caribbean Grilled Chicken Thighs go together easily
Pork – these Southwestern Pork Kabobs are a delicious pairing with the Pineapple Salsa, or even these Pork Chops
Burgers or Hot Dogs – our favorite Burger is super easy to make, and a Hot Dog bar filled with a variety of hot dog toppings is always a hit
Fish – Salmon is great, as well as Fish Tacos
Salad – serve with lettuce for a fun twist on a salad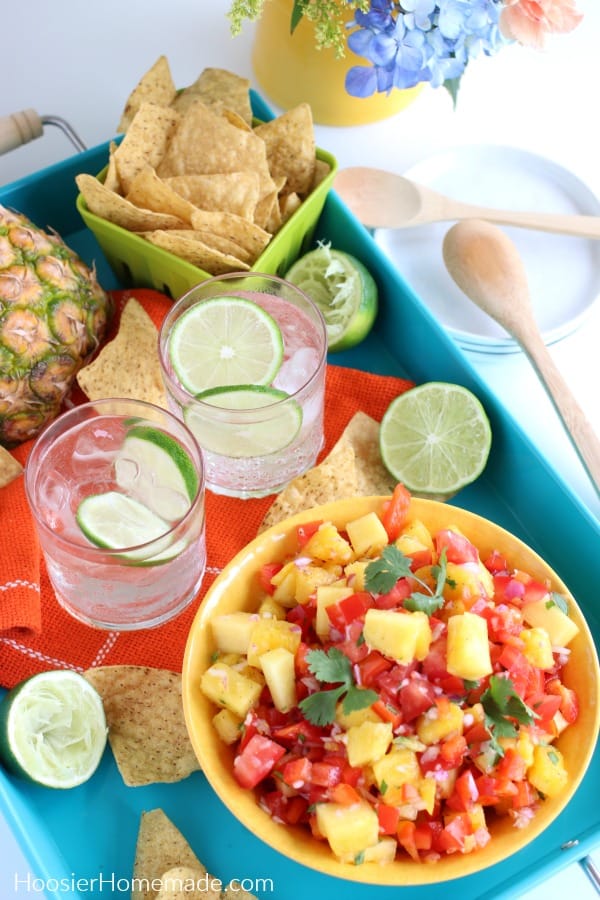 Pineapple Salsa – Frequently Asked Questions
How do I select a fresh pineapple?
The first thing to notice when selecting your pineapple is if it looks fresh – the leaves should be nice and green and the whole pineapple should look fresh without any spots on it.
Then you want to give it a little squeeze, it should give just a little. And lastly, smell the base – if it smells like pineapple, you should have a good one.
Be sure to keep it in the fridge if you don't plan on using it right away.
You can also purchase pre-cut pineapple in the produce section if you are in a hurry.
Are there substitutes I can use?
This recipe makes a mild salsa, so if you prefer to add a little spice to it, add some seeds and ribs from a jalapeno to give it that spicy kick. Additionally, you can use Poblano peppers in place of red peppers if you just aren't feeling the red peppers.
You can also add other ingredients if you like, black beans would be a great addition.
Can I make this salsa in advance?
You can make it in advance, it's best served chilled and to give it a little time for the flavors to blend together. Keep in an airtight container for up to 3 days in the refrigerator.
Is there a difference between fruit salsa and salsa?
The biggest difference is the taste. Fruit Salsa typically is more light and refreshing, while regular salsa is more tomato based.
You can use a variety of fruit in salsa – mango salsa and strawberry salsa are very popular. Making Corn Salsa is also a great option that everyone loves.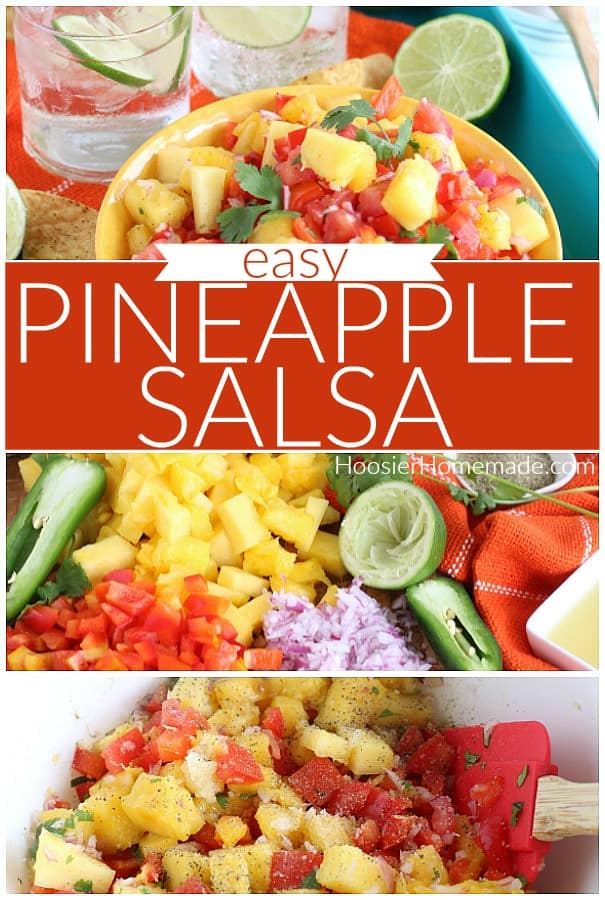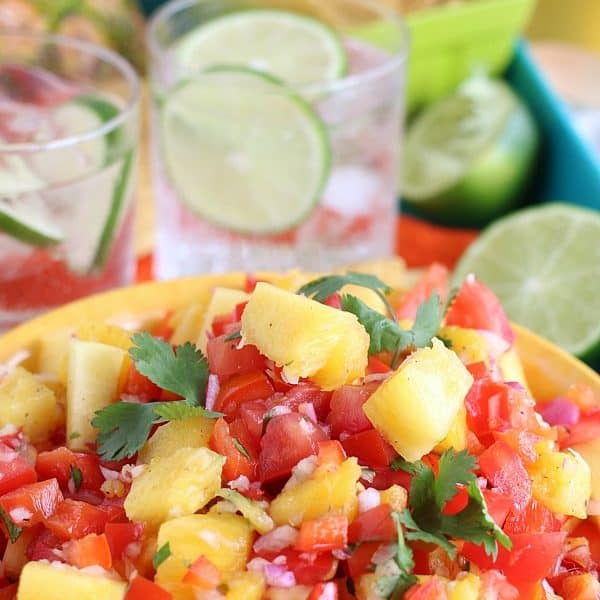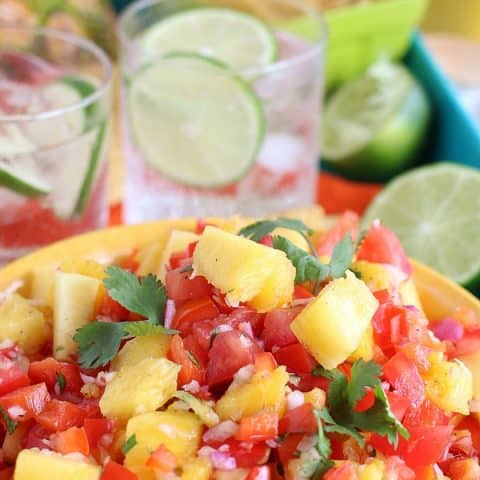 Pineapple Salsa
This Pineapple Salsa has the right amount of sweetness with just a little heat! Using the freshest ingredients, this salsa is sure to be the hit of your next get together.
Ingredients
2 cups Fresh pineapple - save pineapple to use as a bowl if you like
2 cups Tomatoes, diced
¼ cup Red Onion, chopped finely
1 cup Bell Peppers, red, green, orange, yellow - or any combination
1 Jalapeno, seeds removed and diced, optional
2 Limes, squeezed for about 3-4 tablespoons lime juice
2 cloves Garlic, minced
¼ cup fresh Cilantro, chopped
Salt and Pepper to taste
Instructions
Chop pineapple, peppers, tomatoes, onions and cilantro and add to large bowl

Stir to combine

Add lime juice, garlic, salt and pepper - and jalapeno if adding

Stir well to combine

Cover with plastic wrap and place in refrigerator until chilled, at least 3 hour or overnight
Notes
Serve with tortilla chips, on burgers or hot dogs, with chicken, fish or salmon.