Outdoor Decorating for Fall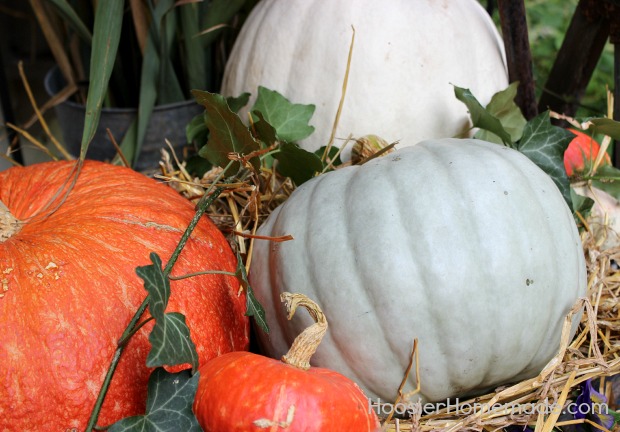 Decorating our home, especially the outside is one of my favorite things to do! We live on a pretty busy street, although there is not a lot of car traffic, we do have lots of walkers. And it's also one of the main streets in our town.
I've shared before how growing up in this town, I dreamed of living in a big home on this street. So to finally make it here, it absolutely a dream come true. We love our home and our community and love sharing with others, even if it's just a smile on their face while they walk by.
You had a little sneak peek at our Outdoor Decorating for Fall when I shared the Deco Mesh Fall Garland that is around the front door. Today we are sharing the rest of the front of our home.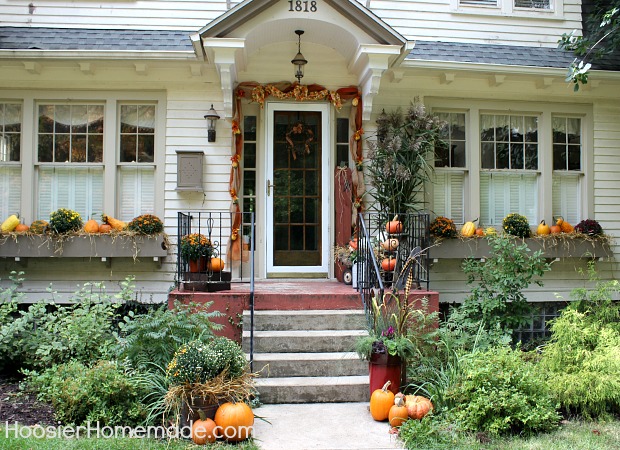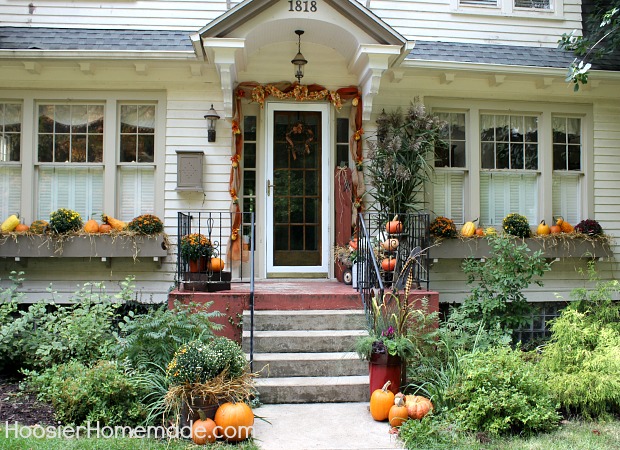 There are four different areas of the Fall Decorating, but we have pulled it all together with similar colors.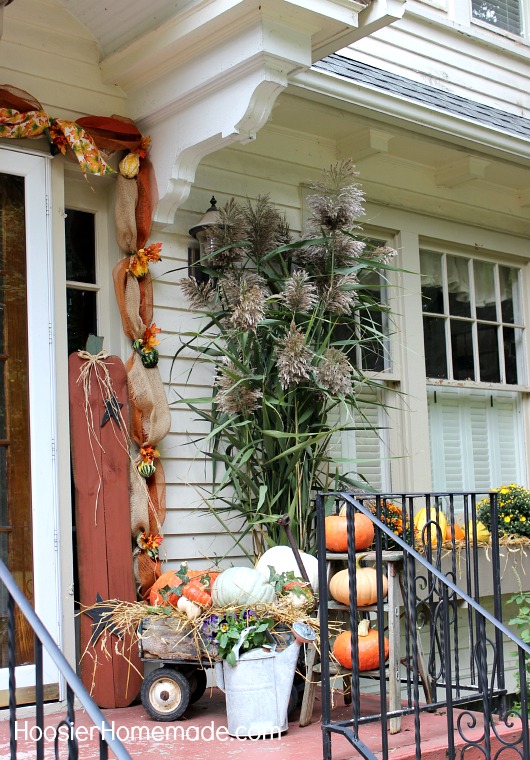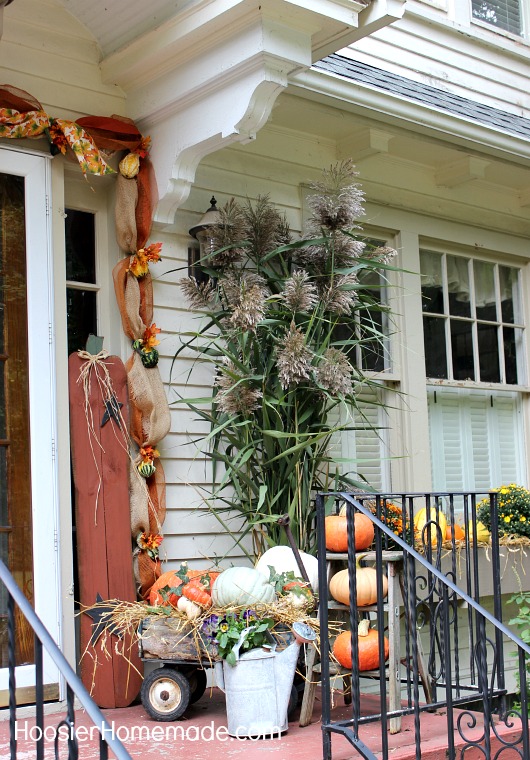 It's really hard for me to choose, but I think the Front Porch area is my favorite. The grasses were added in the back for height. Doug cut them along side the road. And the tall wooden pumpkin is a new addition that we found at a local store.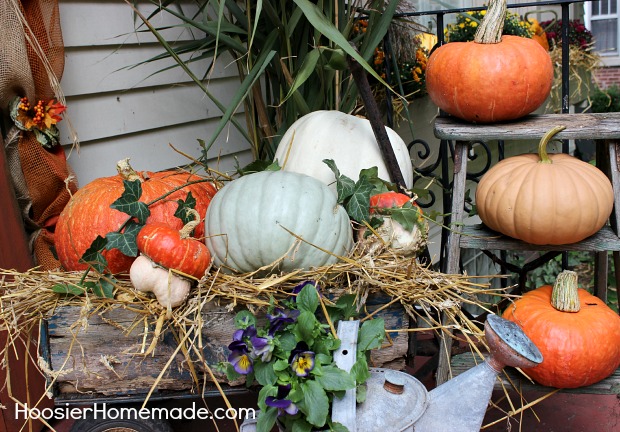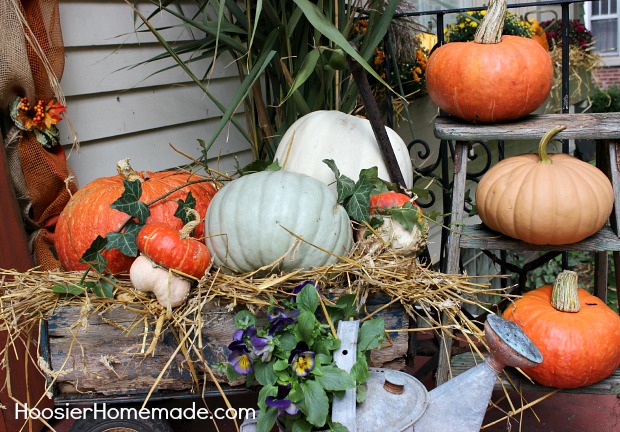 The Vintage Wagon has been filled with pumpkins and gourds, and a few stems of fresh ivy cut from our yard to soften the pumpkins and add a little texture. Then a few Heritage Pumpkins were added to the Antique Step Ladder.
Fall Pansies in purple and yellow were planted in the Galvanized Antique Watering Can for a pop of color.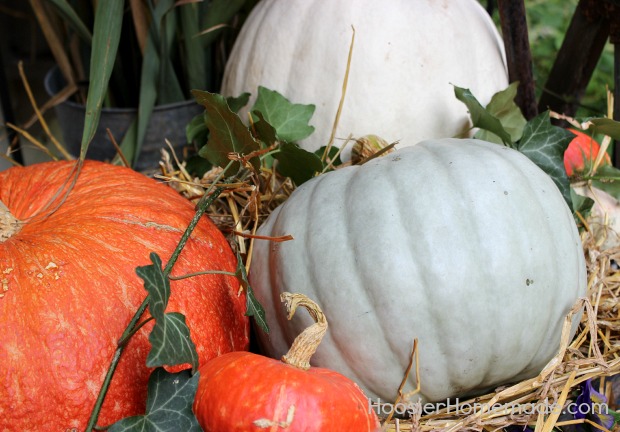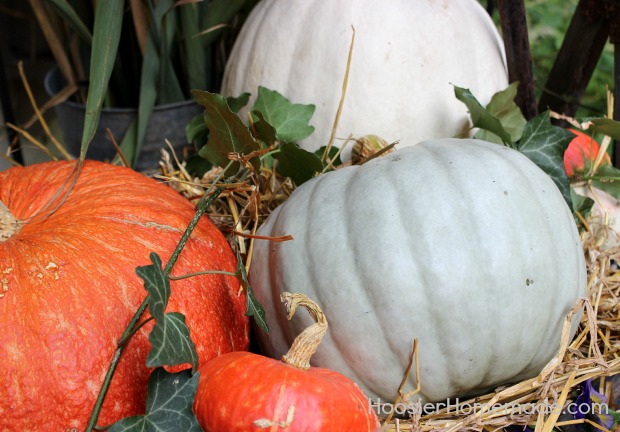 Then I filled in around the pumpkins with straw to tie in the look of the window boxes.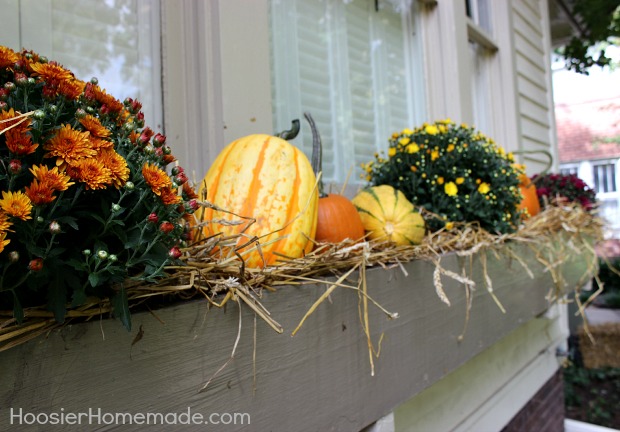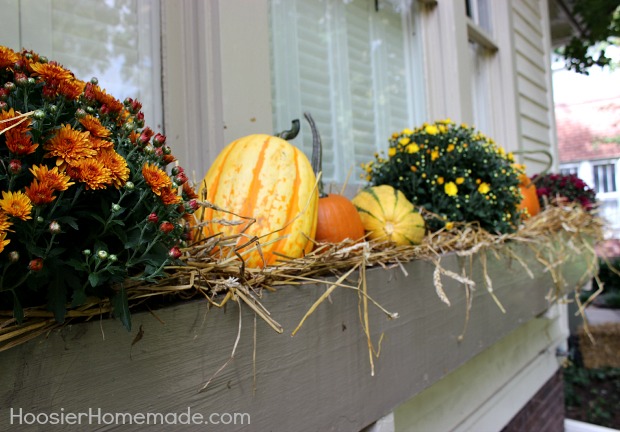 The Window Boxes are my favorite part of the front of our home. I love changing them with the seasons.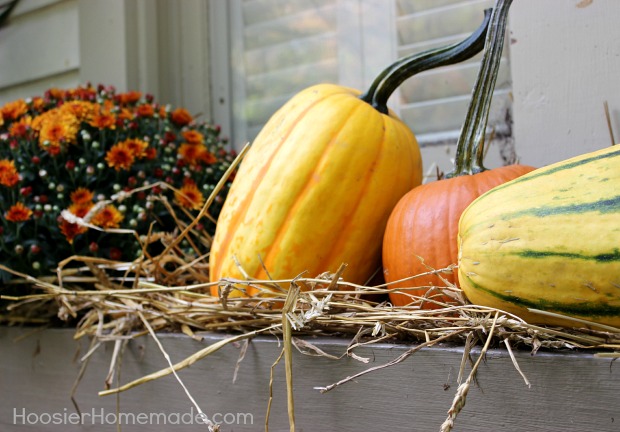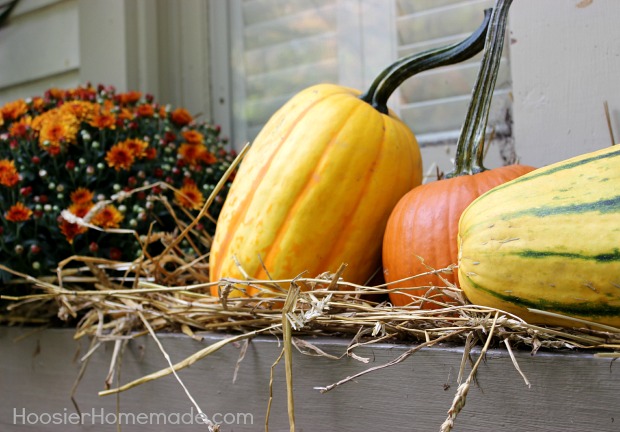 We added hearty Mum Plants that will be planted in the flower beds later. It's best when decorating to add groups of 3 or 5. So we added 3 mums, and groups of pumpkins – a pie pumpkin and 2 large gourds.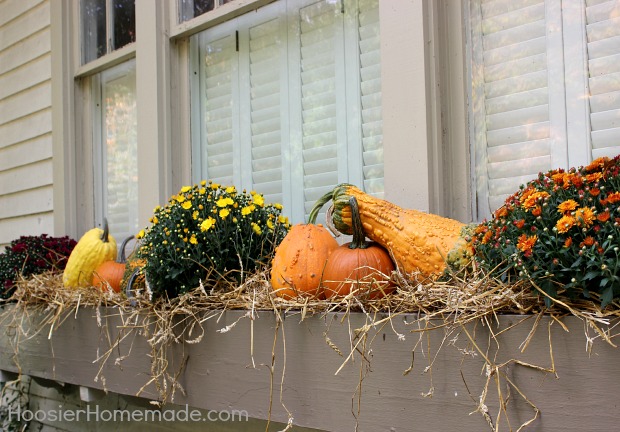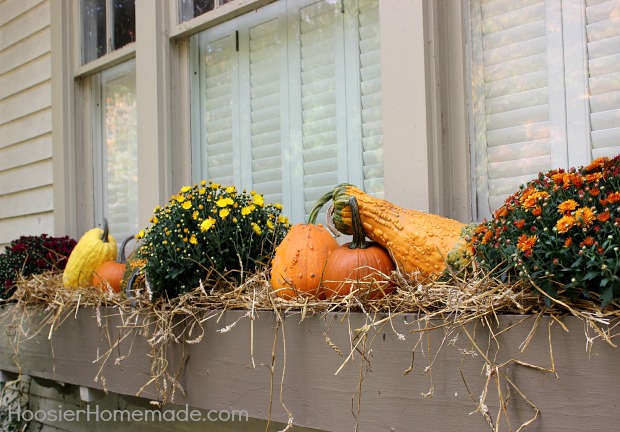 Pumpkins can be expensive. So to keep our cost down, we bought large gourds that were only $2 each and the pie pumpkins were only $1.50.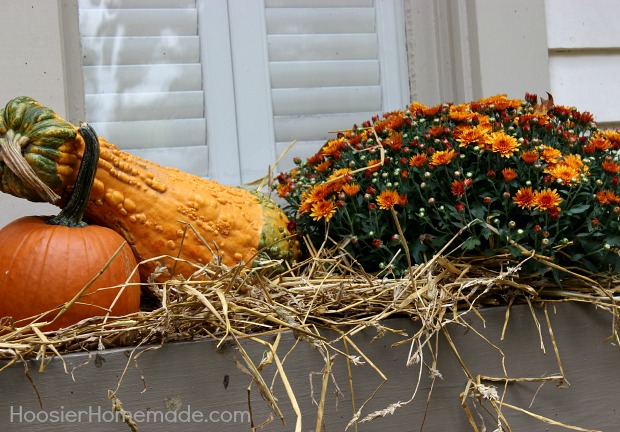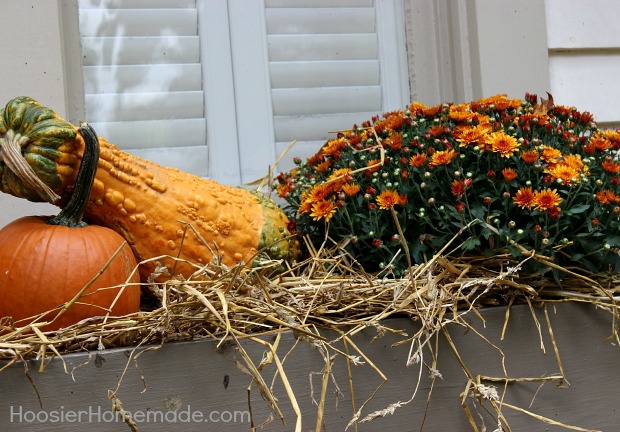 The bale of straw was only $4, and there was enough to do the whole front of the house plus leftovers to bed down the herb garden.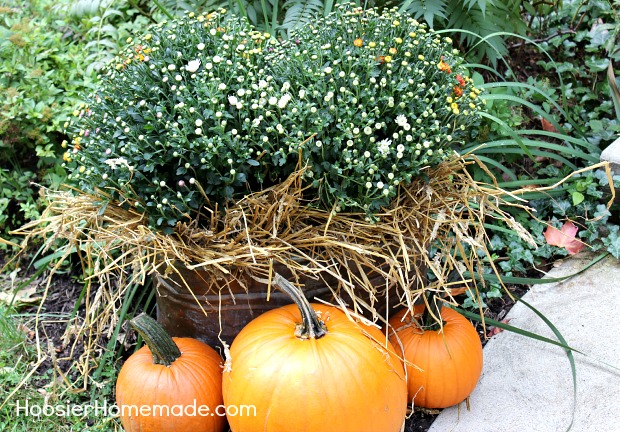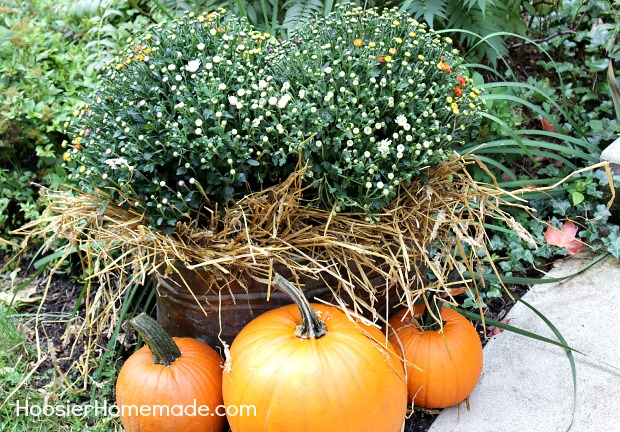 In front of the steps, we added 2 multi-color Mum Plants to a large cooper container, filled with straw and added a group of 3 pumpkins in front of the container.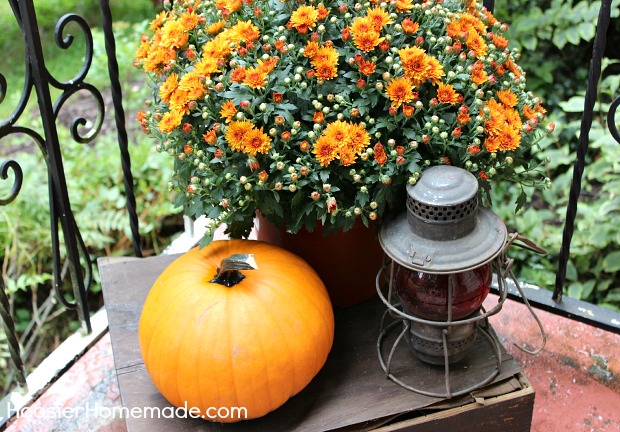 And filling in an empty spot on the front porch, I added a Vintage Suitcase with a Mum Plant, Pumpkin and Antique Lantern.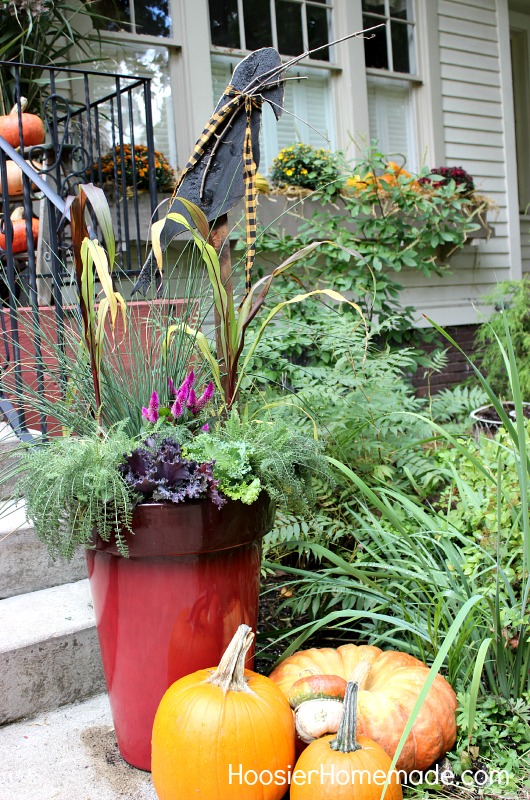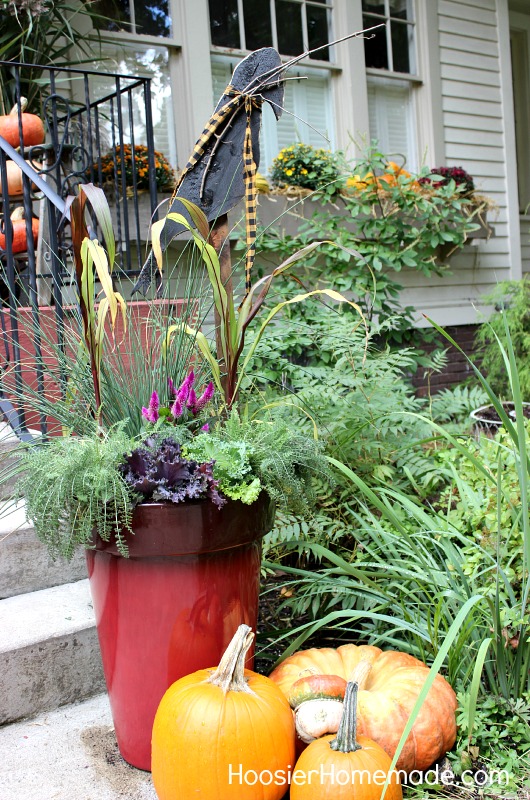 The Summer Planter got a face lift and filled with hearty Fall Plants. You can learn all about what we used to create the Container Garden for Fall.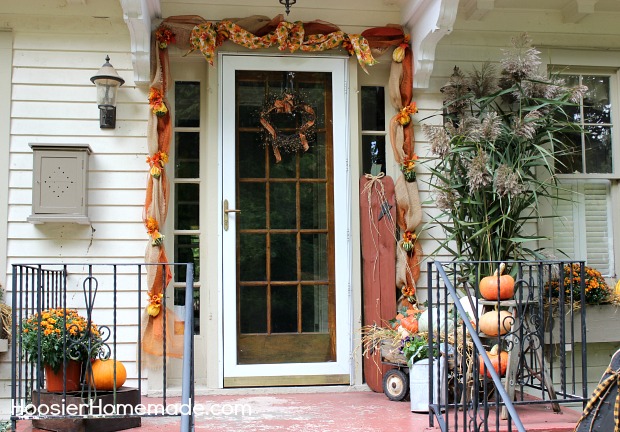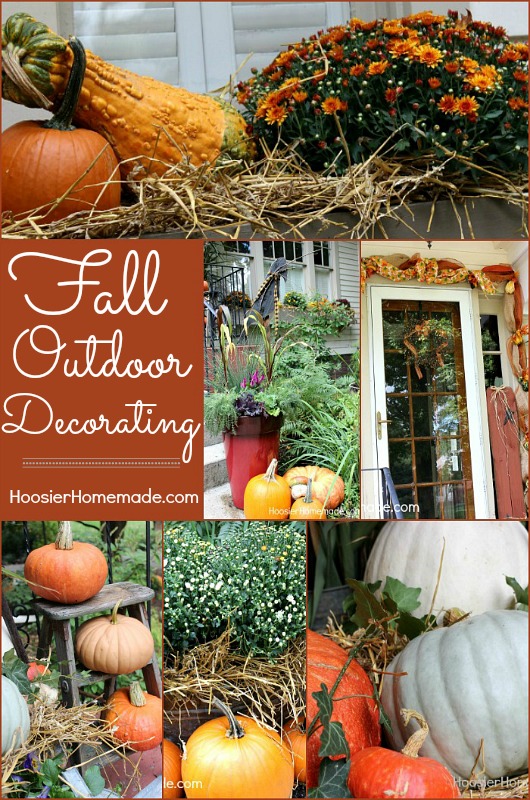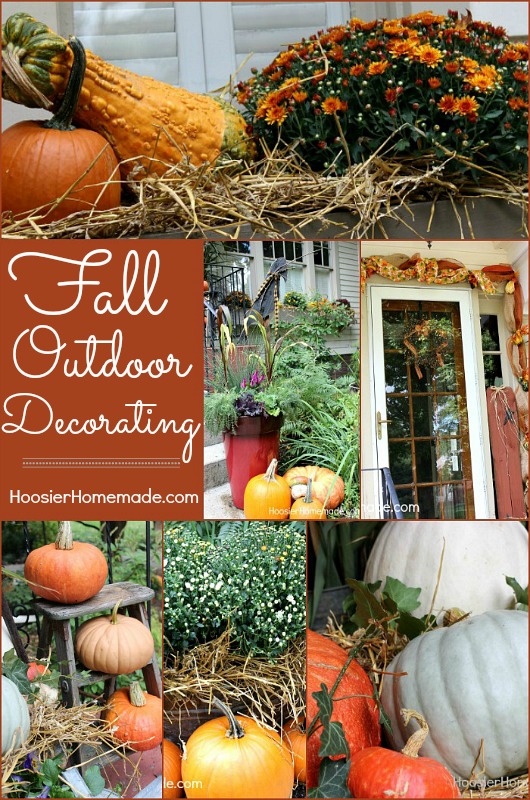 Outdoor Decorating for Fall Re-cap