Deco Mesh Fall Garland Tutorial
It's time for a little more Fall Decorating! I'm thrilled with how our Outdoor Decorating turned out this year! I loved it last year too, there is just something about decorating with Fall colors that makes your home come to life.
Deco Mesh has taken the decorating and design worlds by storm! This easy to use ribbon can be used to decorate anything from a fireplace mantel, doorway, table centerpiece, mailboxes, light poles, Christmas Trees or anything else that would benefit from a little sprucing up.
This Deco Mesh Fall Garland was super easy to make but the results are grand! With just a few additional simple supplies and a little time you can create this beautiful Fall Garland too!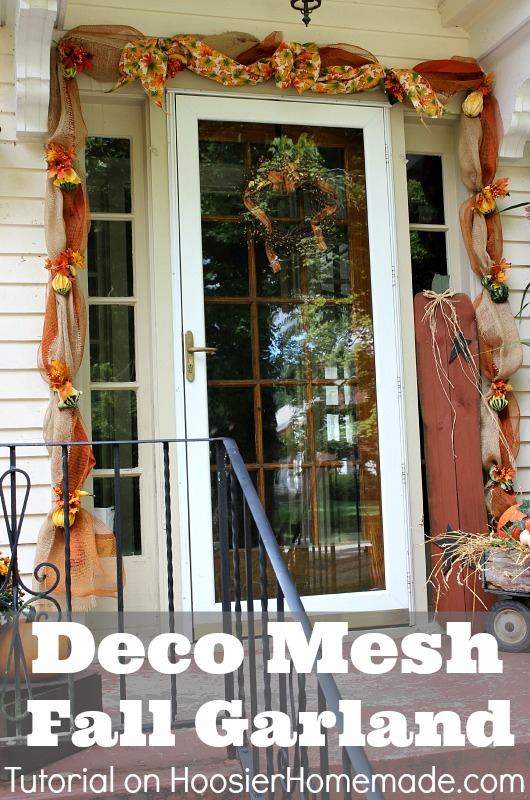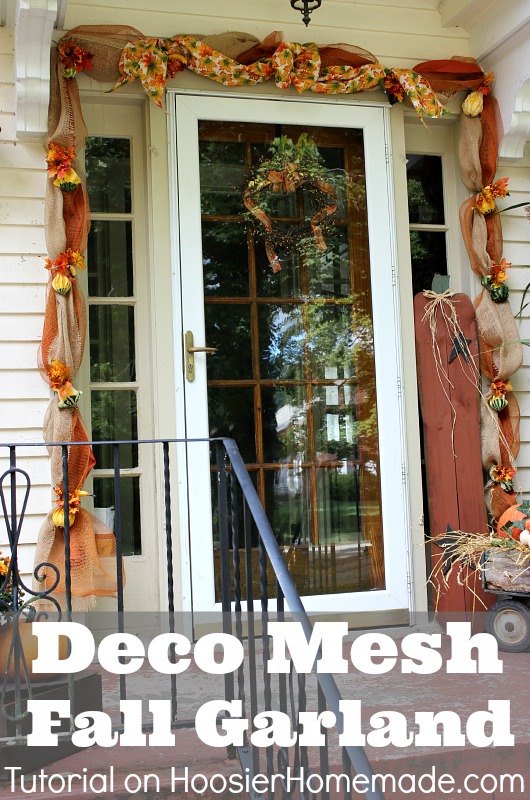 Deco Mesh comes in a ton of different colors and is available at Walmart or craft stores like Hobby Lobby or Michael's. I used a combination of a few I found at different stores.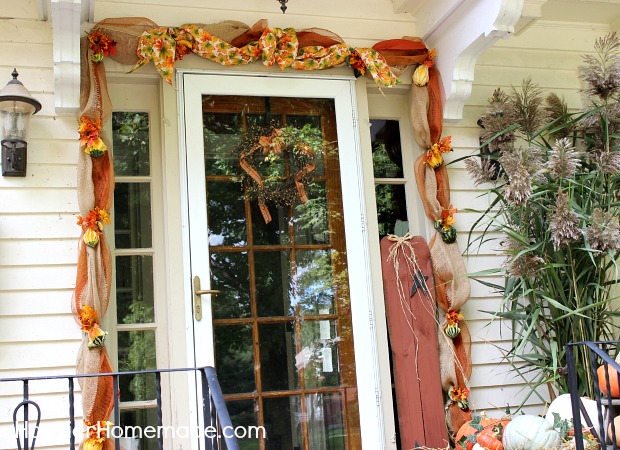 Let's gather our supplies…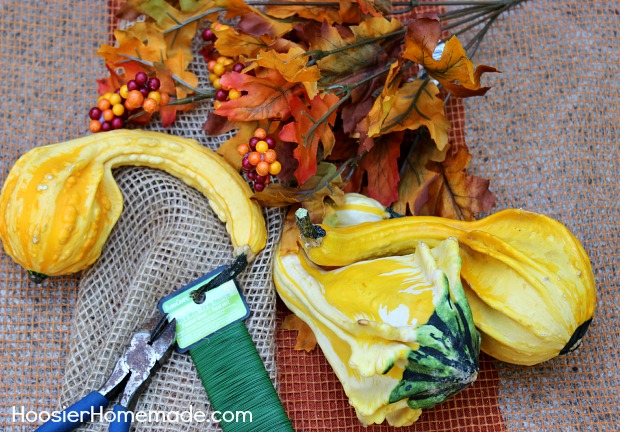 Deco Mesh Fall Garland Supplies
2 rolls wide Deco Mesh – I used pumpkin color from Hobby Lobby
1 roll wide Deco Ribbon – I used a dark orange from Walmart
Burlap – from the fabric store
Small gourds – I used fresh available at Walmart or the Market, but you could also use artifical
Silk leaves and berries – available at Walmart and craft stores, the ones I used are from Michael's
Wire and cutters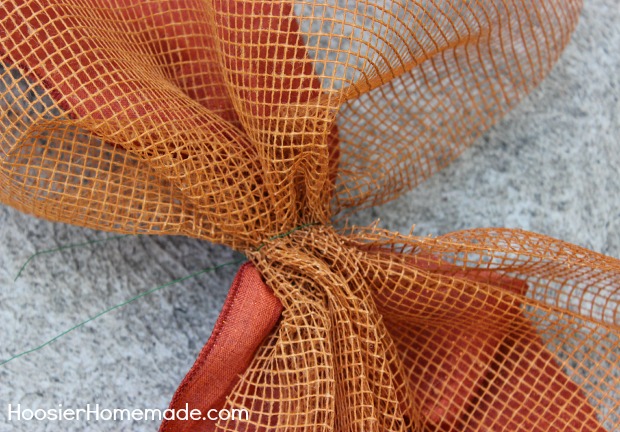 I liked the darker orange behind the Deco Mesh, but 1 roll wasn't enough so I cut it in half just to have a background color behind the mesh. Once it was hung up, you couldn't tell that one was narrower than the other.
Step 1
Lay the Deco Mesh out and lay the dark ribbon under
Gather and secure with a piece of wire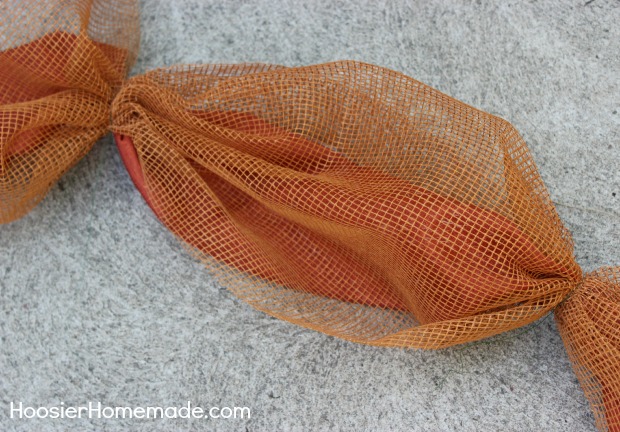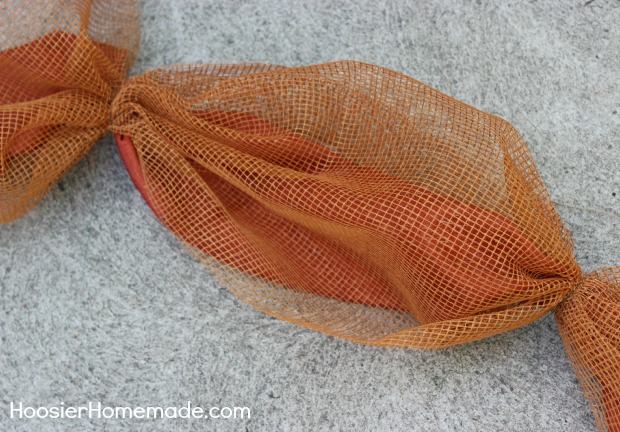 Step 2
Continue to gather every 8-10 inches, securing with wire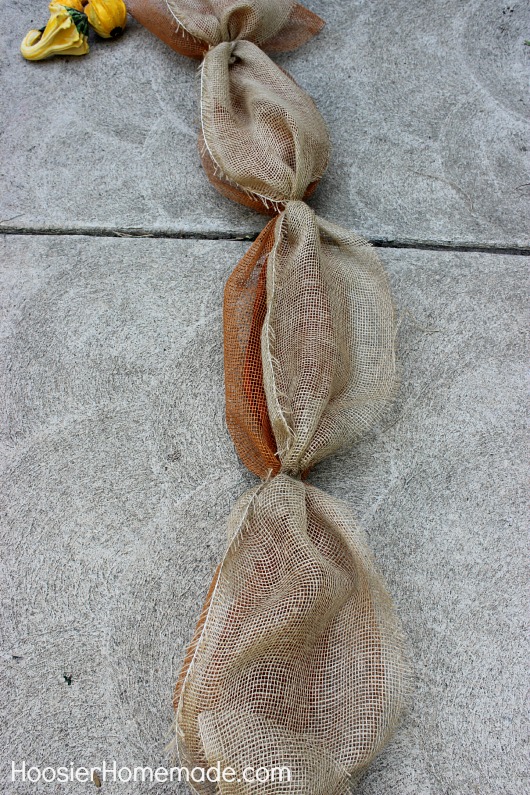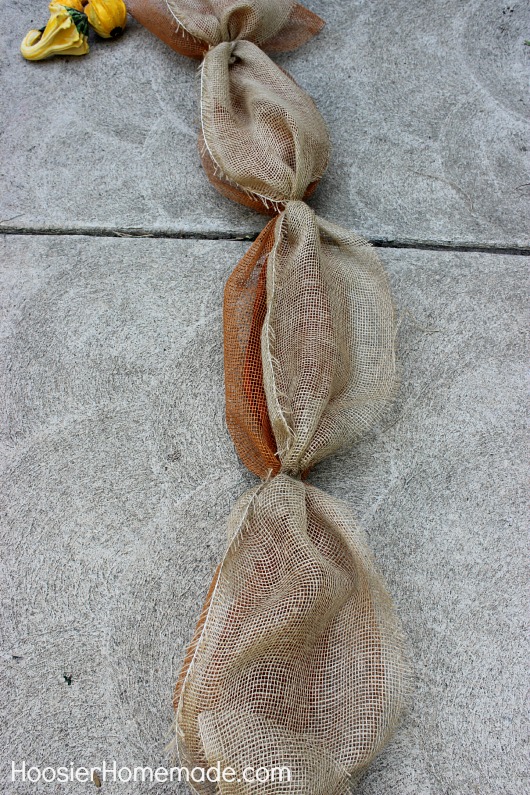 Step 3
Add the burlap to the top of the Deco Mesh, secure with wire.
When you hang the garland, you can easily twist and adjust the ribbon.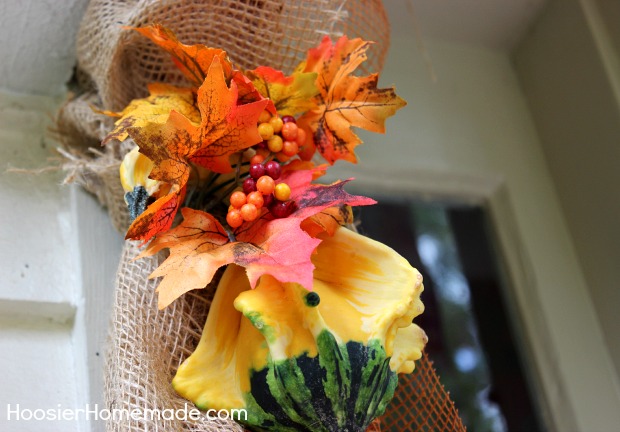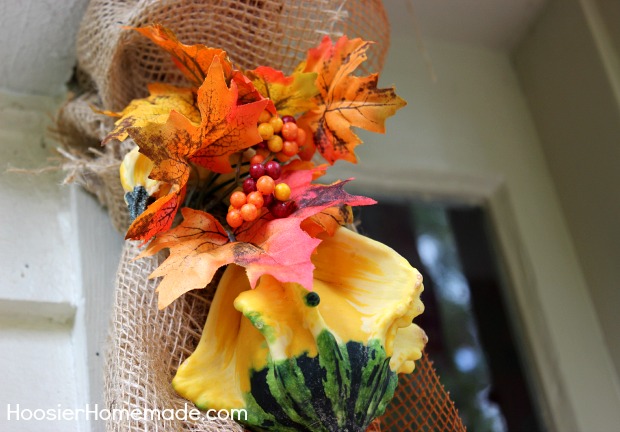 Step 4
Now it's time for the gourds and leaves. I found it easier to hang the garland around the door, then attach the gourds with wire.
Slip the leaves in around the wire to hide it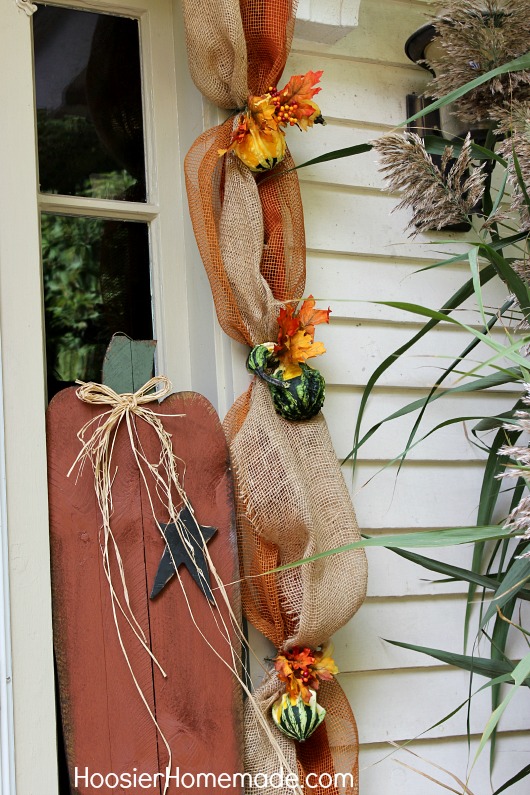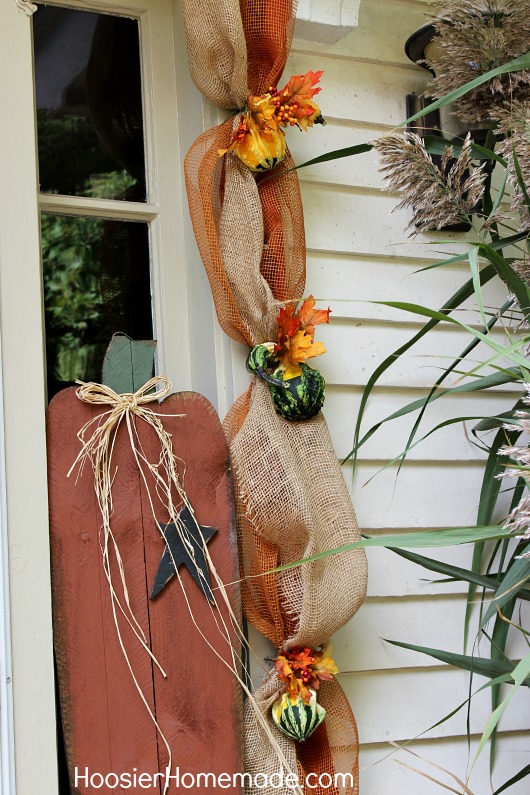 To hang the garland, we just hammered a small nail into the edge of the door trim. Then I added the gourds and leaves at each section where I gathered the ribbon with wire.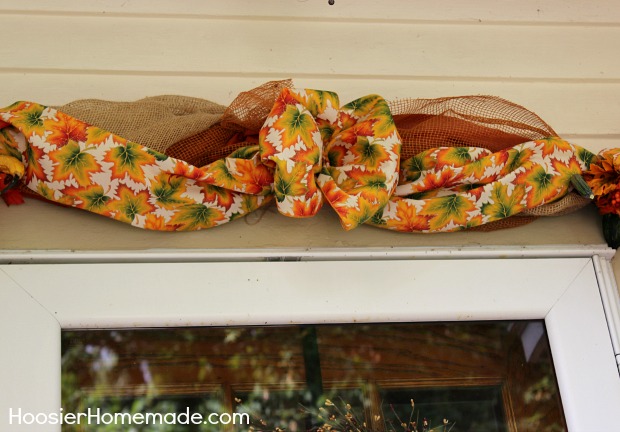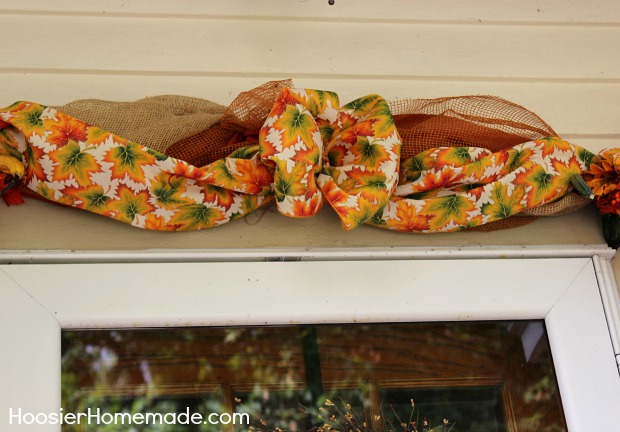 Step 5
To add a little bit of brightness, I added a bow and ribbon to the top of the door, made from a printed wide ribbon I found at Walmart.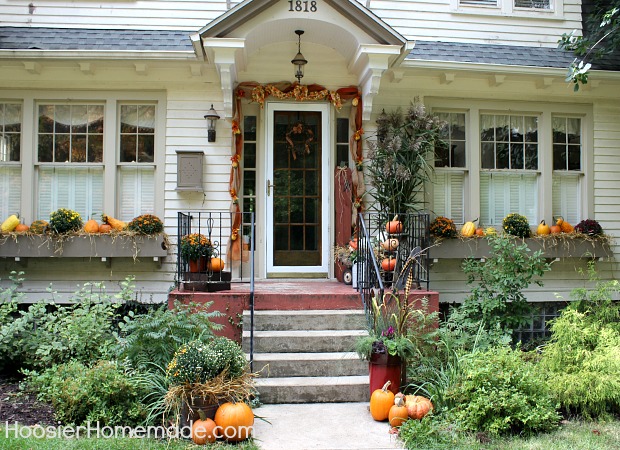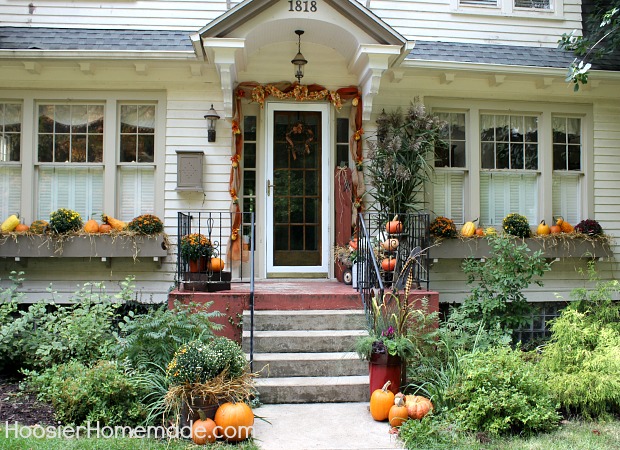 Stay tuned for more Fall Outdoor Decorating tomorrow!