I've told you about my trip to the Betty Crocker headquarters, and how I baked in their test kitchens. It was truly one of the most amazing opportunities ever!
Today I have another yummy recipe for you, Lemon Cream Crepes. I had never made crepes before, mostly because I didn't have the right size pan. While doing a little shopping last Friday, for our Anniversary, Doug and I found an 8 inch pan, just perfect to make crepes.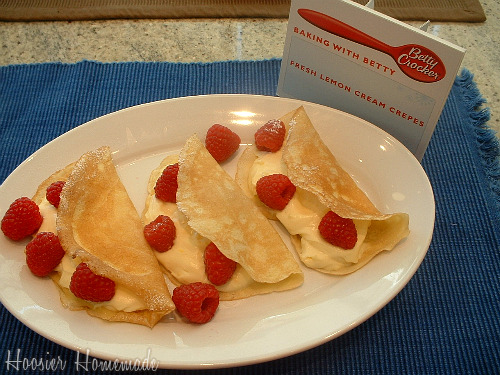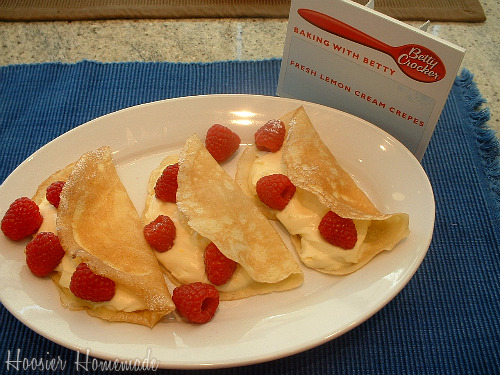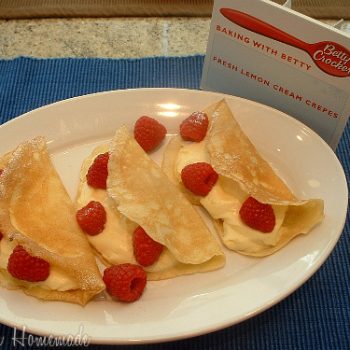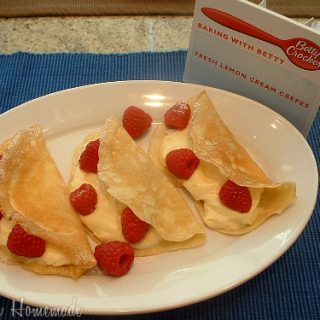 Lemon Cream Crepes
Lemon Cream Crepe recipe using Bisquick mix on HoosierHomemade.com.
Ingredients
Crepes
1/2 cup Original Bisquick Mix
1 tablespoon sugar
1/2 cup milk
1 tablespoon butter, melted
2 eggs
Filling
2 cups sour cream
1/2 cup milk
1 tablespoon grated lemon peel
1/4 cup fresh lemon juice
1 box (4 serving size) vanilla instant pudding and pie filling mix
2 cups fresh raspberries or other fruit
Powdered sugar
Additional raspberries, if desired
Instructions
In a small bowl, beat Bisquick mix, sugar, 1/2 cup milk, melted butter, and eggs with whisk or fork until blended.
Grease small nonstick skillet with shortening or cooking spray, heat over medium heat until bubbly.
For each crepe, pour 2 tablespoon batter into skillet; immediately rotate skillet until batter covers bottom.
Cook until golden brown on bottom side.
Run wide spatula around edge to loosen, turn and cook other side until golden brown.
In a small bowl, beat sour cream, 1/2 cup milk, lemon peel and lemon juice, and pudding mix with whisk or fork until well blended.
To assemble each crepe, spoon about 1/4 cup of filling on one end of crepe, top with raspberries, roll up and sprinkle with powdered sugar, serve with additional raspberries, if desired.
Our Menu Plan:
Monday ~ Soup and Sandwich
Tuesday ~ Crockpot Bacon Cheeseburger, Oven Fries, Veggie
Wednesday ~ Quesadillas, Taco Dip
Thursday ~ Mostacolli, Biscuits, Salad
Friday ~ Homecoming Tailgate Party
Saturday ~ Lemon Cream Crepes, Fried Potatoes, Bacon
Sunday ~ Sonic's Fritos Chili Cheese Wrap, Sonic Onion Rings (Copykat Cookbook) never got this made from a couple wks ago
Don't forget! Tomorrow (7 a.m.) is Cupcake Tuesday, so get your Cupcakes ready to share! And don't forget to add your posts to the Delicious Dishes linky party over at Blog Party every Tuesday, 7 a.m.
I'm linking to the Blog Parties in my footer, please visit them! You might just find one or two that are new to you!