This year you can use some of these Fun Halloween Decorating Ideas to turn your house into the perfect haunted house for your party. Halloween is such a fun and spooky holiday that everyone loves. Decorating doesn't have to cost much! You just need some imagination and a bit of time!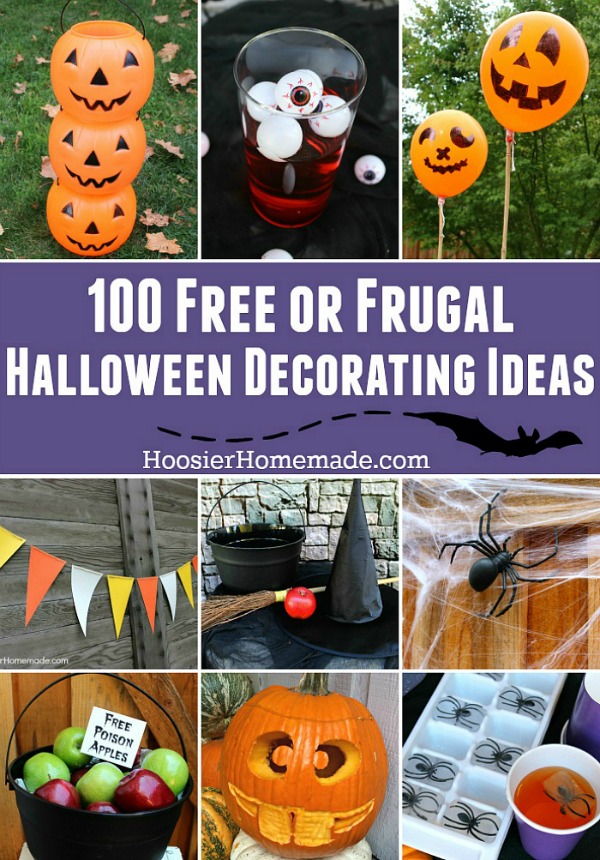 These fun, creative and free or frugal Halloween decoration ideas will have your house ready for the next Halloween party or haunted house with ease!
1. Trash Bag Ghosts can hang from ceilings or trees outside.
2. Black trash bag spiders are easy to make when you stuff with fallen leaves.
3. Natural cobwebs or spiders webs left in tact.
4. Black trash bags covering windows.
5. White sheet ghosts hanging from the ceiling, porch or trees in the yard.
6. Orange, white and black candles
7. Cheesecloth ghosts (add a bit of felt for eyes and mouth, then string from the ceiling with fishing line)
8. Drill holes in pumpkins to create a fun alternative to a Jack-O-Lantern.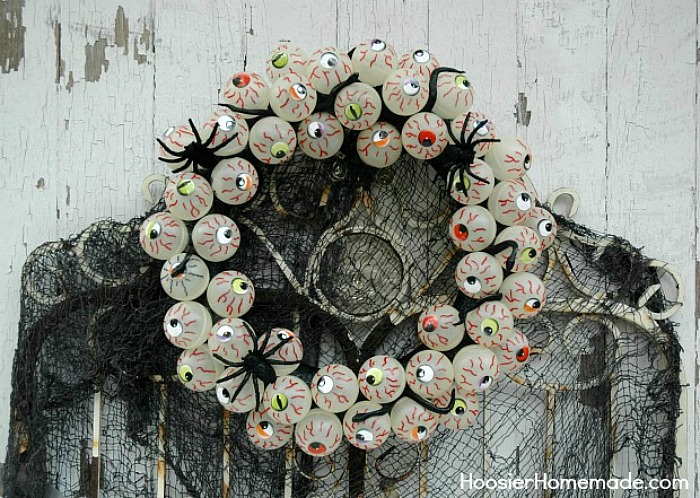 9. Create an "eye catching" Eyeball Wreath for your front door.
10. Orange and black wreaths (Dollar Tree foam wreath and gold/orange bandannas)
11. Use Dollar Tree $1 black and orange tablecloths, napkins, plates, utensils and cups.
12. Paint rocks with glow in the dark paint and line your walkway.
13. Create large spider webs in corners or on walls with white, gray or black yarn.
14. Wrap mason jars in tissue paper and add eyes to create ghost jars.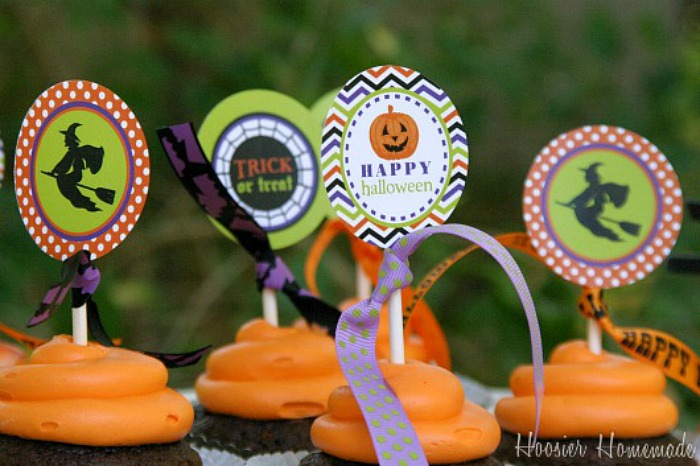 15. Free Halloween printables 
16. Milk jug ghosts (paint spooky faces on jugs and drop a glow stick inside then sit outside after dark.
17. Brooms with "Witches Ride" labels
18. Terrariums with fake spiders, eyeballs or fingers (grab items from local dollar store for under $5
19. Dead potted plants with fake cobwebs or just by themselves.
20. Hang drying fresh herbs with paper labels for different "poison roots".
21. Dry ice in large kettles creates fog.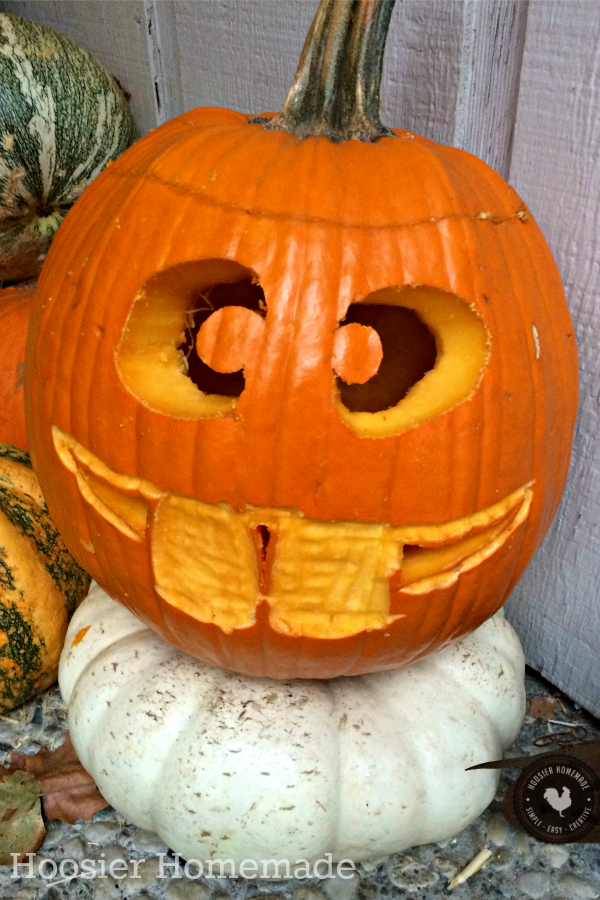 22. Jack O Lanterns are great on your steps, porch railing or as a centerpiece.
23. White Christmas lights for spooky lighting around your room.
24. Homemade gravestones with paper bags, spray paint and makers.
25. Fake vampire teeth everywhere.
26. Goop, Gak or Slime oozing out of bowls and dishes.
27. Egg carton bats (cut egg cartons into 3 "cup" sections then spray paint black and embellish with googly eyes)
28. Plastic toy snakes put in your bathrooms
29. Bug Soaps (make homemade glycerin soap and add plastic bugs in it to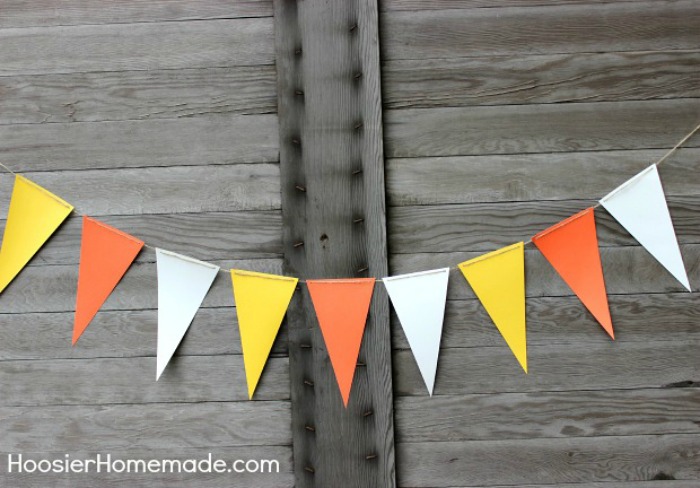 30. Candy Corn Banner (twine and construction paper cut into candy corn shapes)
31. Dryer vent pumpkins (spray paint a section of dryer vent and loop around connecting both ends creating a round pumpkin. Add leaves or twig to the top to create a pumpkin)
32. Gourds or large squash
33. Glow sticks (in jars, lanterns or tucked into corners under sheer cloth)
34. Black light (to make everything stand out in a dark house)
35. Pipe cleaner spiders (black pipe cleaners twisted into spider shapes)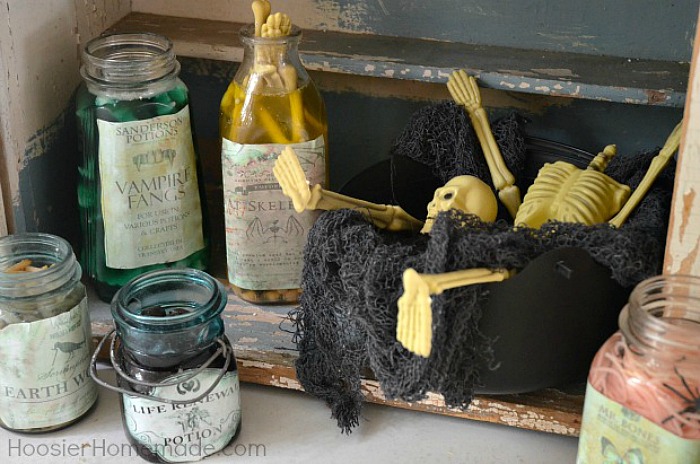 36. Specimen jars (mason jars with colored water and plastic spiders, eyeballs, fingers and similar items)
37. Framed lace (lace pieces can be used as a stencil to spray onto card stock a fun design and frame)
38. Witches hats placed around the house
39. Plastic bats hung from the ceiling
40. Black cauldrons can hold candy, treats or just be stacked together in a corner.
41. Black flowers, balloons and party supplies (if hosting a party decorate with black items that resemble death).
42. Create cardboard coffins.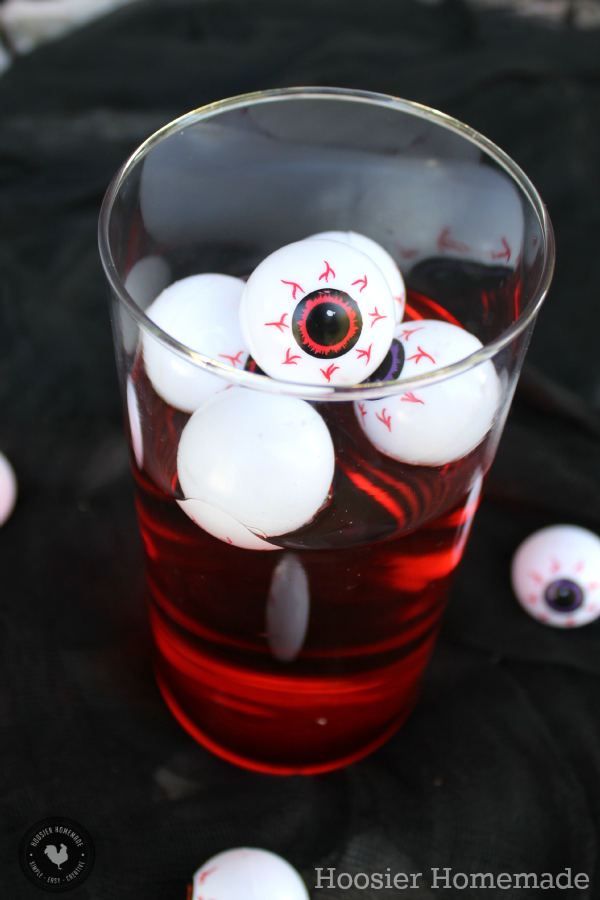 43. Plastic eyeballs in a jar (or the eyeball candy found around Halloween)
44. Fake vintage death certificates (print random names and conditions on a fake certificate and frame).
45. Luminaries (paper bags, sand and candles or LED tea lights)
46. Apothecary bottles (old amber bottles that are dusty with peeling labels are perfect)
47. Bloody knives (fake blood on dull kitchen knives can make a great centerpiece or random decoration)
48. Silhouette portraits (create fun silhouettes of your family and frame in dark frames)
49. Spooky vintage photos (print old vintage photos and put in frames then cover with fake cobwebs)
50. Button Pumpkins (use old buttons in various sizes on a cardboard background. Arrange in the shape of a pumpkin then spray paint orange)
51. Fake jars of poison (old mason jars filled with flour can be labeled with things like arsenic, rat poison, etc.)
52. Floating heads (add glow sticks to the inside of white balloons. Fill with helium and paint faces on with markers)
53. Lanterns (grab your camping lantern and use on tables or porches as a decoration)
54. Shovels, rakes and other yard equipment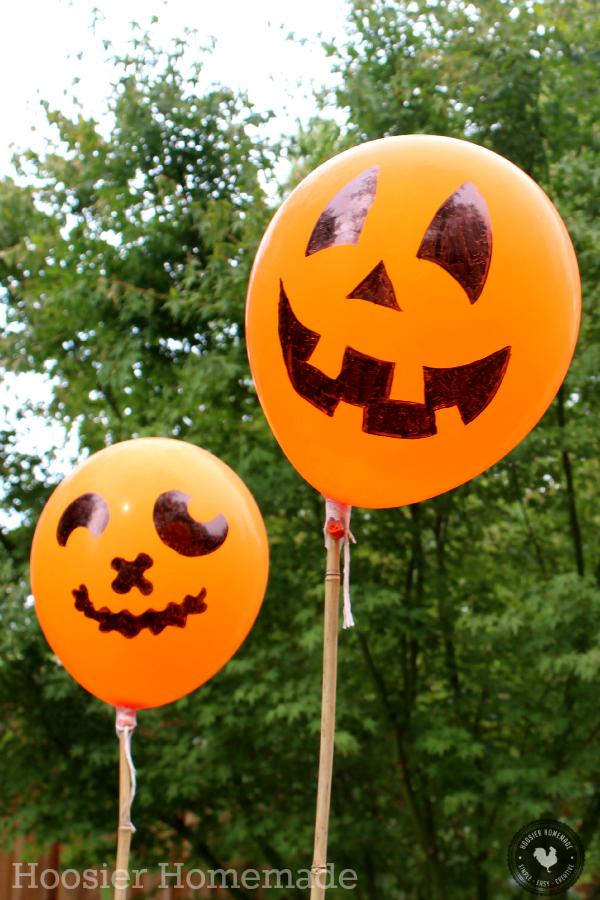 55. Jack-O-Lantern Balloons (orange balloons with black marker faces)
56. Hockey masks (think Friday the 13th)
57. Potion bottles (add fun printed labels to existing wine bottles to create fun new "potions")
58. Shadows in windows (use black paper to cut out images of people, animals or ghosts. Hang in upstairs windows with a lamp behind them to create a fun scary shadow.)
59. Glowing eyes (use toilet paper or paper towel rolls that have eye holes cut out then slide a glow stick inside and watch eyes glow in the dark).
60. Googly eyes. A small package of googly eyes for crafting can be glued to pictures, picture frames, bowls, candles and more to create a spooky effect.
61. Vampire blood. Red juice or punch in glass jars with a label of blood type is super creepy.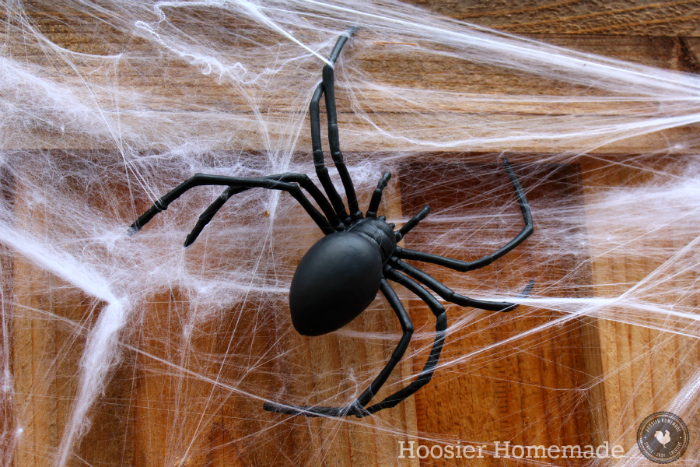 62. Plastic toy spiders on shelves and hanging from the ceiling.
63. Fake cobwebs can hang from corners, shelves and ceiling fans.
64. Construction paper bats made from tracing a bat shape on black paper, cutting out, adding eye and hanging upside down with fishing line.
65. Lipstick message on mirrors with red lipstick dripping like blood is tons of fun.
66. Use scrap lumber to "board up" windows making your house look vacant.
67. Front yard cemetery with large rocks or pieces of cardboard painted and decorated to make gravestones.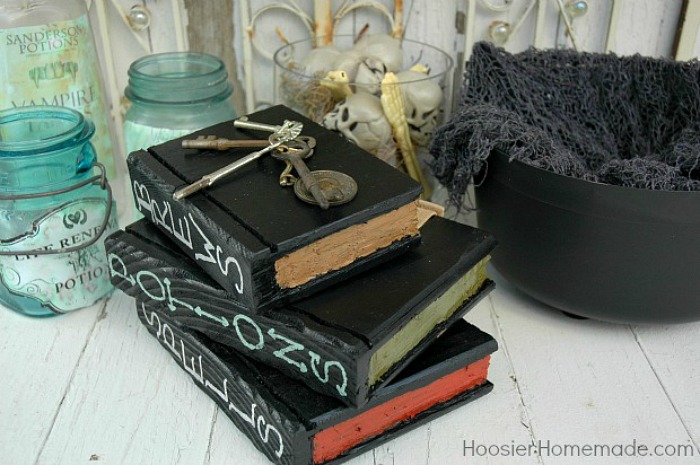 68. Witches spell books you can create using blocks of wood and paint.
69. Use old chains to create a dungeon area with chains and shackles on dolls.
70. Decapitated dolls from your kids broken doll or toy collection in a box or corner of the room are creep and fun.
71. Create a grim reaper with a black sheet draped over a white balloon painted face.
72. Put plastic hands in potted plants as if a zombie is creeping out of the ground.
73. Use orange, yellow and white scrapbook paper glued over cardboard to make large candy corn pieces.
74. Prop a ladder against your house and place a cardboard or paper cut out black cat under it.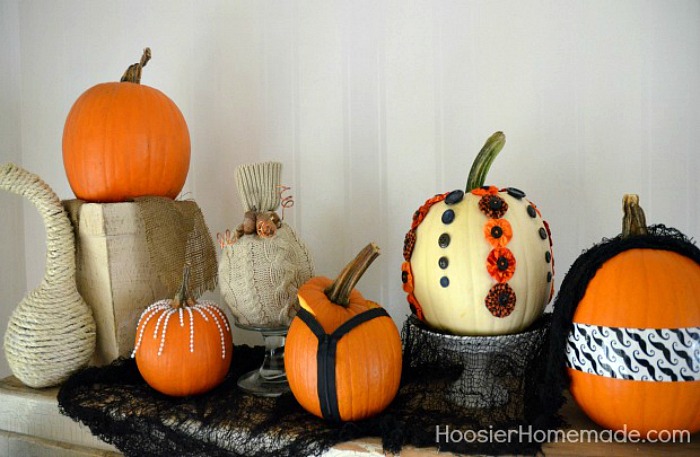 75. Easy decorated pumpkins are great centerpieces.
76. Black lace wrapped candles are perfect on a mantel.
77. Put black and white striped socks on table legs and add cardboard shoes to look like witches legs.
78. Plastic mice, rats or other small rodents.
79. Plastic cup monsters: Paint plastic cups with ghoulish eyes and add an LED tea light candle underneath to make them glow.
80. Black paper shadow images. Cut out mice, snakes, spiders, bats or creepy monsters an glue or tape to walls, stairs and other areas to make fake spooky shadows.
81. Paint pine cones orange, yellow and white for a fun centerpiece.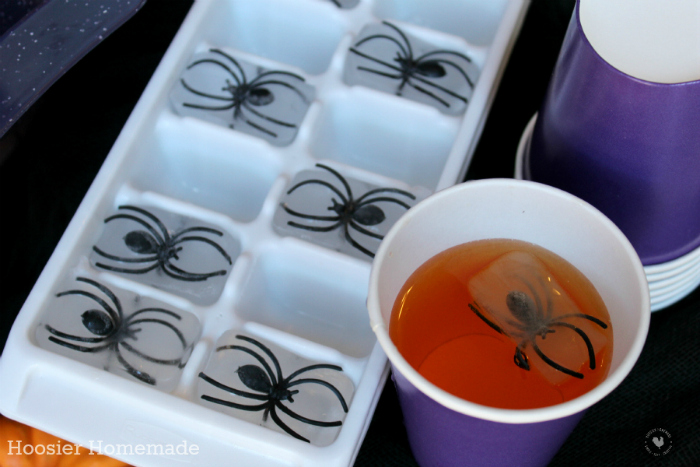 82. Add plastic spiders to water in ice cube trays for creepy drink additions.
83. Bales of hay added to any room make it feel like fall and Halloween.
84. Wrap black and orange ribbon into bows on the back of dining chairs.
85. Cut out orange paper pumpkin place settings
86. Smear red paint (that is easy to wash off) on refrigerator or freezer doors to create a crime scene look.
87. Add eyes to ping ball ball and put into large clear bowl as a centerpiece of eyeballs.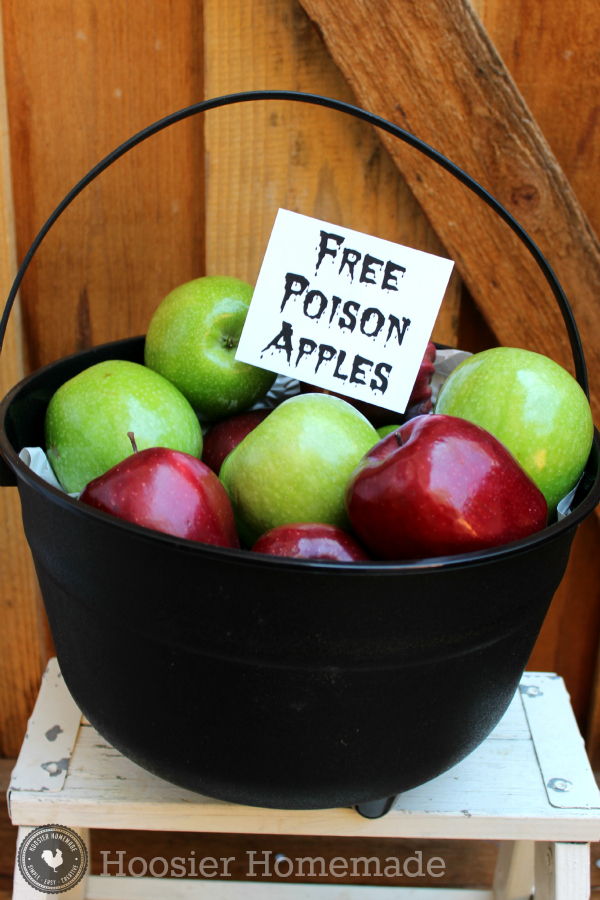 88. Fill a large tub or "cauldron" with apples and put a sign up with "Poison Apples for Free".
89. Wrap newspaper into the shape of a body and then tie black garbage bags around it making it look like a body dump.
90. Add red food coloring to the tank of your toilet so it looks like it is full of blood for your haunted house guests.
91. Wrap black and orange tulle or ribbon around hand rails.
92. Hang paper or plastic in windows to darken rooms for haunted house or parties.
93. Add stuffed striped socks in black shoes to the edge of your house to make it look like a house fell on the wicked witch.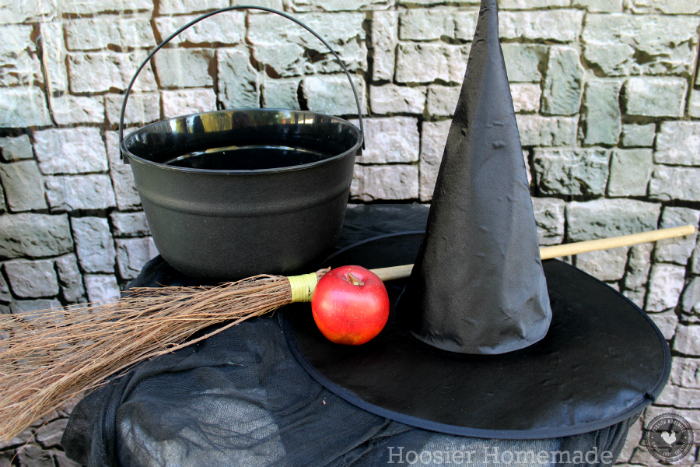 94. Buy witches hats at the Dollar Tree and stack by the door with your straw brooms.
95. Frame printed pretend obituaries with funny names and wild causes of death.
96. Red Jello for "pools of blood" in bowls are fun to eat and decorate with.
97. Put gloves on the sides of your toilet paper roll holder to make it look like hands are holding your toilet paper.
98. Tie black ribbon on twigs to create a simple bat to poke into your garden or potted plants.
99. Paint blocks of wood orange and add a small twig to top to make a simple rustic pumpkin patch.
100. Paint Dollar Tree candle sticks black, orange, yellow and white to create a mantle centerpiece.