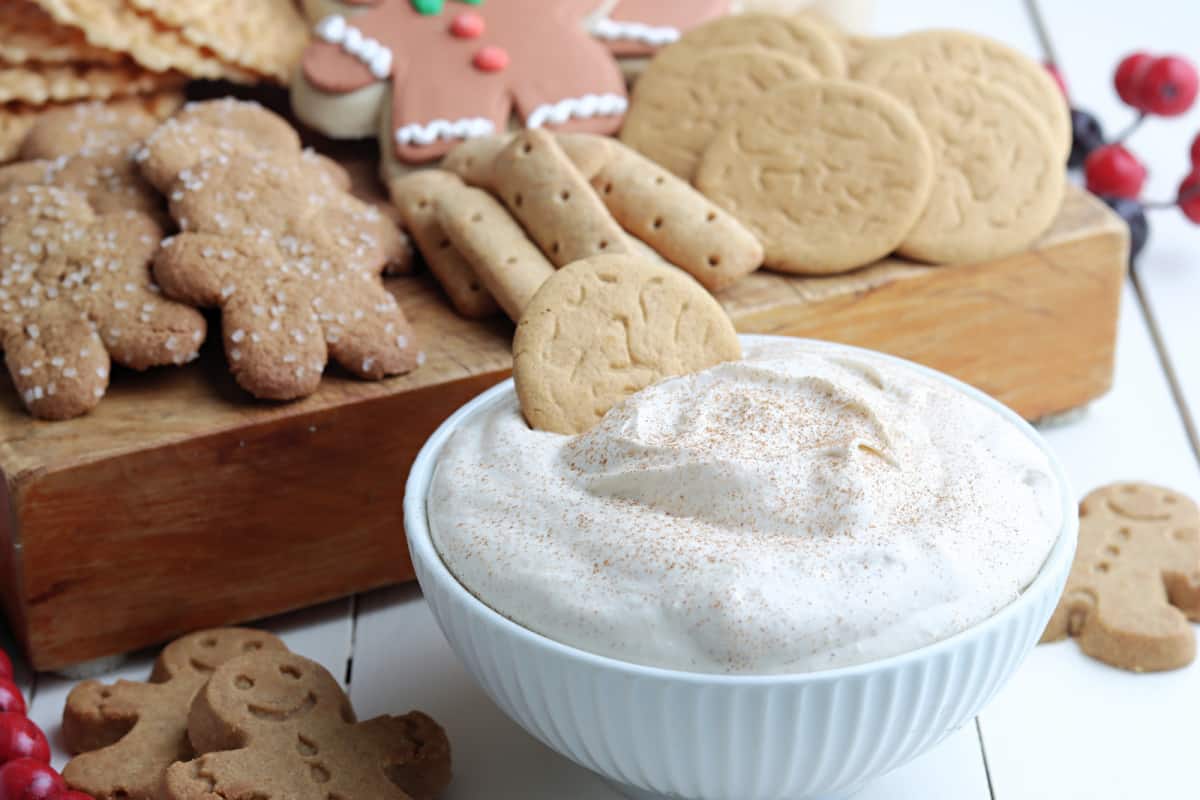 Wouldn't it be amazing if we turned everyone's favorite holiday drink into a Dip? Enter Eggnog Dip, a sweet, fluffy, creamy, and mouth watering delicious dip made using eggnog, cream cheese, extracts, powdered sugar, and whipped topping.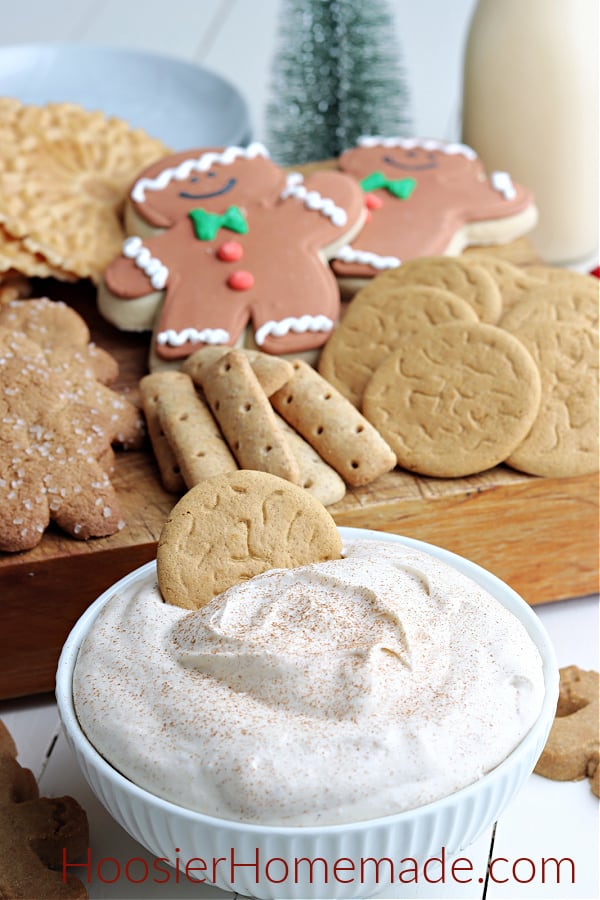 It's the holiday season, and do you know what that means? It's time to enjoy all the good things attached to it! I'm talking about holiday cookies, Christmas puddings, pumpkin pies, and hot beverages on a chilly winter evening.
However, if you want to take your winter desserts up a notch, you can whip up a delicious eggnog dip!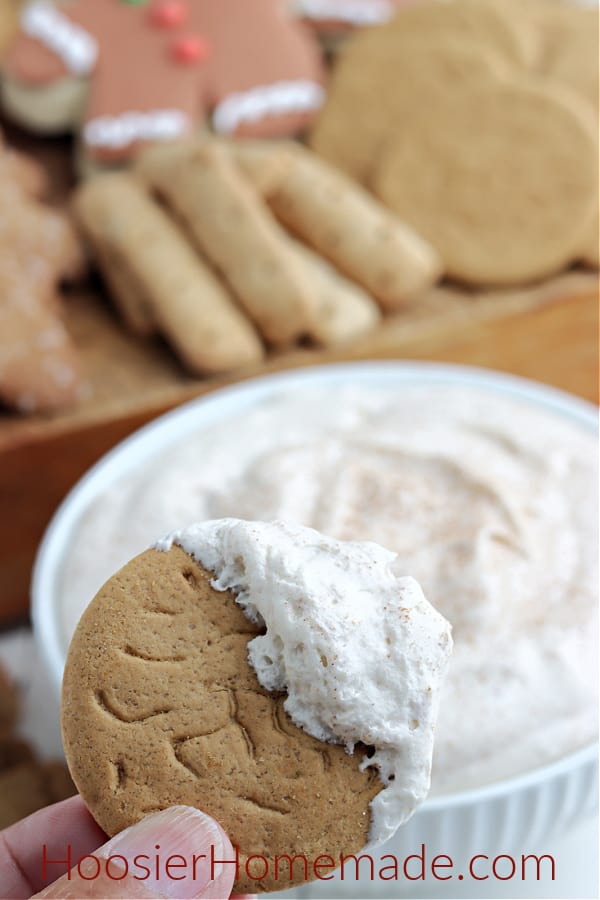 Do you know what the best part is? This tempting eggnog dessert comes together in hardly 15 minutes! It's a simple mix-and-stir recipe that does not require you to spend hours in the kitchen. Just add all the ingredients one by one in a large bowl and beat them to smooth perfection. And there you have it: A tasty eggnog dip that you can devour with a dipper of your choice.
In a hurry? This Eggnog Dip is a quick and simple recipe that can be made even if you're in a rush. 
The ingredients required to make this dip are usually available in our pantry, so you won't have to rush to the store to get them. The only time required is an hour for it to chill; otherwise, it's ready as soon as you're done folding the mixture.
What to serve with your Eggnog Dip?
The options are endless, here is what we served:
What would you add?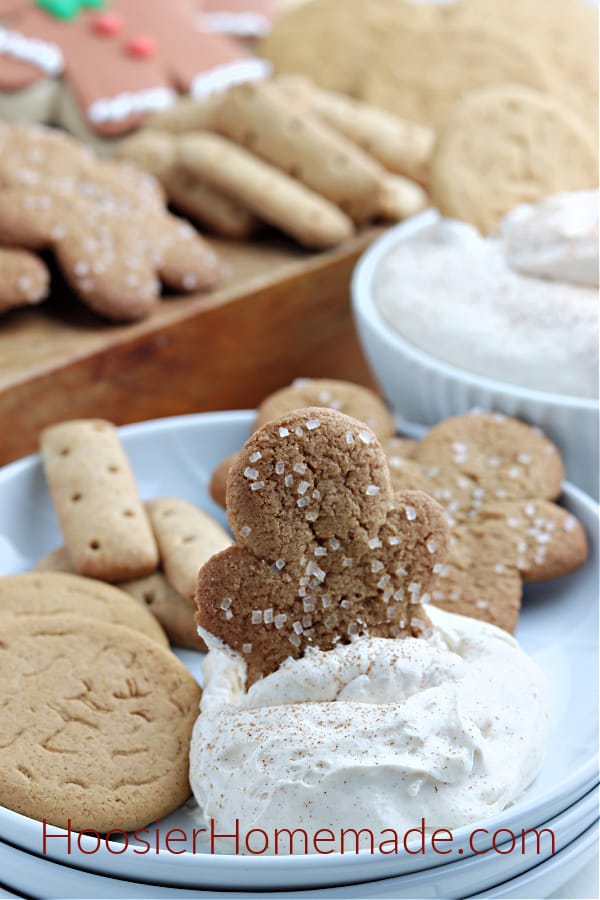 Tips for the Best Eggnog Dip 
Chilling Tip #1: Make sure to chill the eggnog dip for at least an hour before serving.
Storing Tip #2: Do not leave the eggnog dessert dip at room temperature for more than 2 hours, as the ingredients used in the recipe can go bad. 
Eggnog Tip #3: Homemade traditional eggnog is made with raw eggs, although when you add alcohol to the eggnog, it acts like a preservative and prevents the eggs from developing bacteria. In our recipe for Eggnog, we cook the eggs, preventing any issues with them. 
Make-Ahead Tip #4: You can make the eggnog dip beforehand and store it in the refrigerator for up to 2 days.
Freezing Tip #5: You can also freeze the dip in an airtight container for up to 2 months and thaw it overnight in the refrigerator before using it.
Mixing Tip #6: As this eggnog dessert recipe requires a lot of mixing, I recommend using a stand or hand mixer for a smooth and creamy texture.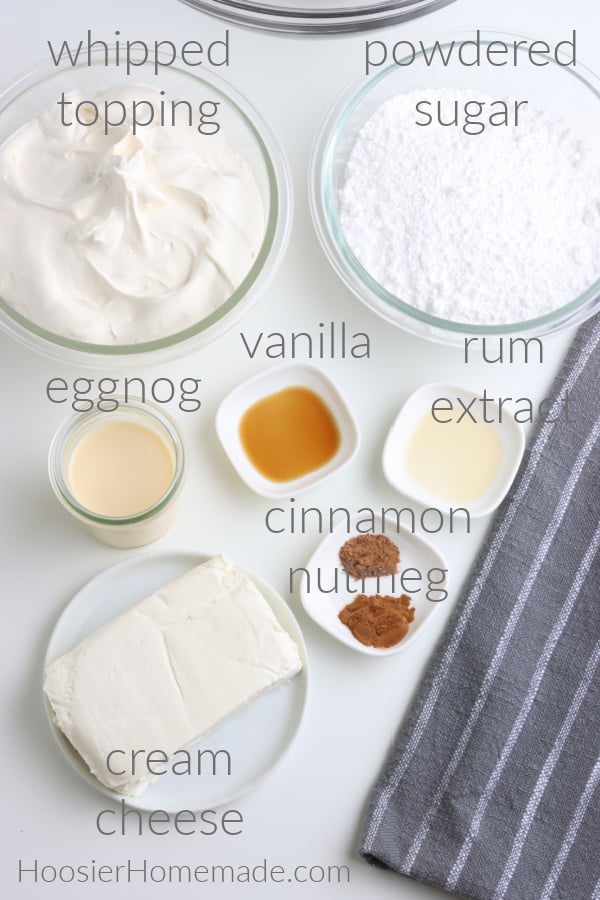 Ingredients for Eggnog Dessert Recipe 
Complete recipe below
Cream cheese:

You can use cream cheese of any brand; however, make sure it is softened by leaving it on the counter for 10-15 minutes before mixing. This ensures a smooth mixture.

Eggnog:

You can use store-bought or homemade eggnog. I made some at home, using this

eggnog recipe

I made for my daughter-in-law when she was expecting her first child. 

Rum extract:

You can easily find rum extract at the grocery store in the section which sells vanilla extract.

Vanilla extract:

Pure vanilla extract is an essential ingredient to enhance the taste of other ingredients. 

Ground cinnamon and nutmeg:

To balance the sweetness in the eggnog dip, add a little spice and a woodsy flavor.

Powdered sugar:

The main ingredient to add sweetness, taste, and perfection to the eggnog dessert; however, make sure to use powdered sugar and not granulated sugar to make the dip as smooth and velvety as possible.

Whipped topping: You can use store-bought whipped topping (thawed) to add a distinct creaminess to the dip. Or whip cream is fine too.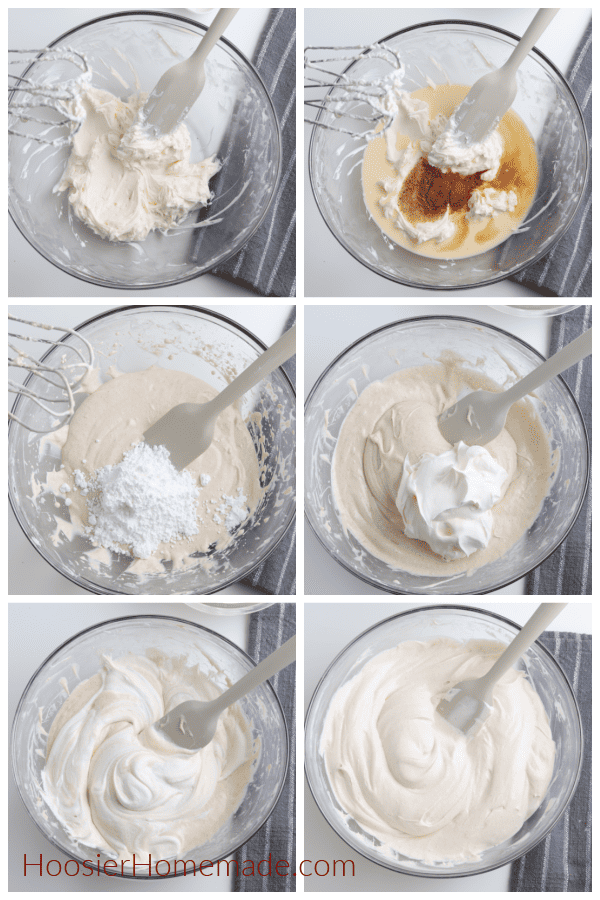 How to Make Eggnog Dip
Full instructions below
Begin by beating the cream cheese
Now add the eggnog, extracts and spices
After that is nicely combined, you need to add the powdered sugar. Be sure to add a little at a time.
Now it's time for the whipped topping.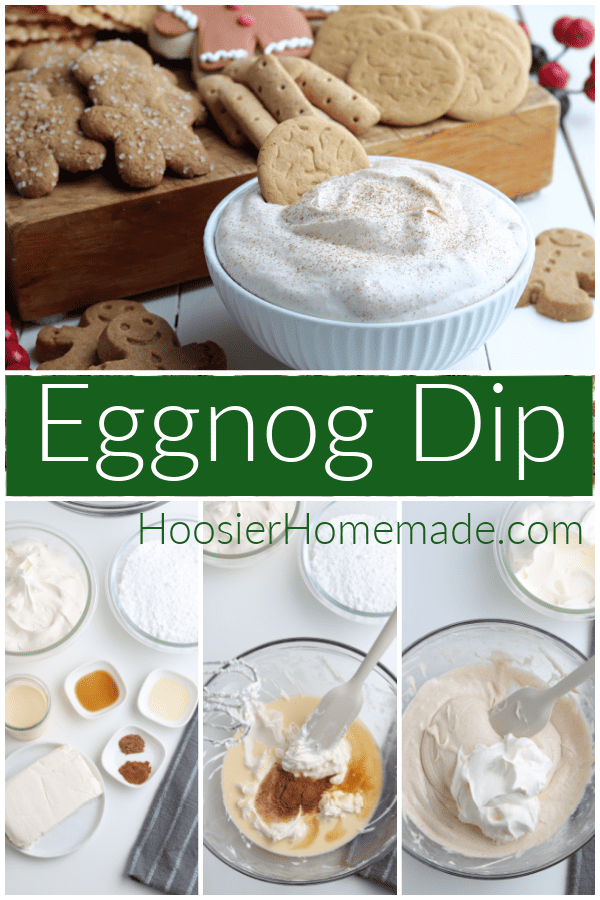 Looking for more fun Christmas Dessert Recipes? We have many that are quick and easy to choose from!
Click on the Photo for the Recipe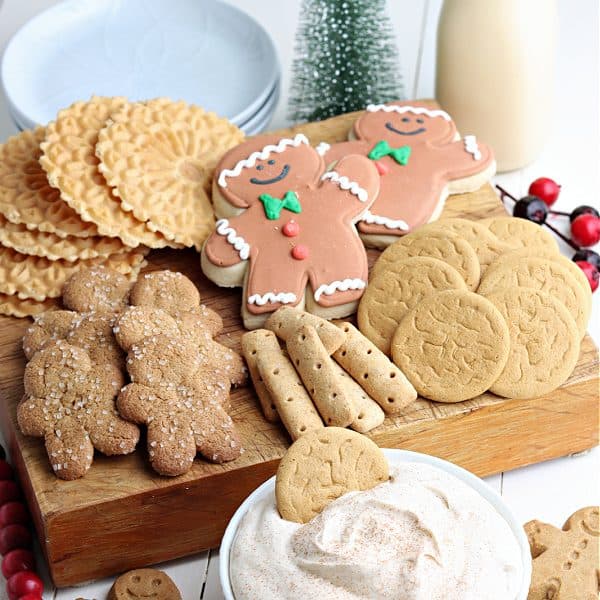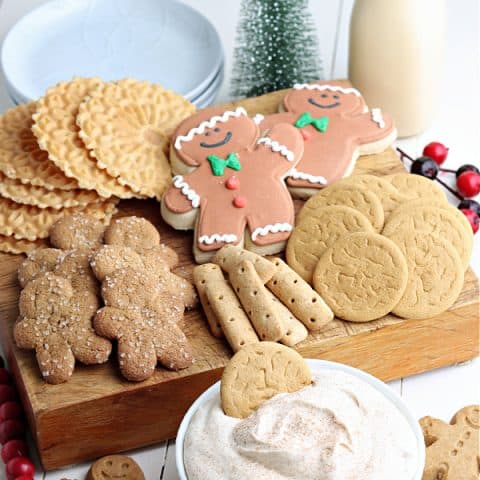 Eggnog Dip
Total Time:
1 hour
15 minutes
This creamy and delicious Eggnog Dip goes together in minutes!
Ingredients
1 block (8 oz) cream cheese, softened
½ cup eggnog
½ teaspoon rum extract
½ teaspoon vanilla extract
½ teaspoon ground cinnamon
¼ teaspoon ground nutmeg
2 cups powdered sugar
1 tub (8 oz) whipped topping, thawed
Dipper Choices
Gingerbread cookies
Ginger snap cookies
Vanilla wafer cookies
Pizzelle cookies
Graham crackers
Chocolate graham crackers
Fruit: strawberries, apples, raspberries, blackberries or blueberries
Instructions
In a large bowl, beat the cream cheese until light and fluffy, about 4 minutes
Add eggnog, rum extract, vanilla extract, cinnamon and nutmeg
Beat until smooth
Gradually add powdered sugar, beating after each addition until smooth
Fold whipped topping into eggnog mixture until smooth
Transfer to smaller bowl and chill in refrigerator for at least 1 hour before serving
Serve with your choice of dippers
Store leftovers in refrigerator