Church Window Cookies are a delicious and festive treat! They are perfect for Christmas. These cookies are always a hit at parties and potlucks and make for a lovely homemade gift. If you're looking for a show-stopping cookie recipe, look no further than these No Bake Cookies!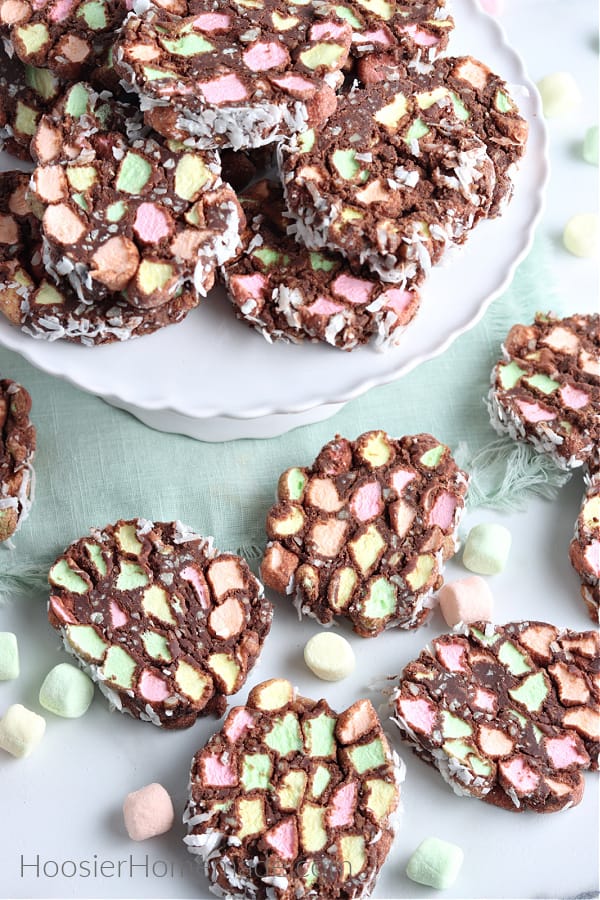 I've made these no bake cookies quite a bit over the years, but I am dying to make them with the kids and my grandson this year. These window pane cookies are great to set on the Christmas dessert table and watch everyone enjoy!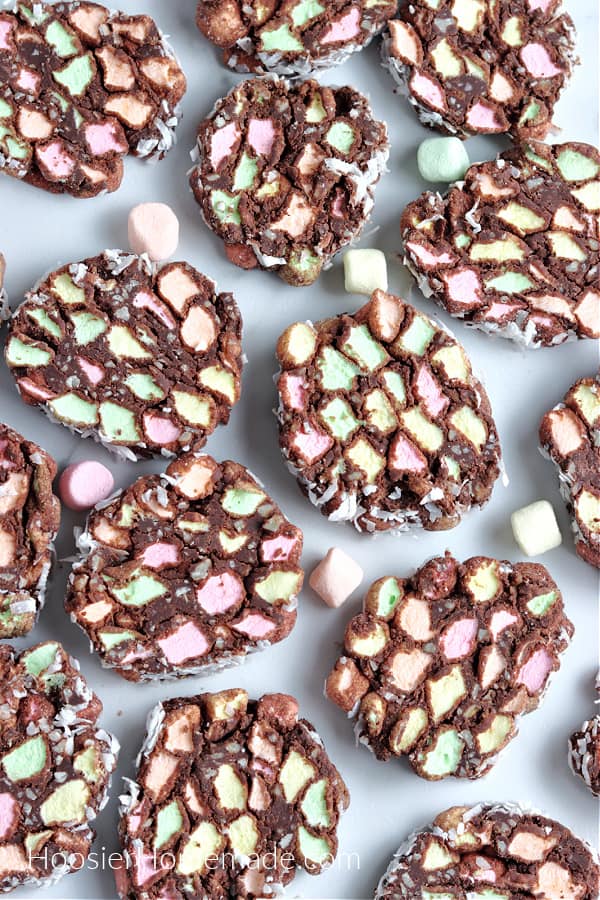 Why are they called Church Window cookies?
It's common for these cookies to be called church window cookies because they look like church windows.  These cookies are also sometimes called stained glass windows because they look colorful from the marshmallows, just like a church window.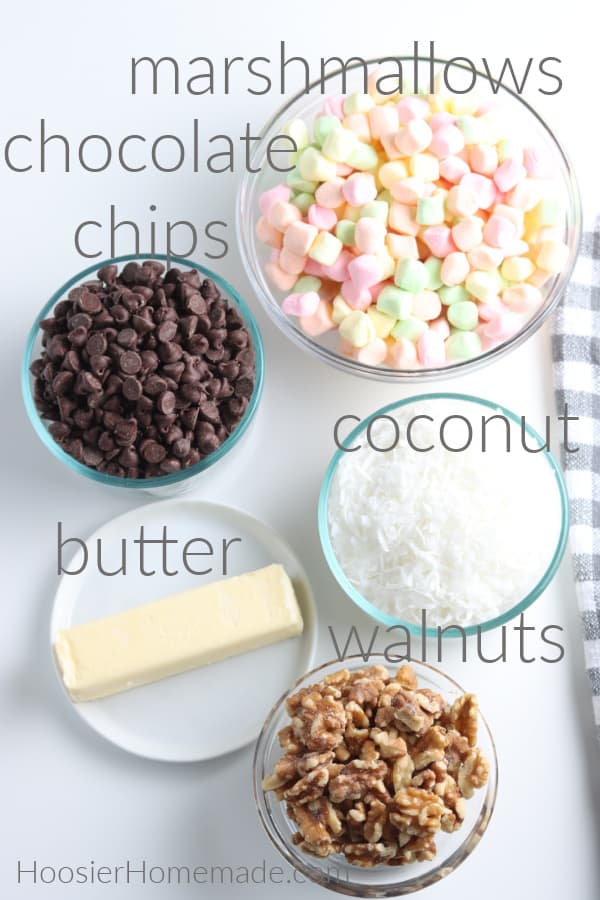 Ingredients Needed
Semi-sweet chocolate chips

– You can use whatever kind of chocolate you want, but I prefer the semi-sweet.

Unsalted butter

– The unsalted butter helps to melt everything together.

Pastel mini marshmallows

– These are what make the stained glass look.

Finely chopped walnuts or pecans

– The nuts help to give the cookies a crunch.

Shredded sweetened coconut – For a final touch, the shredded coconut makes these cookies look and taste awesome.
Kitchen Essentials
There are no special appliances or equipment needed to make these No Bake Christmas Cookies, however you WILL need a bit of patience.
heavy saucepan to melt the chocolate chips
large mixing bowl
knife to cut the cookies
plastic wrap to help mold the chocolate log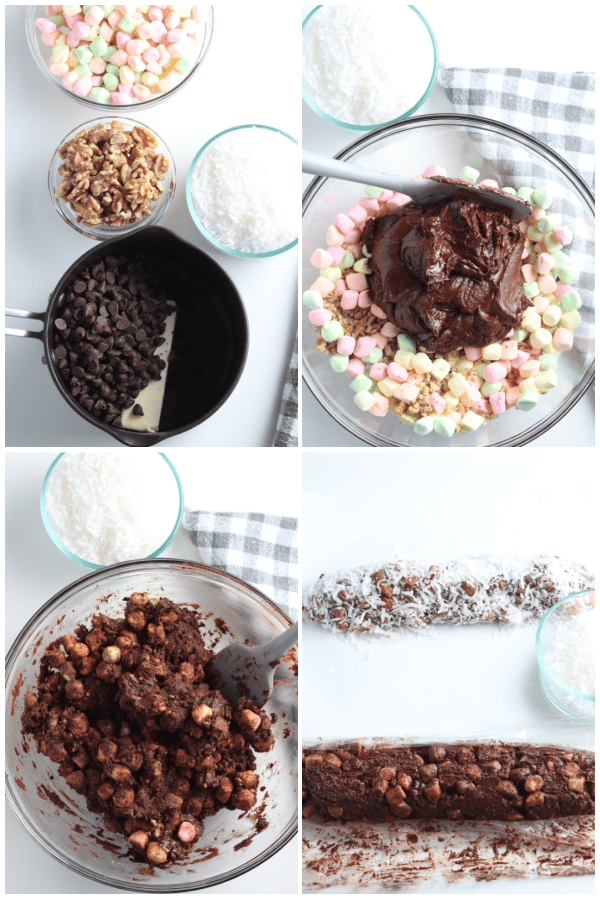 How to Make Church Window Cookies 
The key to these cookies is patience. They won't look perfect, and that's okay. 
See full instructions and ingredients below 
Begin by melting the butter and chocolate chips in a heavy bottomed saucepan 
After the marshmallows and nuts are mixed, add the cooled chocolate 
Stir the mixture until all the marshmallows are well coated 
Use plastic wrap to roll the chocolate log in, I found this to be the easiest way.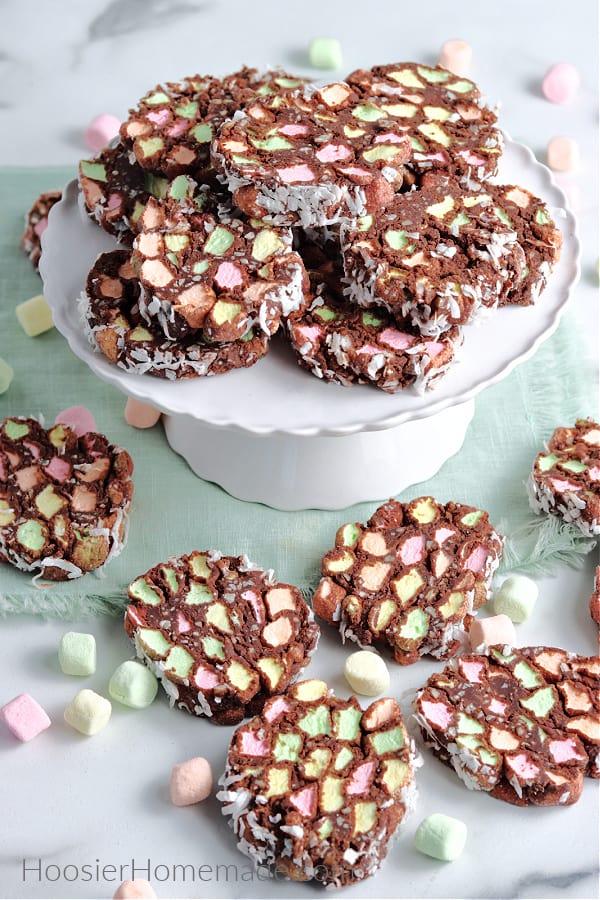 Tips for Making Church Window Cookies
Baker's Tip #1: I usually recommend using parchment paper or a silicone mat, however with these Christmas cookies you will need to use plastic wrap, it helps to mold the chocolate log much easier.
Baker's Tip #2: When adding the chocolate over the marshmallow mixture, don't worry about making it perfect. Just drizzle the chocolate over the top and use a spoon to spread it out evenly.
Baker's Tip #3: If you aren't going to eat your church window cookies right away, I recommend storing them in an air-tight container at room temperature for two weeks or longer.
Baker's Tip #4: You'll want to leave these cookies in the fridge for at least 2-4 hours BEFORE you cut them. The trick to ensuring the cookies cut well is to make sure they're firm enough.
Baker's Tip #5: You can omit the coconut if you prefer. However, my family loves the coconut and we usually add even more to our Stained Glass Window Cookies.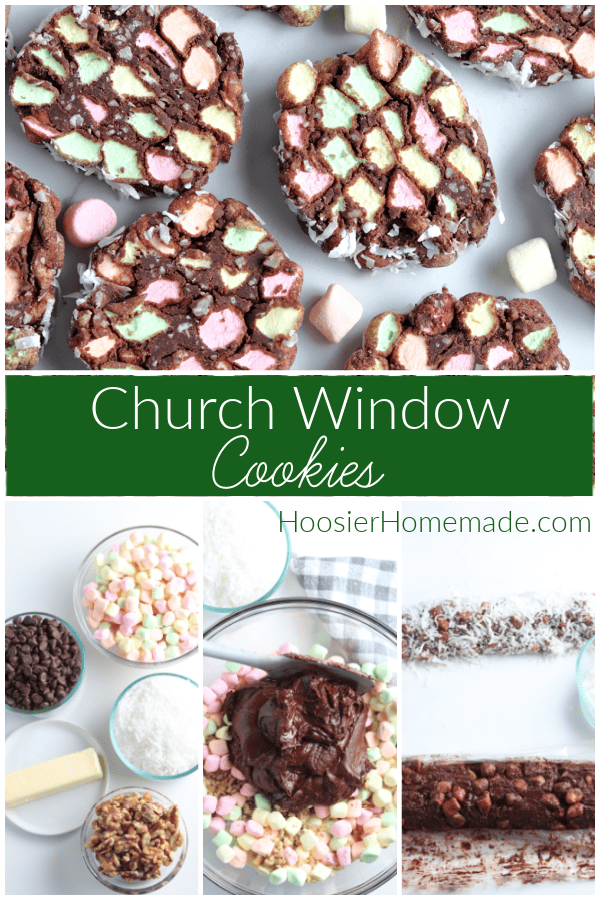 Looking for more Christmas Cookie Recipes? We have many that you are sure to LOVE!
Click on the Photo for the Recipe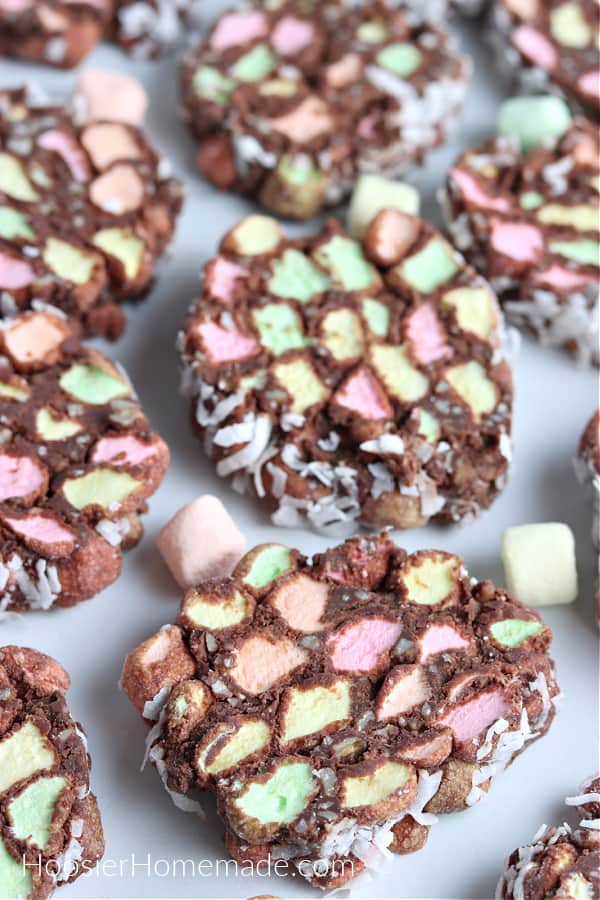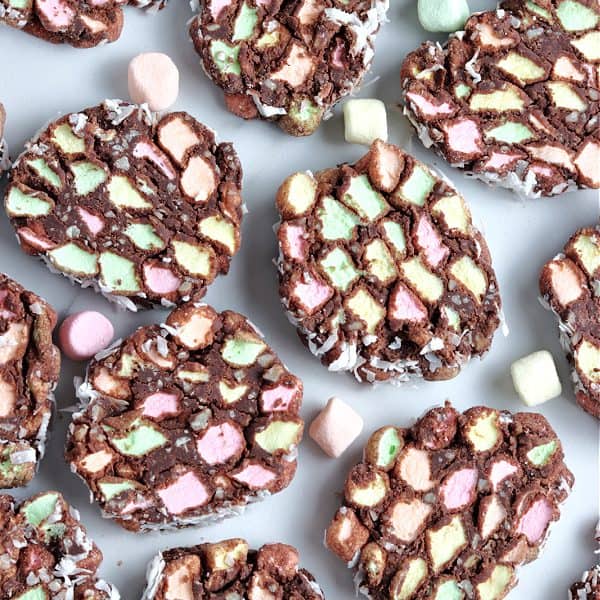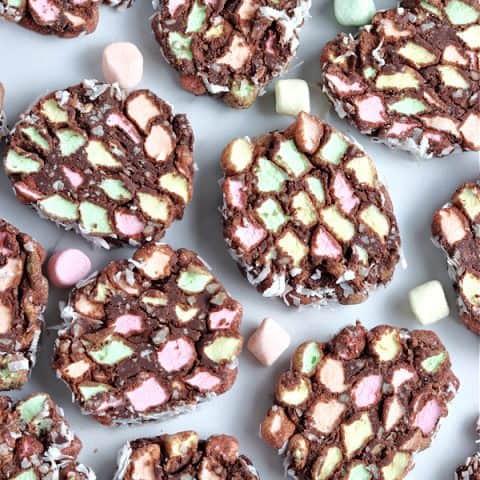 Church Window Cookies
Total Time:
1 hour
17 minutes
Church Window Cookies are easy to make, but they are just so beautiful. Made with mini marshmallows, chocolate, and walnuts, these ingredients make the perfect cookie.
Ingredients
2 cups semi-sweet chocolate chips
½ cup (1 stick) unsalted butter
1 bag (10.5 oz) pastel mini marshmallows
1 cup finely chopped walnuts or pecans
2 cups shredded sweetened coconut
Instructions
In a heavy saucepan, melt chocolate chips and butter over low heat, stirring frequently
Allow mixture to cool 5-10 minutes, so it doesn't melt the marshmallows
While chocolate is cooling, prepare the rolling station by laying out 2 large pieces of parchment, plastic wrap or wax paper onto a working surface and evenly spread 1 cup of coconut
In a large bowl, mix the marshmallows and nuts
Add chocolate over marshmallow mixture and stir until combined well
Divide mixture in half and place on top of coconut
Shape into logs and roll up tightly in plastic wrap
Refrigerate 2-4 hours or until firm enough to cut **you can also freeze about 15 minutes to get a clean cut
Slice into ¼ inch thick cookies
Store in airtight container in a single layer with parchment paper separating layers