Moist, packed with flavor and healthy ingredients including zucchini, carrots, raisins and walnuts, these Carrot Zucchini Bars are perfect for Potlucks, Picnics, Lunchboxes, Weeknight Dessert or a special Weekend treat, just about any time. In fact, I will have to say they are the best Zucchini Bars Recipe I have ever tried.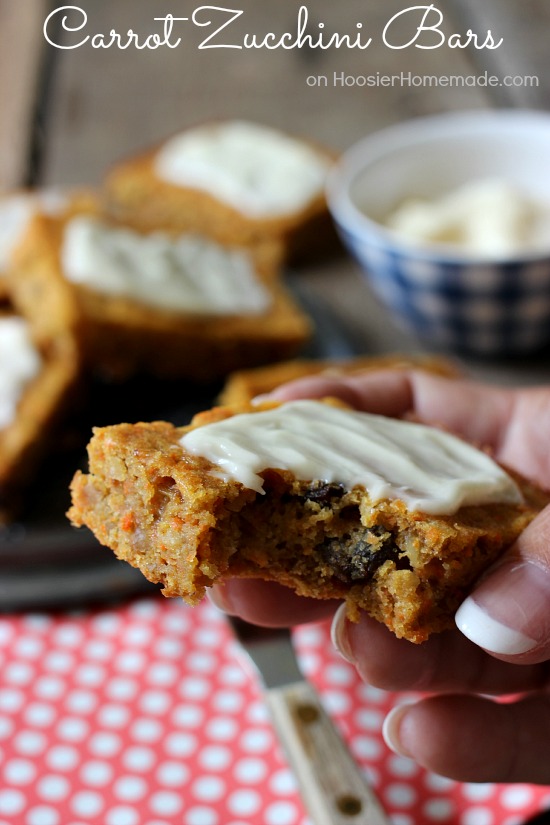 For what I consider being one of the bland vegetables, zucchini really packs a punch when used in baked goods. The addition of carrots in these Zucchini Bars gives them extra moistness. And the raisins and walnuts add even more flavor. Of course, the Cream Cheese Frosting is optional, but I highly recommend it.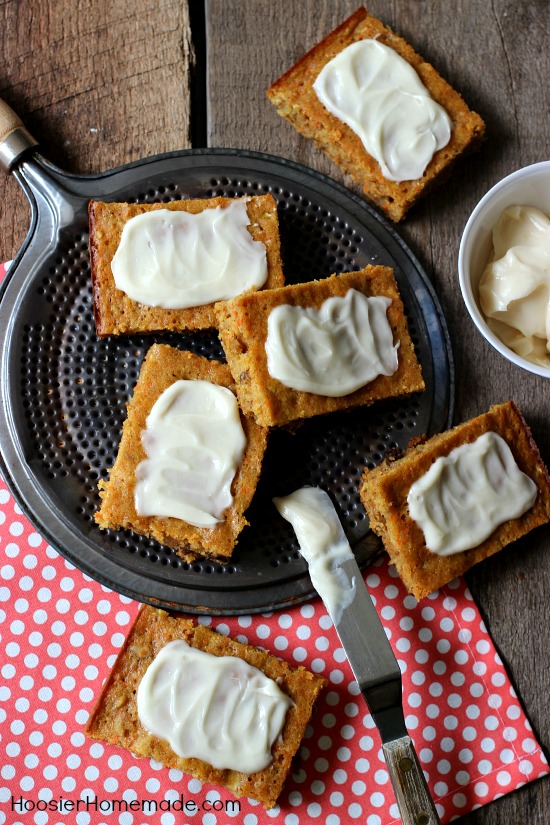 When was a young girl, my Dad had a huge garden, and I mean huge. He would plant about 35 tomato and pepper plants each, plus lots of other vegetables. Often times he would just let the zucchini grow really big, you know those kind that weigh a few pounds and look almost like baseball bats, and then my Mom would bake Zucchini Bread and Chocolate Zucchini Cake all during harvest season.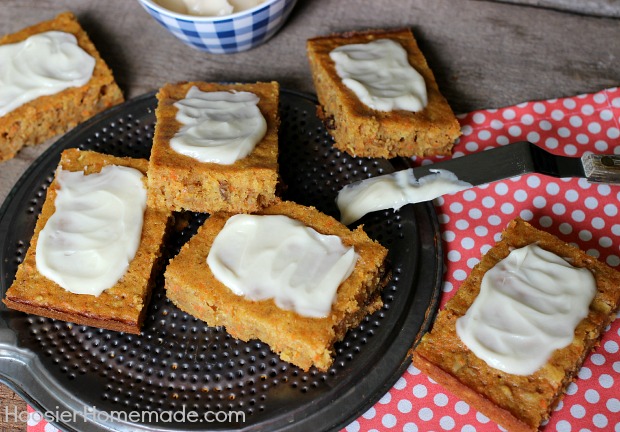 Although this Carrot Zucchini Bars Recipe is new to me, I do remember my Mom baking a similar recipe. Perhaps I need to dig through all of her old recipes and find it.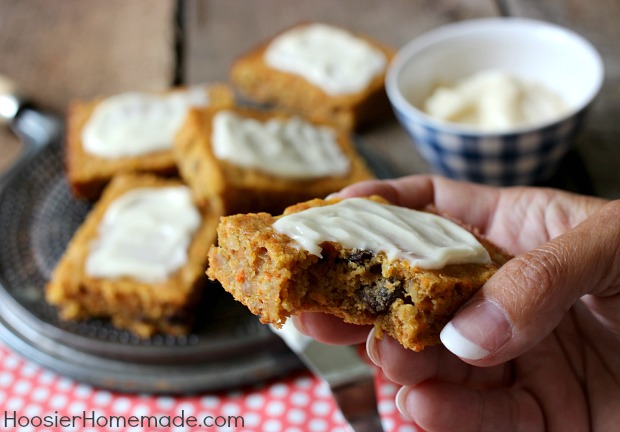 The addition of Cream Cheese Frosting is just enough sweetness added but not too much.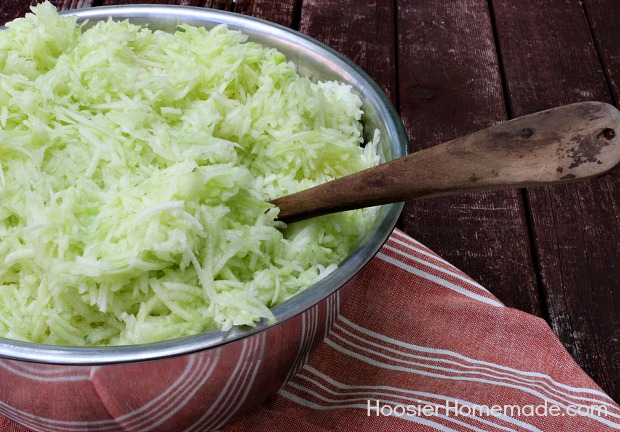 How to Freeze Zucchini
To freeze zucchini, you can use a food processor to grate large batches or grate by hand, we have done both and either works fine. You can leave the skin on or cut it off, whatever your family prefers. I used to always cut the skin off, probably because that's what my Mom did, but I later learned that there are lots of nutrients in the skin, and you really can't tell the difference. This time we cut the skin off. Then just add 2 cups of grated Zucchini to a freezer bag, seal and freeze.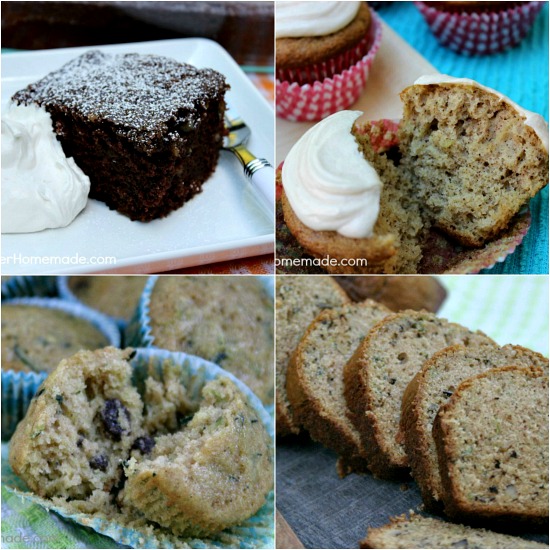 You may also like these Recipes…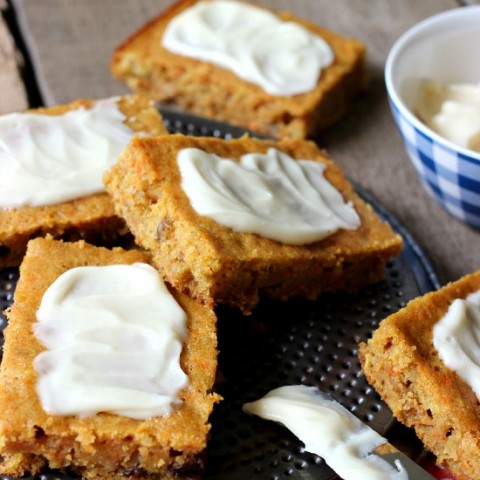 Carrot Zucchini Bars
Moist, flavorful bar that goes together easily. Recipe on HoosierHomemade.com
Ingredients
1 1/2 cups flour, all purpose
1 teaspoon baking powder
1 teaspoon cinnamon
1/2 teaspoon ground ginger
1/4 teaspoon baking soda
2 eggs, lightly beaten
1 1/2 cups carrots, cleaned and shredded
1 cup zucchini, cleaned and shredded
3/4 cup brown sugar, packed
1/2 cup raisins
1/2 cup walnuts, chopped
1/2 cup oil, canola
1/4 cup honey
1 teaspoon vanilla
Cream Cheese Frosting
4 oz Cream Cheese, softened
2 cups powdered sugar
1-2 teaspoons vanilla extract
Instructions
Preheat oven to 350 degrees F. Spray 13x9 baking pan with non-stick cooking spray and dust with flour
In a large mixing bowl, combine flour, baking powder, cinnamon, ginger and baking soda
In a medium bowl, combine all other ingredients
Add carrot mixture to flour mixture, stirring just until combined
Spread evenly into prepared pan
Baked at 350 degrees for 20-25 minutes or until a toothpick inserted in the center comes out clean
Remove from oven and cool completely
Cream Cheese Frosting
In a medium mixing bowl, beat cream cheese until soft, gradually add powdered sugar, alternating with vanilla until desired consistency.
Cut bars and frost
Notes
Be sure to shred carrots and zucchini finely in the food processor or use a grater. To prevent raisins from sticking together, add a pinch of flour to the raisins and toss to coat before adding to the recipe.
 Recipe adapted from Good & Fresh Magazine from Better Homes and Gardens