Zucchini Cupcakes with Caramel Frosting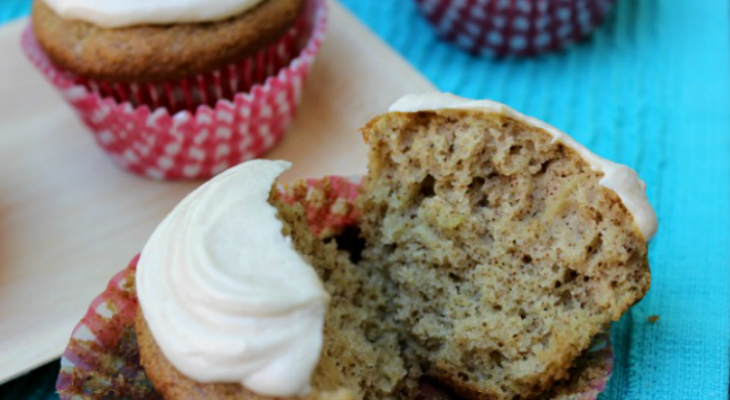 It's that time of year, when we all have an overabundance of zucchini from the garden. We bake Zucchini Raisins Muffins, Zucchini Bread, Chocolate Zucchini Cake – we grill it, and we stock our freezer for Winter. So why not bake up a batch of Zucchini Cupcakes?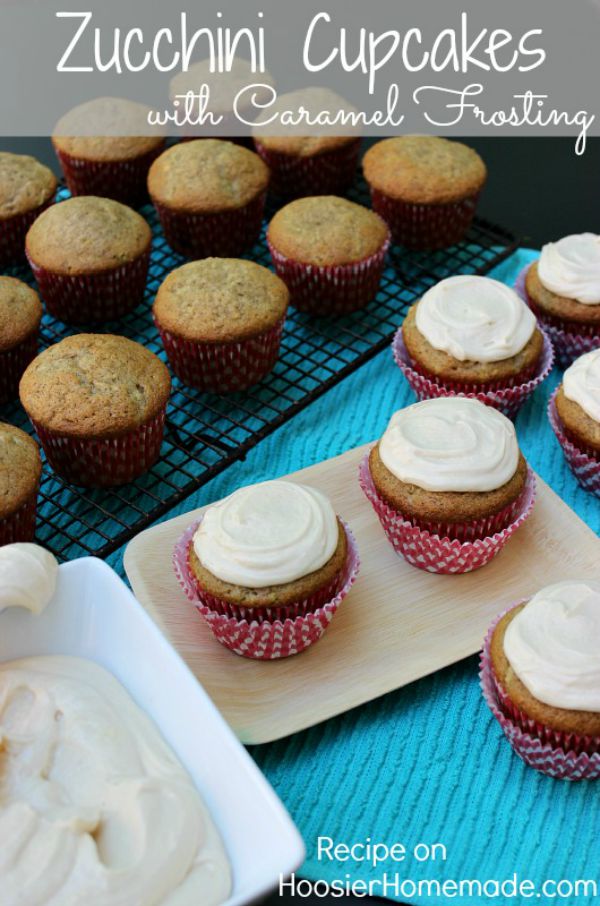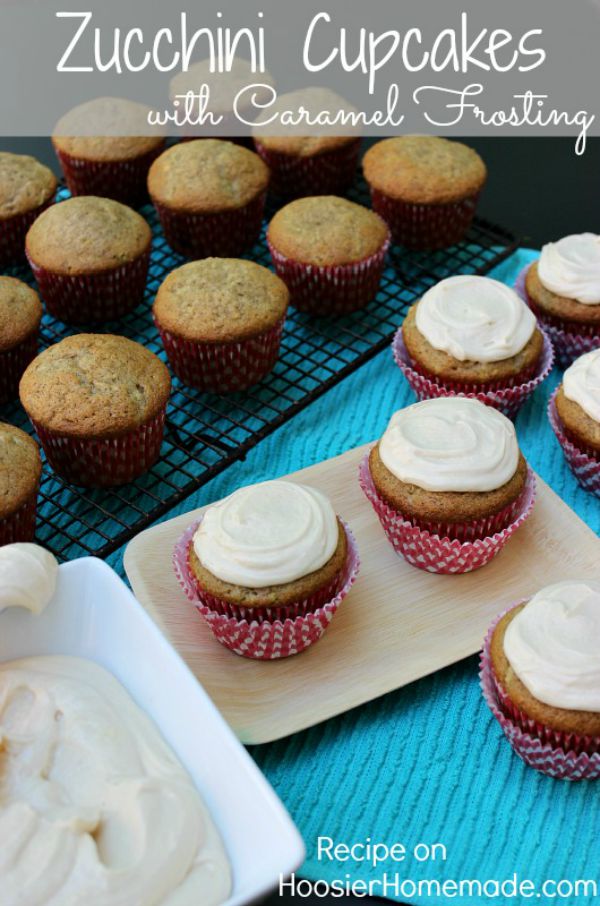 Let me guess? You have some of those baseball bat size zucchini just waiting for the right recipe. Well, this is it! There aren't too many times that you can serve a cupcake without frosting, but this recipe is one of them. We liked the Caramel Frosting, but enjoyed the Zucchini Cupcakes just as well without the frosting. They are a little like a muffin but lighter and fluffy. The addition of orange juice adds a little sweetness to them.
Welcome to Cupcake Tuesday! I'm so excited you are here! Looking for a cupcake recipe? Be sure to check out the Cupcake Heaven page, there are over 300 cupcake recipes and decorating ideas!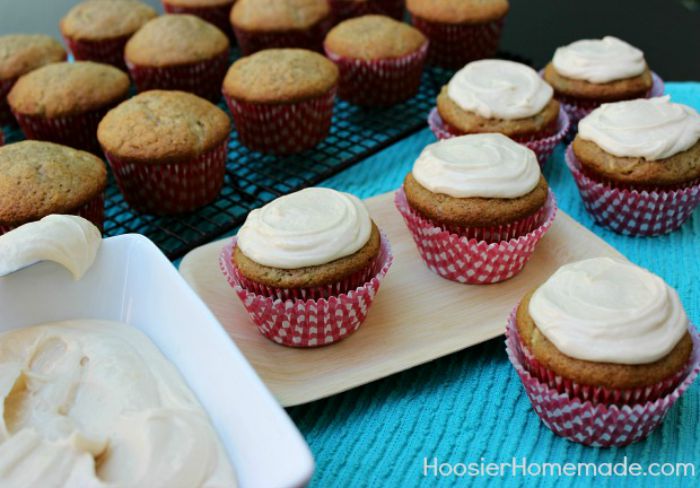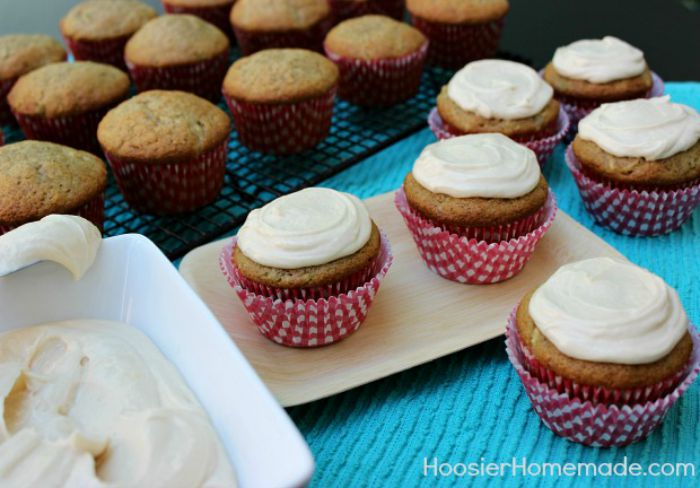 With some schools already in session and many more to start soon, if you are looking for a delicious lunchbox treat, these would be perfect!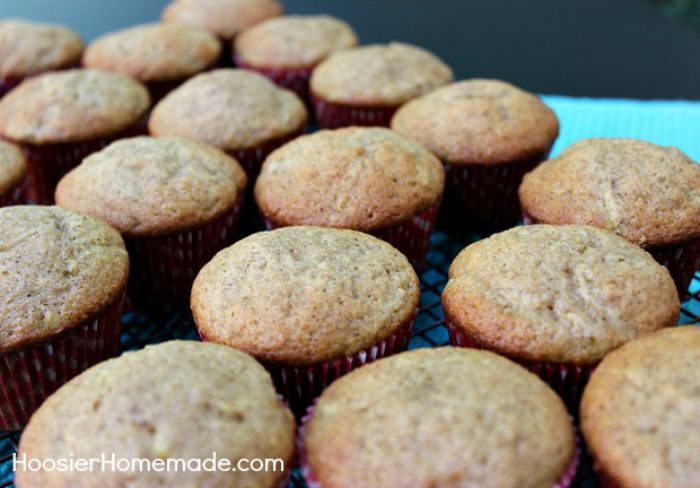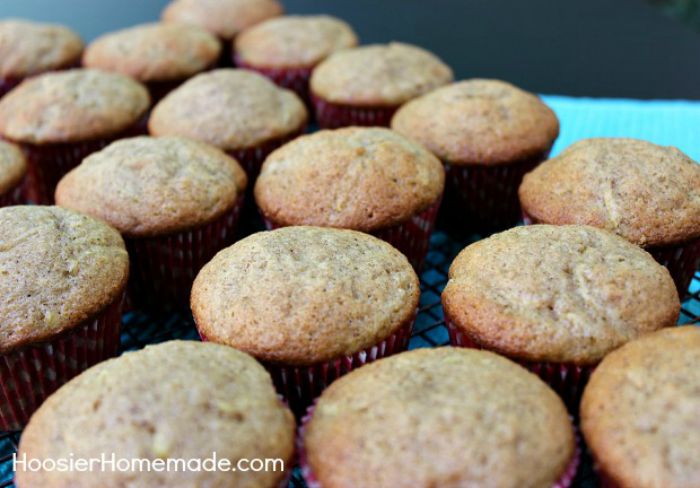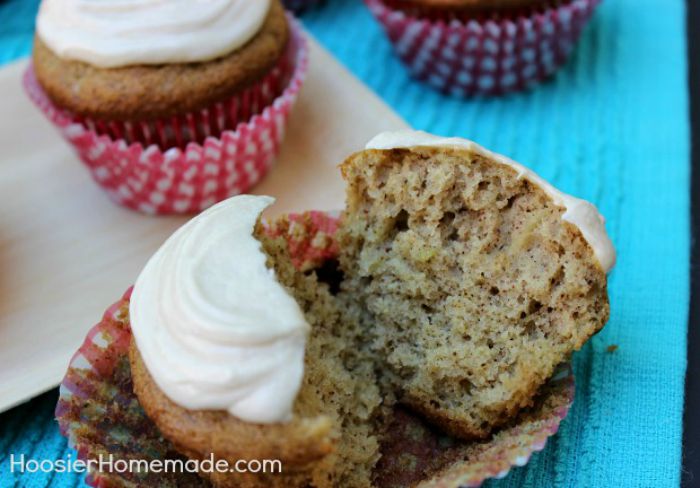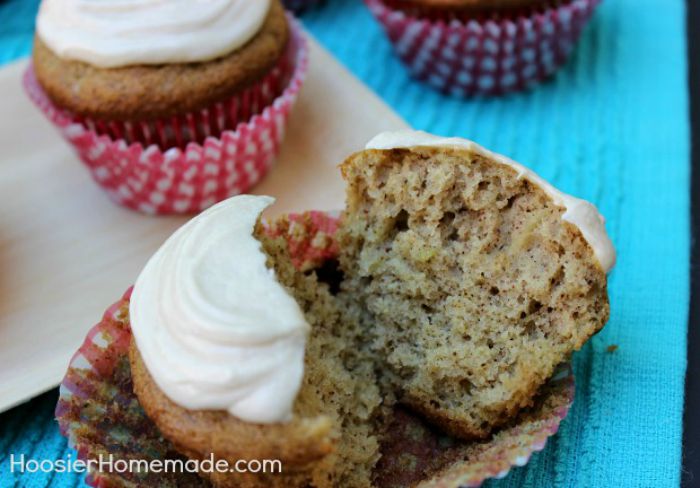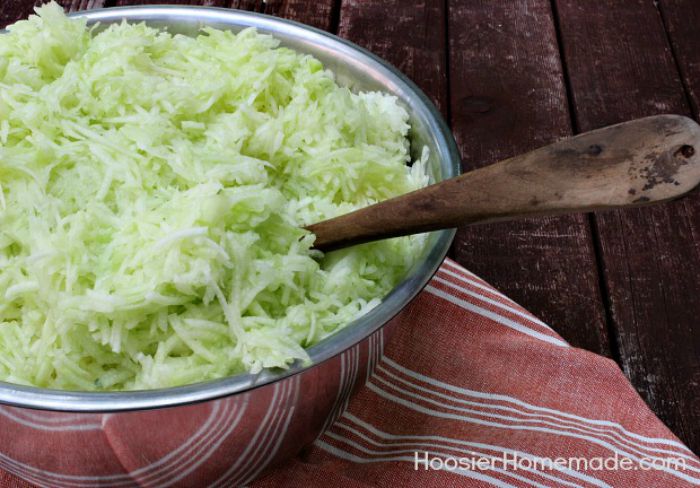 To freeze zucchini, you can use a food processor to grate large batches or grate by hand, we have done both and either works fine. You can leave the skin on or cut it off, whatever your family prefers. I used to always cut the skin off, probably because that's what my Mom did, but I later learned that there are lots of nutrients in the skin, and you really can't tell the difference. This time we cut the skin off. Then just add 2 cups of grated Zucchini to a freezer bag, seal and freeze.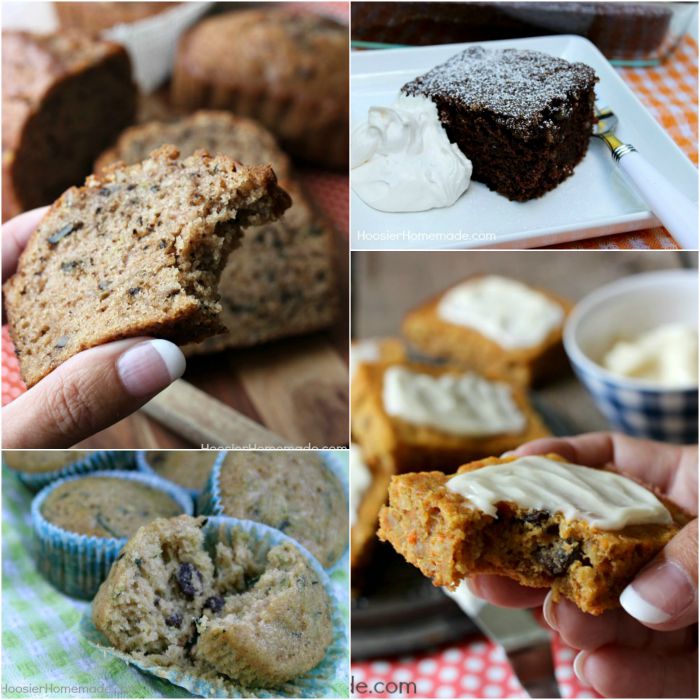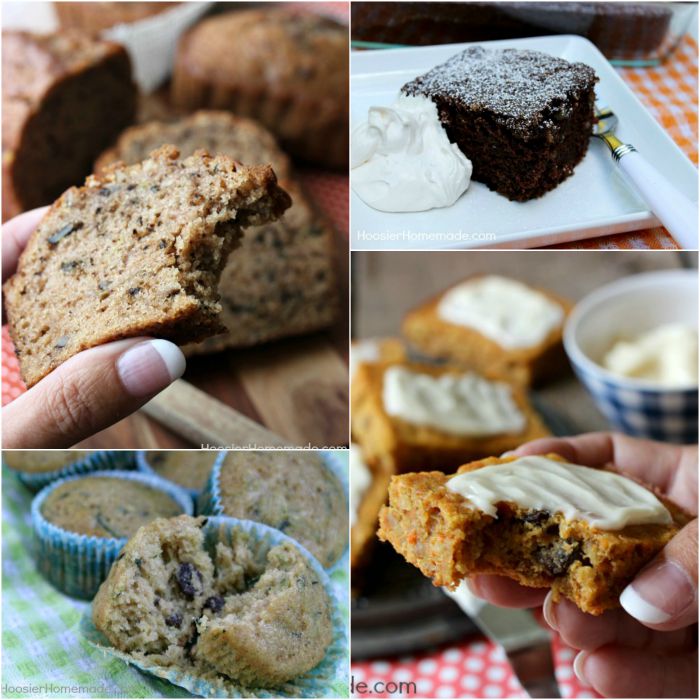 Have Zucchini? Try one of these delicious Zucchini Recipes!
You may also like the Zucchini Recipes we shared on Farmer's Market Friday.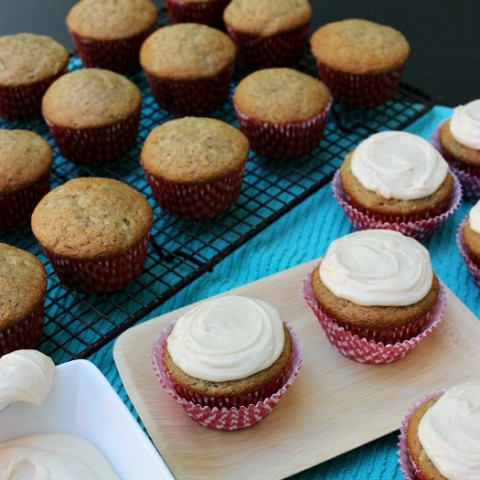 Zucchini Cupcakes with Caramel Frosting
These delicious Zucchini Cupcakes are perfect with or without the frosting. Recipe on HoosierHomemade.com
Ingredients
Zucchini Cupcakes
3 Eggs
1 1/3 cups Sugar
1/2 cup Oil
1/2 cup Orange Juice
1 teaspoon Almond Extract or Vanilla
2 1/2 cups Flour
2 teaspoons Cinnamon
2 teaspoons Baking Powder
1 teaspoon Baking Soda
1 teaspoon Salt
1/2 teaspoon Ground Cloves
1 1/2 cups Zucchini, grated
Caramel Frosting
1/2 cup (1 stick) Salted Butter, softened
1/2 cup (1 stick) Unsalted Butter, softened
1 cup Shortening
1 tablespoon vanilla extract
4-6 tablespoons very cold milk
8-9 cups Powdered Sugar
1/3 cup caramel ice cream topping, slightly warmed
Instructions
Preheat oven to 350 degrees
Fill muffin tin with cupcake liners
Cupcakes
Wash and grate zucchini, set aside
Whisk together dry ingredients, set aside
In a large bowl, combine the eggs, sugar, oil, vanilla and orange juice
Gradually add dry ingredients
Stir in zucchini
Note: Batter is a bit runny, but it bakes up perfectly
Fill cupcake liners about 2/3 full
Bake at 350 degrees for about 12-15 minutes or until a tooth pick inserted in the middle comes out clean
Cool completely
Caramel Frosting
In a large mixing bowl, cream the butters and shortening until smooth, about 3-5 minutes
Add vanilla and cream together
Gradually add 4-5 cups of powdered sugar
Alternating with a couple tablespoons of milk
Gradually add remaining powdered sugar, alternating with more milk until desired consistency
Stir in caramel topping until smooth
Frost cooled cupcakes
Notes
You may have extra frosting, depending on how much frosting you add to the cupcakes. The recipe minus the caramel topping makes a delicious Buttercream Frosting. You may want to divide the frosting and save some without the caramel for another batch of cupcakes.
Recipe originally from Taste of Home