The holidays are rapidly approaching, and while holiday get-togethers may not look the same as every other year, the food and drinks are still just as important. This Cranberry Apple Spritzer packs a punch with flavor and is super easy to put together with only 4 ingredients.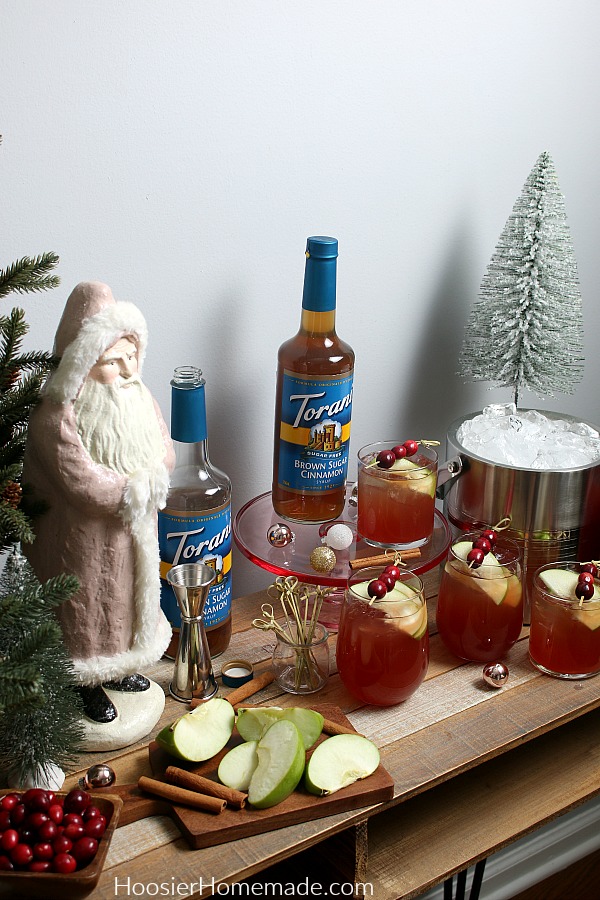 This post is sponsored on behalf of Torani. As always, the opinions are my own.
As we prepare for the brunches, dinners, and parties, the food is always thought of as the end all be all, but what about the drinks?
Lucky for me, mocktails are all the rage right now. I've never been much of a drinker. Plus, we like to keep things family-friendly around here.
So, creating holiday-themed mocktails that everyone can enjoy is just an added bonus for me when the holiday planning starts.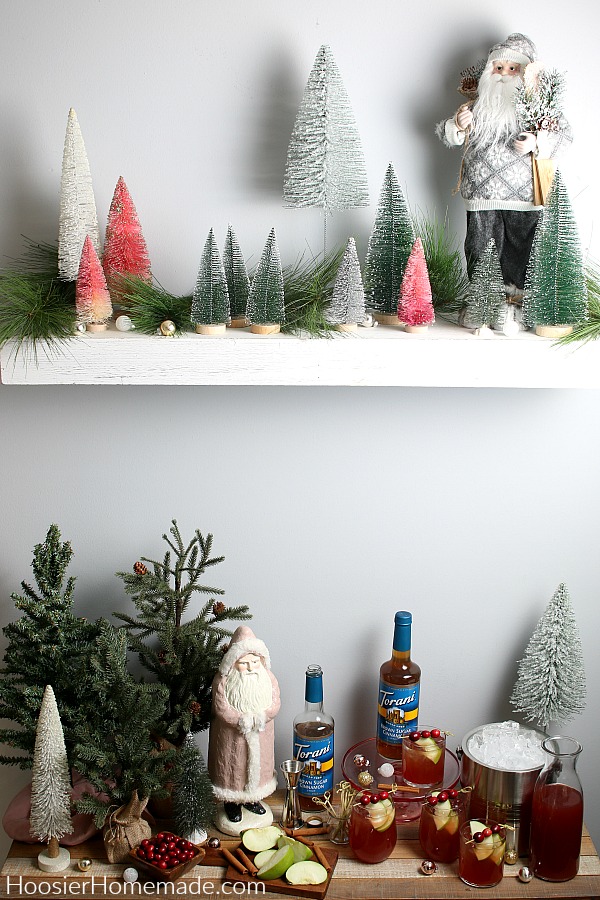 No one wants to spend a ton of time or energy creating a drink menu for their guests. Easy is the way to go.
If you're reading this, and anything like me, you're here for the mocktails.
This also means you're likely looking for an alternative to alcoholic beverages for your holiday get-togethers.
Whether you're…
Pregnant,

Looking for lower-calorie drinks,

Under the age of 21, or

Just wanting to try a festive beverage that doesn't contain alcohol
…we've got you covered.
Alcohol-free doesn't mean you have to sacrifice taste.
Everyone loves a refreshing sip of hot cocoa or a light beverage like this cranberry apple spritzer—which might I add, is perfect for New Year's toasts!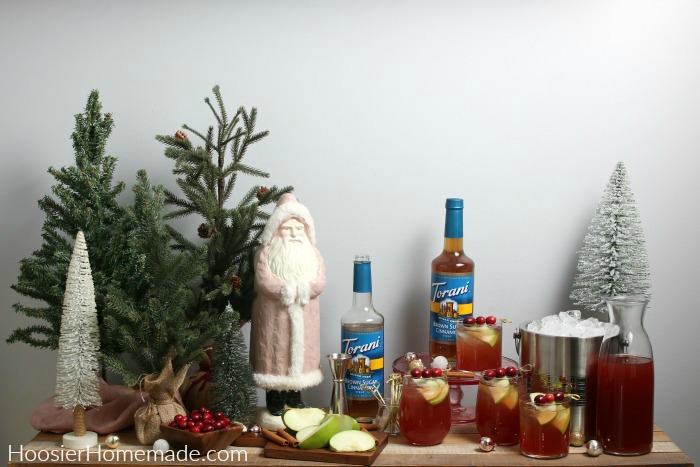 Using Torani syrups makes it incredibly easy to add a unique spin on your typical holiday mixers. Now, you can create a drink that everyone can enjoy—even the under 21 crowds—with very little effort.
The wonderful thing about mocktails is kids and adults can sip on the flavors of the season responsibly, and delightfully. No designated driver required. Giving you more time with family and friends without the stress.
With only four ingredients…
Cranberry Juice

Apple Cider or juice if you prefer

Lemon Lime Soda
…this simple mocktail will leave your guests asking for more.
How To Make Cranberry Apple Spritzer
Pour equal parts of the juices into a pitcher or cup (depending on how many people you are serving).

If you aren't serving your mocktails right away, store the mixture in the refrigerator

When ready to serve, add ice to your glasses, then add about 2 tablespoons

Torani Sugar Free Brown Sugar Cinnamon Syrup

Then pour the mixture into glasses—

about ½ – ¾ full

Top it off with the soda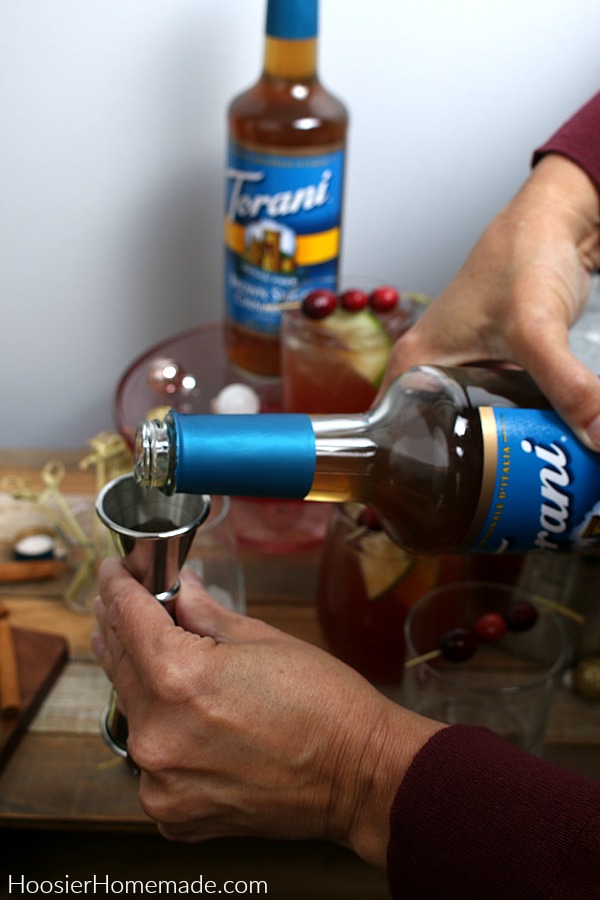 You will need about 2 tablespoons of Torani Sugar Free Brown Sugar Cinnamon Syrup. You can use a measuring spoon, small cup or a jigger like I did to measure.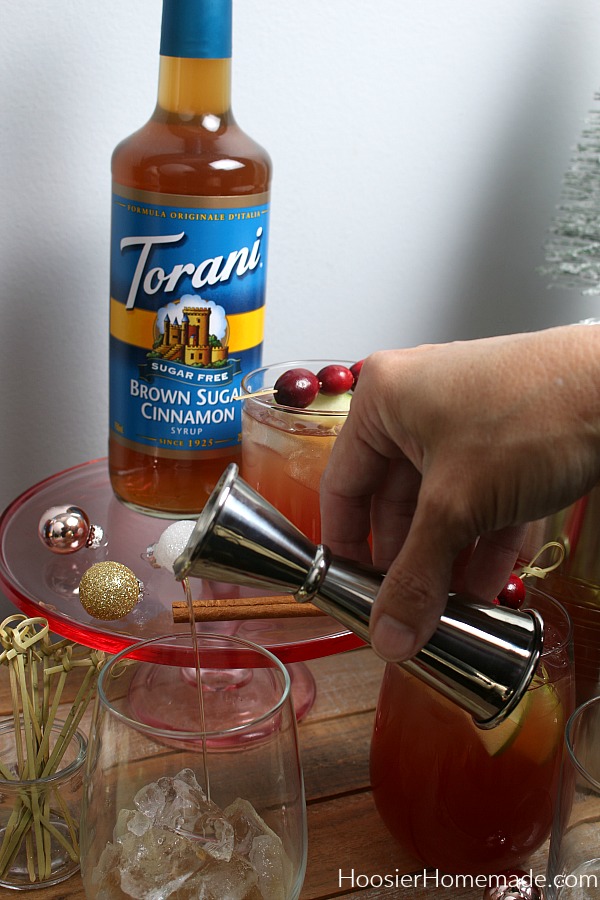 After the ice is in your glass, pour in the syrup. Side note – this syrup smells HEAVENLY!
Hot apple cider mixed with Sugar Free Brown Sugar Cinnamon syrup is perfect for that cozy night in with friends.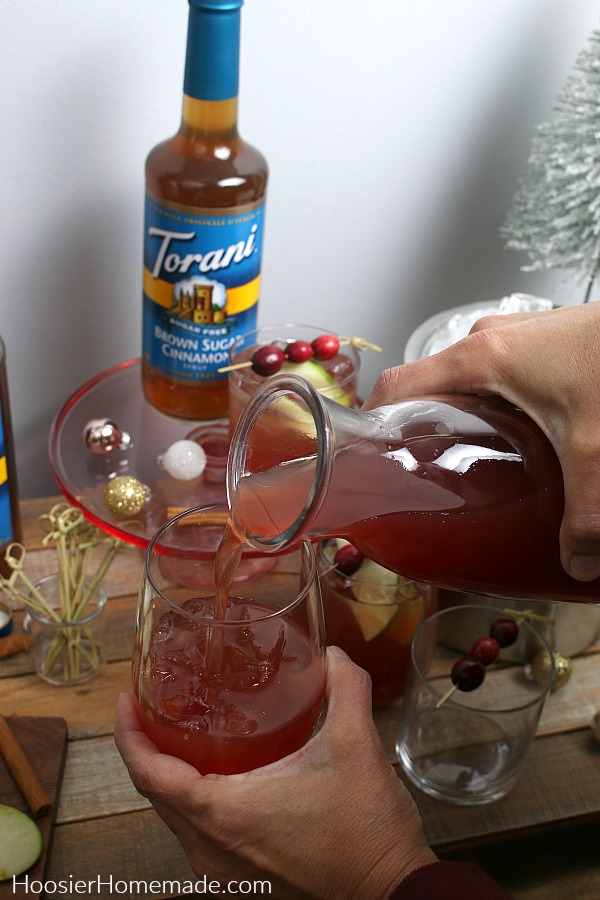 Now it's time to pour in your mixture of cranberry juice and apple cider. Fill the glass about 1/2 to 3/4 full, leaving room for the soda.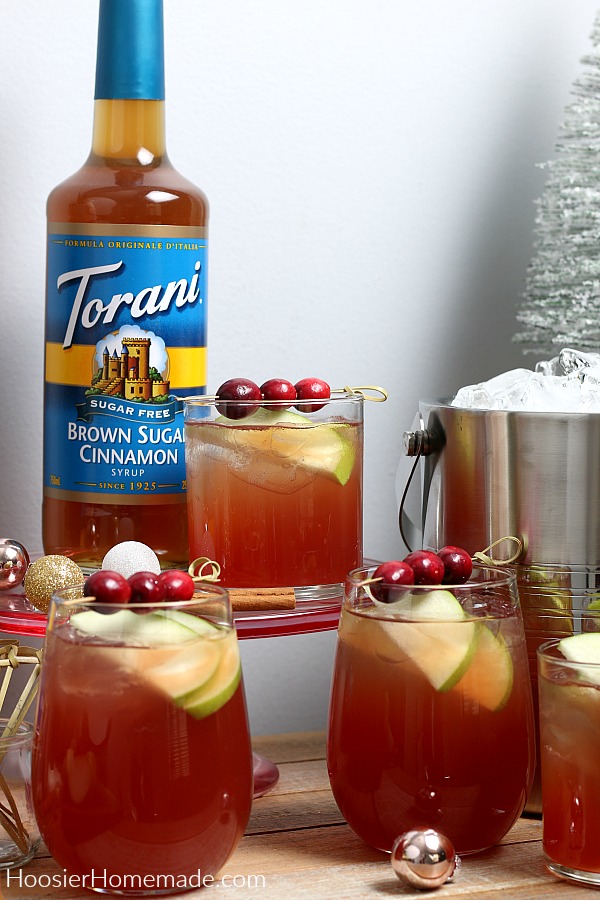 A great garnish to this mocktail specifically, are thinly sliced apples and cranberries thread onto a skewer.
Mocktail Tips & Drink Varieties
Mocktails don't have to be a special occasion only drink—just a tablespoon or two of Torani's syrup will take your hot cocoa or coffee to the next level of delicious.
Looking for more Holiday Entertaining Ideas?
The holidays are rapidly approaching, and while holiday get-togethers may not look the same as every other year, the entertaining, food and drinks are still just as important.
These simple entertaining ideas are sure to help.
Smoked Salmon Cream Cheese Appetizer from Chipa by the Dozen
Christmas Appetizer Tree from Design Dazzle
Cranberry Cream Cheese Dip from Devour Dinner
Cranberry Brie Bites from Fresh Coast Eats
Easy Holiday Bar from Hoosier Homemade
Sausage Balls from House of Nash Eats
Spinach Artichoke Dip Wonton Cups from J Z Eats
Dried Beef Cheese Balls from Marty's Musings
Cherry Cream Cheese Puff Bundles from My Uncommon Slice of Suburbia
Christmas Crunch Popcorn Snack Mix from Rose Bakes
Eggnog from Savory Experiments
Blue and White Tablescape from Sondra Lyn at Home
Cranberry Goat Cheese Tarts from Tastes of Homemade
Mushroom Puff Pastry Bites from The How to Home
Classic Deviled Eggs from What's Cookin' Chicago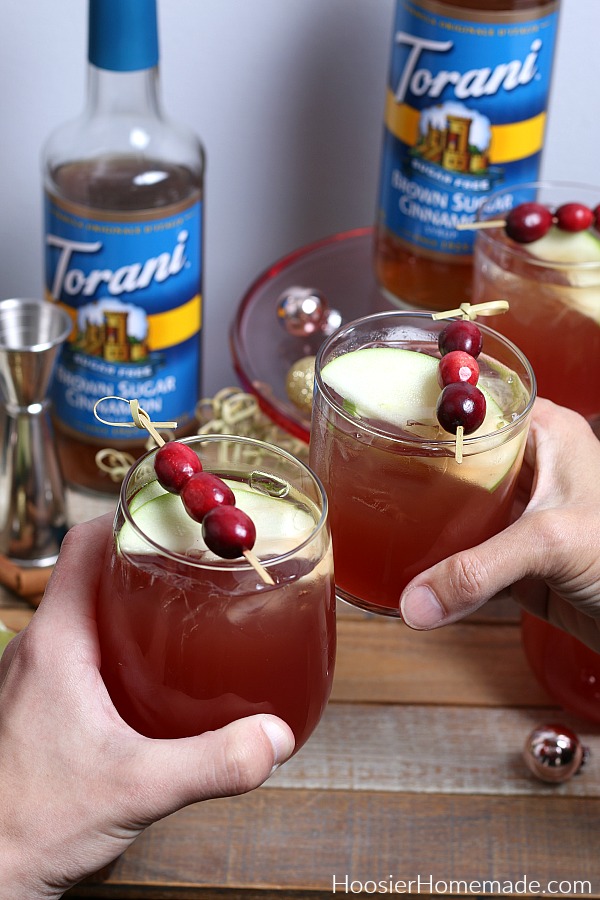 Hosts/Hostess' rejoice! Those holiday drinks can be brag-worthy and enjoyed responsibly.
Looking for more syrups to spruce up your holiday drinks? Check out Torani's wide variety of flavored syrups.