Baked beans are an iconic Summer food and this easy Baked Beans Recipe is exactly what you need at your next potluck! Be the envy of your friends' picnic. And in the unlikely event that they're not all eaten, you can save the leftovers for later.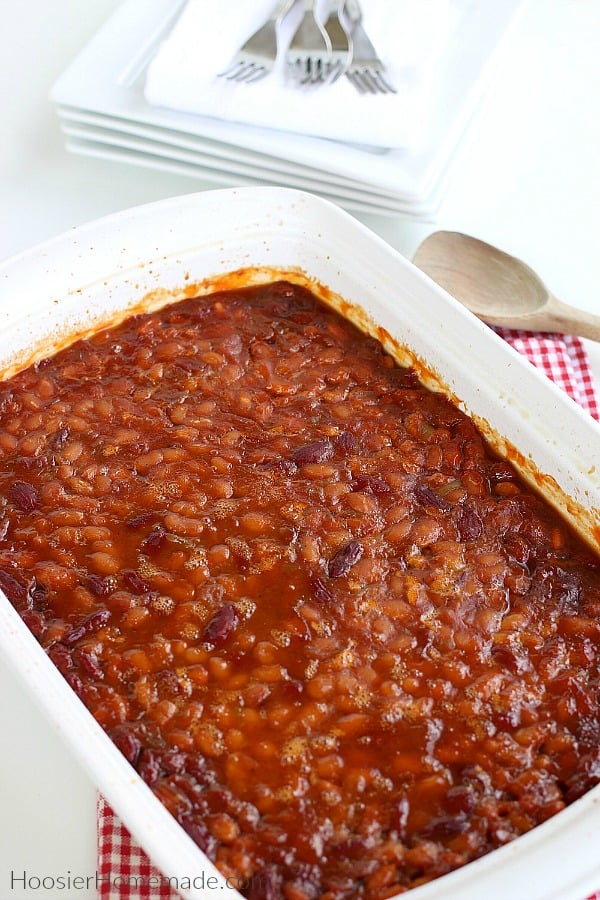 So whether you're looking for an easy side dish for your family's dinner, or something for your picnic, this is the best baked beans recipe. Baked beans are an essential part of any Summer meal, so it's good to have a recipe on hand. This recipe feeds between six and eight people.
In addition to this Baked Beans Recipe, the Simple Easy Creative Magazine Summer edition has 9 other recipes that are perfect for potlucks or picnics.
The magazine has 15 pages full of recipes, ideas, a 4th of July Party Table with recipes and FREE Printables and more to celebrate will your family.
You can learn more about our brand new Simple Easy Creative Magazine and sign up to receive it for FREE!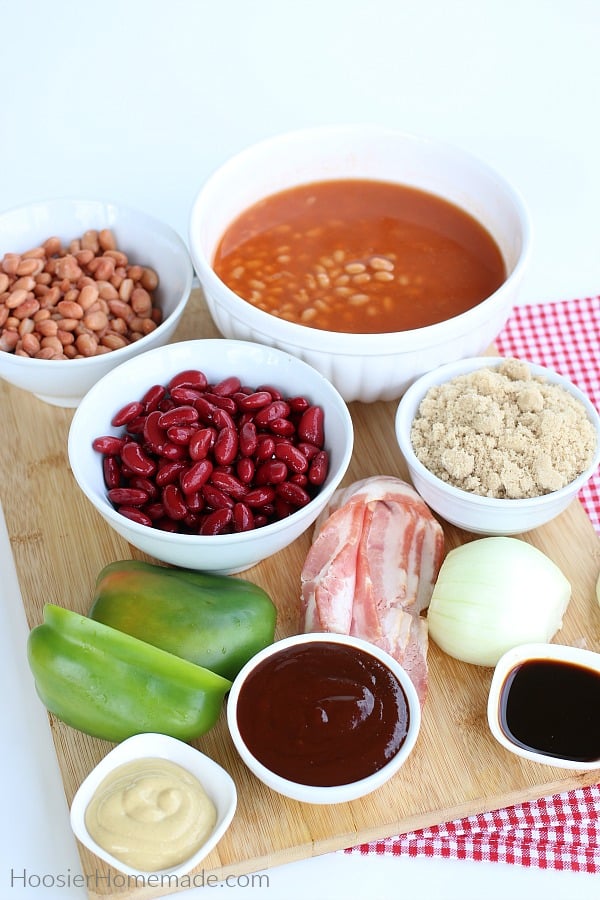 Baked Beans Recipe
While the list of ingredients in this recipe are traditional, the flavor combination and the variety of beans makes it one that your family will ask for again and again.
Ingredients
Beans – traditional pork and beans, pinto beans and kidney beans – you can certainly leave any of these beans out, however the combination really creates an unique flavor
Bacon – not only does this baked beans recipe have bacon, but it's fried until it's crisp prior to adding to the recipe, giving it even more flavor
Green Pepper – again, you can leave the pepper out, but the flavor does add a richness to the beans
Onion – the onion and pepper are cooked ahead in the bacon grease, giving them even more flavor
Barbecue Sauce and Brown Mustard – these give the beans a hint of spice to the flavors
Ketchup – adds more depth to the flavor
Brown Sugar – adds a little sweetness to the recipe
Worcestershire Sauce – adds even more depth of flavor
Kitchen Essentials Needed
13×9 Baking Dish
Large Mixing Bowl
Small Bowl
Small Measuring Cup
Measuring Spoons
Pan for frying bacon, onion and green pepper
Colander to drain and rinse beans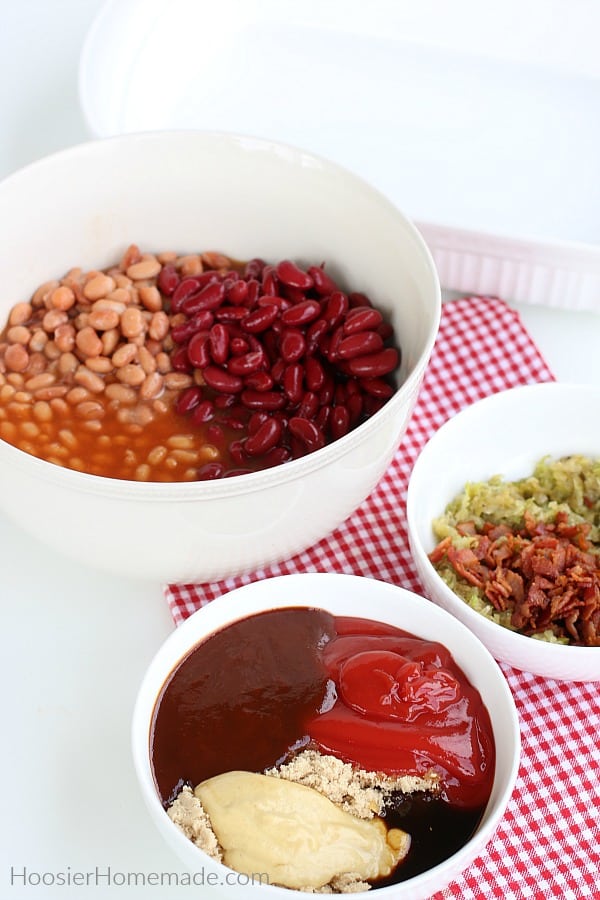 How to make the BEST Baked Beans Recipe
You may ask what makes this recipe so delicious? What sets it above the rest? Well, we'd like to think it's the bacon. There's only a few slices, but that's all you need to add a little bit of salt and adds flavor without overpowering the rest of the dish.
Most recipes have only one type of bean; ours has three. The different textures and flavors this brings makes this dish so delicious!
Step 1
Drain and rinse beans and add to large bowl

Cut the bacon into small pieces and fry in a pan on the stove, remove and set aside

Saute onions and green peppers in bacon grease until soft, about 5 minutes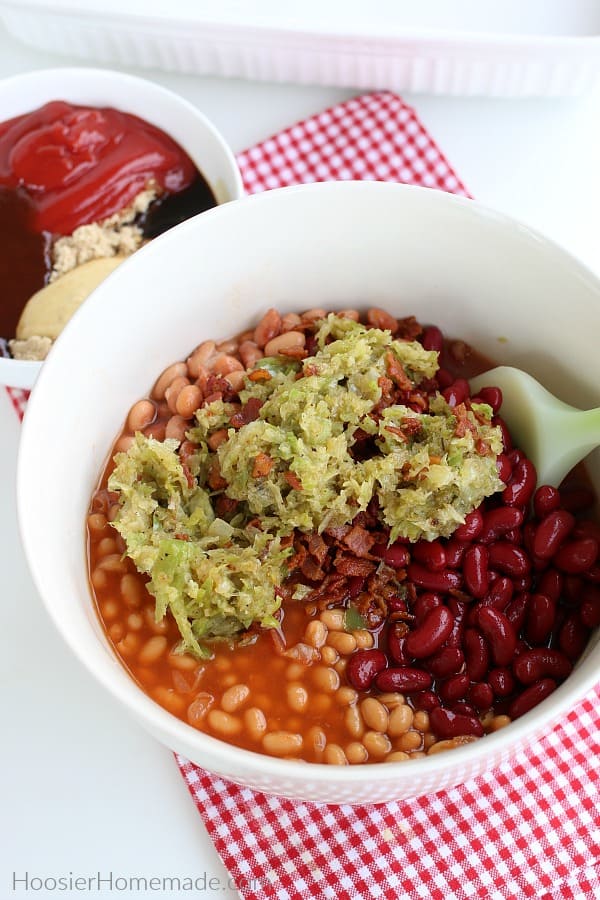 The other outstanding feature of this recipe is the onions and green peppers. They add depth to the flavor profile that this dish has. The flavor these provide are different, yet they blend into the dish seamlessly.
Step 2
Add cooked bacon, onions and peppers to the beans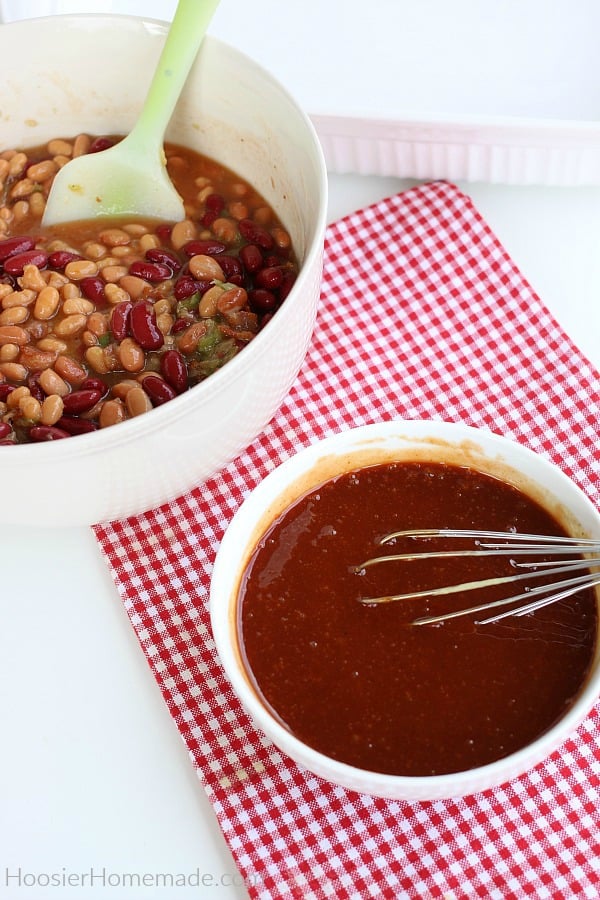 Step 3
In a small bowl whisk together the brown sugar, ketchup, barbecue sauce, mustard and Worcestershire Sauce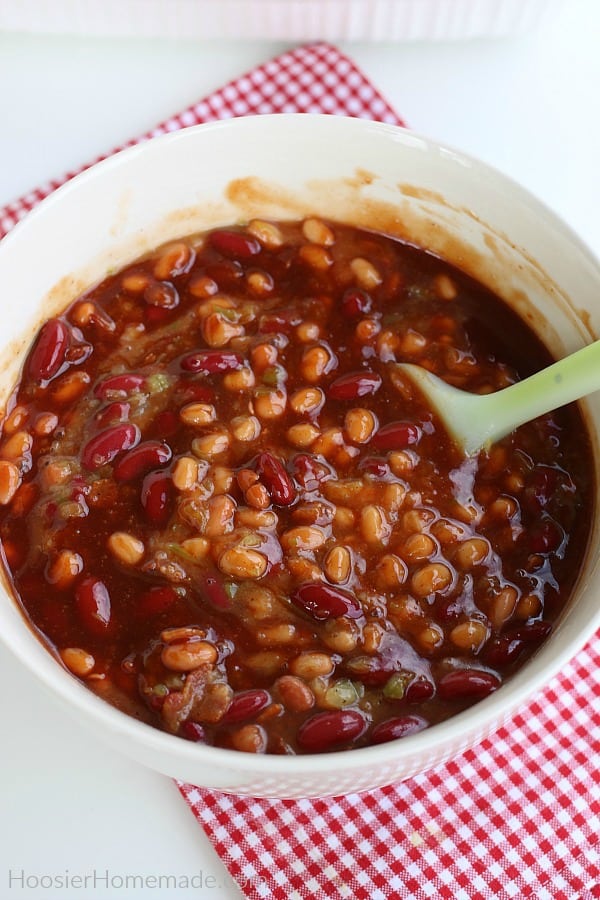 Step 4
Stir the sauce mixture into the beans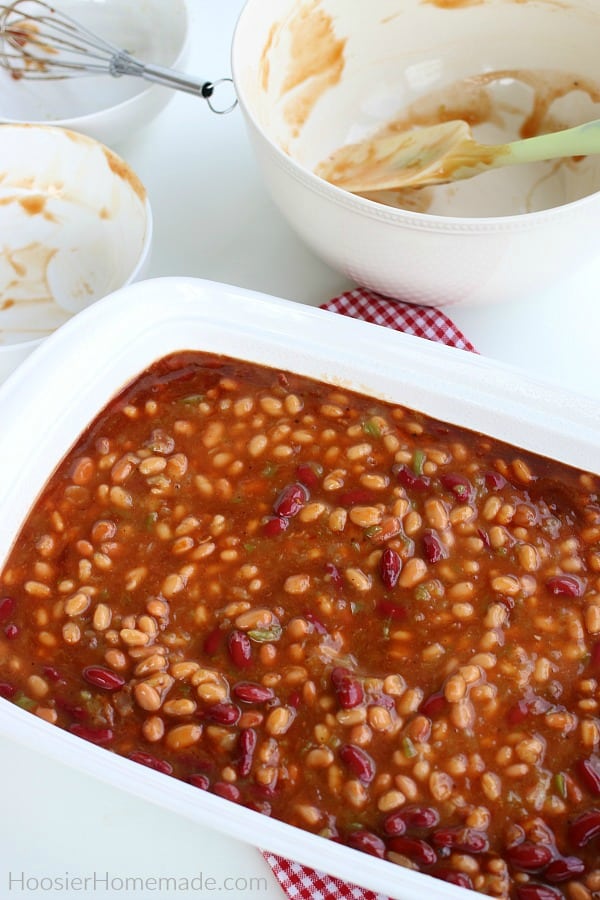 Step 5
And last, add the beans to the 13 x 9 baking dish that has been lightly greased
Overall, this easy baked beans recipe can be made without any hassle. It's a side dish that my family loves, and so I'm sure your family will love it too! Use it for dinner at home, a company potluck, any summer occasion!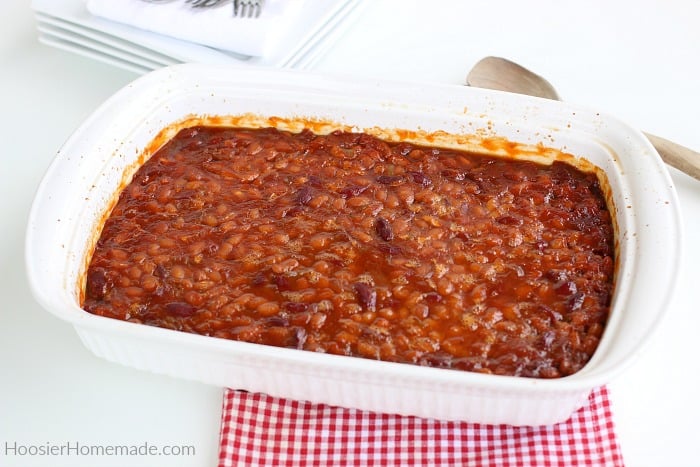 Baked Beans Recipe – Frequently Asked Questions
How can I make this dish spicier/sweeter?
We believe this recipe hits the right balance between spicy and sweet. However, if you want to experiment, you can adjust the levels of sauce you put in. For sweeter beans, try a bit more brown sugar. For spicier ones, use more mustard and Worcestershire sauce.
How can I easily transport the dish?
For transporting the beans from home to a potluck, you can use several means of transportation. A crock pot is the safest bet, both retaining heat and safely holding the dish. If you don't have one on hand (but you really should) you can use an aluminum pan with foil covering it, just be sure it's very sturdy.
Can I prepare these baked beans in a crock pot?
If you want to use a crock pot instead of the oven, just follow the same instructions, but instead of placing them in the oven for an hour, put the beans in a crock pot on low heat for about five hours or until the beans are tender.
What can I serve with this dish?
So what pairs well with this recipe? What other foods complement it well? You'll need a main dish to side up to.
For that we recommend either our All American Barbecue Burger or our Southwestern Pork Kabobs. Both recipes are great spotlights for your summer meals, and this baked beans recipe of ours pairs with either one perfectly. You'll probably need a refreshing drink to top it all off, and for that we suggest our recipe for Lemonade.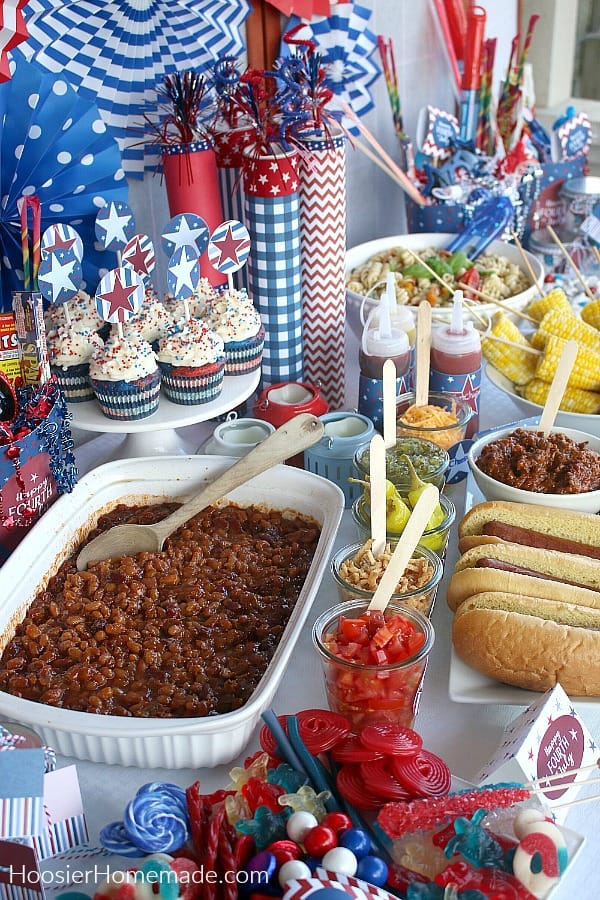 What to serve with Baked Beans
For the Simple Easy Creative Magazine, we shared a 4th of July Party Table complete with all the recipes and FREE Printables – keeping it all very easy!
Main Food
Hot Dogs with Toppings
Baked Beans Recipe
Italian Pasta Salad
Fruit Dip + Tray
Corn on the Cob
Treats
4th of July Cupcakes
Patriotic Snack Mix
Candy Tray
Printables – you can grab them for FREE right here
Included in this set of 4th of July Printables are –
Cupcake Toppers
Cupcake Wrappers
Tented Cards
Gift Cards
Drink Flags
Treat Buckets
Lollipop Covers
Bottle Labels
Treat Bags Toppers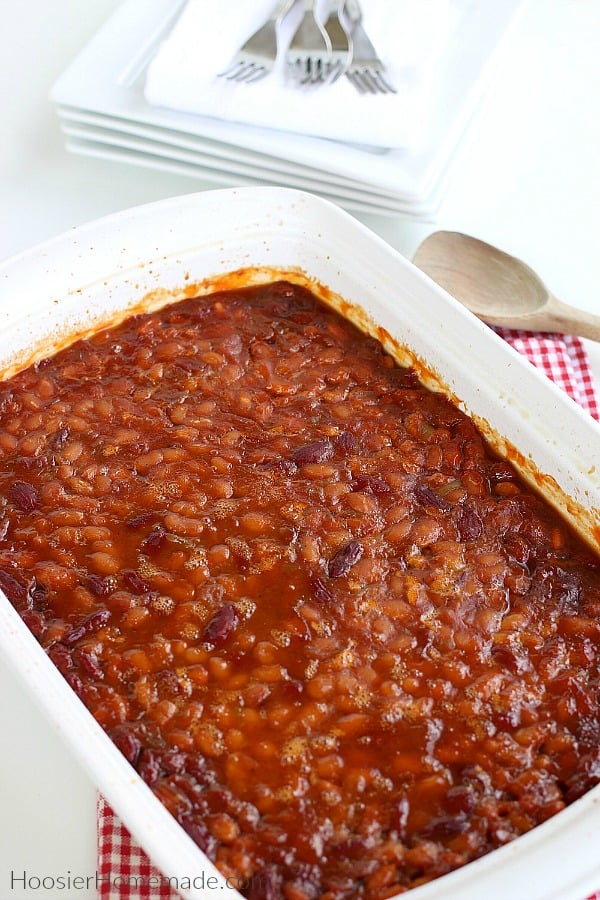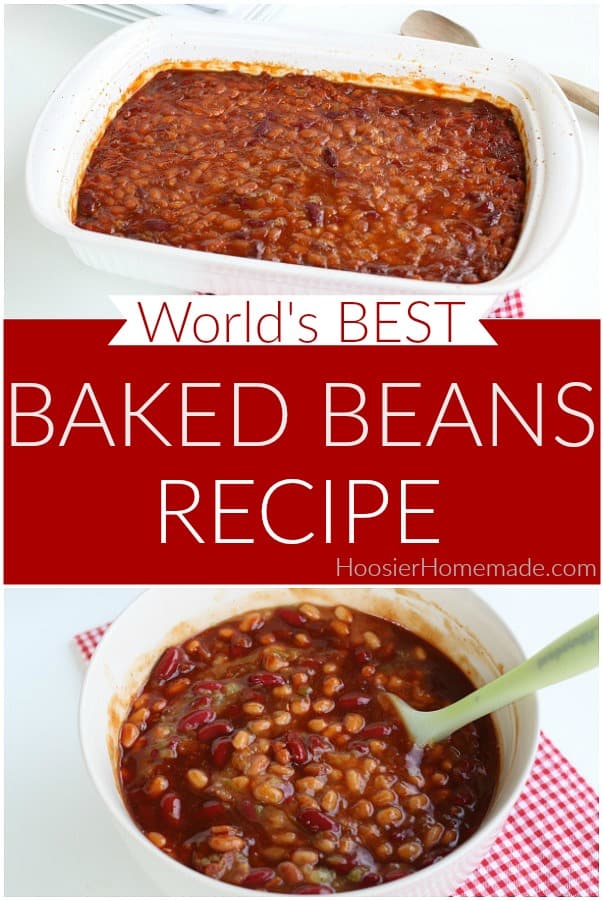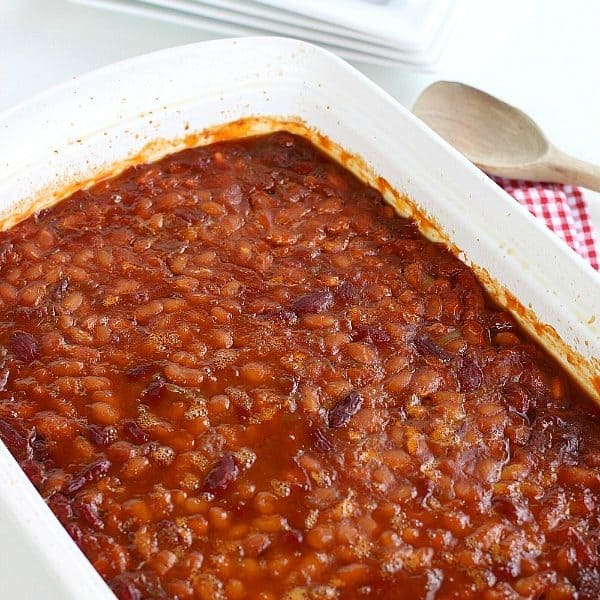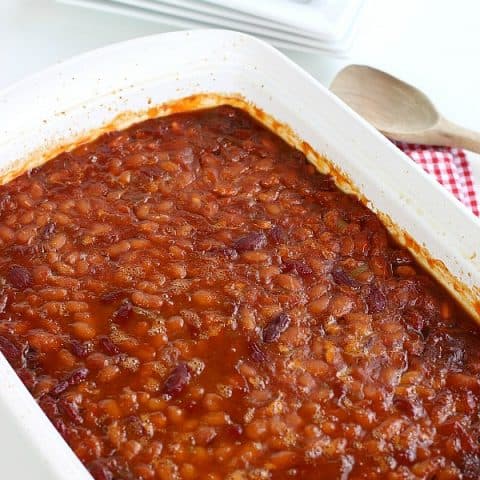 Baked Beans Recipe
Cook Time:
1 hour
30 minutes
Total Time:
1 hour
40 minutes
This baked beans recipe is exactly what you need at your next potluck! A little spicy - a little sweet with three varieties of beans.
Ingredients
3 slices Bacon, diced
1 cup (medium) Onion, diced finely
½ cup Green Pepper, diced finely
2 cans (15 oz) Pork and Beans, undrained
1 can (16 oz) Pinto Beans, drained
1 can (16 oz) Red Kidney Beans, drained
½ cup Brown Sugar
½ cup Ketchup
¼ cup BBQ Sauce
2 tablespoons Mustard, spicy brown or yellow
1 tablespoon Worcestershire Sauce
Instructions
Preheat your oven to 325 degrees F.

Lightly spray a 13x9 baking dish with non-stick cooking spray

Finely chop onions and green peppers in a food processor or with knife

Cut the bacon into small pieces and fry in a pan on the stove, remove and set aside

Saute onions and green peppers in bacon grease until soft, about 5 minutes

Drain Pinto and Kidney Beans and rinse

In a large bowl, combine all beans, bacon, onions and peppers

In a small bowl whisk together the brown sugar, ketchup, barbecue sauce, mustard and Worcestershire Sauce.

Stir mixture into the beans

Place beans mixture into a lightly greased 13x9 baking dish.

Cover with foil and cook for 1 hour

Remove foil and continue cooking for 30 minutes or until bubbly and beans are soft

Serve immediately



Store leftovers in refrigerator