This luscious No Bake Cheesecake is perfect for your Spring and Easter celebrating! A simple cheesecake recipe with just 3 ingredients is transformed into beautiful Spring colors and made into a Trifle that's super easy yet impressive looking.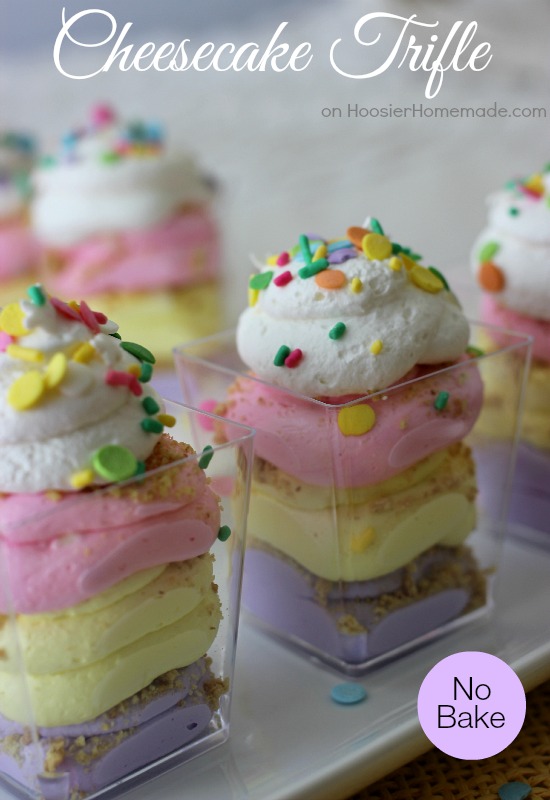 I'm honored to be a part of the 2013 Kraft Tastemaker Community, I am teaming up with Kraft Foods to share with you recipes using everyday ingredients that are sure to please your family!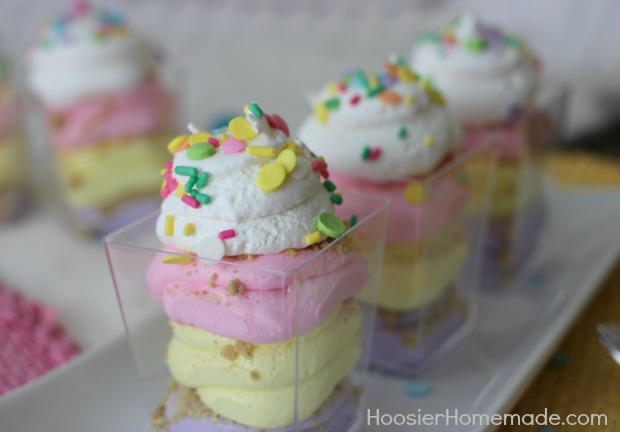 Spring is in the air! And after the long Winter most of the country saw, it's definitely a welcome sight. With Spring comes a freshness; new grass, flowers popping through the cold ground and the leaves beginning to show again on the trees. Although I love Spring, it's so hard to decide what I like best…the flavors of Fall; apples, pumpkins, cinnamon or the flavors of Spring; lemon, strawberry, lime…oh the decisions!
One thing I don't have a hard time deciding is what to serve for Easter. Along with Ham, there must be Deviled Eggs, Salad, Side Dishes and of course Easter Dessert. And this Cheesecake Trifle is perfect!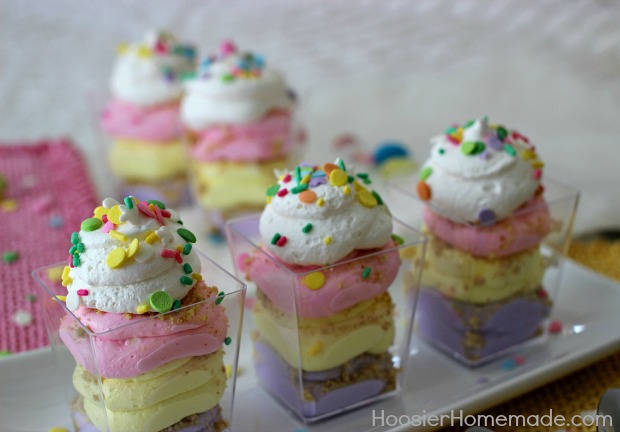 Beginning with PHILADELPHIA Cream Cheese and using the Fluffy 2-Step Cheesecake Recipe, I simply colored the cheesecake with pretty Easter colors and layered it in a mini dessert glass, a sprinkle of graham cracker crumbs between each layer and topped with COOL WHIP Whipped Topping and sprinkles.
The Cheesecake can be layered in any size or shape of glass. I have even used votive candle holders before in a pinch. You can find the dessert glasses at most department and kitchen stores, and they are very reasonably priced. You can also mix the Cheesecake up ahead of time, I would suggest filling the glasses the day you serve them. They go together in a snap though.
And in case you would rather make a pie with the filling, you can add the cheesecake mixture in layers to a graham cracker crust.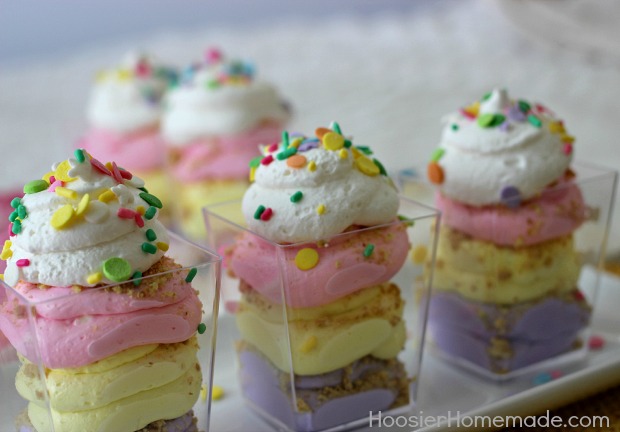 We are excited to announce that we have been selected to continue our partnership with Kraft Recipes for 2014. Here are all the delicious recipes we shared for the past year.
You can view all my recipes on Kraft.com, which one is your favorite?
No Bake Cheesecake Trifle
Luscious No Bake Dessert that goes together in a snap with just a few ingredients. Recipe from HoosierHomemade.com
10 minPrep Time
3 hr, 10 Total Time
Ingredients
1 package (8 oz) PHILADELPHIA Cream Cheese, softened
1/3 cup sugar
1 tub (8 oz.) COOL WHIP Whipped Topping, thawed
Pink, Violet and Yellow food coloring â?? 2-3 drops each
2 Graham Crackers, crushed
Sprinkles for garnish, optional
Instructions
COMBINE Cream Cheese and Sugar in a large bowl and beat until smooth
RESERVE 1/2 cup of COOL WHIP Whipped Topping
FOLD in COOL WHIP Whipped Topping until well blended
TRANSFER to airtight container and place in refrigerator for 3 hours
REMOVE from refrigerator and divide into thirds, color each with food coloring
TRANSFER into plastic resealable bag or decorator bag fitted with a large round tip
ADD Graham Crackers to a resealable bag and crush
SQUEEZE Cheesecake mixture into dessert glasses, adding crumbs between each layer
ADD reserved COOL WHIP Whipped Topping to a resealable bag and add a large dollop to the top, add sprinkles if desired
STORE in refrigerator until ready to serve, store leftovers in refrigerator
Notes
You can layer the cheesecake in any type of glass container, or fill a graham cracker crust and serve as a pie.
http://hoosierhomemade.com/no-bake-cheesecake-trifle-easter-dessert/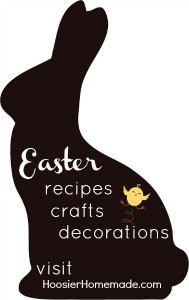 For more recipes visit KraftRecipes.com