Key Lime Cheesecake Trifles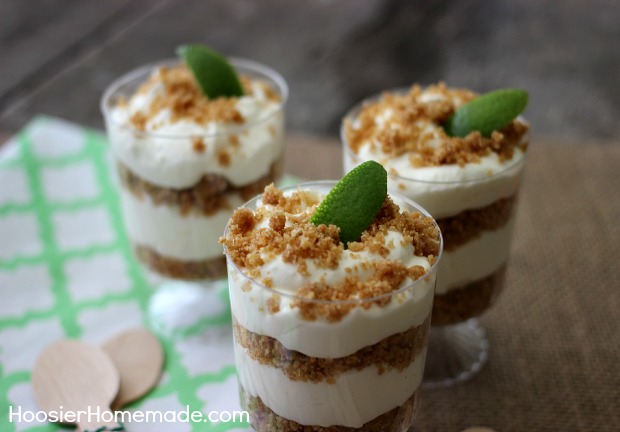 There's nothing quite like the flavors of Summertime – lemon, orange, lime. But during the heat of the Summer, no one wants to heat up the kitchen to make dessert. These Key Lime Cheesecake Trifles go together in minutes, are no bake, and have a delicious lime flavor. What better way to celebrate National Cheesecake Day?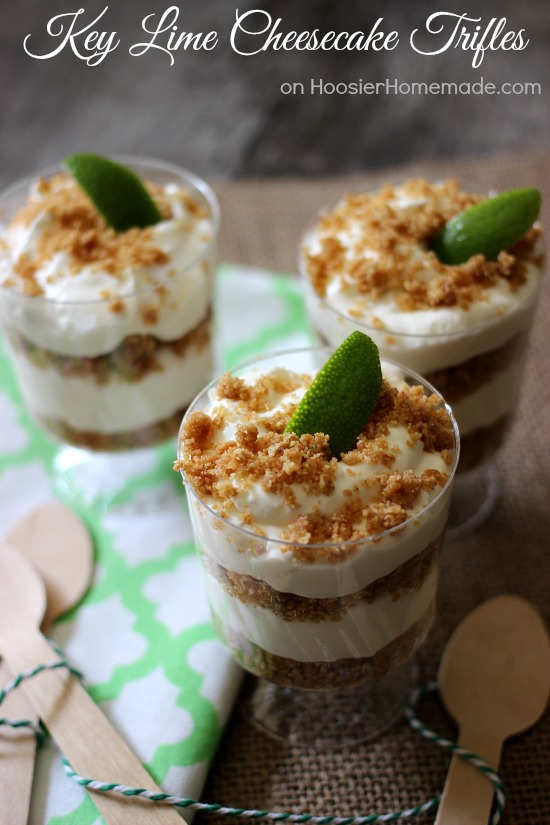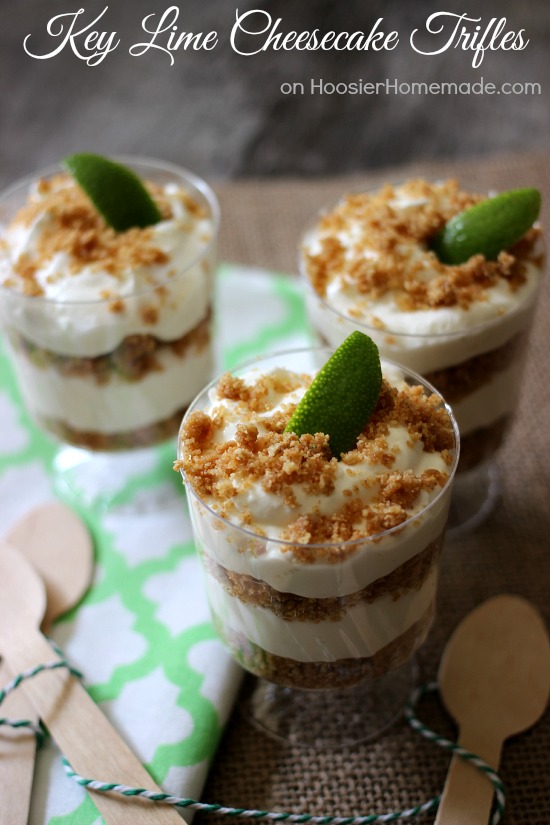 Serving an impressive looking dessert that takes minutes to make is exactly what I love. And when it comes to serving guests or creating a delicious dessert for my family, I love to serve in individual containers.
This recipe for Key Lime Cheesecake Trifles has very simple ingredients, starting with a similar recipe that I have shared several times before, Cotton Candy No Bake Cheesecakes, Lemon Berry Cheesecakes, Cheesecake Trifles, Caramel Pecan Cheesecake Trifles, and Cheesecake Trifles: Dessert in a Jar. As you can see, with just one recipe, you can make several different variations.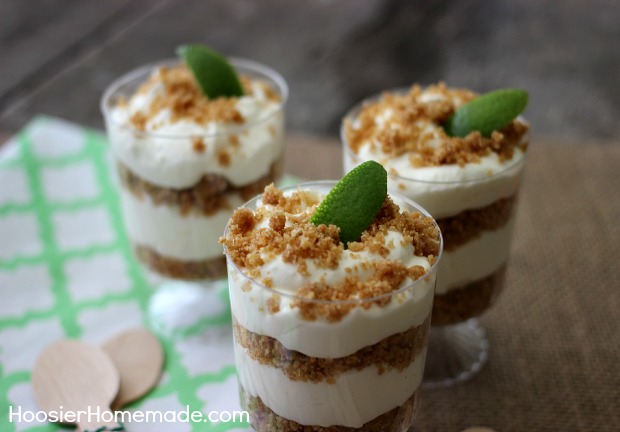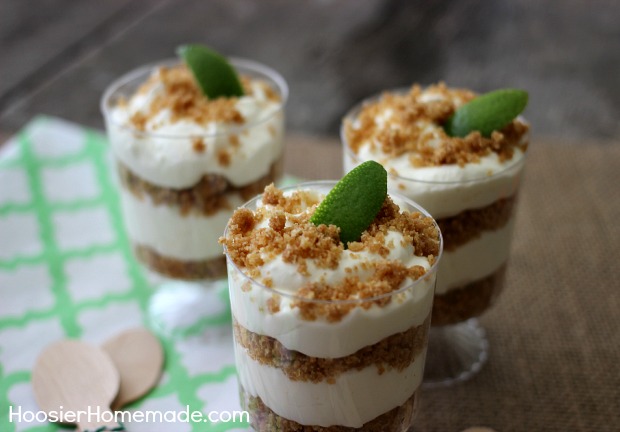 As I've mentioned, Trifle Desserts are so easy yet impressive. They can be served in a large clear glass bowl, or small individual servings. These footed containers are plastic and the perfect size for these luscious Key Lime Cheesecake Trifles.
After whipping together the Cream Cheese, Cool Whip Whipped Topping, Sugar and Lime Juice, it gets layered with a Graham Cracker and Butter mixture. A couple of layers in the containers, and a small piece of lime for garnish.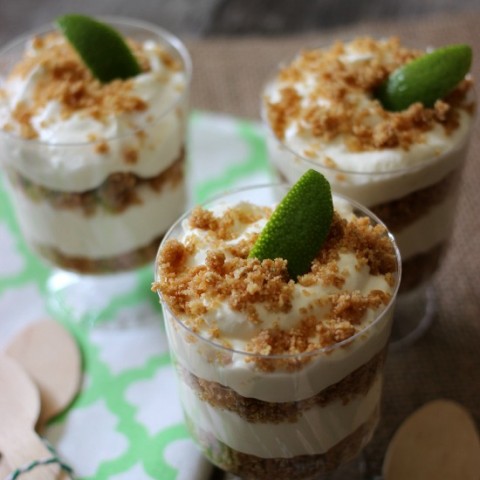 Key Lime Cheesecake Trifles
Yield: 15-20 servings

Prep Time: 10 minutes

Total Time: 10 minutes

Easy, no bake dessert with a hint of lime. Recipe on HoosierHomemade.com
Ingredients
1 package (8 oz) PHILADELPHIA Cream Cheese, softened
1/3 cup sugar
1 tub (8 oz) COOL WHIP Whipped Topping, thawed
2-3 tablespoons Key Lime Juice, fresh is best
1 sleeve (9 crackers) of graham crackers, crushed (about 1 1/4 cups)
1/4 cup butter, melted
Instructions
Combine Cream Cheese, Lime Juice and Sugar in a large bowl until smooth, fold in COOL WHIP Whipped Topping
Crush graham crackers. Melt butter and stir into graham cracker crumbs until combined.
Add a heaping teaspoon of graham cracker crumbs to the bottom of container, pat down with Tart Shaper or back of spoon
Add Cheesecake mixture to a resealable bag and squeeze about 2 tablespoons into the container.
Repeat layers of graham cracker mixture and cheesecake. Top with a sprinkle of graham cracker mixture.
Place in refrigerator at least 3 hours to chill
Notes
Servings will depend on how large your container is. Any size will work.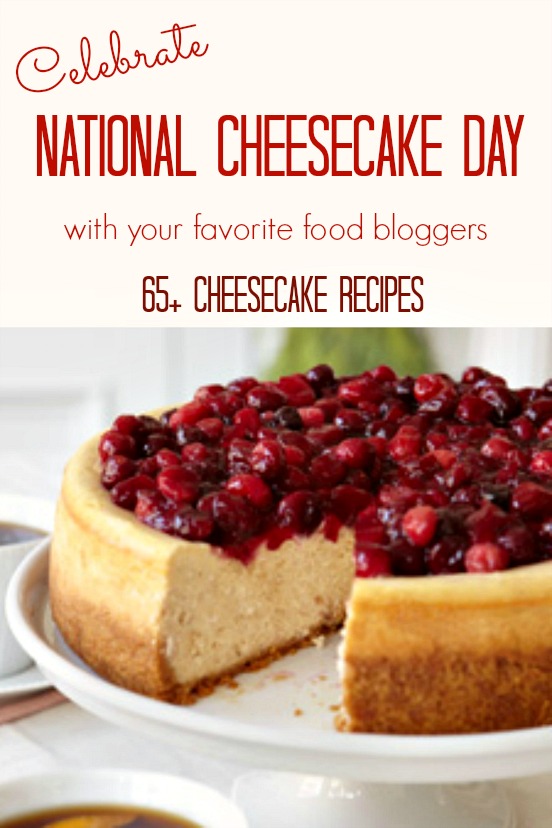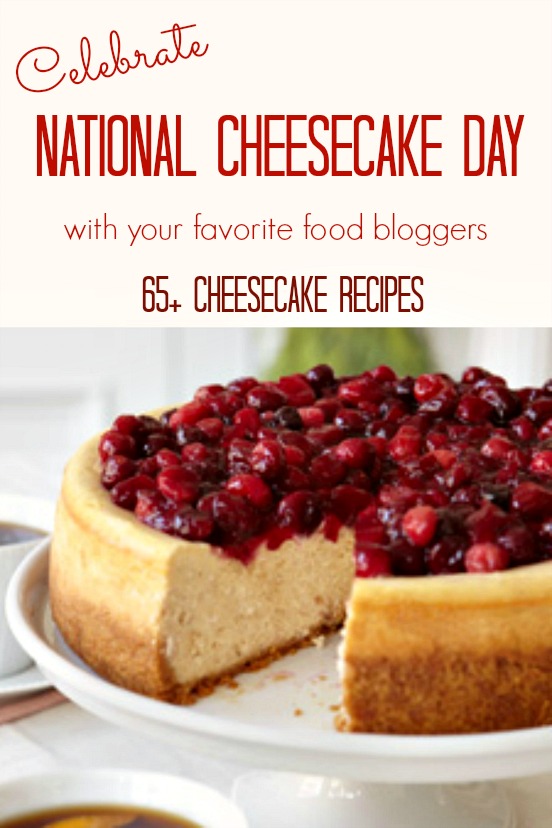 To celebrate National Cheesecake Day, I'm joined by fellow food bloggers to share with you lots of Cheesecake Recipes…
Baked Cheesecakes:
No Bake Cheesecakes:
Cheesecake Beverages:
Cheesecake Cookies and Bars:
Cheesecake Desserts and Treats:
Frozen Cheesecakes and Treats: