Cotton Candy No Bake Mini Cheesecakes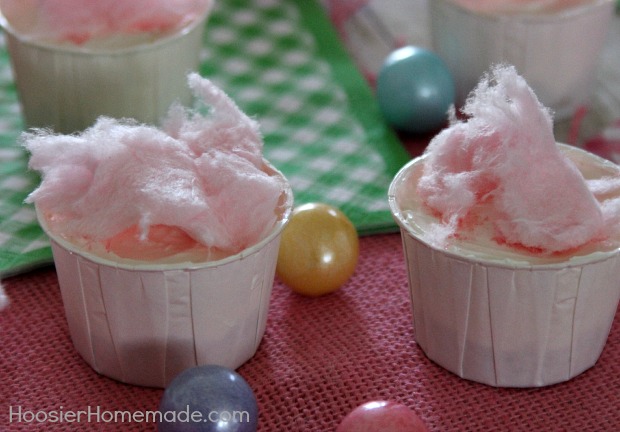 Oh my…do I have a treat for you! Cotton Candy No Bake Mini Cheesecakes…yes please! A simple no bake recipe with just a few ingredients plus Tutti-Fruitti flavoring, make these Mini Cheesecakes easy to make yet impressive.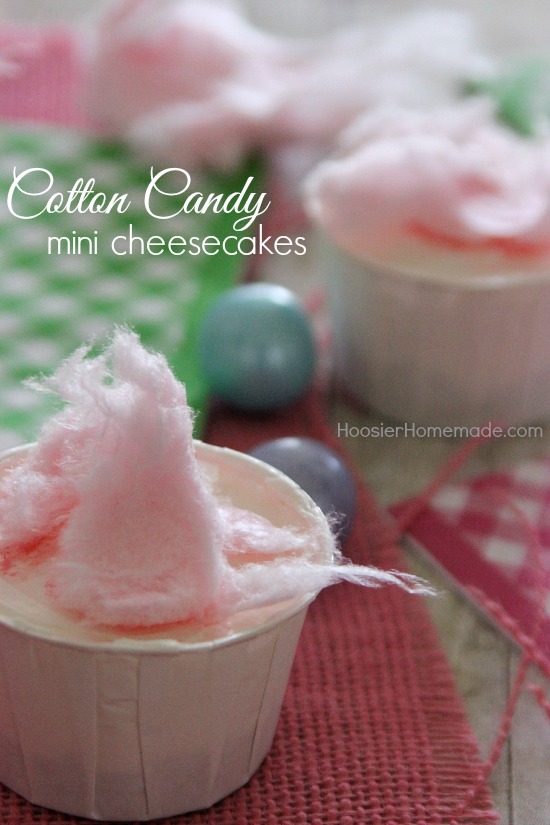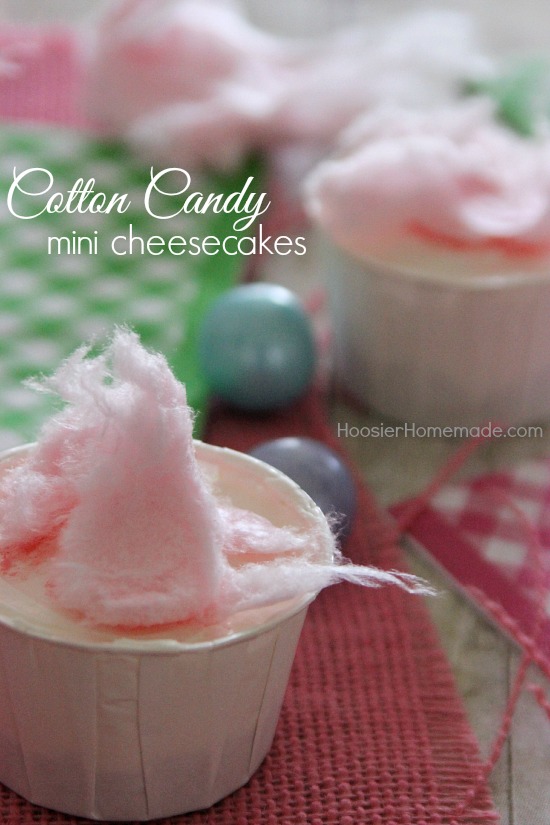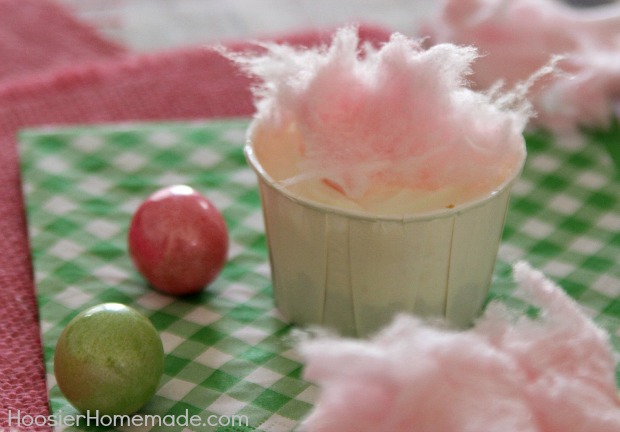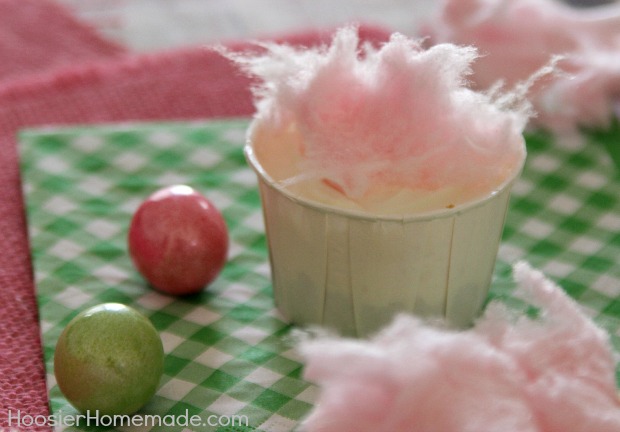 This Mini Cheesecake recipe started with the Fluffy 2-step Cheesecake recipe, but for the holidays it's always fun to make dessert a little extra special. The flavor options are endless…lemon, strawberry, raspberry, lime and the list goes on and on! After mixing the 3 ingredients…PHILADELPHIA Cream Cheese, sugar and COOL WHIP, I just had to add a little flavor, so I hunted through the cupboards and came across the Tutti-Frutti flavoring.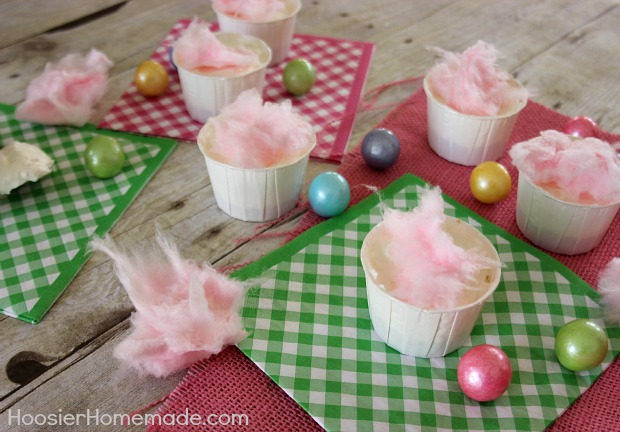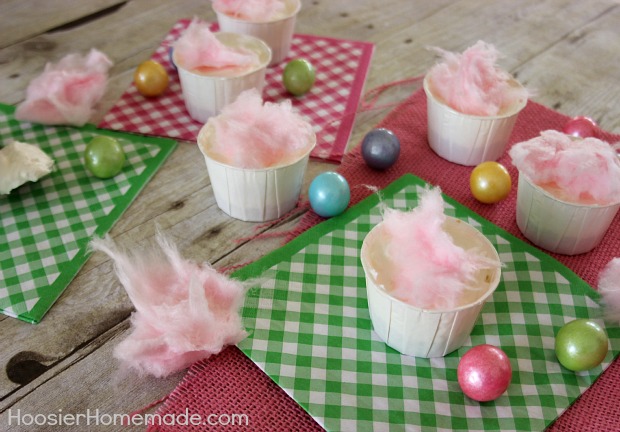 PHILADELPHIA Cream Cheese has been making the America's favorite cream cheese since 1872, largely due to its high standards and commitment to develop a delicious, quality product made with fresh milk and real cream.
Let's get started…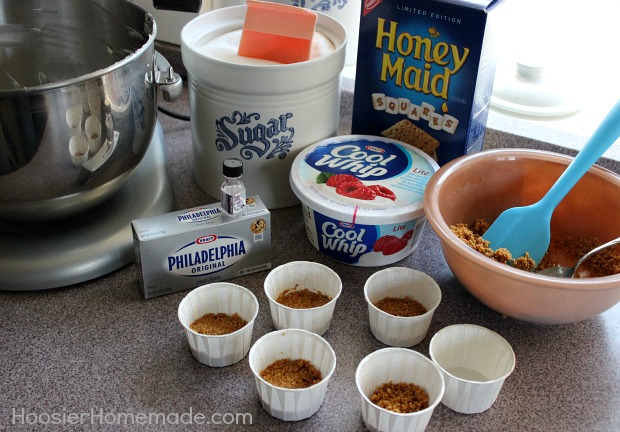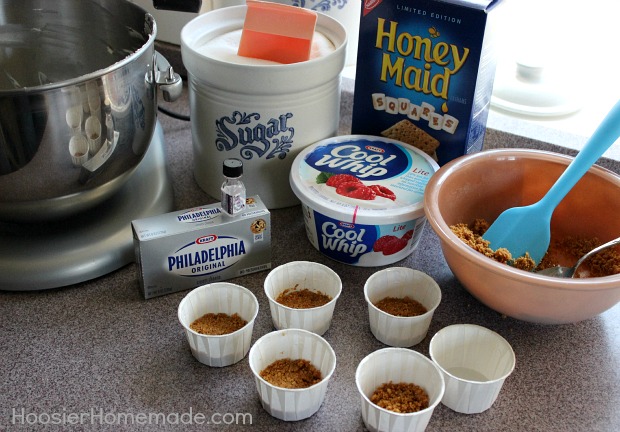 Supplies:


First, be sure to set out the PHILADELPHIA Cream Cheese at least 10 minutes before using, room temperature is best. In a large mixer, cream the PHILADELPHIA Cream Cheese and sugar, then add the COOL WHIP. Next comes the graham cracker crust. You can use any size liners you like, or even a store bought crust. These are mini dessert cups.
Crush the graham crackers finely and pour in melted butter, mix to combine.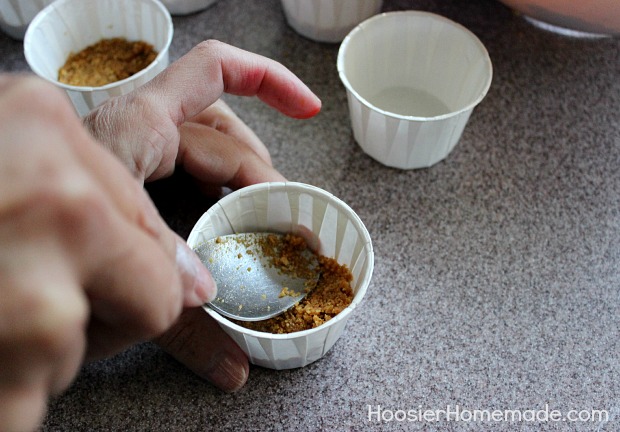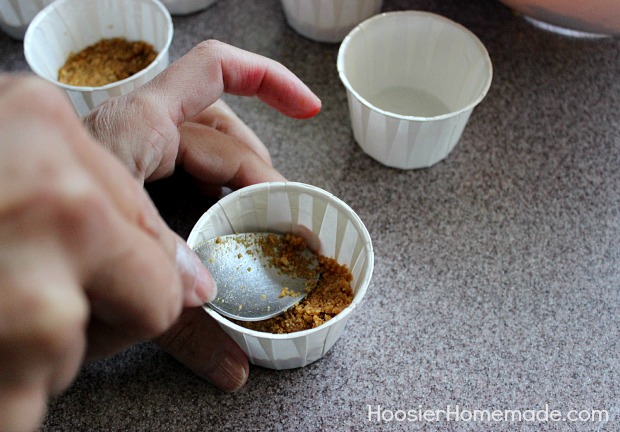 Then spoon graham cracker mixture into each liner and press down gently with the back of the spoon. The amount will depend on the size of the liner, usually between 1 – 2 tablespoons each.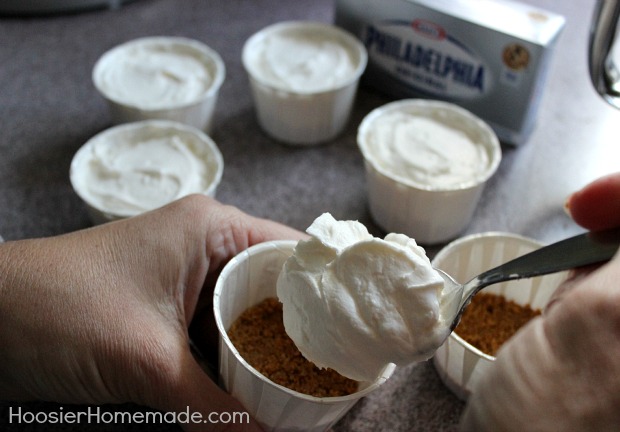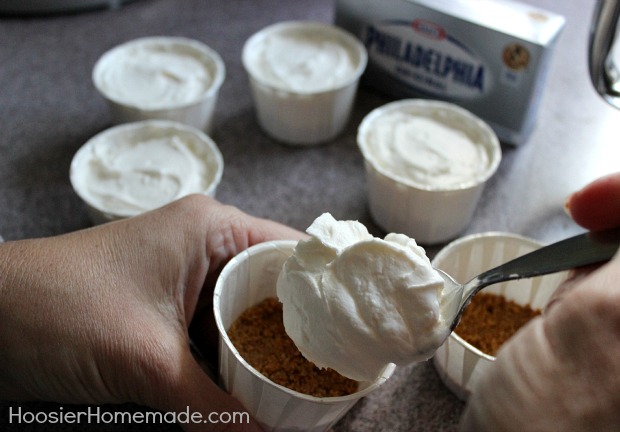 Spoon in the Cheesecake filling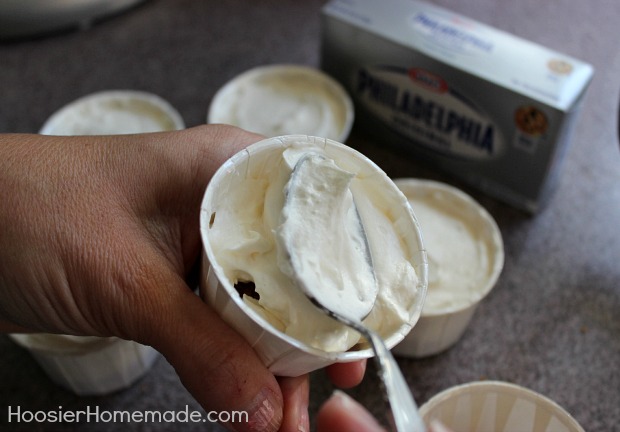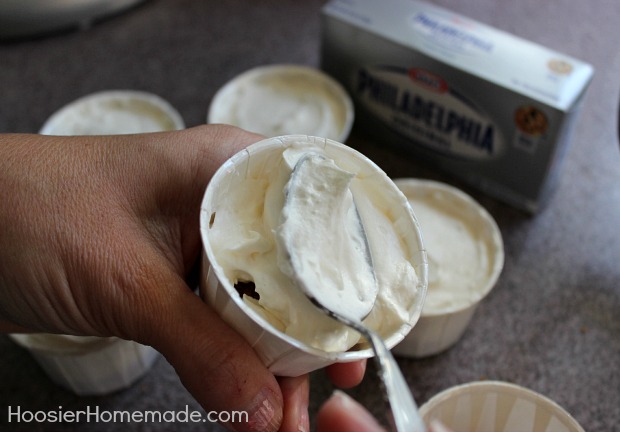 Smooth with the back of the spoon. Place in fridge to set about 3 hours.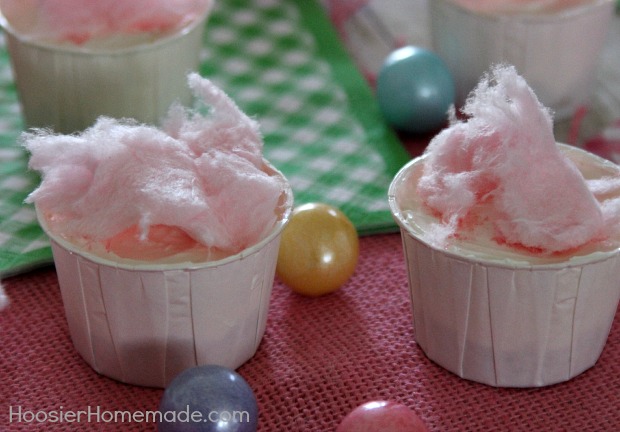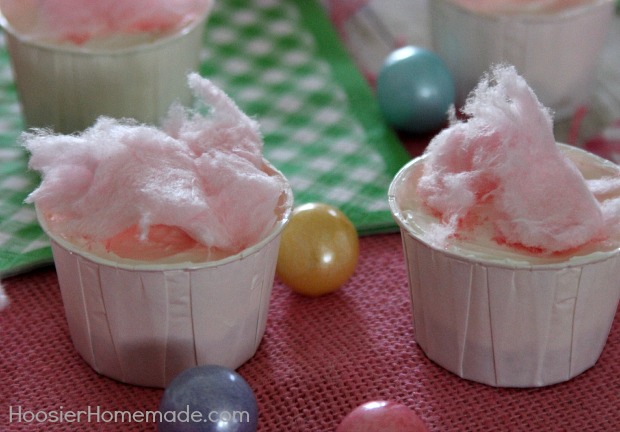 Just before serving, top with Cotton Candy or your favorite candy. Jelly Beans are perfect for an Easter Dessert. To create a rich, luscious cheesecake for your next gathering (or family dessert!), PHILADELPHIA sets the standard. That's why I always "Bring Out the Silver" when I'm making cheesecake.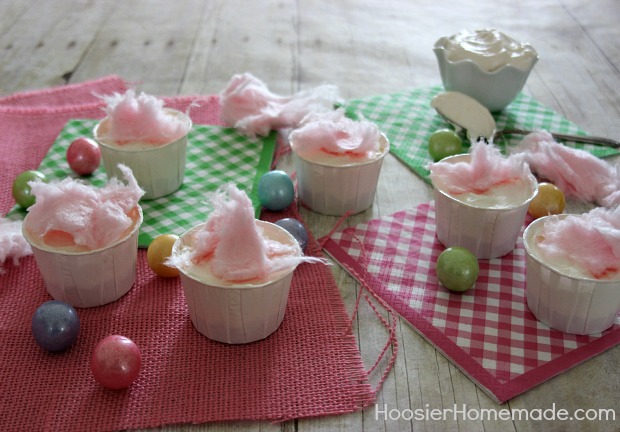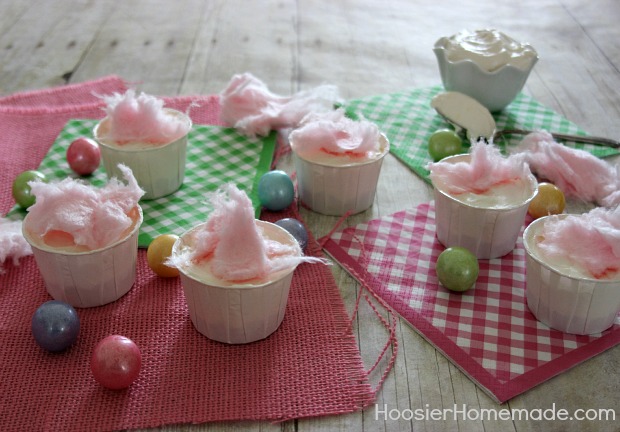 What makes PHILADLPHIA so delicious? It's their four fundamental standards:
Fresh Local Milk and Real Wholesome Cream: PHILADELPHIA uses milk sourced from dairy farmers local to where the cream cheese is made, and combines it with real, wholesome cream to create a deliciously fresh tasting cream cheese
From Farm to Our Fridge in Just Six Days: Fresh milk from nearby farms is made into cream cheese and refrigerated at PHILADELPHIA creameries in Beaver Dam, Wis. and Lowville, NY in just six days
Limited use of preservatives: No preservatives are found in the cream cheese brick varieties
Real Ingredients: From crisp jalapeños in its most recent variety, Spicy Jalapeño (just launched on March 4), to crunchy pecans in its Honey Nut variety, PHILADELPHIA Cream Cheese provides a delicious, fresh taste with each flavor
And for more Cheesecake recipes, visit CreamCheese.com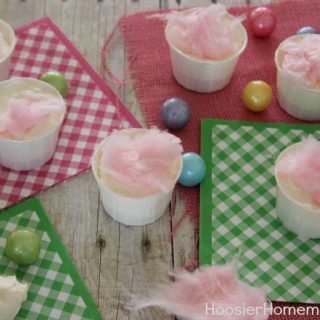 Cotton Candy No Bake Mini Cheesecakes
The flavor options are endless with this fluffy cheesecake. Recipe from HoosierHomemade.com
Ingredients
1 package (8 oz) PHILADELPHIA Cream Cheese, softened
1/3 cup sugar
1 tub (8 oz) COOL WHIP Whipped Topping, thawed
1 sleeve of graham crackers, crushed
1/4 cup butter, melted
Tutti-Fruitti flavoring
Instructions
In a large bowl, cream together the cream cheese and sugar until well blended.
Stir in COOL WHIP until smooth
Add flavoring a little at a time
Crush graham crackers in a resealable bag with a rolling pin
Melt butter in microwave and add to graham cracker crumbs, stir well. Mixture should hold together, add more butter if needed.
Spoon graham cracker mixture into liners and press down with the back of the spoon. Add about 1-2 tablespoons per liner depending on the size
Spoon in cheesecake filling, smooth with back of spoon
Place in fridge to set about 3 hours
Add decorations just before serving
Store leftovers in fridge
Notes
Total time includes chilling time. Recipe adapted from Kraft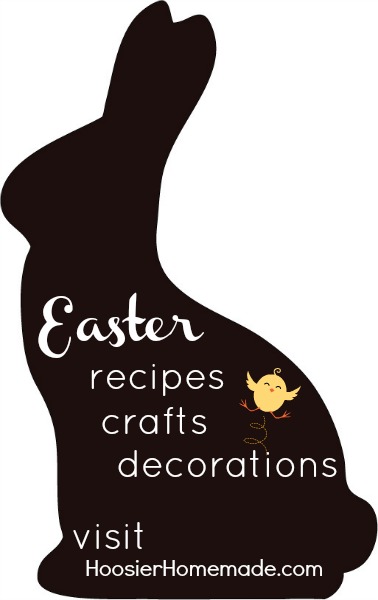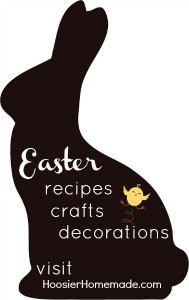 Disclosure: I have been selected by Kraft Foods to be an ambassador for PHILADELPHIA cream cheese. While I have been compensated for my time, my opinions are my own, and I have not been paid to post positive comments.