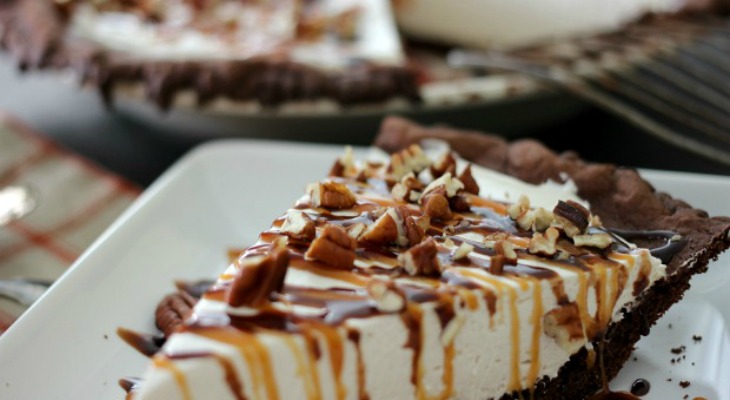 With Thanksgiving quickly approaching, I thought it would be great to share a few pie recipes with you. It's funny how traditions during the holidays live on and on, and each holiday seems to have it's own traditions. Thanksgiving and Pies just go together.
This Turtle Cheesecake Pie is perfect for Thanksgiving, but scrumptious of course any time of year. Ever since I gave the Cake Mix Pie Crust a try, I have been dreaming of a pie to make with a chocolate cake mix pie crust. And I'll have to say…it turned out pretty good!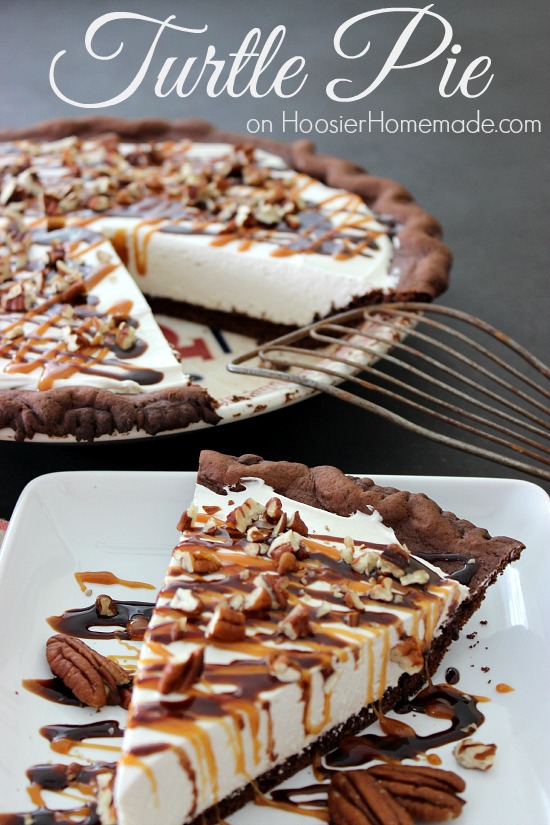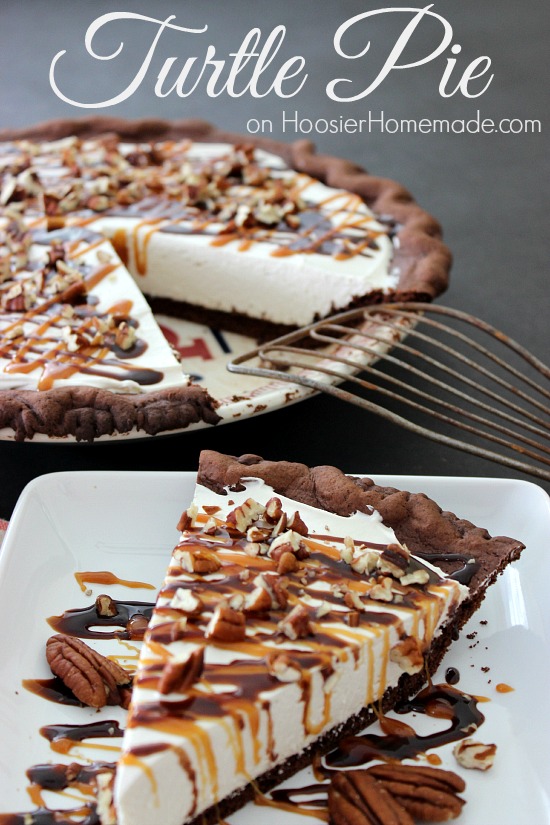 Let's begin by chatting about the crust…like I mentioned, this is a Chocolate Cake Mix Pie Crust, while it wasn't as easy to work with as the yellow cake mix I used in the Mini Pumpkin Mousse Pies, it was not difficult either. I did figure out a couple tricks along the way…
Use cocoa powder to lightly dust the surface before rolling, you can use flour but it will coat the crust white
Do not fold the crust over on itself, it will stick together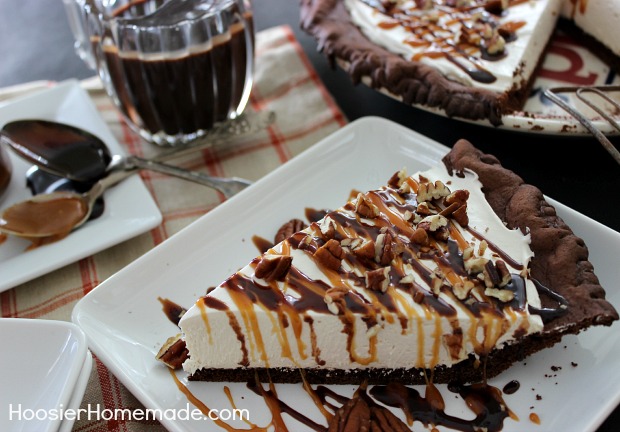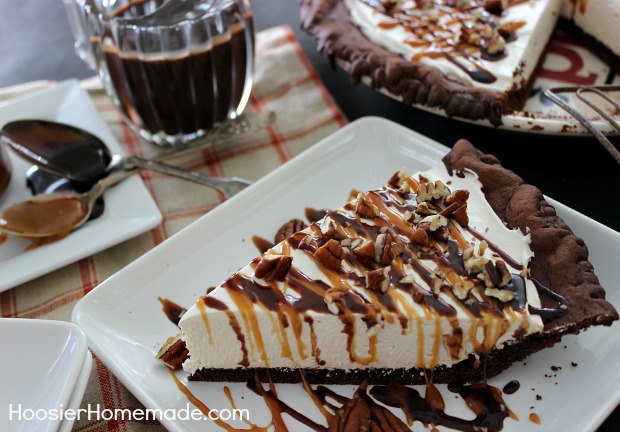 Now I'll have to admit, I'm not the best pie crust baker in the world – not even close – but looks aren't everything, right? As long as it's delicious, that's all that matters.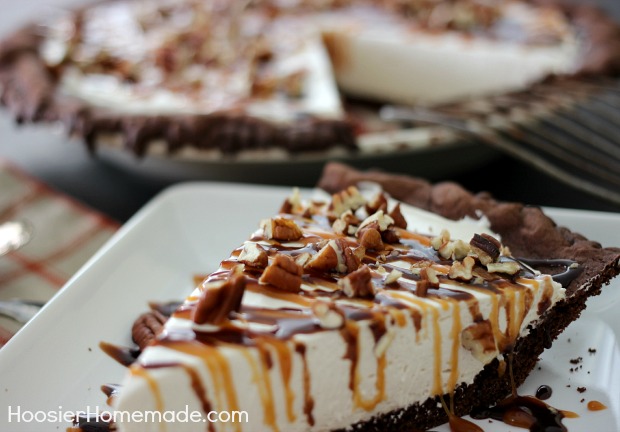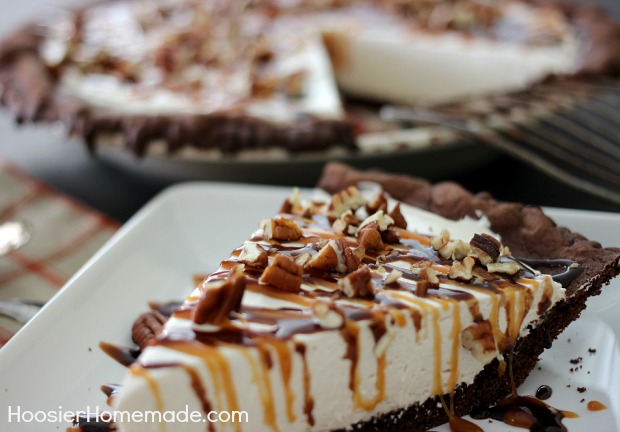 After the crust is baked and cooled, the filling is super easy. I used my favorite No Bake Cheesecake Recipe and changed it a bit to pair with the caramel and hot fudge flavors, I used cream cheese, brown sugar, vanilla and Cool Whip whipped topping, it can also be made up a day or two ahead of the holiday, making it a great make-ahead Thanksgiving Dessert.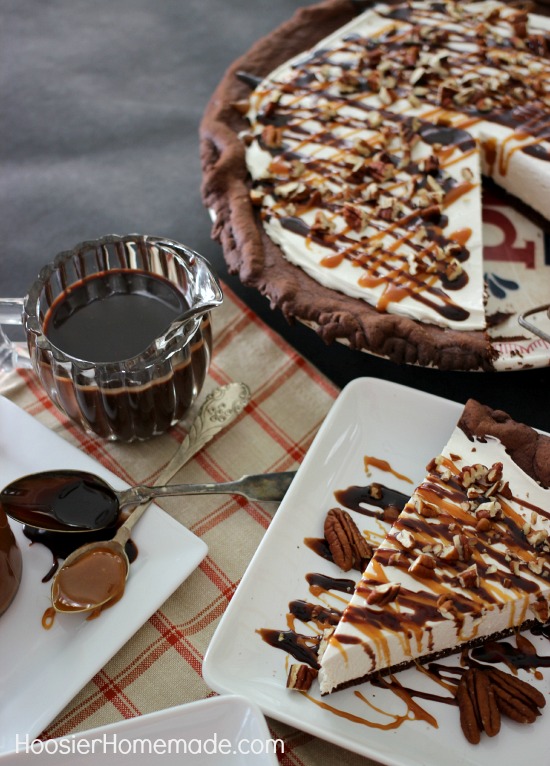 For the topping, I made Caramel Sauce and Homemade Hot Fudge Sauce, which are both made with just 2 or 3 ingredients and go together in minutes. But you could very easily pick up bottles of ice cream topping.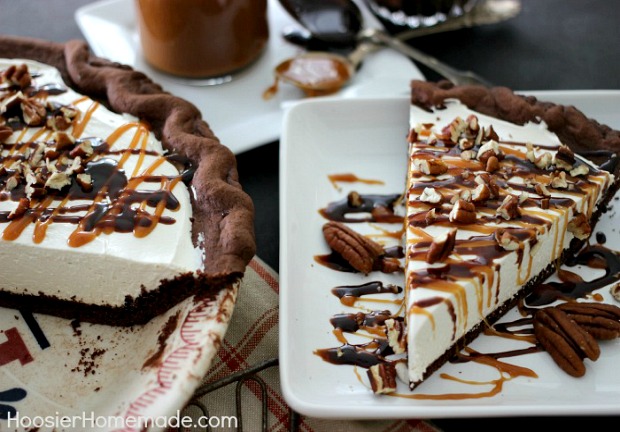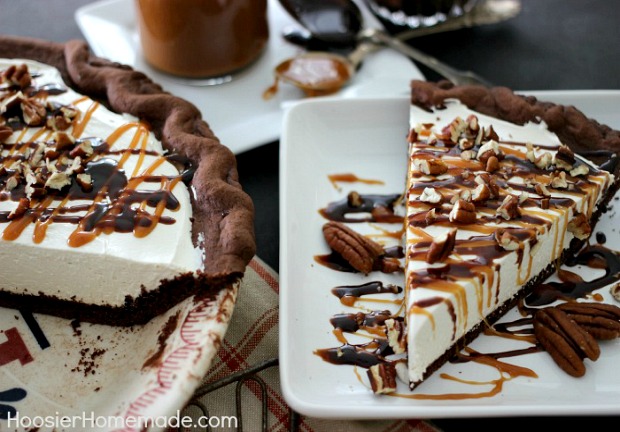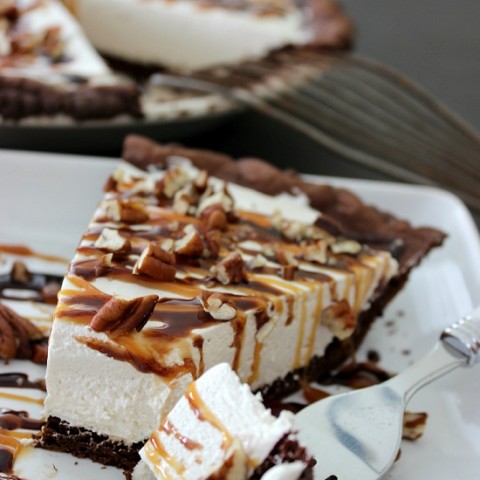 Turtle Cheesecake Pie
Delicious pie that's perfect for the holidays, a dinner party or birthday. But easy enough for a weeknight dessert. Recipe on HoosierHomemade.com
Ingredients
Crust
1 Chocolate Cake Mix, standard size
1 egg
3 egg yolks
1 tablespoon butter, softened
Filling
1 (8 oz) pkg cream cheese, softened
1/3 cup brown sugar, packed
2 teaspoons vanilla extract
1 (8 oz) tub COOL WHIP Whipped Topping, thawed
Toppings
Caramel Sauce - 1 bag caramels + 2 tablespoons water
Hot Fudge - 1 can (14 oz) Sweetened Condensed Milk + 1/2 cup chocolate pieces + 1/4 cup butter
Pecans - chopped and/or whole
Instructions
Crust
Combine all ingredients in a large bowl
Turn dough out onto a slightly cocoa powder dusted counter and knead until well combined
Wrap in plastic and chill at least 15 minutes
Divide in half and roll out dough
Place in pie pan, prick bottom with fork
Bake at 350 degrees for 20-25 minutes for full size pie
Bake at 350 degrees for 5-7 minutes for mini pies
Cool completely
Filling
Beat cream cheese and brown sugar until smooth and well blended
Add vanilla and beat
Fold in COOL WHIP Whipped Topping until smooth
Spoon into crust and place in fridge for at least 2 hours or overnight
Caramel Sauce
Combine caramels and water in a small saucepan and cook, stirring constantly until caramels are melted and mixture is smooth
Remove from heat and let cool about 10-15 minutes
Place in plastic squeeze bottle for ease
Hot Fudge Sauce
Place all ingredients in small saucepan and heat until all ingredients are melted, smooth and creamy, stirring frequently
Let cool slightly, serve immediately or store in a container in the fridge for up to a month
To reheat, spoon into a microwave safe bowl and heat until smooth
Place in plastic squeeze bottle for ease
Assemble
Drizzle pie with caramel and hot fudge and sprinkle with pecans
Cover and store leftovers in fridge
Notes
Cook time is for the pie crust