As you are making your New Years Eve plans, I thought you all might enjoy these fun New Years Eve Countdown Goodie Bags that I shared last year.
Traditions…one of the things I love most about the Holidays. Many, many years ago, we started a great tradition…New Year's Eve Countdown Goodie Bags.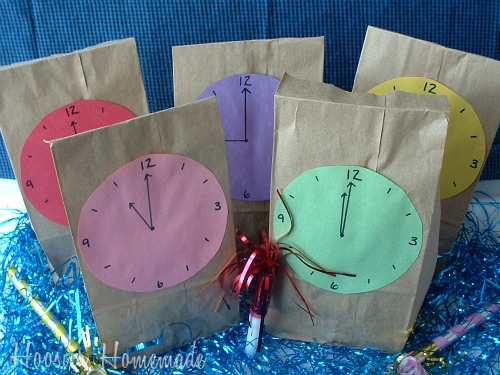 My boys were quite young, but still wanted to stay up until midnight, and quite honestly, it was hard for my husband and I to stay up that late too. So, we started using Goodie Bags to countdown to midnight.
Using cardstock or construction paper, cut a circle, then simply draw a clock on each circle, facing the hands toward each hour. I start with 8 p.m., but only because it's less expensive to fill only 5 bags per child.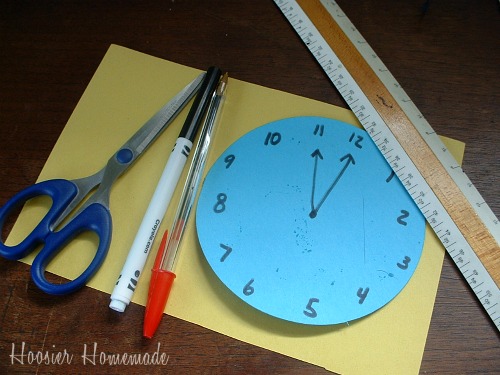 Walmart has a great selection of bags with multiple goodies, to further cut down on the cost. I also always put the noise makers and poppers in the midnight bag and hand those out a few minutes before the hour, that way, we aren't hearing the noise for hours. Some other items I have used in the past are glow necklaces, small puzzles and toys, and candy.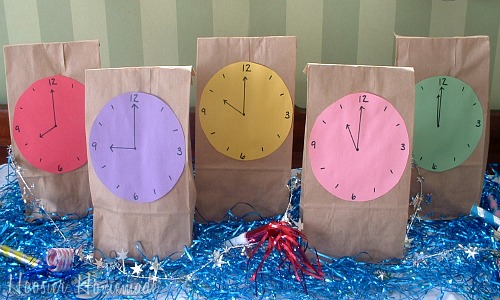 I display them on the Buffet with shiny gift bag filler and noise makers. You can also color coordinate for each child if you want, making it easier for each child to keep their bags seperate. I also keep the clocks from year to year.
This has become such a tradition for my boys, last year, my oldest, then 18, had to work, but he asked me to be sure to save his bags for him.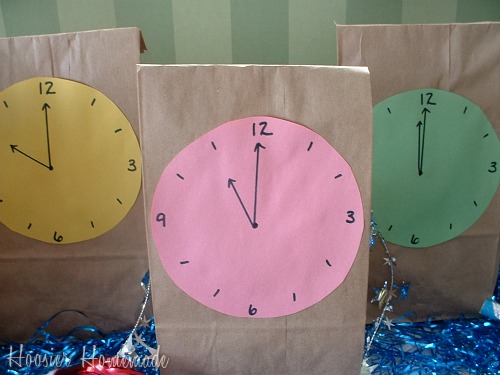 Do you have New Years Eve traditions?
I'm linking to…Holiday Home, Saturday Sevens, Sundae Scoop, Made by you Monday, Show Me How, Get Your Craft On, Transformation Thursday, Show & Tell Friday, Weekend Wrap up Party