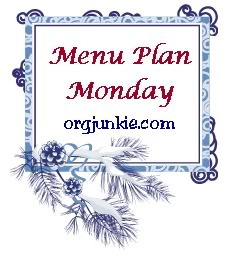 Having breakfast for dinner is a family favorite in our house. I include it on our menu at least twice a month. Recently I decided to give some Homemade McGriddles a try. They quickly became a favorite. These little McGriddle type sandwiches are very versatile, I served them for dinner one night along with breakfast stew and some fruit, and also made them a couple times for Sunday morning breakfast. Be sure to make extras too, they keep well and make a quick breakfast when you are in a hurry.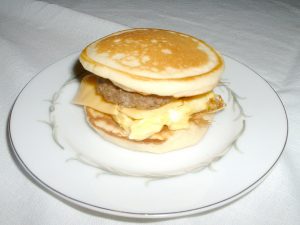 Directions:
Make a batch of silver dollar (small) pancakes, I use this recipe
Slice and cook sausage patties or cook some bacon in the oven like Jen does (this works great, I've been cooking bacon this way ever since her post)
Scramble 1 egg at a time in a bowl, then fry, trying to keep the eggs from spreading (I need to get one of those handy cookie cutter type egg holders)
Assemble pancake, egg, sausage or bacon, add a slice of cheese and top with another pancake
I'm glad my family enjoys having breakfast type food for dinner, it's not only delicious, but it's a frugal meal too, depending on how much meat you serve. I keep the cost of the meal around $5, but sometimes a little higher if we add bacon.
Additional notes: I forgot to add that sometimes I add syrup to the pancakes while they are cooking (Thanks Connie for reminding me). And, the breakfast stew link takes you to the breakfast tacos recipe, I use the same recipe, I just don't put the mixture in the tortilla shells.
Be sure to mark your calendar, I'm having a Valentine Linky Party on February 1st. Bring your best ideas for Valentine Baking, Decorating, Dates or Fun for the Kids. And there will be an awesome giveaway too 🙂
Now onto what we are having this week…
Monday ~ Chicken Stir-Fry, Rice
Tuesday ~ Beef N' Noodles, Mashed Potatoes
Wednesday ~ Breakfast
Thursday ~ Vegetable Soup, Cornbread
Friday ~ Enchilladas, Mexican Rice
Saturday ~ Corn Dogs, Onion Rings
Sunday ~ Shanghai Wings, Rice
See my BlogFrog Community over in the right sidebar? Head on over and join in the conversation. Leave a comment telling me what your favorite cupcake flavor is. I'm baking for Blissdom, did you know?
Be sure to stop back tomorrow for Cupcake Tuesday. I'd love for you to link your Cupcake or Muffin recipe. And if you are looking for some Cupcake ideas, head on over to my Cupcake Heaven page.
This post linked to:
~Ultimate Recipe Swap hosted by Life As Mom
~$5 Dinner Challenge hosted by $5 Dinners
~Tempt My Tummy Tuesday hosted by Blessed with Grace
~Tasty Tuesday hosted by Balancing Beauty and Bedlam
~Tuesdays at the Table hosted by All the Small Stuff