What do you have when you bake a soft, cookie like crust…spread with peanut butter frosting and top with REESE'S Minis Peanut Butter Cups and  REESE'S PIECES Candies? Well…Bracket Buster Bars…of course!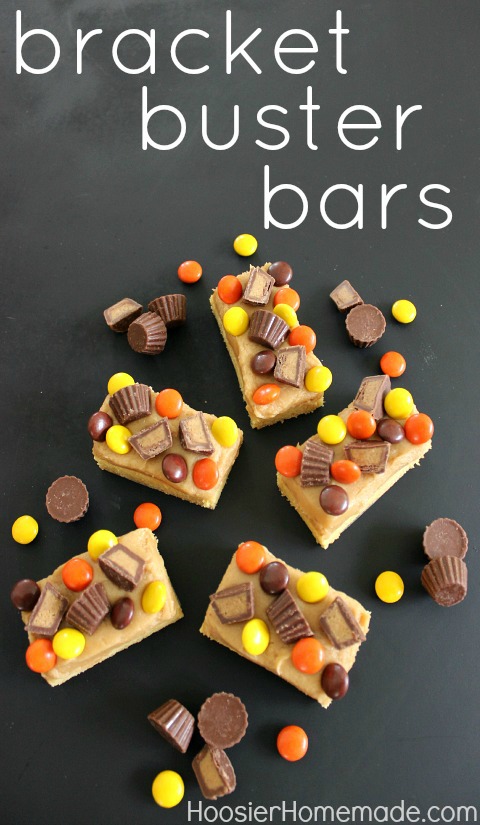 It's time to get in the game! With college basketball tournaments beginning next week, the folks at REESE'S want to make your Game Day Perfect for Less! So I baked up these delicious Bracket Buster Bars to share with you!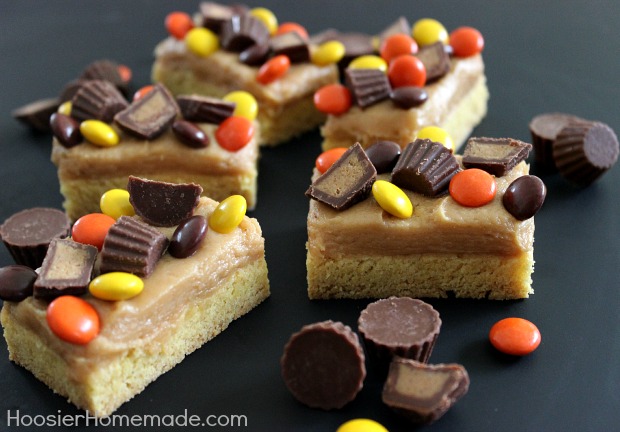 This little gems are part of the REESE'S Baking Bracket Challenge where you will find 32 recipes! To add to the excitement of college basketball, the recipes the compete for votes in a bracket-style contest.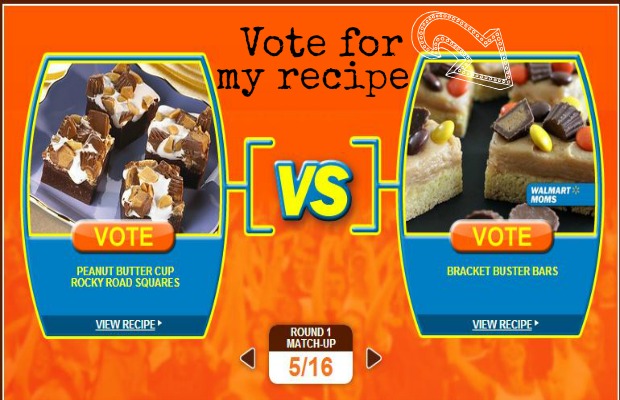 Vote for your favorite REESE'S recipes for a chance to win a $100 daily prize. Vote every day for more chances to win!
And see those Bracket Buster Bars…I'd be SO grateful if you would vote for them!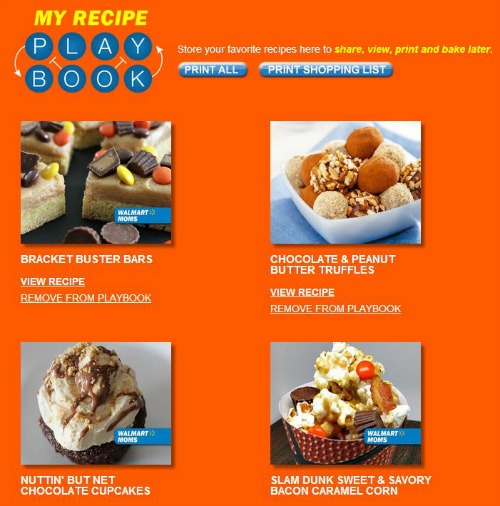 Not only can you vote for a chance to win, but you can also add your favorite recipes to the Recipe Playbook, then save, share or print them out!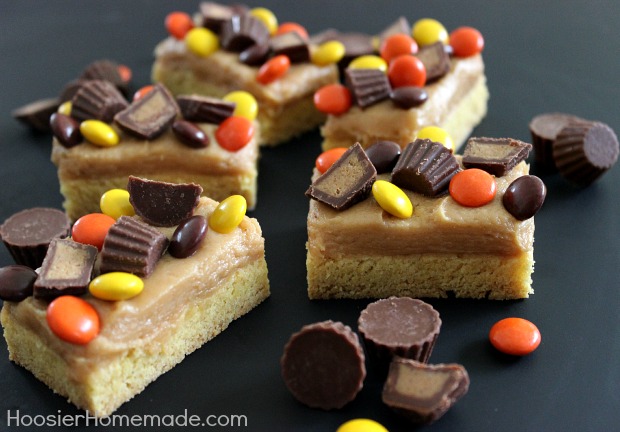 Rich and creamy bar cookie that goes together in a snap! Original recipe from HoosierHomemade.com
Ingredients
Cookie Crust

1 white box cake mix
1/3 cup butter, melted
1 egg

Peanut Butter Cream Filling

1 (8 oz) package cream cheese, softened
1/2 cup brown sugar
1/2 cup peanut butter, smooth or crunchy
1/4 cup honey
1 teaspoon vanilla

Toppings

1 cup REESE'S Minis Peanut Butter Cups, cut in half
1 cup REESE'S PIECES Candies
Instructions
Cookie Crust

Preheat oven to 350 degrees, spray a 13x9 pan with cooking spray
In a large bowl, combine all ingredients with a spatula, mix well
Dough will be very stiff
Press dough evenly into prepared pan
Bake at 350 degrees for about 15-17 minutes or until golden brown
Cool completely

Peanut Butter Cream Filling

In a large mixing bowl, blend together cream cheese and brown sugar until smooth
Add the peanut butter, honey and vanilla and mix until smooth
Spread evenly on cookie crust

Toppings

Cut the REESE's Peanut Butter Cup Minis in half, sprinkle over Peanut Butter Cream Filling
Sprinkle with REESE'S PIECES Candies
Cut into bars
Notes
These cookies are rich, so cut them small.
http://hoosierhomemade.com/bracket-buster-bars/