Beginning with a soft, cookie like crust, creamy peanut butter frosting and topped with Peanut Butter Cups and REESE'S Pieces Candies, these Peanut Butter Cup Bars are sure to become a family favorite!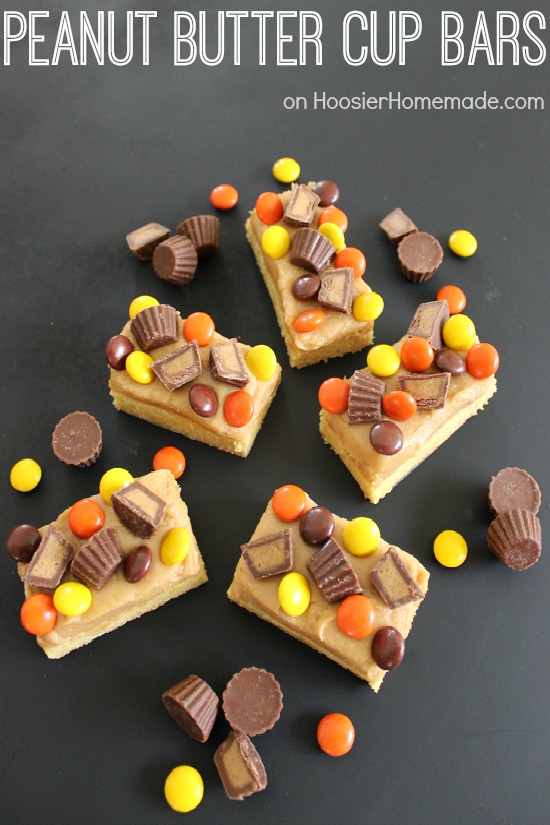 Bar cookies are hands down my favorite to bake. They are really quick and easy, perfect for parties, potlucks or to give as gifts. The combination of Peanut Butter and Chocolate is one of my favorite too! And anytime I can add Peanut Butter Cups to cookies, that is definitely a plus!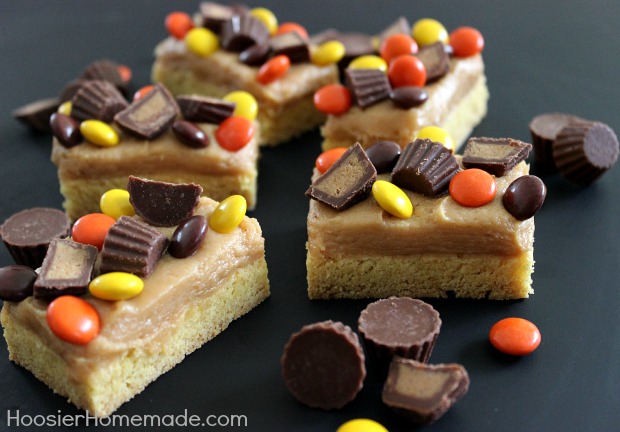 These Peanut Butter Cup Bars start with a crust made from a white cake mix, butter and egg. Then a delicious Peanut Butter Frosting that is sweetened with honey and brown sugar. At this point you could certainly add whatever toppings you choose.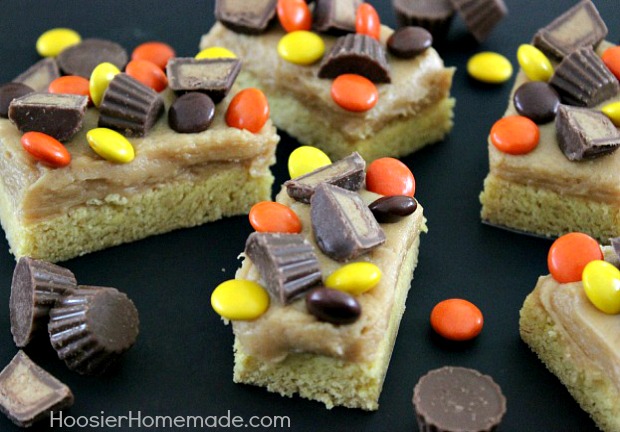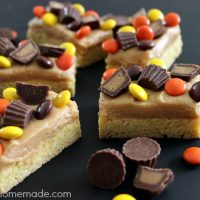 Peanut Butter Cup Bars
Rich and creamy bar cookie that goes together in a snap! Original recipe from HoosierHomemade.com
Ingredients
Cookie Crust
1 white box cake mix
1/3 cup butter, melted
1 egg
Peanut Butter Cream Filling
1 (8 oz) package cream cheese, softened
1/2 cup brown sugar
1/2 cup peanut butter, smooth or crunchy
1/4 cup honey
1 teaspoon vanilla
Toppings
1 cup REESE'S Minis Peanut Butter Cups, cut in half
1 cup REESE'S PIECES Candies
Instructions
Cookie Crust
Preheat oven to 350 degrees, spray a 13x9 pan with cooking spray
In a large bowl, combine all ingredients with a spatula, mix well
Dough will be very stiff
Press dough evenly into prepared pan
Bake at 350 degrees for about 15-17 minutes or until golden brown
Cool completely
Peanut Butter Cream Filling
In a large mixing bowl, blend together cream cheese and brown sugar until smooth
Add the peanut butter, honey and vanilla and mix until smooth
Spread evenly on cookie crust
Toppings
Cut the REESE's Peanut Butter Cup Minis in half, sprinkle over Peanut Butter Cream Filling
Sprinkle with REESE'S PIECES Candies
Cut into bars
Notes
These cookies are rich, so cut them small.
Here are a few of my favorite Bar Cookies you may also like…