Salted Caramel Carmelitas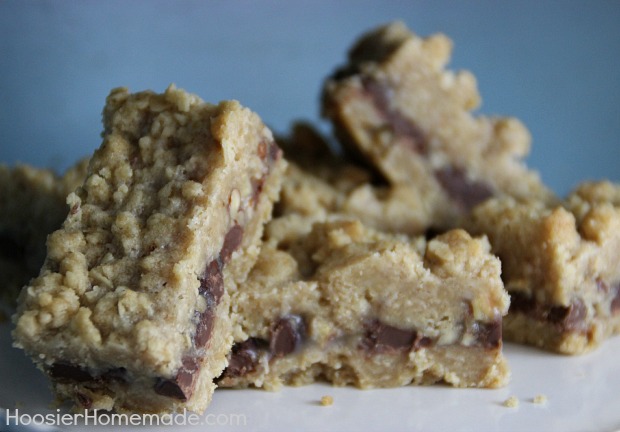 Seems like we are right smack in the middle of several celebrations – many of you will be serving snacks and treats for Game Day this weekend, Valentine's Day is right around the corner and let's not forget the Olympics start soon too. Although we tend to bake for special events, it's also nice to have an easy recipe to serve for a weeknight dinner or perhaps a dinner party.
These Salted Caramel Carmelitas are a must try! The ingredient list appears to be lengthy but don't let that stop you, they went together easily and are absolutely delicious!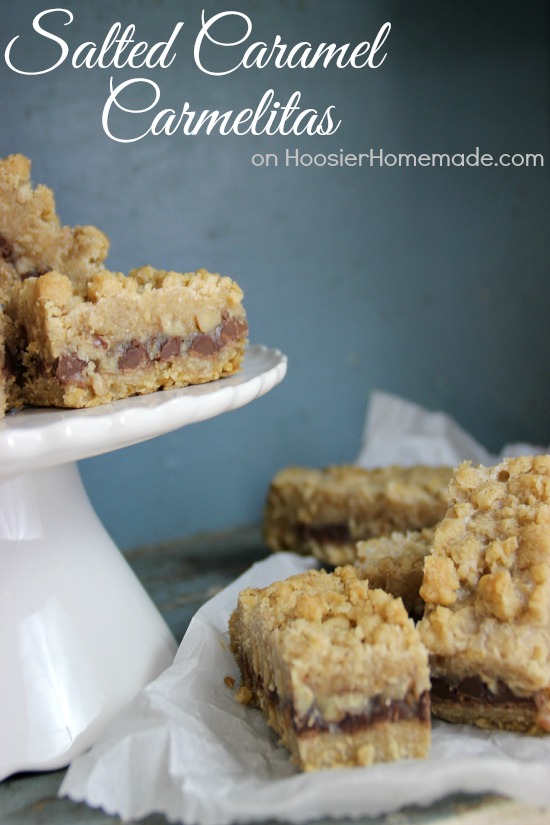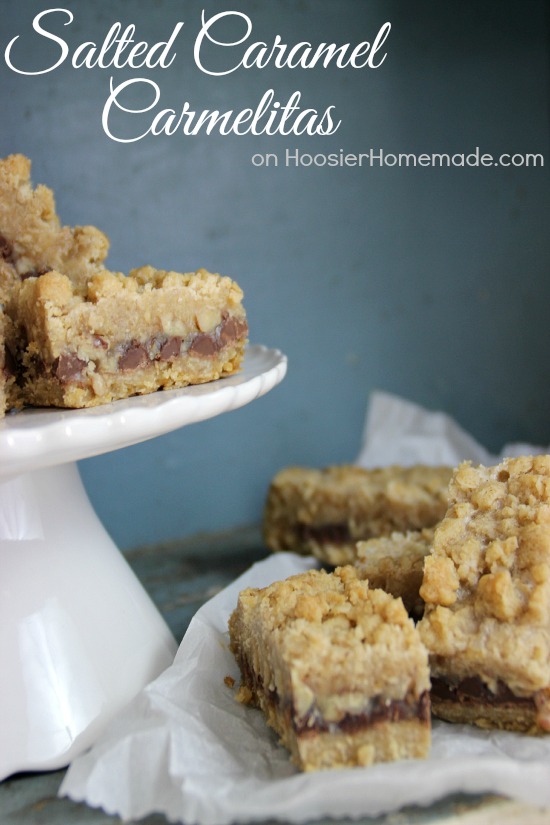 This recipe is brought to you by Fisher Nuts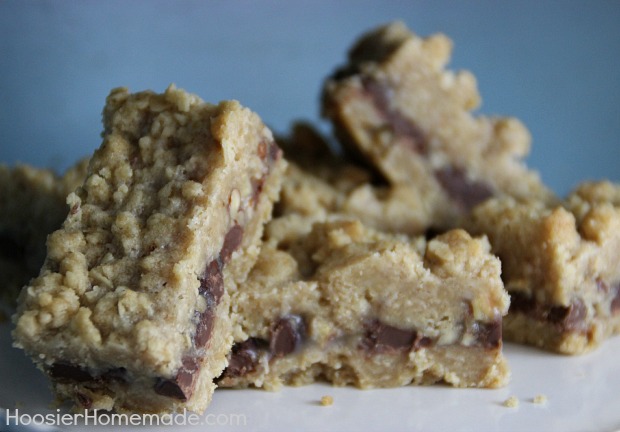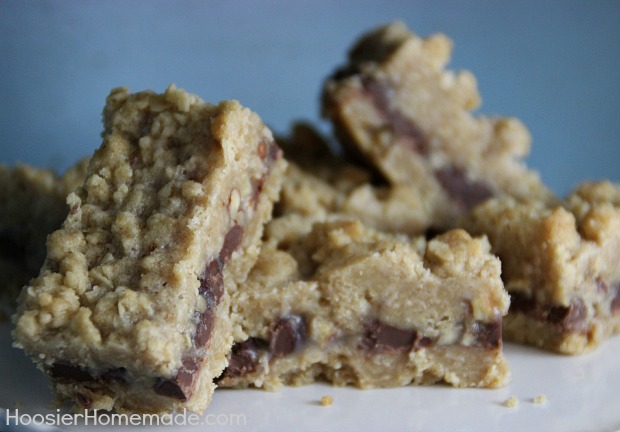 Salted Caramel desserts are really popular right now. When I first saw them break into the baking scene, I thought they would be difficult to make. But they are super simple, the only difference is that you add sea or kosher salt to the recipe. In the middle of the bars, is a decadent layer of Salted Caramel that is made on the stove top, along with chocolate chips and Fisher Pecans for extra flavor.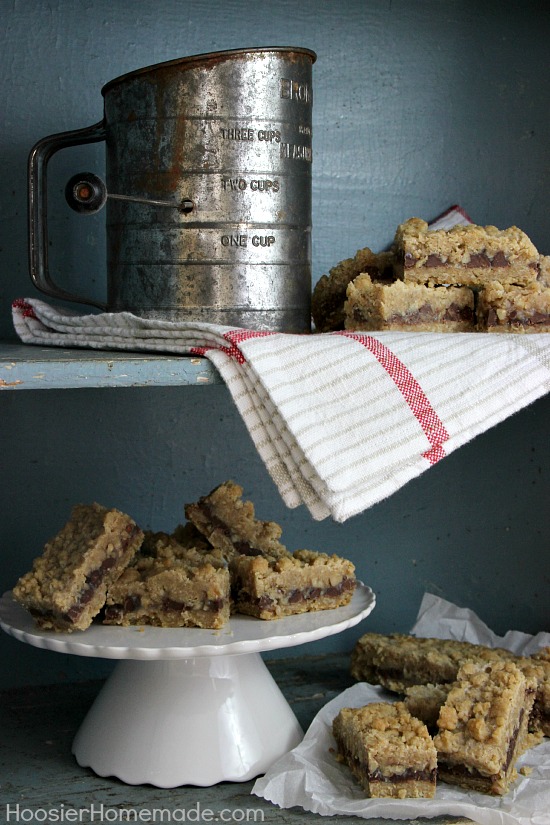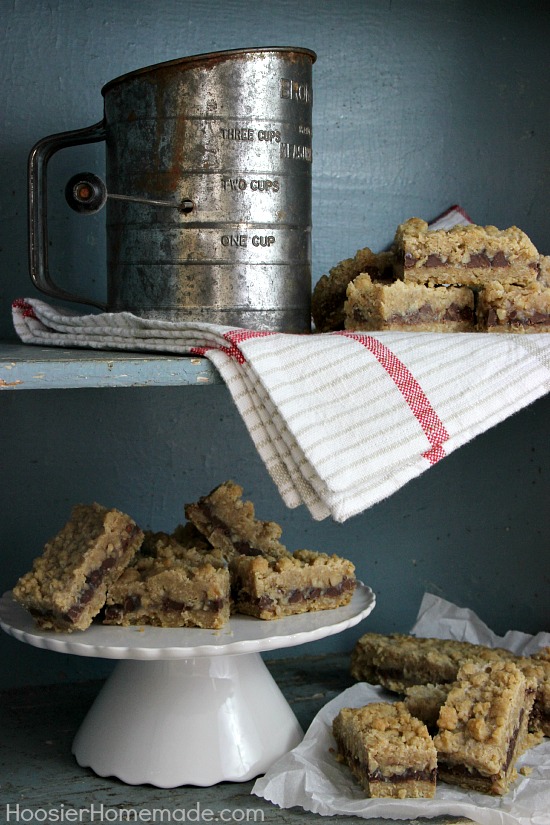 So how about the Big Game? Are you planning a party? Here are a few tips for you…
Keep it simple…everyone loves appetizers, they are easy to make and eat. Prepare them ahead and you are ready to go.
Plan ahead…make sure you have plates, napkins, silverware and ice
Set up an area for food and drinks separate.
Serve the food on different layers, to make it easier for people to reach what they want.
Snacks are a must…easy Snack Mix or Popcorn Crunch are perfect
And lastly, dessert like these Bar Cookies are easy to make and serve and of course, Football

Treats

 are perfect!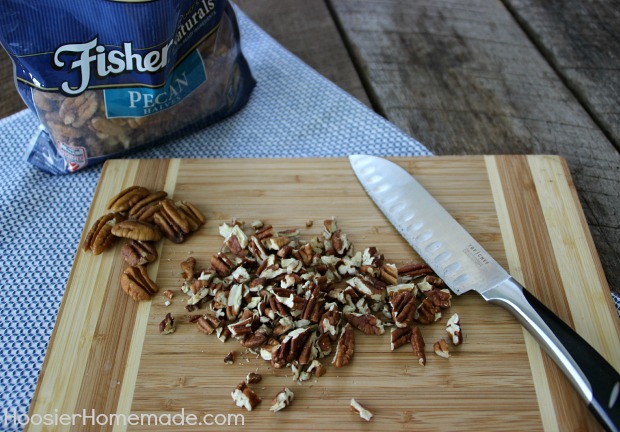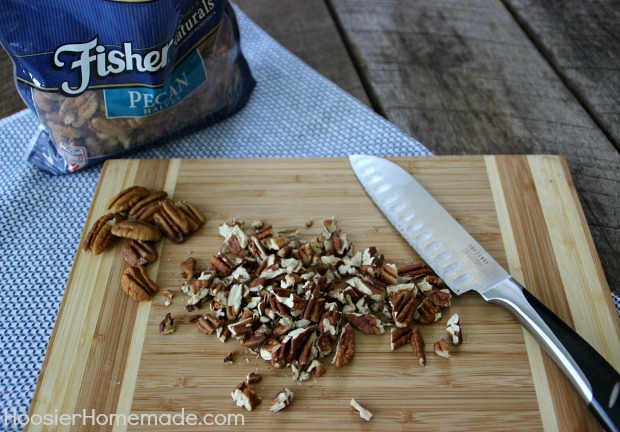 Adding Fisher Nuts to treats like these Salted Caramel Carmelitas and the Pecan Caramel Popcorn Crunch is perfect!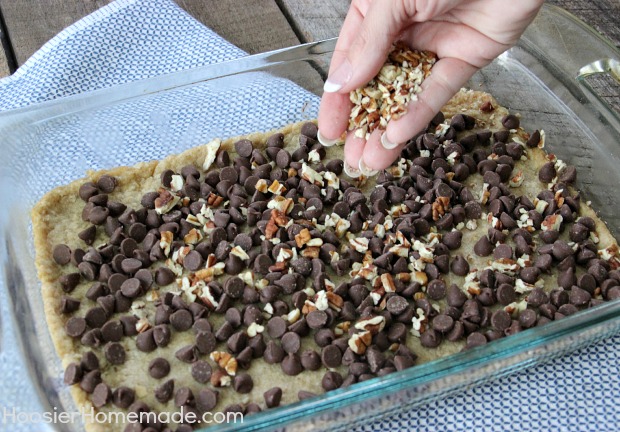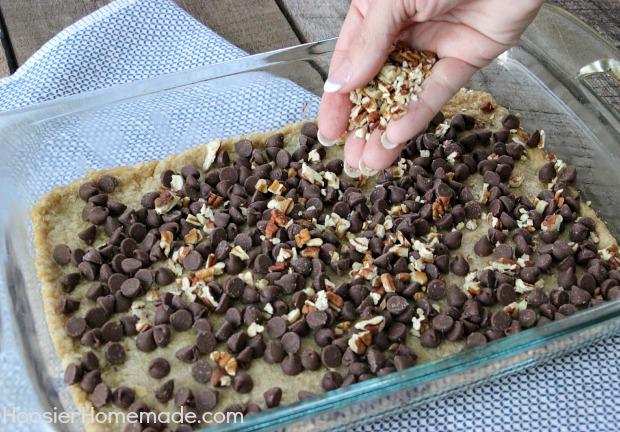 After the bottom crust is partially baked, a coating of chocolate chips and sprinkle of Fisher Pecans sends these Salted Caramel Carmelitas over the top!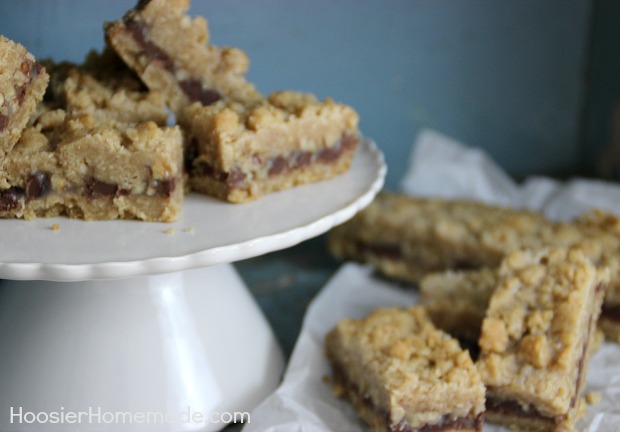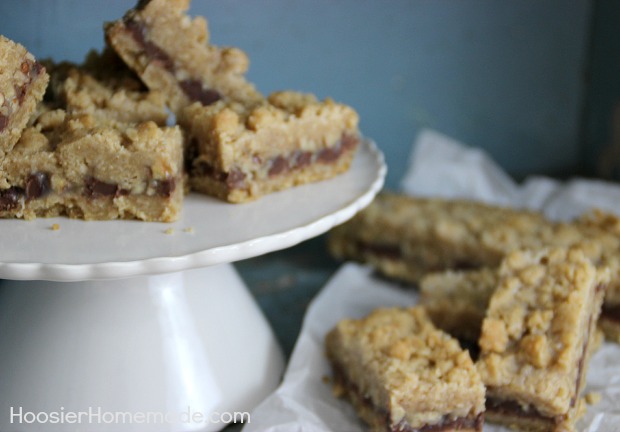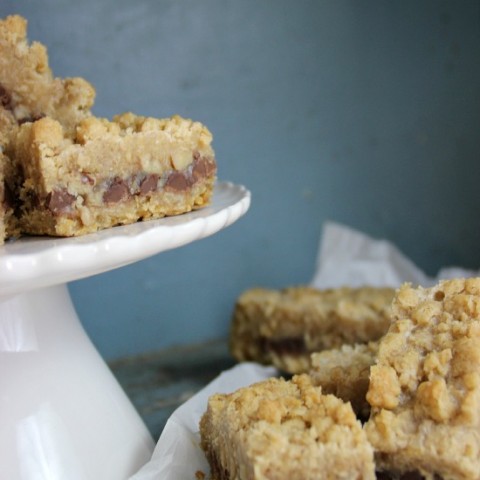 Salted Caramel Carmelitas
An impressive Bar Cookie that can be served at a party but easy enough for a weeknight meal. Recipe on HoosierHomemade.com
Ingredients
Cookies
2 cups flour, all-purpose
1 3/4 cups quick cooking oats
1 1/4 cups brown sugar
1 teaspoon baking soda
1/4 teaspoon salt
1 1/4 cups (2 1/2 sticks) softened butter, unsalted
1 cup chocolate chips
3/4 cup Fisher Pecans, chopped
Salted Caramel Sauce
1 cup sugar
1/4 cup water
3/4 cup heavy cream
3 1/2 tablespoons butter, unsalted
1 teaspoon sea salt or kosher salt
Instructions
Caramel Sauce
In a heavy medium saucepan, combine sugar and water, heat over medium-low heat until sugar dissolves.
Increase heat and bring to boil, continue to boil without stirring until syrup is deep amber color - about 5 minutes
Remove from heat and carefully whisk in heavy cream, mixture will bubble
Add butter and salt, carefully pour into bowl and let set to cool - about 1 hour
Cookies
Preheat oven to 350 degrees and lightly spray 13x9 baking dish with cooking spray
In a large bowl, combine flour, oats, brown sugar, baking soda, salt and butter until crumbly
Divide mixture in half and press one portion into baking dish
Bake for 10 minutes, cool slightly
Sprinkle chocolate chips and pecans evenly over crust
Pour cooled caramel sauce over top
Top with remaining crumb mixture
Return to oven and bake for 15-20 minutes or until crust begins to brown
Cool and place in fridge so caramel will set
Before serving, bring Carmelitas to room temperature so they are easier to cut
Notes
Caramel can be made ahead and stored in the fridge for up to 2 weeks. Microwave to reheat.
Original recipe from Cooking Channel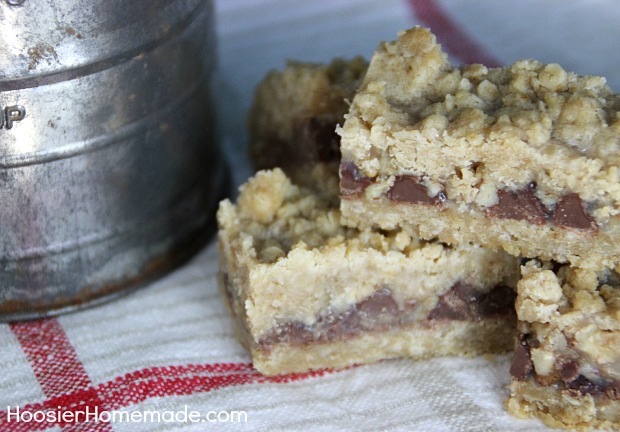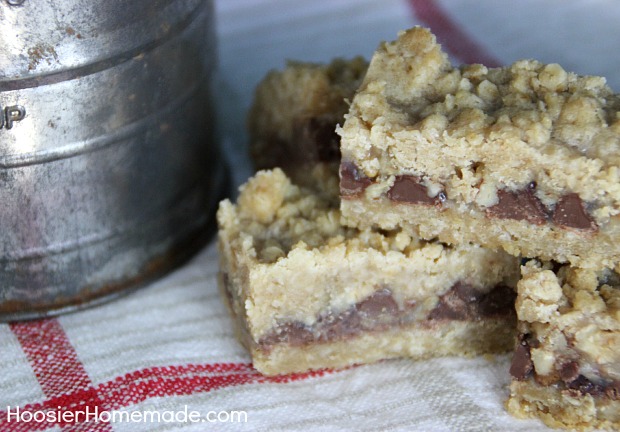 You may also like these recipes using Fisher Nuts…