Weekly Menu Plan ~ Potato Skins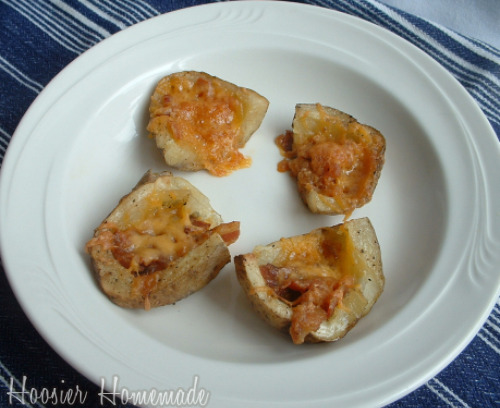 Welcome to another great week of Menu Planning! Seems like I turned around last week and the whole week was gone. I think holidays do that to me. Hopefully this week, things will go a little more smoothly. We are winding down the Baseball Seasons this week, and gearing up for Football.
Before we know it, School will be here! Speaking of school…Do you remember the Father's Day Giveaway Bash in June? I'm sure you do. Well, we are doing it again, with TONS of Back to School goodies! Join us over on our Facebook page for all the latest updates. And mark your calendar for the week of August 9-13th. Yep, one full week this time, with a few giveaways each day, to give you plenty of time to join in the fun!
First…I have to tease you a little with these Mississippi Mud Brownies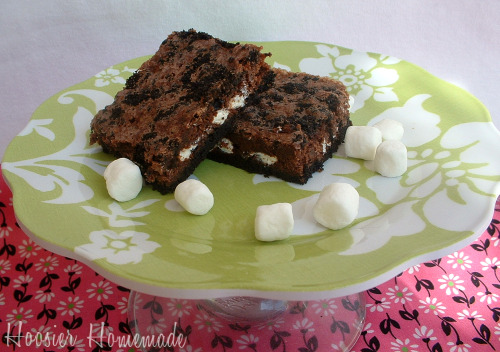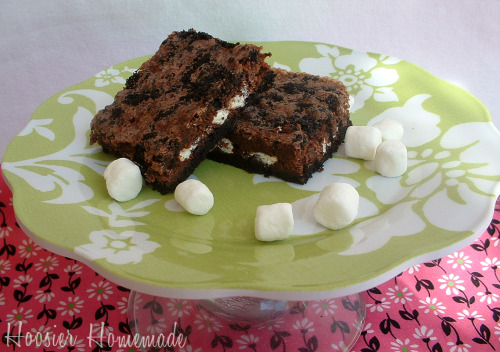 Are you a brownie lover? Who isn't right? Hop on over to It's A Blog Party, and enter to win a Baking Pan and a box of these yummy brownies! Yep, they are from a box! Shhh…don't tell anyone, I baked something that wasn't from scratch. Hurry, today is the last day!
And while you are there, add a link to one of the parties! You get another entry for it, just be sure to leave me a comment!
I know! You are here for food! I'm sharing my recipe for Potato Skins today. I know it's pretty hot outside right now to be using our ovens, but let me tell you, these are SO worth it. I made them for Casey's Birthday dinner last month, and we all loved them.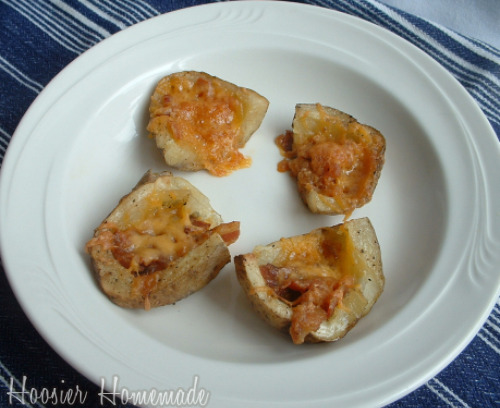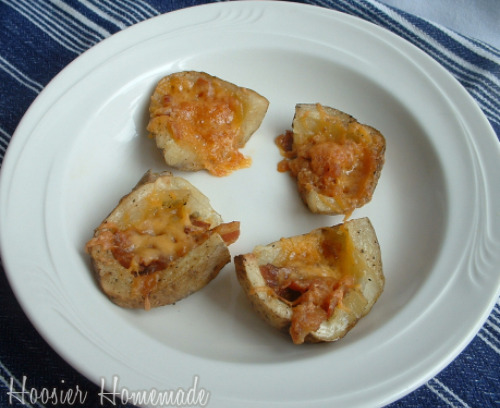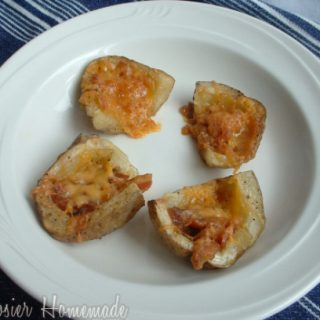 Potato Skins
Potato Skins are an excellent side dish or main dish when served alongside your favorite salad. Recipe from HoosierHomemade.com
Ingredients
Potatoes, washed and dried, cut into quarters
House Seasoning, we like Paula Deen's House Seasoning
Oil, a little for drizzling
Fillings, we had cheese and bacon bits
Instructions
Cook bacon in oven until crispy (depending on how crispy you like it, Directions below)
While the bacon is cooking, wash, dry and quarter the potatoes.
Drizzle a little oil in a 13×9 baking dish, place potatoes in dish, drizzle with a little more oil, then sprinkle on seasoning.
Bake at 375 until the potatoes are fork tender, but not too done.
Directions below for CrockPot Baked Potatoes.
%http://hoosierhomemade.com/wp-content/uploads/Potato-Skins.2.jpg
Let the potatoes cool, then scoop out the potato, leaving a little still on the skin.
Top with cheese and bacon bits or any other topping you like.
Place back in oven and heat until cheese is melted, about 15 minutes.
Baked Potatoes in the Crockpot
%http://hoosierhomemade.com/wp-content/uploads/Baked-Pot.CrockPot.1.jpg
Wash, dry and place potatoes on a piece of foil.
Spray with non-stick cooking spray, sprinkle with salt and pepper and wrap.
Prick with fork a few times.
%http://hoosierhomemade.com/wp-content/uploads/Baked-PotCrockPot.2.jpg
Place potatoes in crockpot with the larger ones on the bottom.
Cook on High at least 4-5 hrs, depending on the size of potatoes, until they are tender.
Cooking Bacon in the Oven
%http://hoosierhomemade.com/wp-content/uploads/Bacon.jpg
Line a cookie sheet with foil, and spray lightly with cooking spray.
Place bacon (I like cutting the pieces in half) on foil, bake in 400 degree oven for about 15-20 minutes, depending on your oven and how crispy you like your bacon.
Cool and crumble for bacon bits.
My blogging buddy, Cindy, over at Skip To My Lou posted her Crockpot Baked Potatoes too.
Top with your favorite toppings or make them into Potato Skins. Serve with a nice salad and you have a great Summertime dinner.
Weekly Menu Plan:
Monday~ Homemade Corn Dogs, Potato Skins
Tuesday~ Fettucini Alfredo, Garlic Bread and Salad
Wednesday~ Oriental Noodles & Egg Rolls
Thursday ~ Taco Ring, Taco Dip with Cream Cheese
Friday~ Homemade Pizza Rolls
Saturday~ Shanghai Wings, Rice
Sunday~ Chicken Kabobs, Pasta Salad
What are you eating this week? Do you plan your Weekly Menu?
Let's share in my Blog Frog Community or on Facebook!
I'm linking to the Blog Parties in my footer, please visit them! You might just find one or two that are new to you!