Paper crafts are super fun to make! Learn how to make paper hearts for Valentine's Day!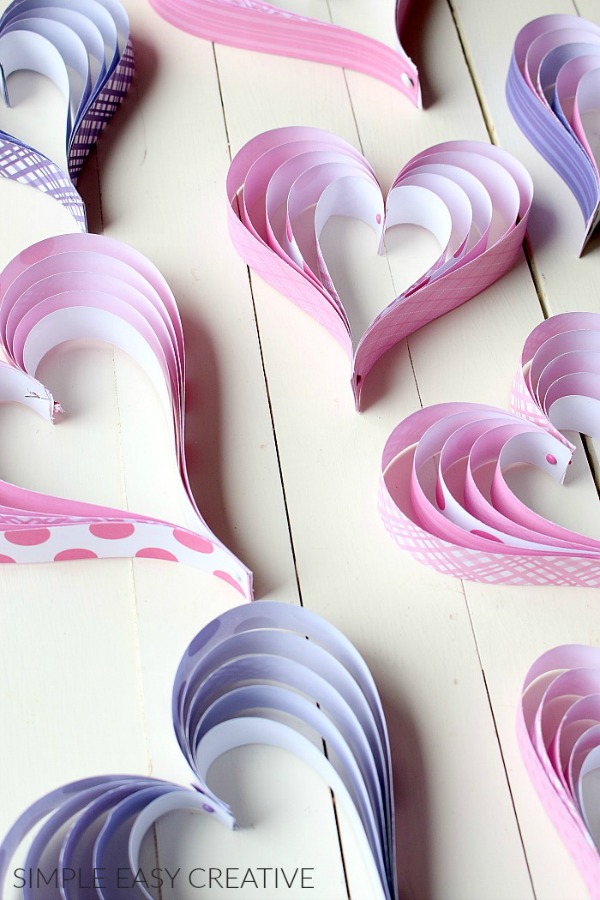 These paper hearts are perfect to hang up with Valentine's Day decoration, add to a gift and much more! I think they would be super cute in a little girl's bedroom!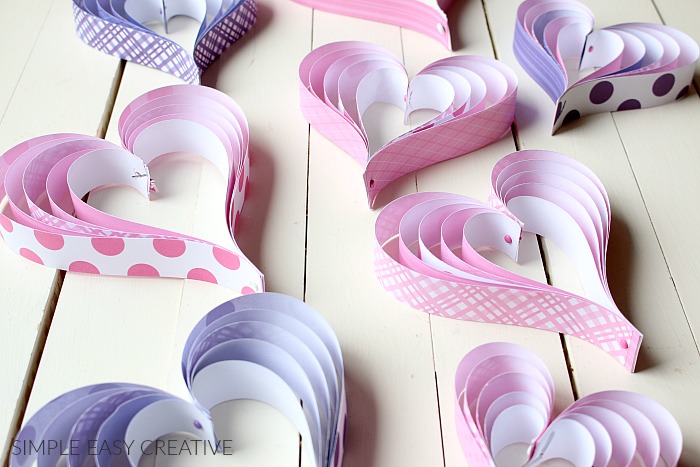 All you need are a few supplies to make this fun paper craft! Let's get started…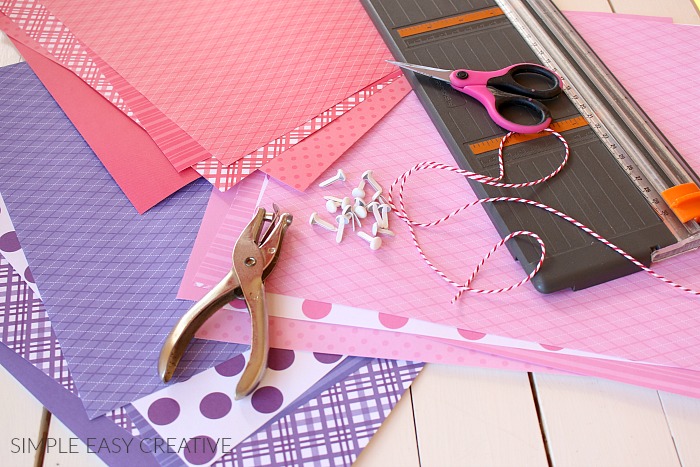 Paper Hearts Supplies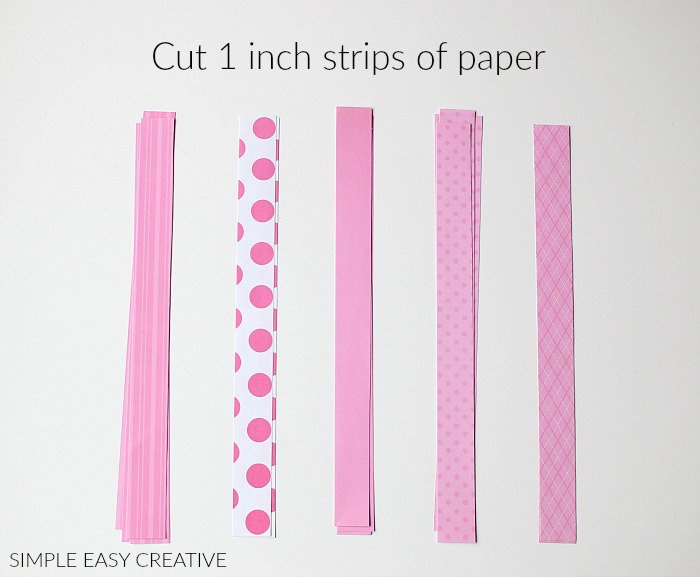 Step 1
Cut strips of paper, 1 inch wide by 12 inches long. Or how ever long your paper is.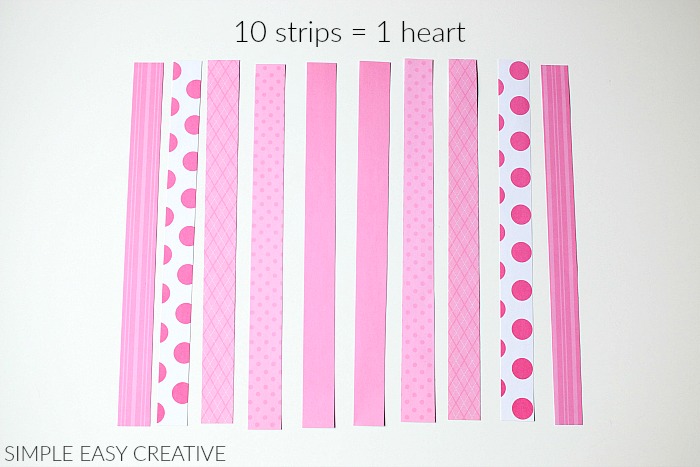 Step 2
For each heart, you will need 10 pieces of paper = 5 different patterns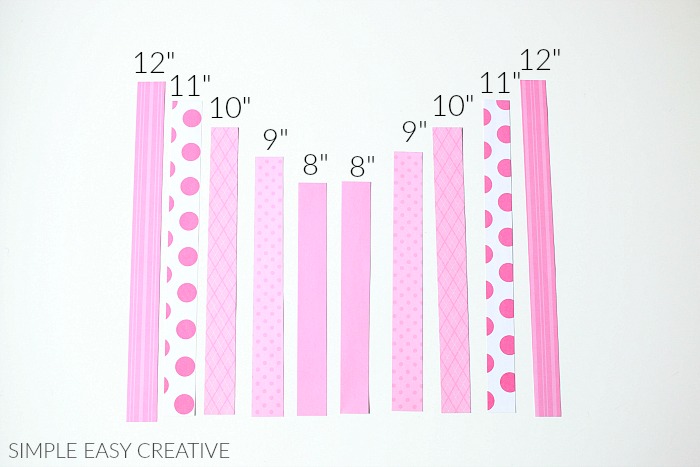 Step 3
For the largest heart, begin with a 12 inch strip of paper.
Then cut each piece 1 inch shorter. You should have…
2 = 12 inch strips // 2 = 11 inch strips // 2 = 10 inch strips // 2 = 9 inch strips // 2 = 8 inch strips
Use the leftover pieces to make these cute Valentine's Day Treat Bags!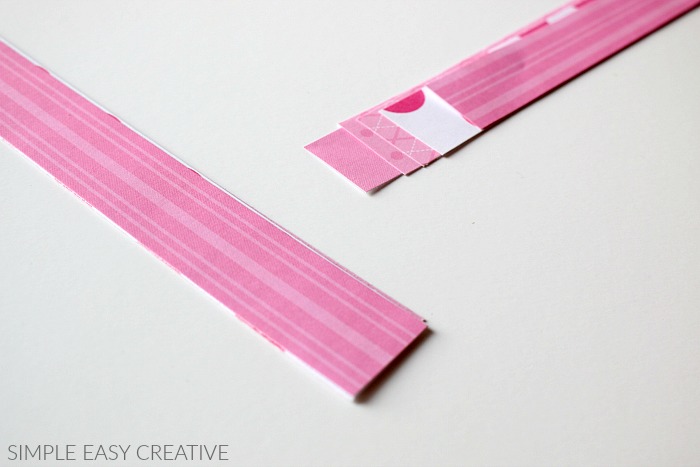 Step 4
Stack the strips of paper beginning with the shortest on the bottom and the patterns facing up toward you, into 2 piles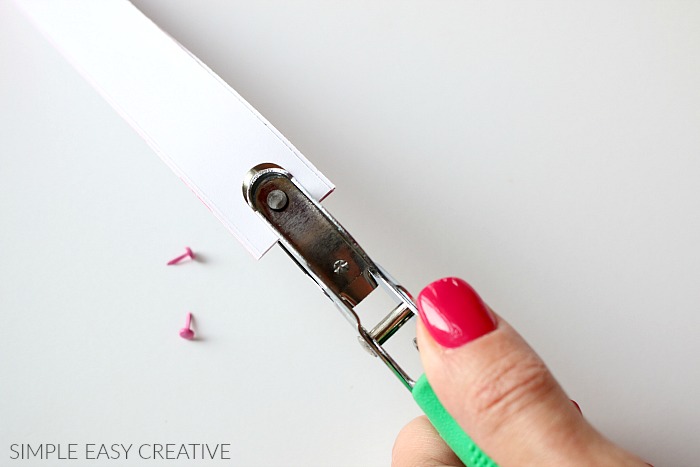 Step 5
Make sure the edges are lined up, and punch a hole in the end, about 1/4 inch from the edge. If your hole punch is strong enough, punch all the strips at once. If not, punch one set, then use one of the strips as a pattern to punch the other set.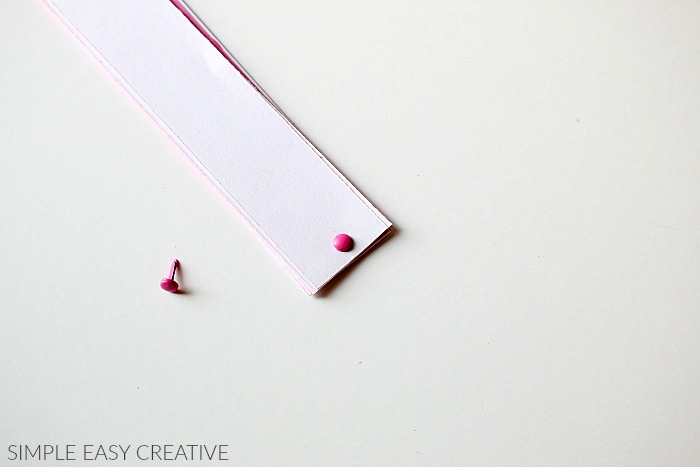 Step 6
Now, lay the papers together with the 2 longest pieces facing together, right sides together. Making sure the holes are lined up, then attach the brad fastener.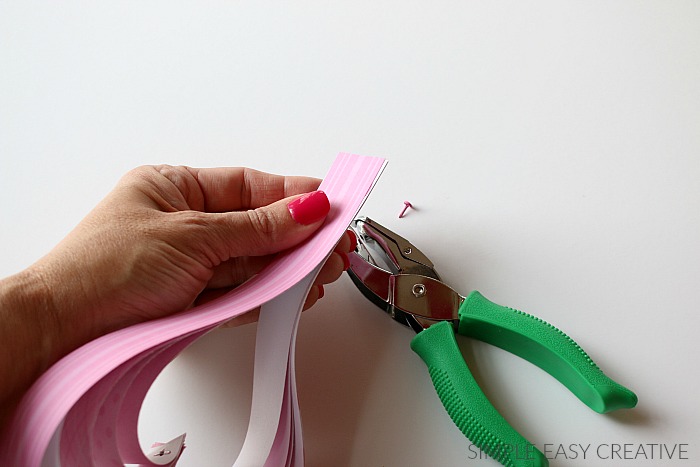 Step 7
Next it's time to form the heart shape. Bring each of the ends together until they match and punch a hole. If your hole punch isn't strong enough to go through all 10 pieces of paper, use the hole you punched on the other side as a guide.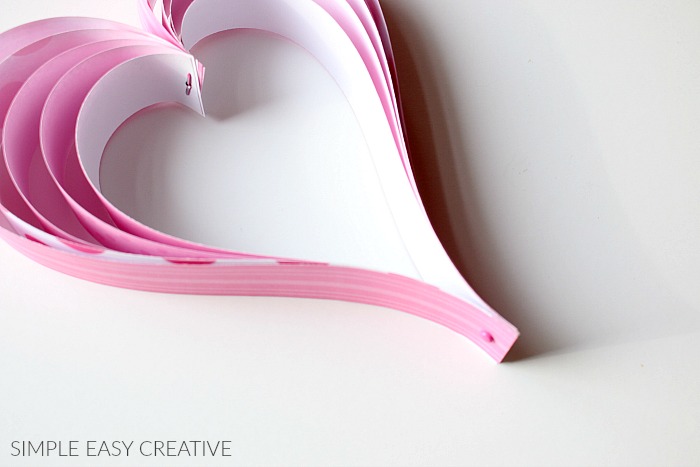 Step 8
Now, attach the brad fastener and you are ready to hang the paper hearts.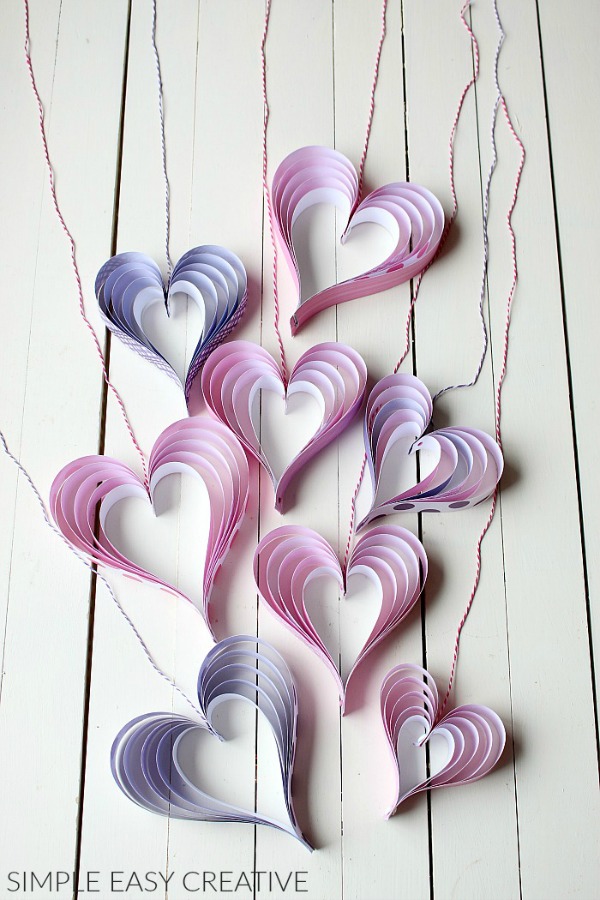 Add twine to the hearts if you want to hang them. Wrap the twine around the brad in the center and tie it off.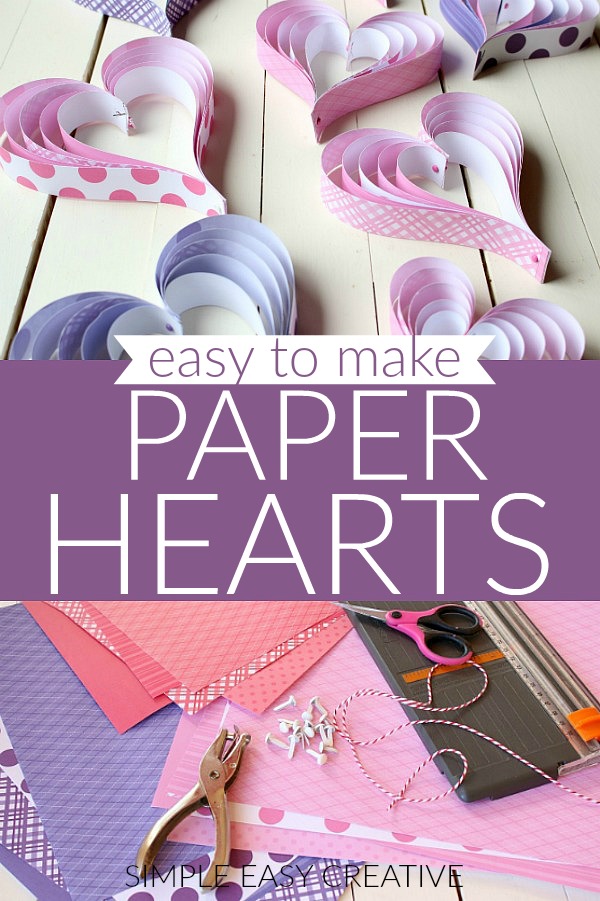 I made 2 different sizes, here are the sizes I used, but basically each strip needs to be 1 inch shorter…
Large Paper Hearts
2 = 10 inch strips // 2 = 9 inch strips // 2= 8 inch strips // 2 = 7 inch strips // 2 = 6 inch strips
Small Paper Hearts
2 = 8 inch strips // 2= 7 inch strips // 2 = 6 inch strips // 2 = 5 inch strips // 2 = 4 inch strips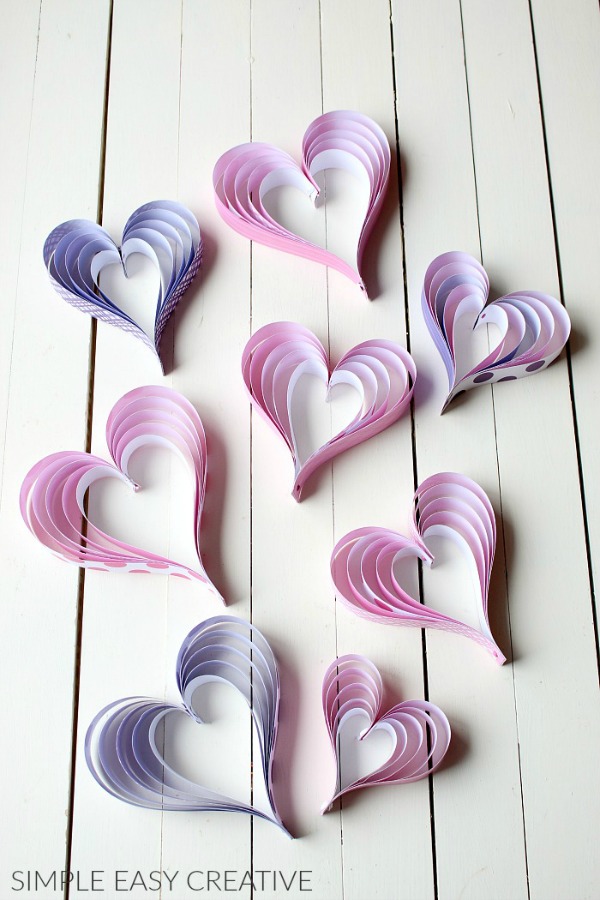 Looking for more fun and easy Valentine's Day Crafts? Click on the photo for instructions –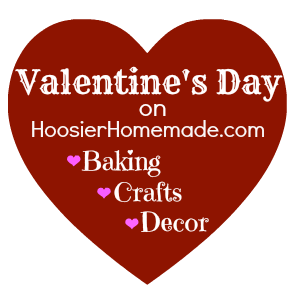 Original paper hearts from Roots and Wings Co