Life is super busy! Being organized will definitely help with the stress of everyday living. Sometimes though, just knowing how to get organized can be difficult. These Home Organizing Tips for a Daily System are sure to help! Each day of the week is separated onto individual clipboards and hung on the wall, along with a fun daily schedule printable to keep your life running smoothly!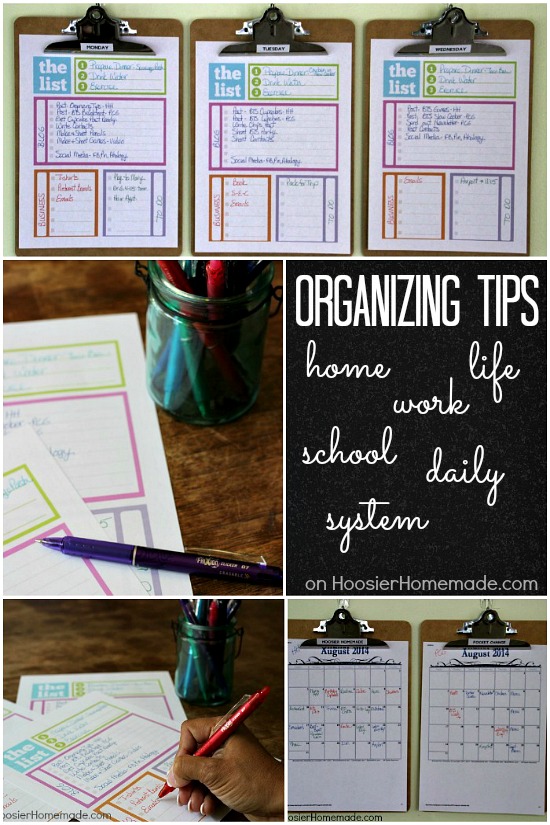 Over the years I have tried many, many systems to get and keep myself organized. And while I love my Household Binder to store menu plans, bills, monthly calendars and more, I found that I also needed a Daily System.  I wanted a place in my office that I could see each day of the week, and be able to write down what I needed to do for the business, blogs, home, life, etc. So I came up with the clipboard system.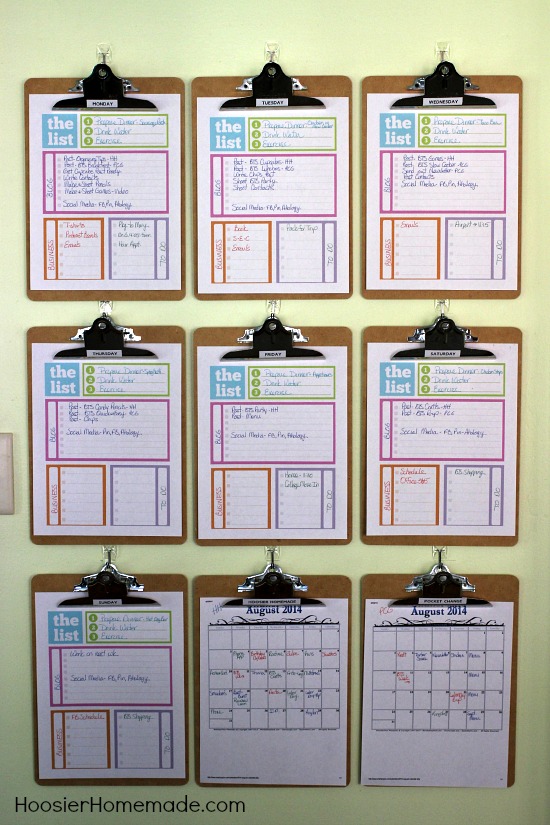 Before we get started, I have a little confession – I'm a bit of a perfectionist, I love office supplies, and I love color coding. And I love being organized. Of course, though, you can certainly scale down this system and make it fit your needs.
I'm using the system primarily for business, but you can easily print off a cleaning schedule, or work schedule, or even back to school organization. There are endless possibilities for this system.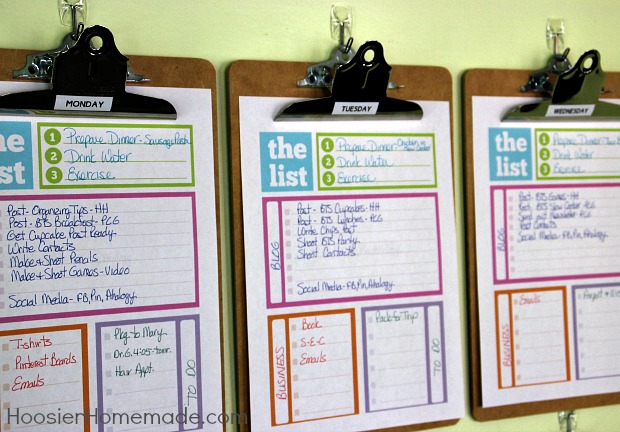 I started with the clipboards. I found them in the office supply area at Walmart, but these are a great deal! Make sure they have a hole on the back to easily hang them. Also, a nice big clip is great!  I used the label maker to add the days of the week. We hung them on the wall with Command Hooks.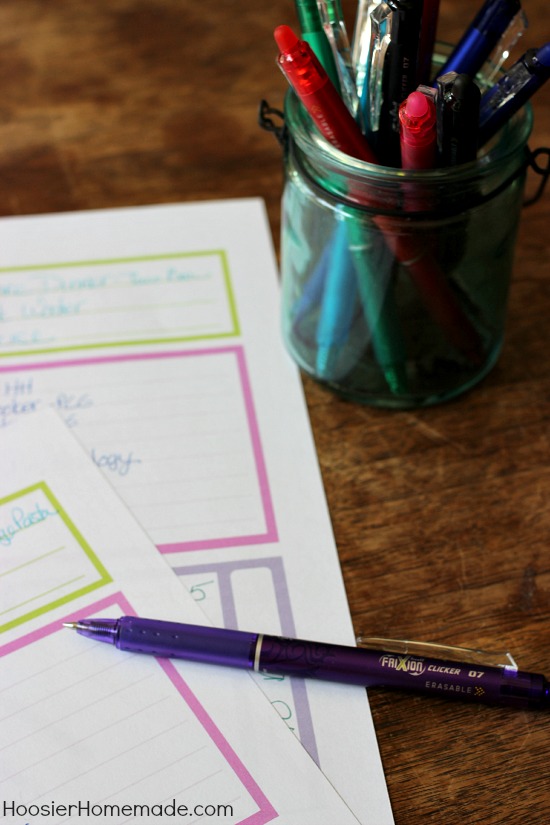 Then it was time to find a way to keep each day organized. I began with just a regular piece of paper, but my color coding – office supply geek self – quickly decided that I needed a better system. So I headed on over to Clean Mama, my favorite organized gal around, and grabbed these free Daily System Printables, with different colored sections. My colored coded self was in heaven!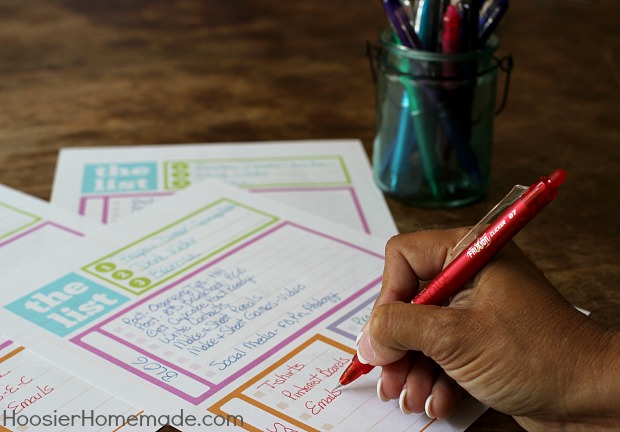 After I printed out a Daily System for each day, then it was time to start filling in all that I have to do. And well, of course, it needed to be color coded. So I used the new Pilot FriXion Clicker Gel Ink Pens. They come in an eight pack with Turquoise, Purple, Green, Pink, Black, Blue, Red and Navy for the color crazy folks, and also a three pack of Black, Red and Navy.
Over the years, I have always color coded our Family Calendar, which not only makes it easy for you but also the kids. Everyone in the family has their own color, making School schedules even easier.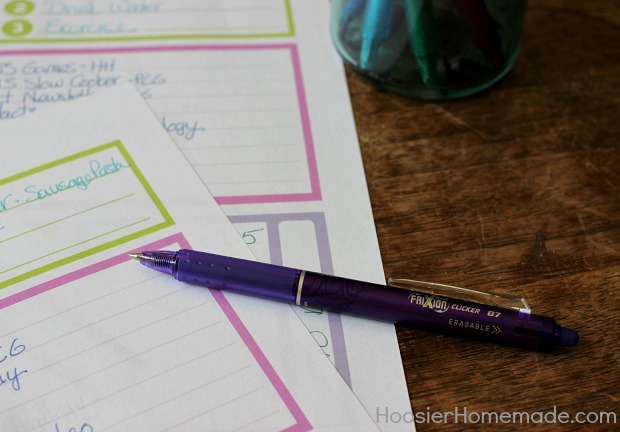 Remember when I said that I'm a bit of a perfectionist? Well, I can't tell you how many times I started over on a paper or had to get out the correction fluid because I made a mistake, and it would drive me nuts to just scratch it out. You guessed it! These Pilot FriXion Pens are erasable – and they come in cool colors!. The cool thing about that is that unlike other erasable pens, these don't leave any eraser shavings, and there is no smearing or tearing of the paper either.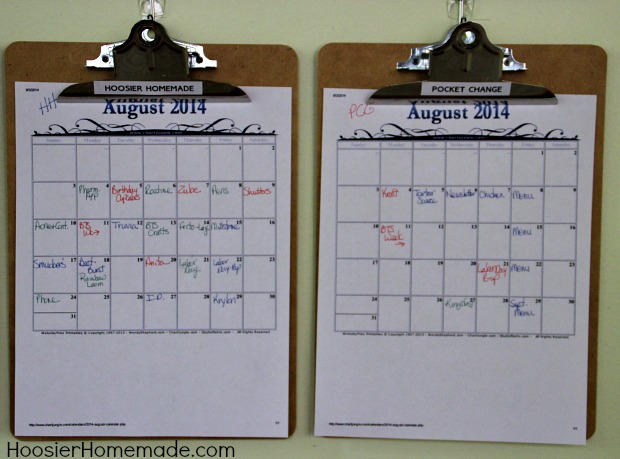 The new Daily System is primarily for my work and business, so we also printed off a monthly calendar to schedule projects for both blogs, Hoosier Homemade and Pocket Change Gourmet.
Hopefully this new system will help you be organized too!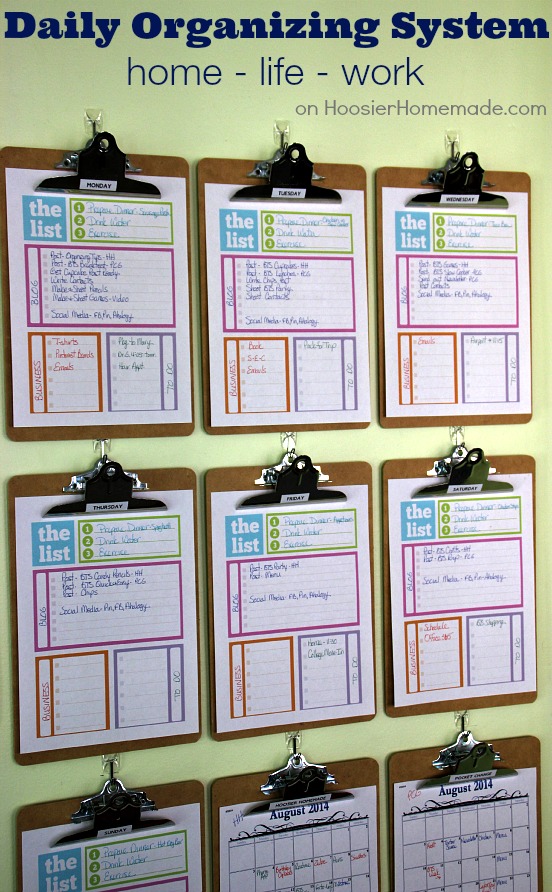 Looking for more ways to get your life and home organized? You may like these…