Thanksgiving is less than a week away, I can hardly believe it!! Do you have your Thanksgiving Menu planned? I've been thinking about it, but I don't have it all planned yet.
I decided that instead of Cupcake Corner today I would share some Thanksgiving Menu Ideas with you. I hope you don't mind! I'm just not ready to start sharing Holiday Cupcakes, and honestly, I've shared about every different kind of Thanksgiving Cupcake with you that I have found.
Thanksgiving Appetizers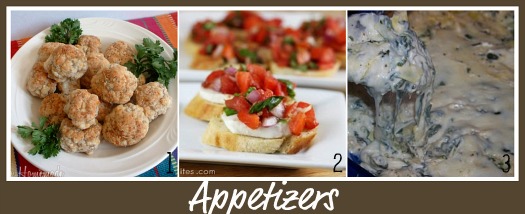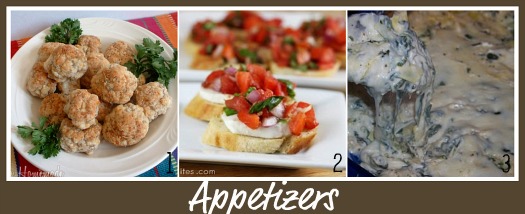 While I don't usually serve appetizers, some cooks do. I think they would also make a great addition to serve in the evening, along with leftovers.
The Sausage Cheeseballs I make are always a hit in our home.
This Bruchetta that Our Best Bites shared, looks amazing! If you love food blogs…you MUST visit Sara and Kate!
I'm not a big spinach fan, but this Spinach Artichoke Alfredo Dip shared by Mrs. Happy Homemaker looks really good!
Thanksgiving Turkey


Ahh…the Turkey!! I love Turkey! I especially love all the different leftovers that can be fixed with it. I always buy a much larger Turkey than we need, just for the leftovers, and let's face it…they are cheap right now. I bought a Butterball for $.99/pound.
Even though I think these Turkey Recipes look amazing, my hubby and boys would probably wonder if I had gone crazy if I made one. But, I wanted to share them with you, just in case your family likes to steer away from the normal Turkey.
Shaina from Food for my Family shared her Mustard-Crusted Turkey during our Virtual Progressive Thanksgiving Dinner.
A Southern Fairytale author, Rachel gives her Turkey a little kick with Southwestern Flavors; Poblano and Cilantro Roasted Turkey.
One of my favorite "go to" websites for recipes is Taste of Home, and they are serving up TONS of Turkey recipes for you to choose from, they even have Turkey tips and Videos showing you how to cook a Turkey!
Thanksgiving Potatoes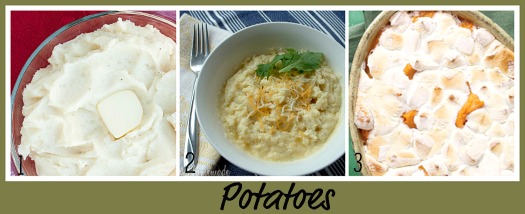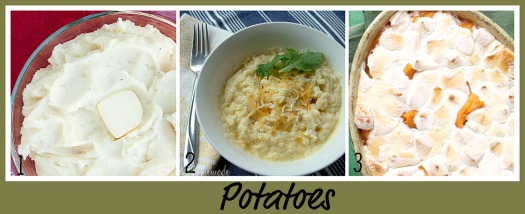 Potatoes are one of my favorite parts of the Thanksgiving Dinner! And because we all have our favorites, I usually end up making 3 different kinds…Mashed Potatoes, Sweet Potatoes and Doug's favorite Chessy Potatoe Casserole…I know, I'm crazy!
While oven space is always at a minimum, putting your Mashed Potatoes in the Crockpot is a great idea! Laura from Real Mom Kitchen shared her recipe during the Virtual Progressive Thanksgiving Dinner.
I've made this Make-Ahead Mashed Potato Casserole several times, even though it starts with instant potatoes, it's really good. And perfect for Make-Ahead!
Although I usually make the basic Sweet Potatoes with Marshmallows, I thought this Sweet Potato Casserole from Martha sounded yummy!
Thanksgiving Sides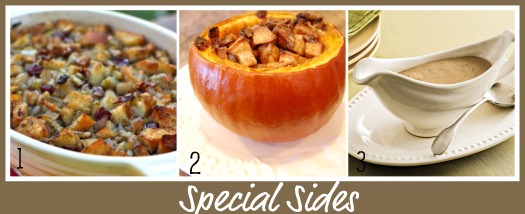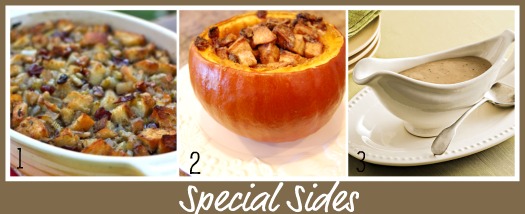 Oh those yummy Thanksgiving Side Dishes! Although I love Turkey, I could probably make a meal with just sides.
Thanksgiving isn't complete with Stuffing, and Aimee from Simple Bites shares a delicious Herb & Fruit Stuffing.
I can hardly wait to try Tiffany's Apples & Cranberries that she baked in a Pumpkin!
I know my family would be thrilled if I could learn to make a great Turkey gravy, I think I'll give this one a try!
Cranberries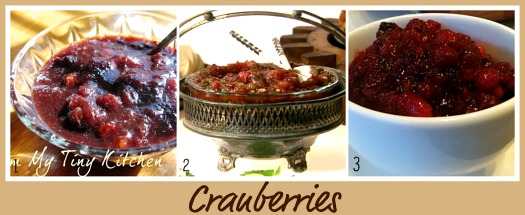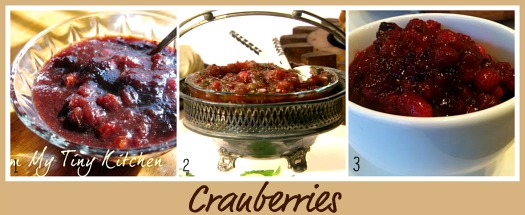 Whole or sauce…that is the question!! Which do you prefer? I typically buy a can of cranberry sauce…I know, I know…but I'm the only one that eats it, and when you can grab it for about 50 cents, you can't really go wrong.
I think this year may be different though, after seeing these yummy recipes!
From my Tiny Kitchen shares Crockpot Cranberry Pomegrante Relish…yum!!
When I interviewed Melissa d'Arabian from the Food Network show Ten Dollar Dinners, she shared her Cranberry Salsa. I think it would make a great side to go with Turkey Tacos.
This Citrus Cranberry Sauce from how to peel an onion (cute blog name, huh?) looks really easy and delish!
Drinks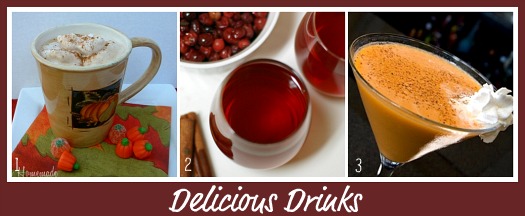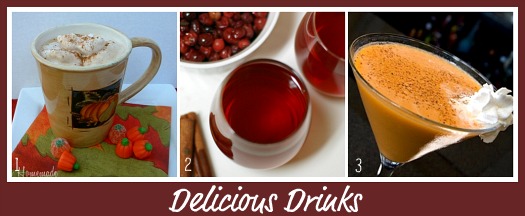 The Drinks…often over looked, but oh so good!
My Pumpkin Chai Tea Latte is a delicious addition to your dessert buffet.
I love Cranberry juice! Erin from $5 Dollar Dinners shares her healthy recipe for Cranberry Apple Cider.
I'm not a Martini drinker…but you could really change my mind with this Pumpkin Pie Martini from Life at the Lake.
So what's left? Well, I think just Dessert, but because you all know…I'm all about the dessert…I'm saving that for another post. Watch for it in the next couple days.!!
Thanksgiving Tips
Here are some GREAT resources for more Thanksgiving Tips, Recipes and Decorating!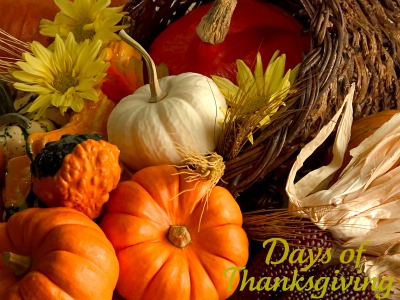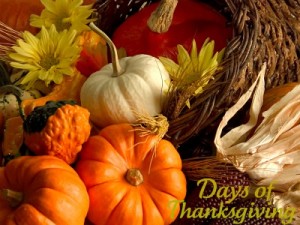 Days of Thanksgiving Linky with 120 awesome ideas!
Virtual Progressive Thanksgiving Dinner eBook with recipes for a whole meal! AND it's FREE!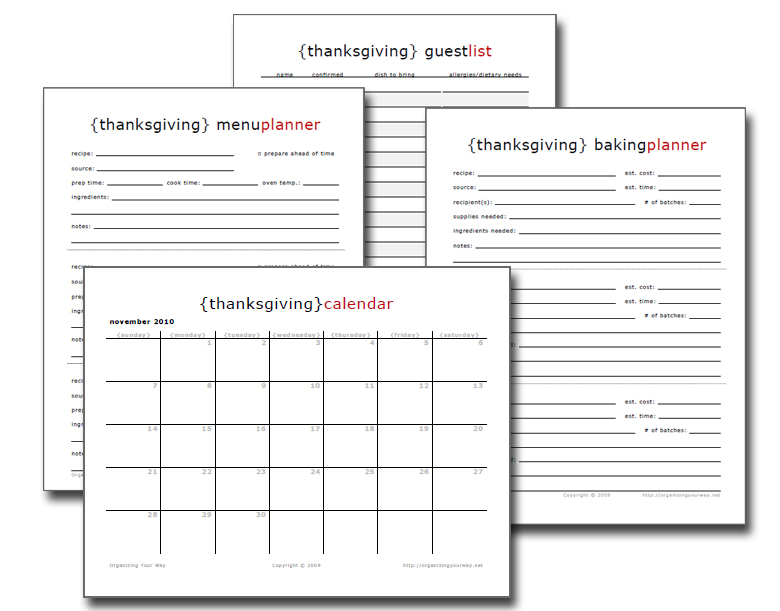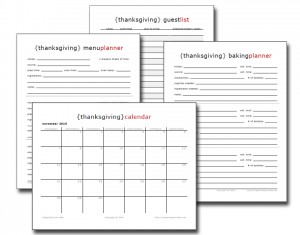 Mandi shares printable schedules for you to get organized! I definitely need to print these!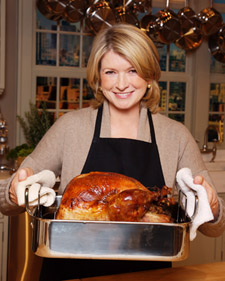 Martha Stewart Living Radio Thanksgiving Hotline is sure to have a wealth of information from over 30 well known chefs!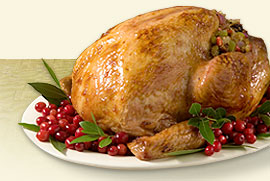 Butterball.com also has a wealth of information!
Linking to…Ultimate Recipe Swap
Until next time…enjoy!