Holiday Gingerbread Toffee Trifle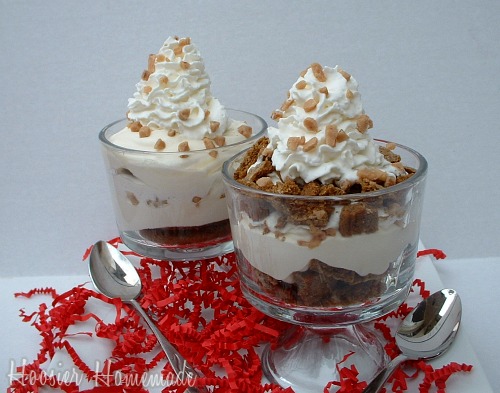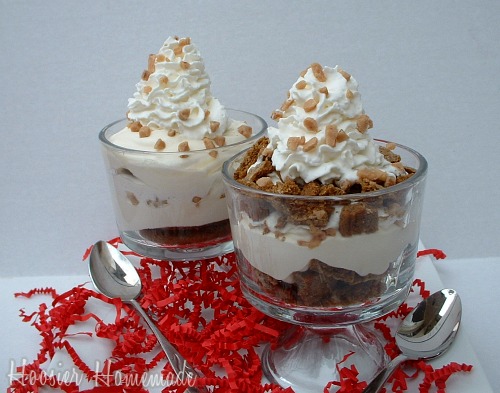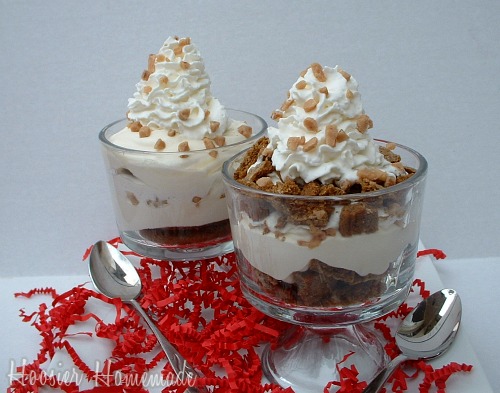 Gingerbread…a perfect flavor for the holidays! Adding Cheesecake Pudding and Heath Toffee bits…even better!
I know what you are thinking…she just shared her Pumpkin Gingerbread Trifle a couple weeks ago, why another one?
I recently joined a group called Collective Bias. They have us shop and share, basically. First I shared our experience with Marie Callender Family Meals, and then the Nexcare bandages we bought for our family.
This time, I am part of a Holiday Recipe Exchange…perfect for me, don't you think? Lullabies and Lawyering shared her recipe for Gingerbread Toffee Trifle with me. I headed to Walmart to grab what I needed, mixed and baked and now it's time to share with you.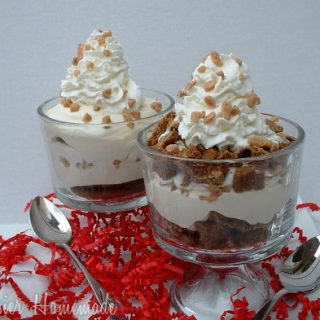 Holiday Gingerbread Toffee Trifle
Add cheesecake pudding and Heath Toffee bits for a delicious Holiday Gingerbread Toffee Trifle from HoosierHomemade.com.
Ingredients
Gingerbread Cake Mix (see directions below)
2 tablespoons Parkay margarine
2 boxes Cheesecake Pudding (4 oz, Instant)
4 cups cold milk
1 container Cool Whip (8 oz)
1 bag Heath Toffee bits
1 can Redi-Whip
Pam cooking spray
Instructions
Instead of baking the cake, I decided to give the cookies a try. I used the directions on the back of the box, add 2 tablespoons Parkay margarine and 1/4 cup water. Mix well and place in fridge to chill for 15-30 minutes.
Spray cookie sheet with Pam cooking spray. Roll dough into balls. Flatten with a glass dipped in water and sprinkle with sugar.
Bake at 350 degrees for about 6-8 minutes.
While the cookies are baking, mix the pudding and milk for 2 minutes, place in fridge for 5 minutes. Fold in container of Cool Whip.
After the cookies are cooled. Crumble them and spread a single layer on the bottom of the trifle bowl, spoon pudding mixture on top, sprinkle with Heath Toffee bits, squirt a layer of Redi-Whip on top, then repeat layers.
I found mini trifle bowls for $2 at Walmart. I think they are perfect for individual little servings, especially if you have picky eater, then you can change up the ingredients and please everyone!
You can find more on our shopping experience on Whrrl.
Disclaimer: I was compensated for this post by Collective Bias, but all opinions and experiences are my own.