Lemon Strawberry Tartlets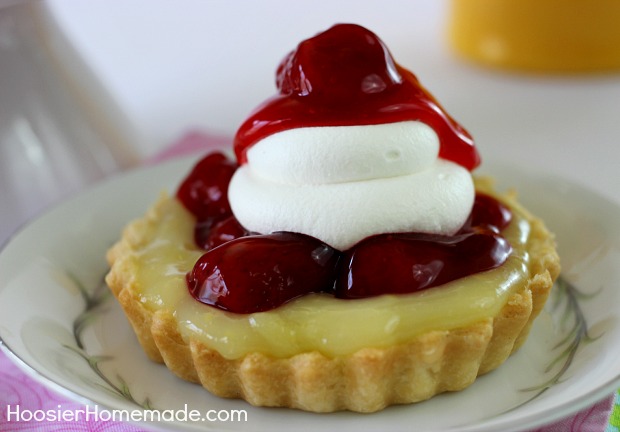 Spring…the flowers, trees and grass coming back to life gives me such a renewed feeling. Not to mention all the Spring Desserts that are just waiting to be made. These Lemon Strawberry Tartlets are the perfect Springtime Dessert with the tangy lemon flavor that pairs deliciously with Strawberry Topping.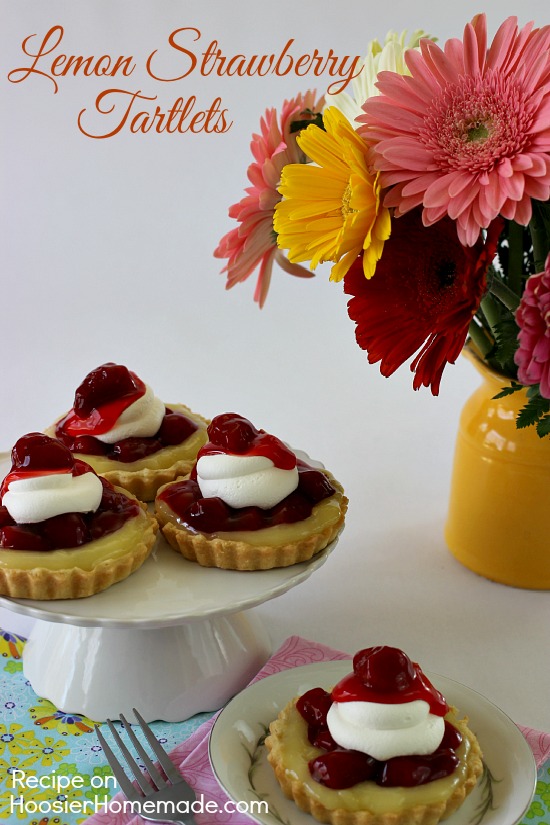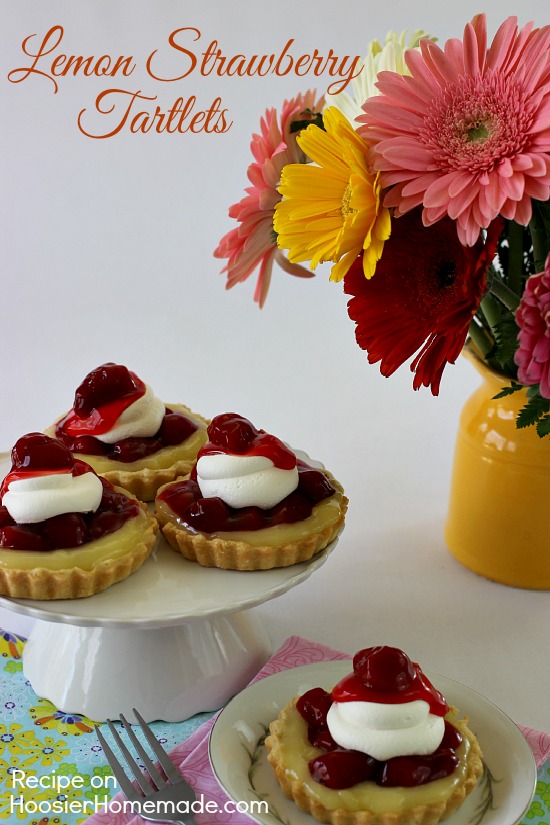 This recipe is brought to you by Lucky Leaf and FTD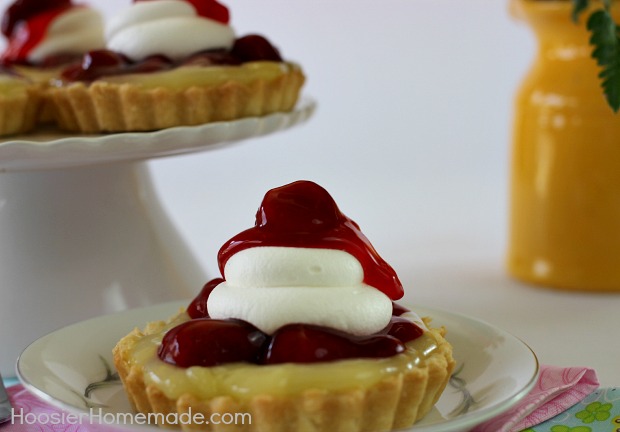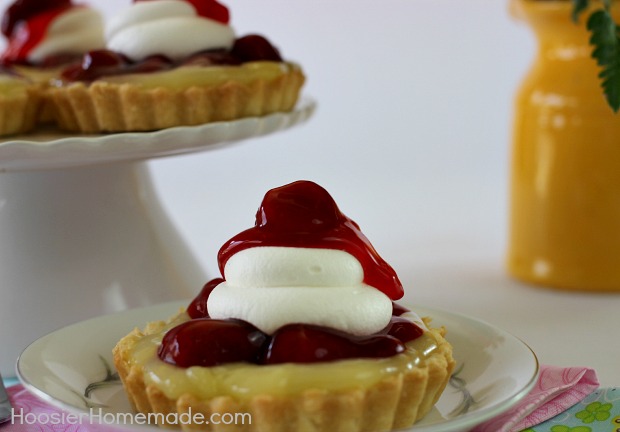 You all know I love to keep the baking simple, easy and creative, not only for myself but for you also. By using Lucky Leaf Pie Filling, we can create simple yet impressive desserts for our family and friends. The Tartlets are baked in 4 inch Tart Pans that we found at a Kitchen Supply store, you can also find them online. There's just something about each person having their own little dessert that's so tempting.
Creating desserts in the Spring is my favorite time. I'm not quite sure if it's all the fresh flavors like lemon, lime or strawberry, or how light and refreshing they are. Oh and let's not forget blueberries, these Blueberry Snack Bars from Lucky Leaf look heavenly and super easy by starting with a cake mix.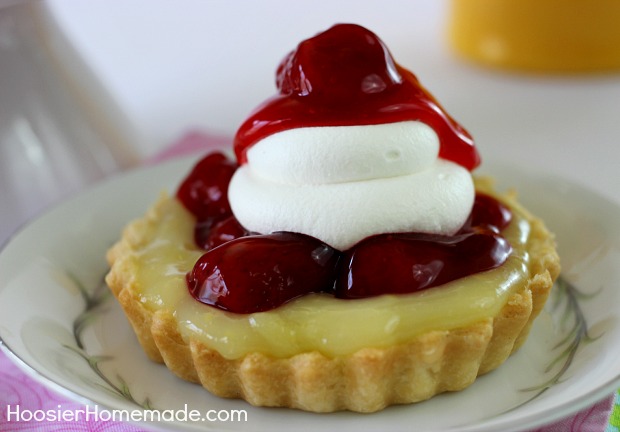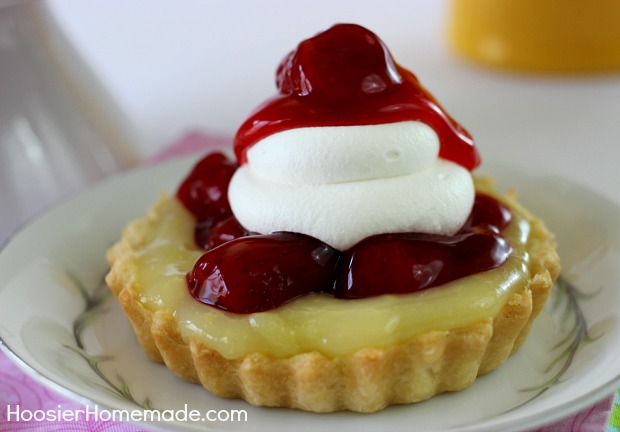 Many moons ago, I would watch my Mom bake pies with the strawberries that my Dad picked from the garden. Although I loved that time, life seems to be much more complicated now, so it's nice knowing that I can count on Lucky Leaf Ready-to-Use Pie Fillings. These Strawberry White Chocolate Trifles, remind me of the No Bake Cheesecake Trifles from last Summer, they are super easy to put together yet impressive looking.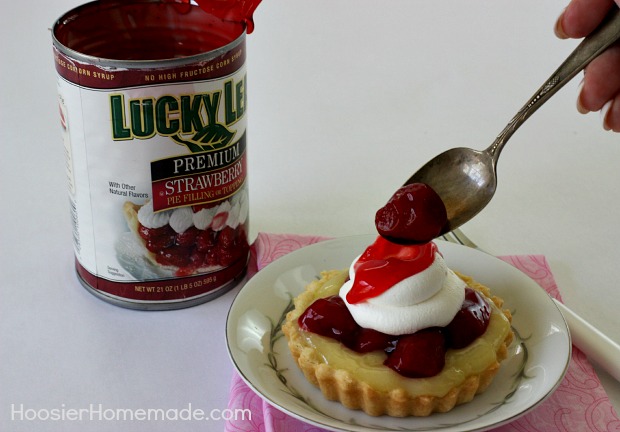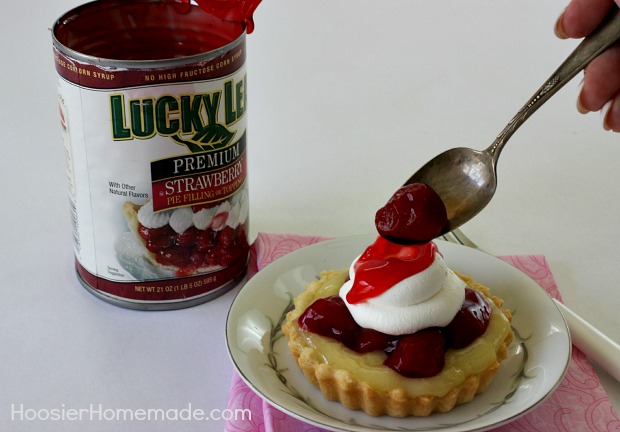 And speaking of easy, this Cherry Pineapple Cabana Cake would be perfect for your Easter celebration. It doesn't get any easier than this my friends, whomever invented Dump Cake is brilliant. Just as the name implies, you just dump the ingredients and while it bakes it creates a luscious dessert that will make everyone think you spent hours in the kitchen.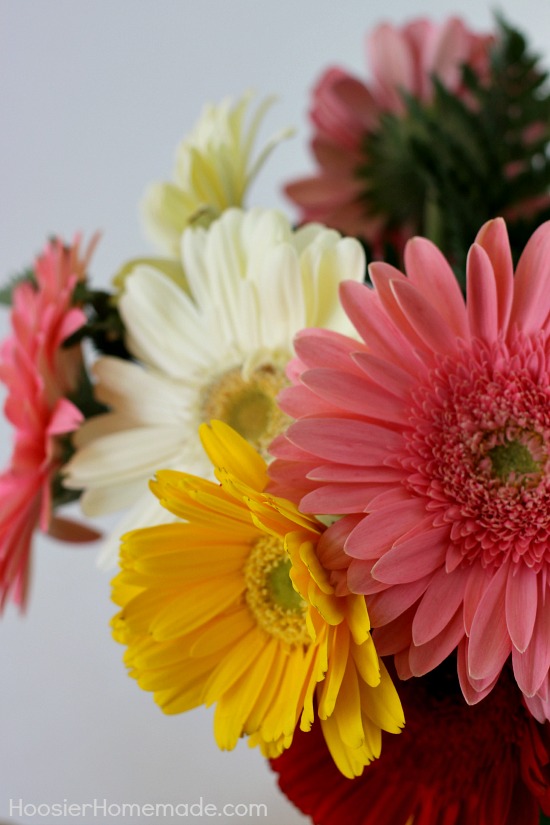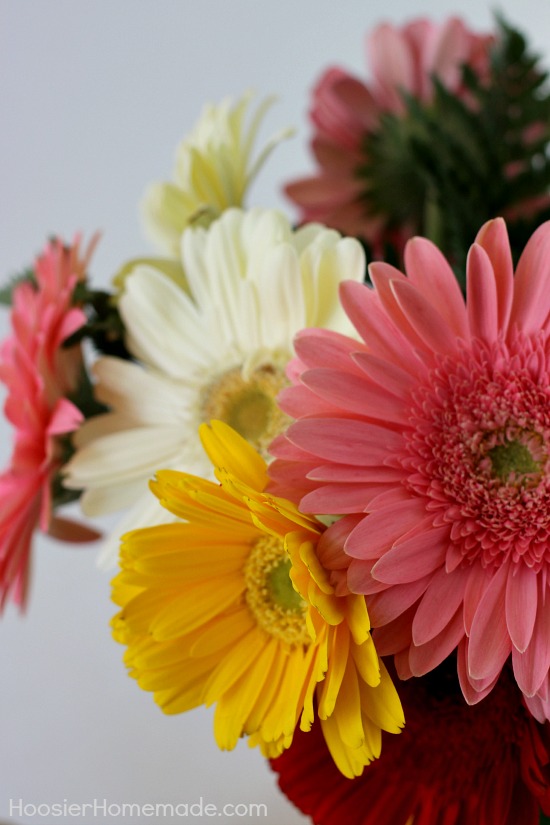 Did you notice the gorgeous Gerbera Daisies? They bring a burst of color and freshness to my table. Lucky Leaf and FTD have teamed up to share their gorgeous Spring arrangements with all of you! Visit FTD.com and receive $10 off select Spring arrangements.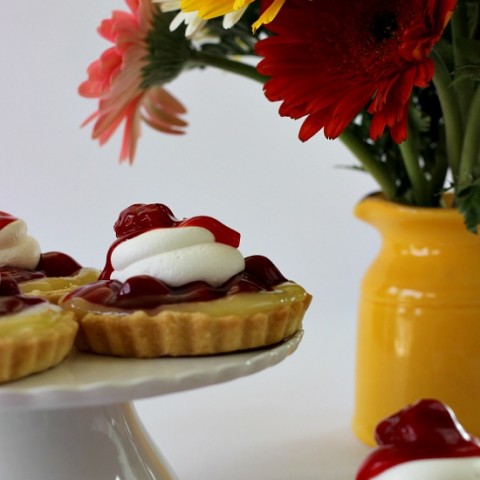 Lemon Strawberry Tartlets
Yield: 10-12 (4\") tartlets

Prep Time: 15 minutes

Cook Time: 25 minutes

Total Time: 40 minutes

Packed with flavor from the lemons and the perfect combination with strawberries. Recipe from HoosierHomemade.com
Ingredients
Crust
2 1/2 cups flour
3 tablespoons sugar
1/4 teaspoon salt
1 cup unsalted butter, cold and cubed
2 egg yolks
1/2 cup water
Lemon Filling
1 cup sugar
2 tablespoons cornstarch
2 tablespoons flour, all-purpose
1 1/2 cups water
3 egg yolks, beaten
1 tablespoon grated lemon peel
1/3 cup lemon juice
1 tablespoon butter
Topping
1 (21 oz) can Lucky Leaf Strawberry Pie Filling
Whipping Cream or Whipped Topping
Instructions
Crust
In the food processor, combine the flour, sugar and salt.
Add the cubed butter and pulse until crumbly
In a small bowl whisk together the egg yolks and water, gradually add through food chute
Pulse until mixture comes together.
Form a disk and wrap with plastic wrap and chill for at least 1 hour
Roll out to about 1/8 inch and form into tart pans, pressing up the sides
Prick bottom with fork, add a small piece of parchment paper and pie weights
Bake at 350 degrees for about 20 - 25 minutes or until golden brown
Remove from oven and cool
Filling
In a saucepan, combine flour, cornstarch and sugar
Gradually add water, whisking constantly
Heat to boiling over medium heat, cook and stir for 1 minute, remove from heat
Whisk egg yolks in a small bowl. Gradually add 1/2 cup of cooked mixture, whisking constantly.
Stir the egg mixture into the cooked mixture
Stir in butter, lemon juice and peel, cook over medium heat for about 5 minutes until thickened, stirring constantly
Remove from heat and let stand 10 minutes
Pour into cooled tart shells and place in fridge for at least 2 hours
Topping
Spoon Strawberry Pie Filling on top, add Whip Cream and more Strawberry Pie Filling, if desired
Store leftovers in fridge in airtight container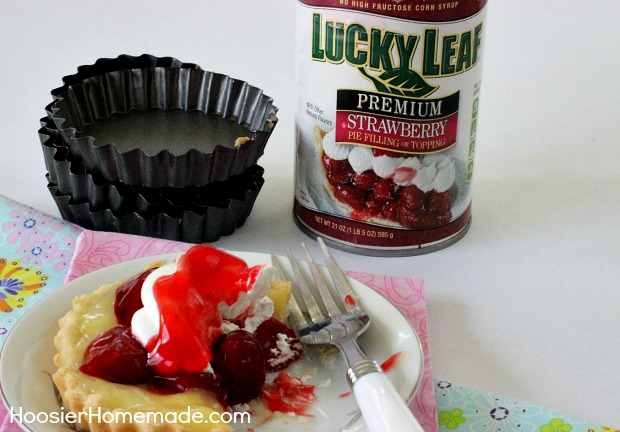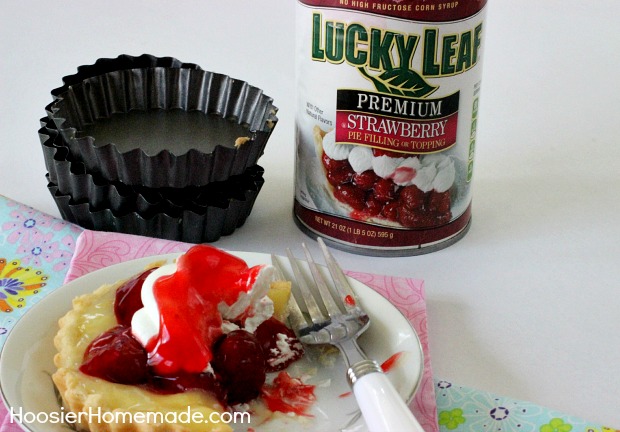 For more recipes, visit Lucky Leaf, follow them on Facebook, Pinterest or Twitter.