Printable Non Candy Valentines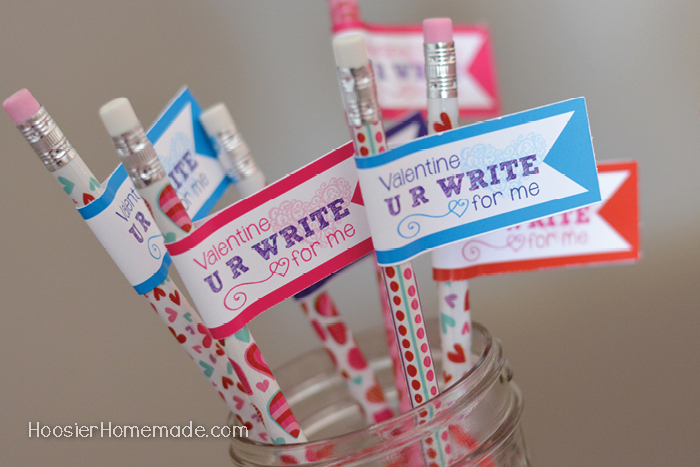 No need to run to the store and buy Valentines! These adorable Printable Non Candy Valentines are perfect for classroom parties, friends and more! Print them on your home computer, and let the kids add the pencils!
Let me let you in on a little secret, you don't need to make party day harder on yourself. Choose a simple Valentines like this one and you'll easily impress everyone. It's easy to make, pleasing to the eye, and it's something the kids can use over and over again! I love the personal touch the message leaves as well.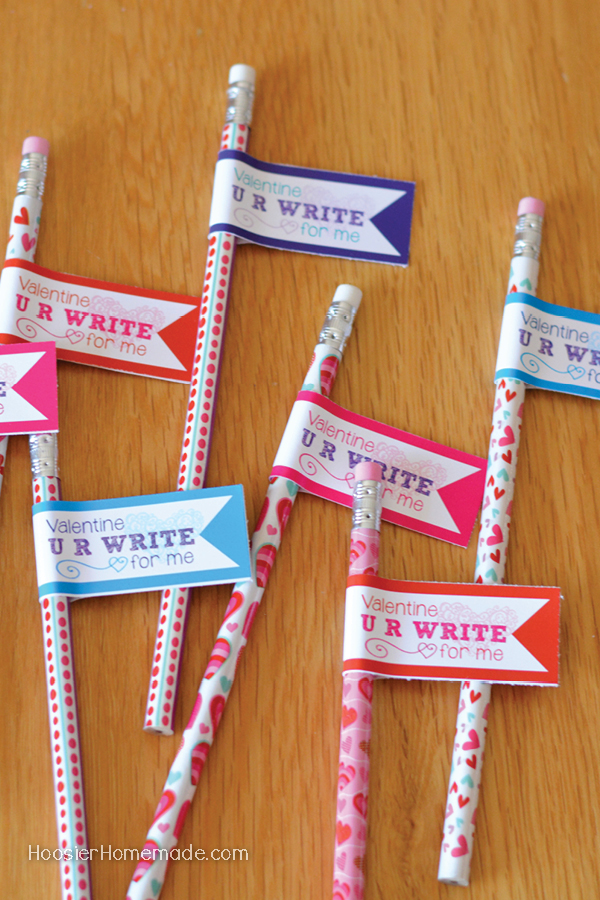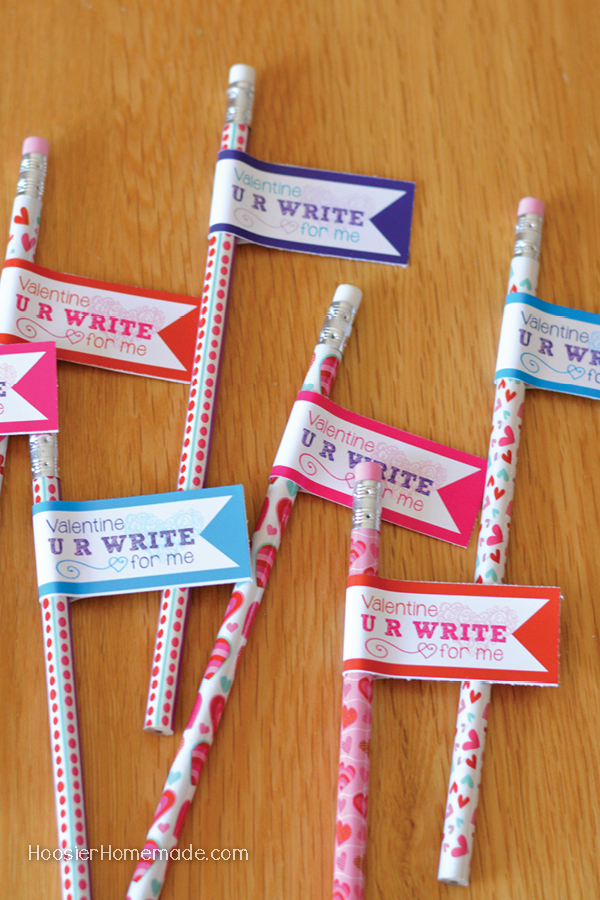 Is this not the most adorable non-candy treat you've ever seen on Valentine's Day? I simply adore this and wish I would have thought about this when our boys were little. Think about it– everyone gives out candy on Valentine's Day, so this is a great way to switch things up.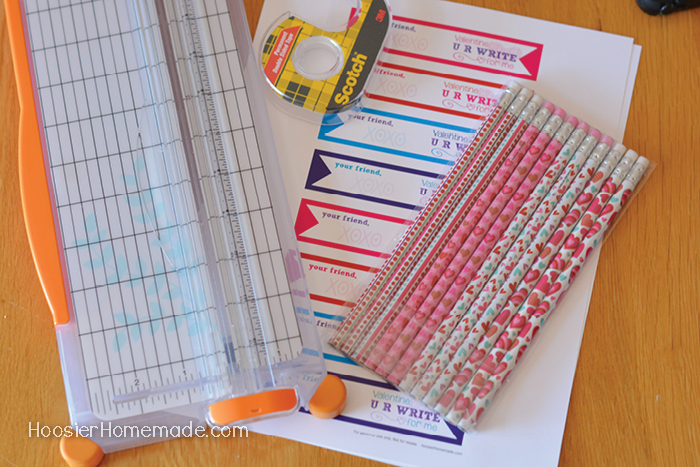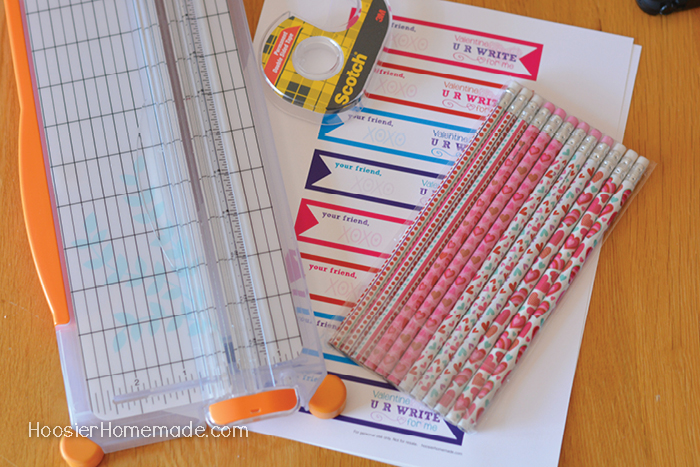 As you can see, the materials are super easy and anyone can make them.  I also love that you can make these non-candy Valentine's into large quantities. You can give one to everyone in the classroom, the neighbors, and even teachers.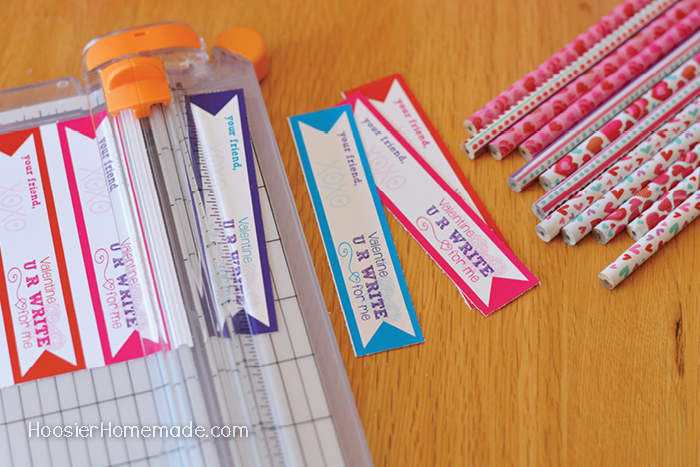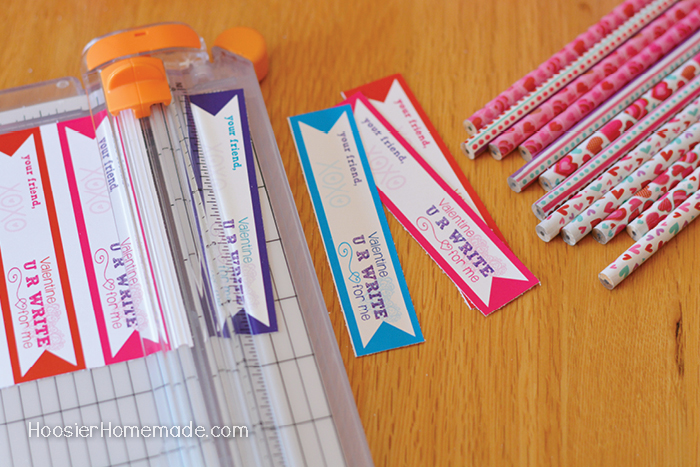 Cutting them out is also really simple! You can use scissors or even this handy dandy tool that we keep around, also known as a paper trimmer. It makes cutting papers super easy and is a life saver around here, especially during Valentine's Day!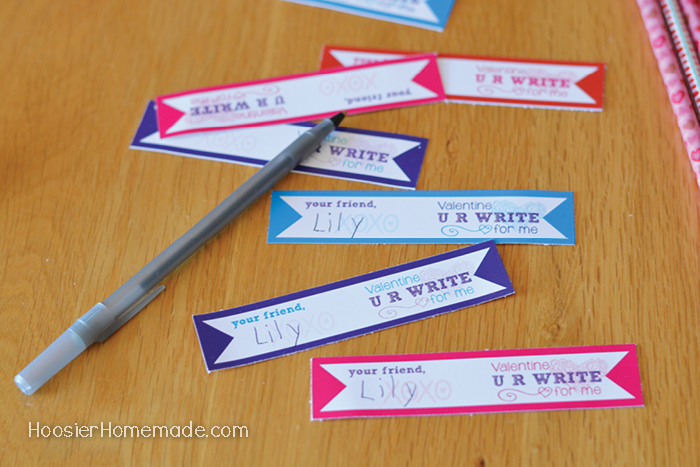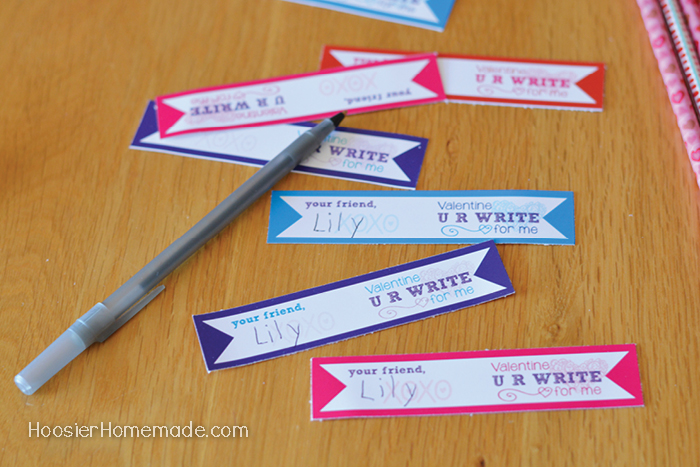 The next step is super simple, you'll want to write your child's name on the printable. It's much easier to write the name now than to do it after you've closed it. You can do this if your child isn't familiar with writing or you can have your older child write their own name.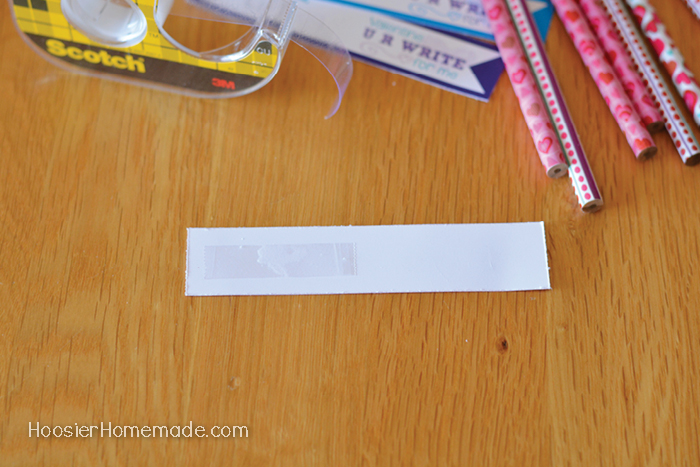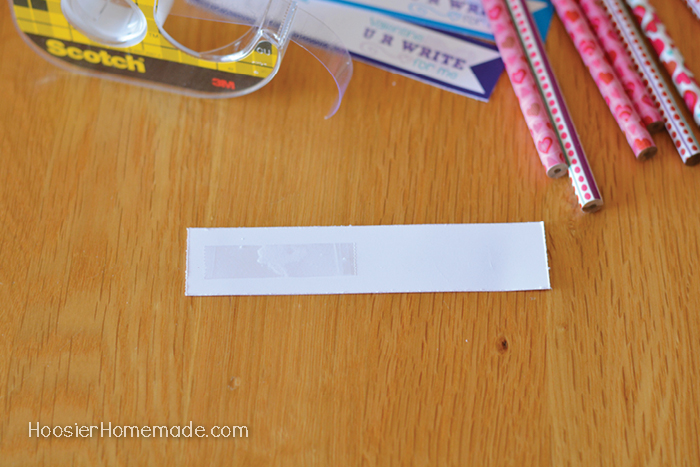 Adding double stick tape is the easiest solution to making both sides of this non-candy V-day gift stick. I suppose you could glue the ends if you are desperate and do not have double sided tape. Whatever is easiest for you! Remember– this is supposed to be non-stressful.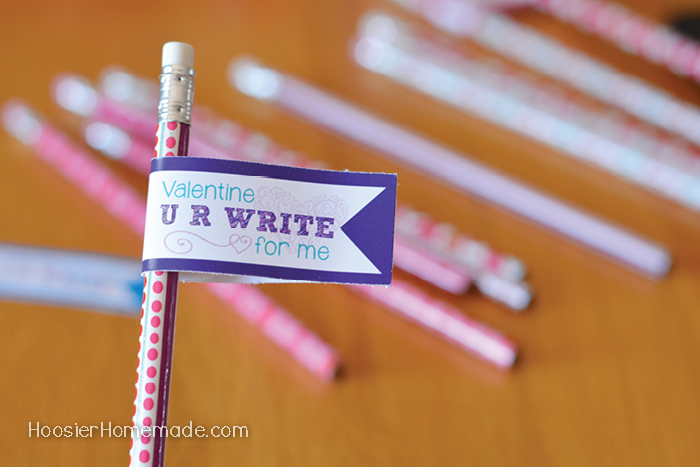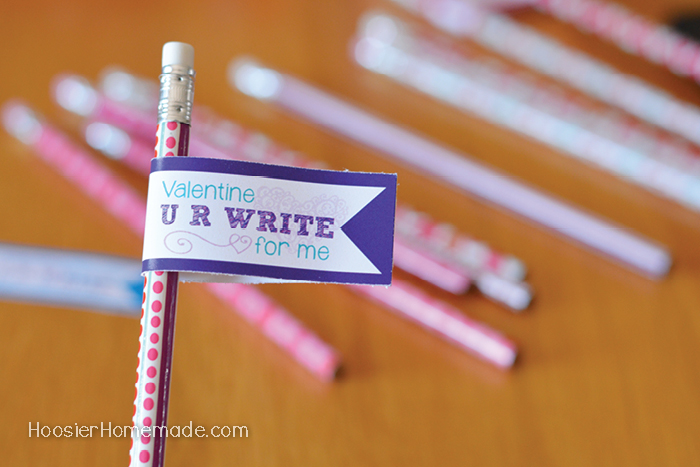 This step simply requires you to wrap around pencil and match ends, so easy! Again, you can let your child help you with this step. They always love to be "big helpers" and if they can help— let them!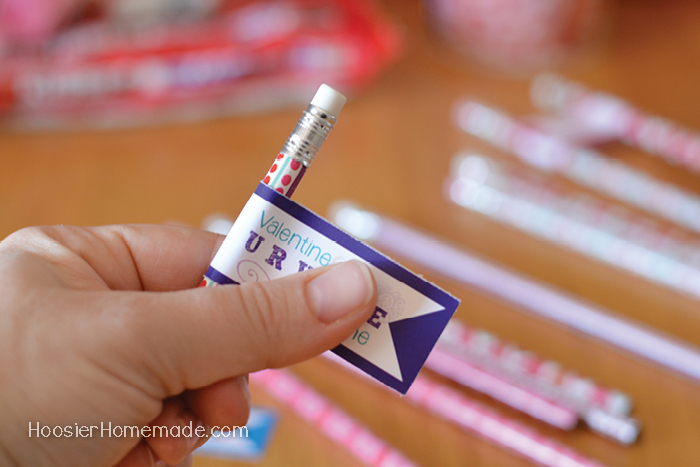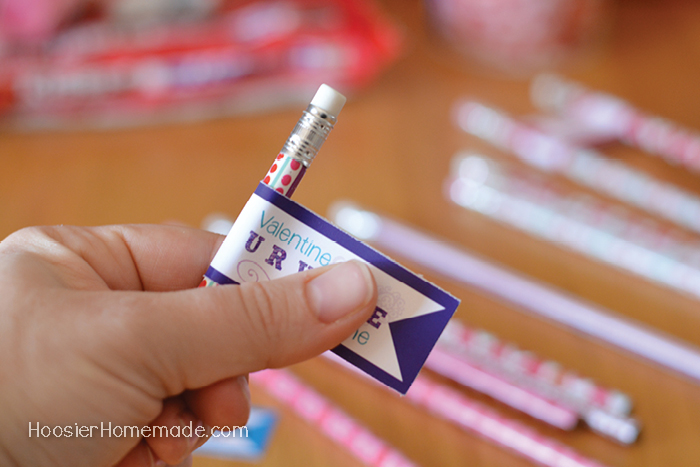 Squeeze together to affix tape, do a double squeeze just to make sure it stays together. Complete this step with all of your pencils and you're good-to-go.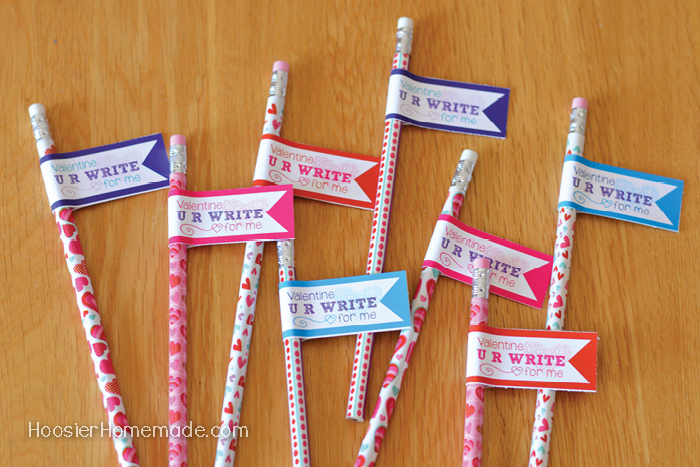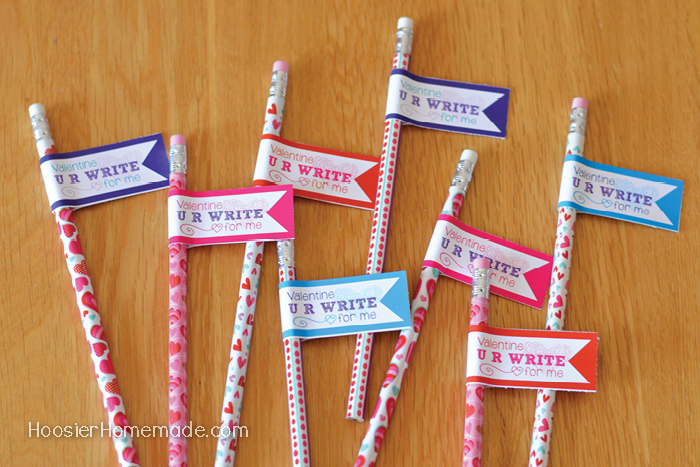 I love how budget friendly this Valentine Day non-candy idea is too. You can pick up pencils fairly inexpensive and print these Valentine's Day pencil toppers out at home and you are good to go. How awesome is that? If you have multiple children in your family, this is something you'll want to do for everyone this year.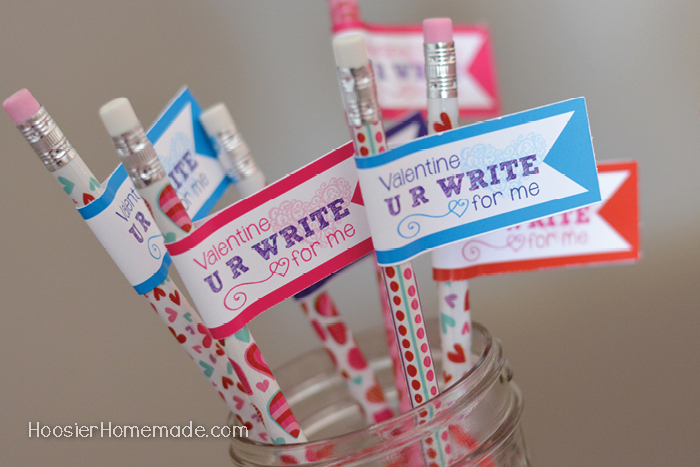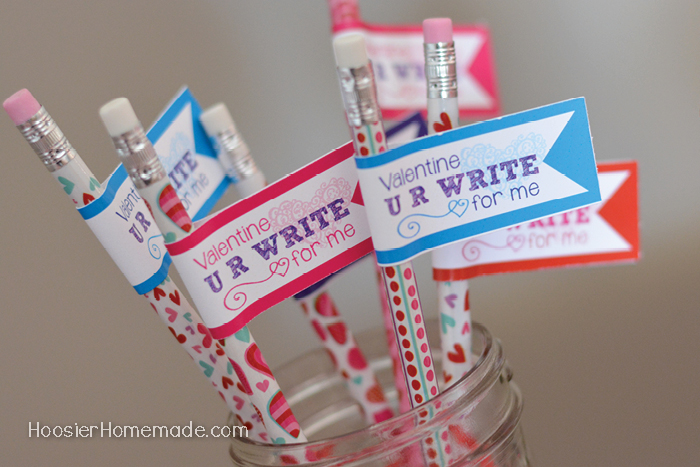 Non candy Valentine's are a must in this day and age. There is always someone in the class that has an allergy, so skip the worry and bring something like this awesome non-candy Valentine. Check out the full step-by-step directions below.
Materials
Use a paper trimmer to cut the valentine pencil flags.
Have your child sign his/her name before affixing onto the pencils.
Use double stick tape and put on the back left side of the flag. Make sure the tape covers at least half of the flag so that it sticks to the pencil.
Wrap the flag around the pencil and line up the ends. Hold firmly and press together to attach to pencil.
Share with your valentine!
Get the download for these Printable Non Candy Valentines right here.