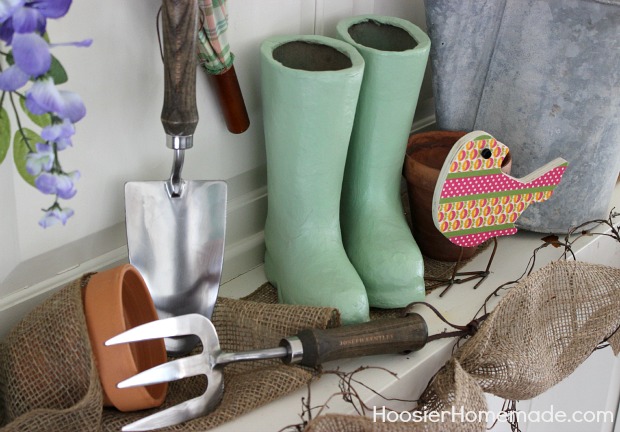 I can't begin to tell you how excited I am for Spring! At this time last year, most of the flowers and bushes were blooming and we had already been blessed with many warm, sunny days. This year though, has been a different story. It's still very chilly and none of the trees and bushes are showing signs they will be blooming soon. There are a few flowers popping up through the cold dirt and the birds are singing, so that's a good sign…right?
This year's Spring Mantel brightens the house with flowers and the fun Washi Tape Wooden Birds that I shared on Monday. The addition of an antique watering can, rain boots, gardening tools and a bird's nest reminds us that even though the temperatures aren't warm, Spring is here!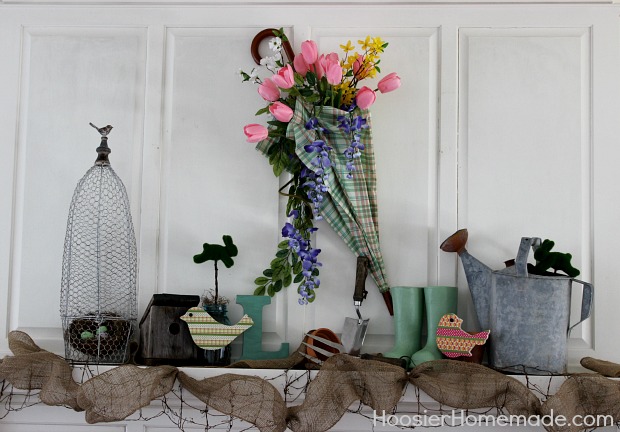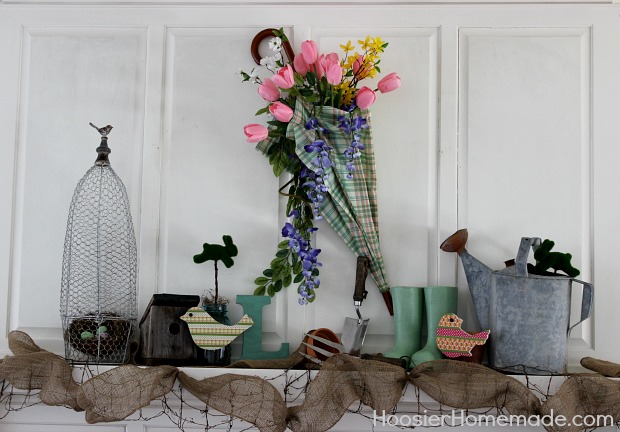 While I typically like to shop the house for items to decorate with, this season I just needed a few new items. So the Spring Mantel is a mixture of some old items and a few new, along with a couple hand crafted items.
The rustic garland is a combination of burlap ribbon and grapevine garland, both from Michael's Craft Store. Both of them come rolled up, I unrolled them and tied the burlap ribbon randomly onto the grapevine garland with twine. Then we attached it to the Mantel with fishing line.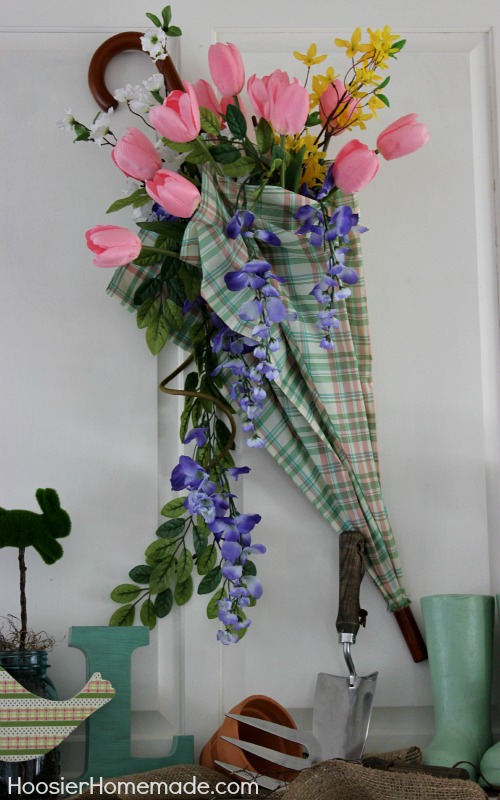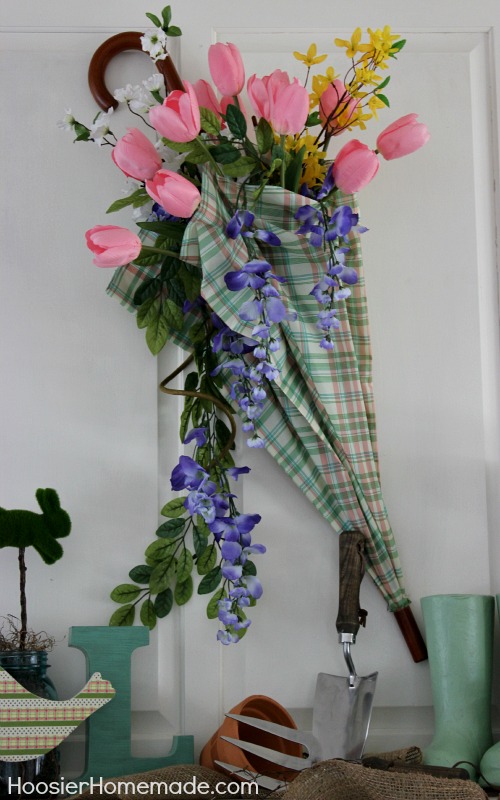 Last year, I saved the popular Pinterest photo of the umbrella and kept the idea in the back of my head for this year. Although finding the perfect umbrella to use was a bit of a treasure hunt, we did finally find one at Hobby Lobby. The silk flowers are from Michael's Craft Store.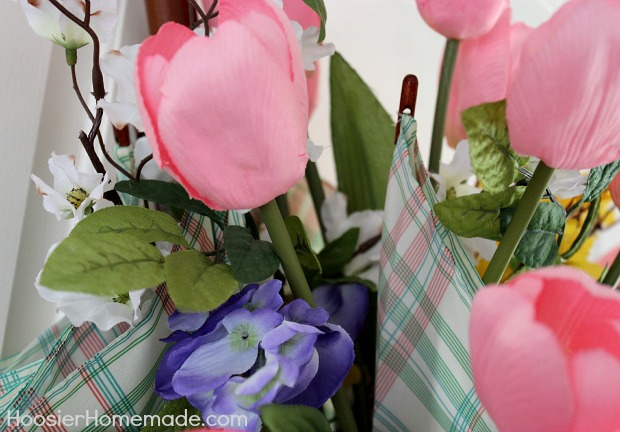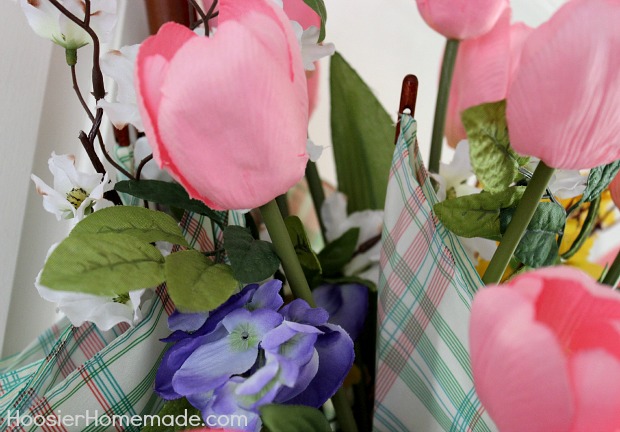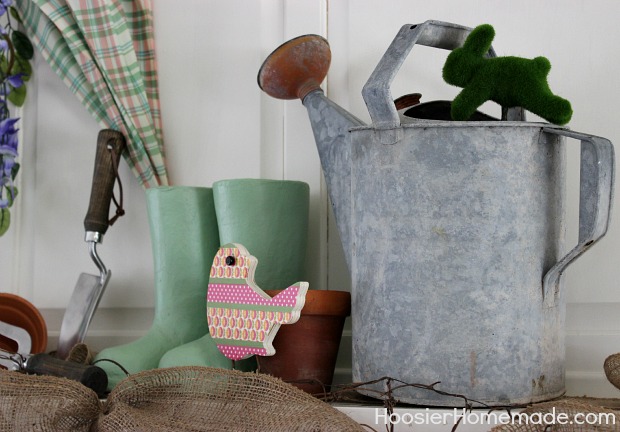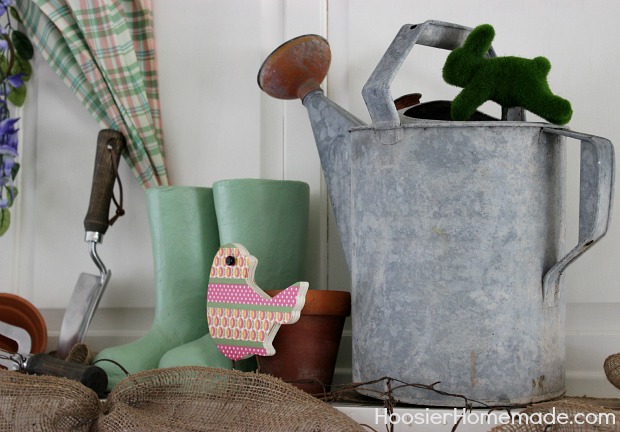 The antique watering can is my favorite in my collection. The green bunny is from Pier 1, they are having an Easter sale right now.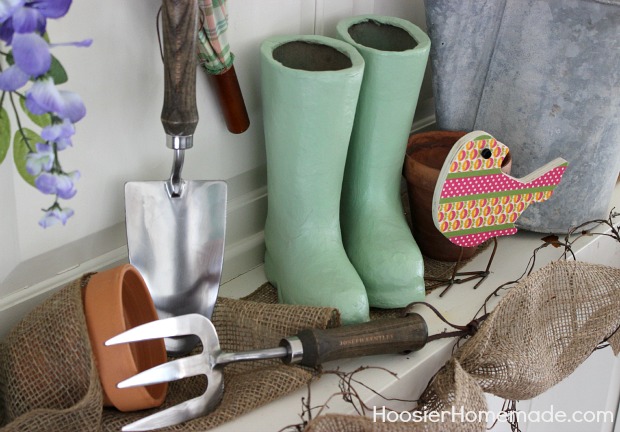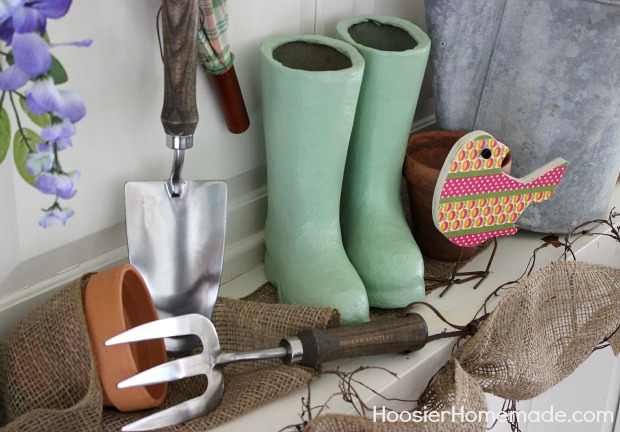 We tried my floral rain boots, but the colors were just a little too much. So we happened across these paper mache` boots at Michael's and spray painted them with Krylon Pistachio Satin.
A couple terra cotta pots from the garage, one of the Washi Tape Birds and some gardening tools that we found at Marshall's were added.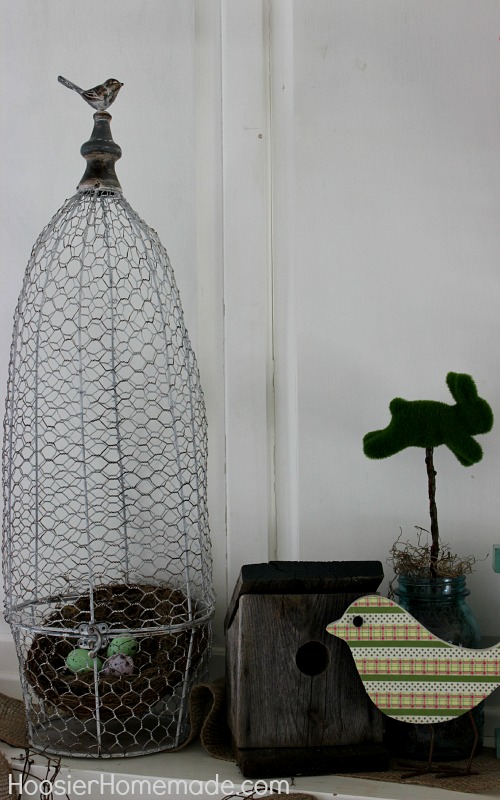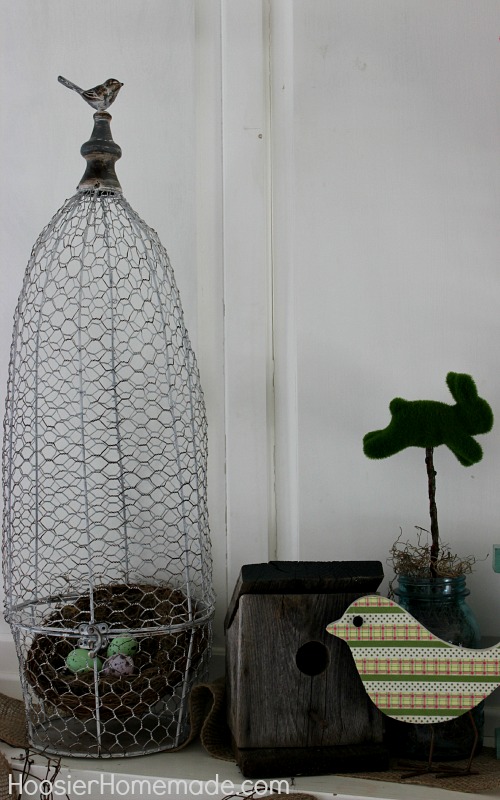 Down at the other end of the Mantel, is a new bird cage that we found at Marshall's filled with a bird's nest and some plastic eggs left from the Spring Mantel a couple years ago. The birdhouse is one that my Dad made years ago, another green bunny sitting in an aqua mason jar and the other Washi Tape Bird.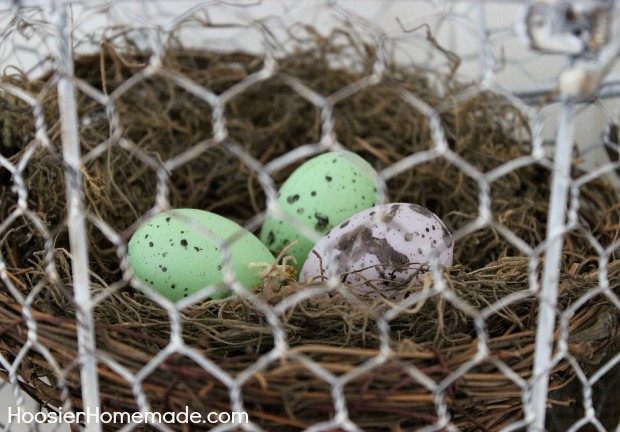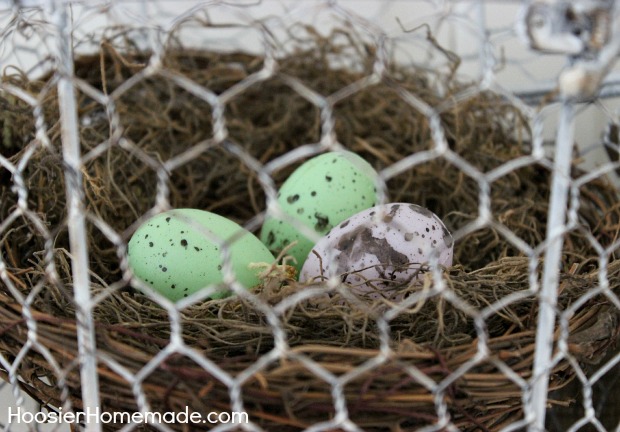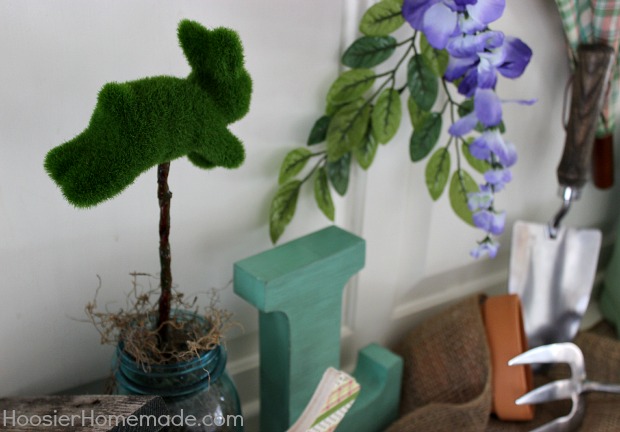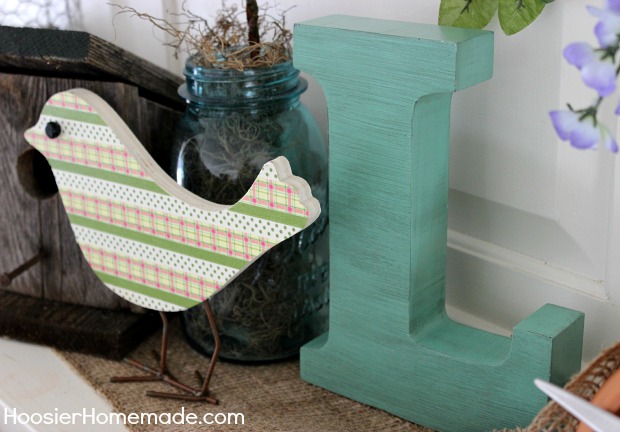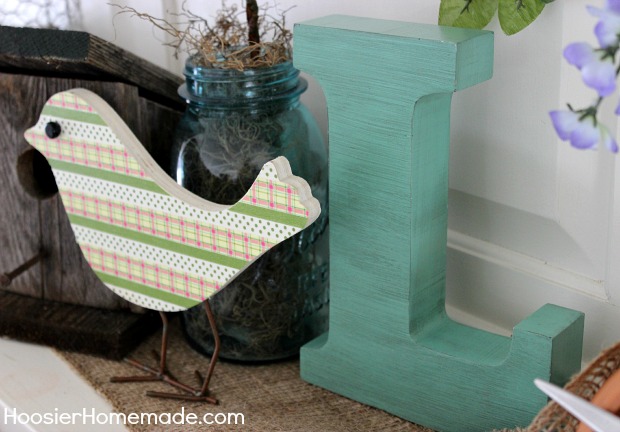 Then sitting next to the bird is a green wooden letter "L" for our last name…or well, my first name too!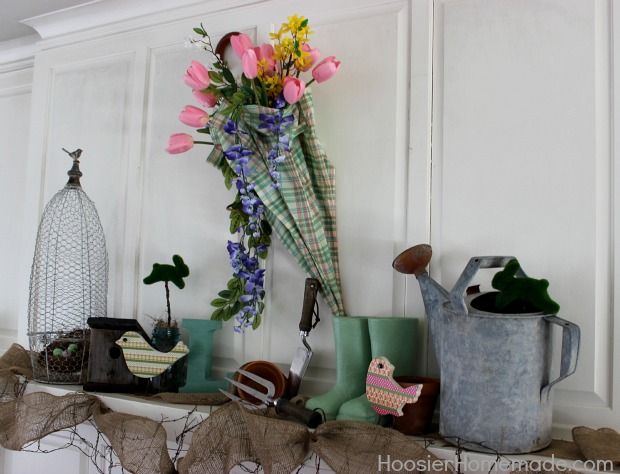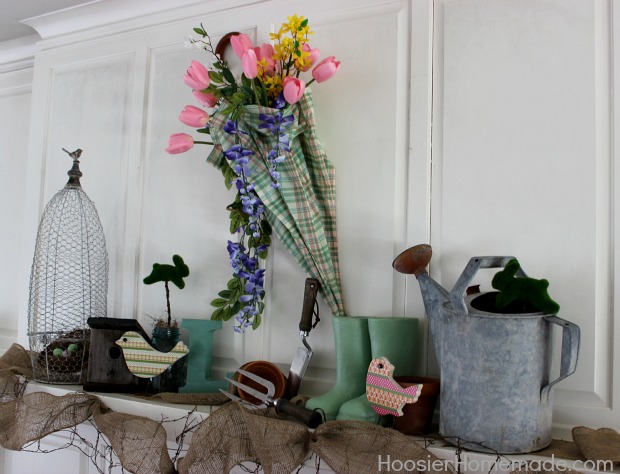 Even though the Spring Mantel took a little treasuring hunting this year, I'm pleased with how it turned out.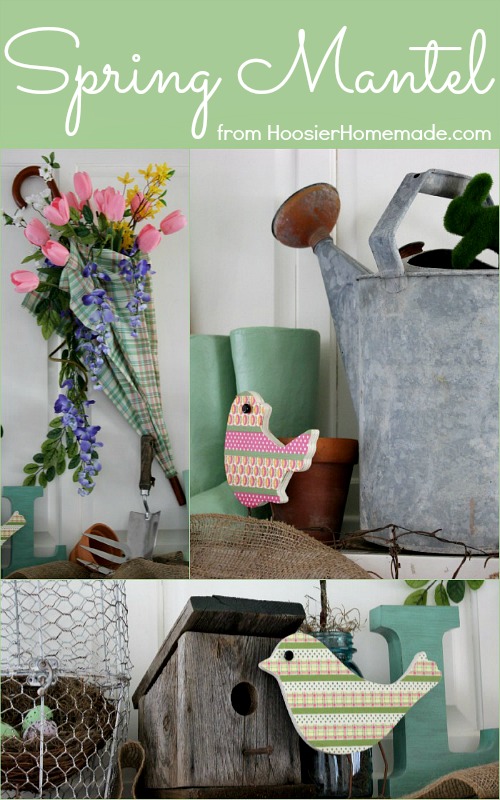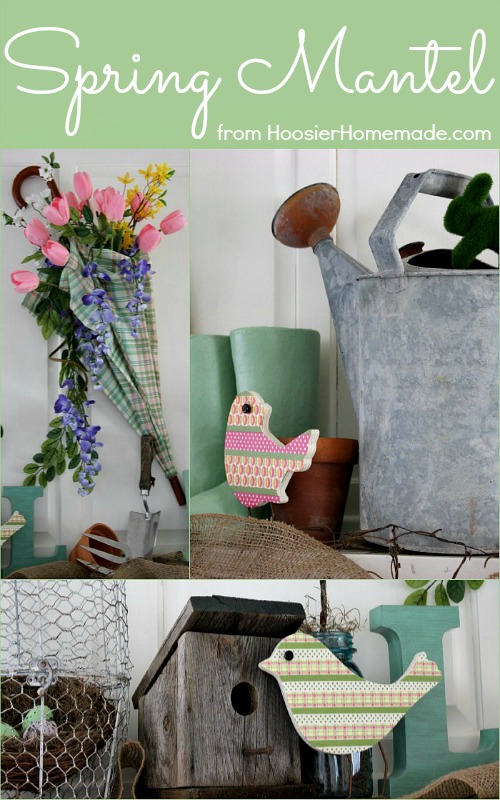 Quick Reference
Burlap Ribbon and Grapevine Garland – Michael's Craft Store

Umbrella – Hobby Lobby
Silk Flowers – Michael's
Bird Cage, Green letter "L" and garden tools – Marshall's
Washi Tape Wooden Birds – learn how to make them in minutes
Rain Boots – Michael's
Spray Paint – Krylon Pistachio Satin
Green bunnies on a stick – Pier 1 Imports