Happy Cupcake Tuesday! I'm so excited you are here! Looking for a cupcake recipe? Be sure to check out the Cupcake Heaven page, there are over 200 cupcake recipes and decorating ideas!
Seems like forever since I've shared Cupcake Tuesday with you! I've been sharing Cupcakes, but somehow they weren't on Tuesday. If you missed them, I featured the Best of 2012 Cupcakes and the Notre Dame Cupcakes last week. Before we dive into Valentine's Day, I thought I would share these cute little Snowmen Cupcakes with you!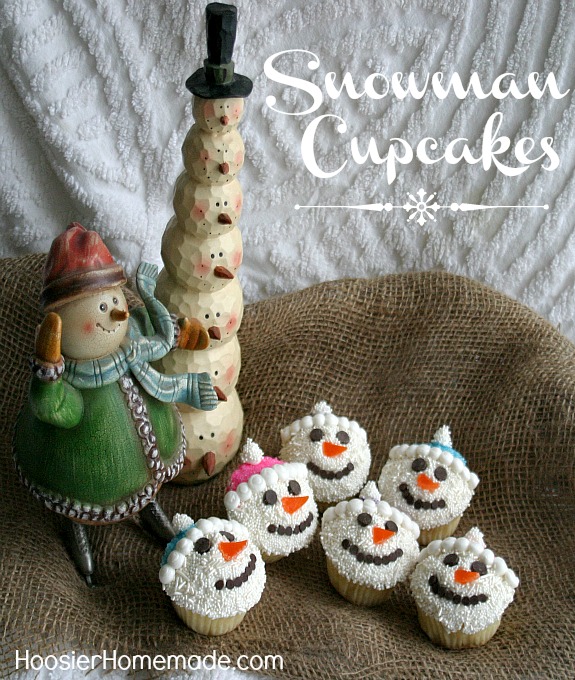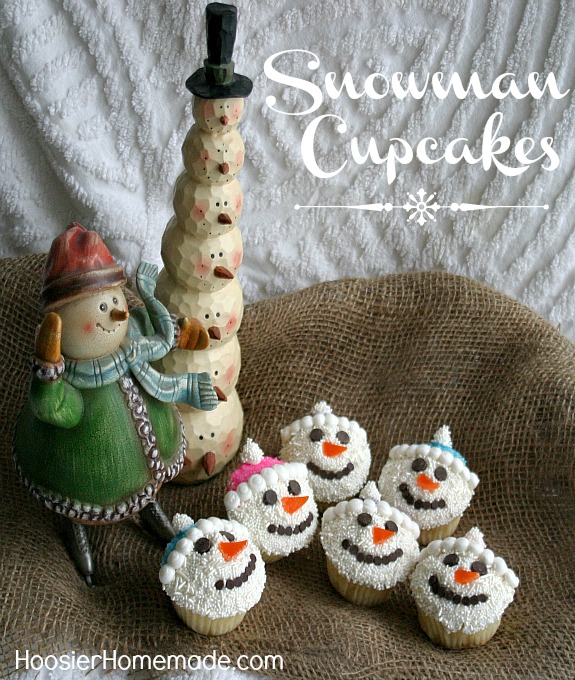 These Snowmen Cupcakes are so fun, and also easy enough for your little ones to decorate. With just a few decorating supplies that you probably have at home, they go together really quickly.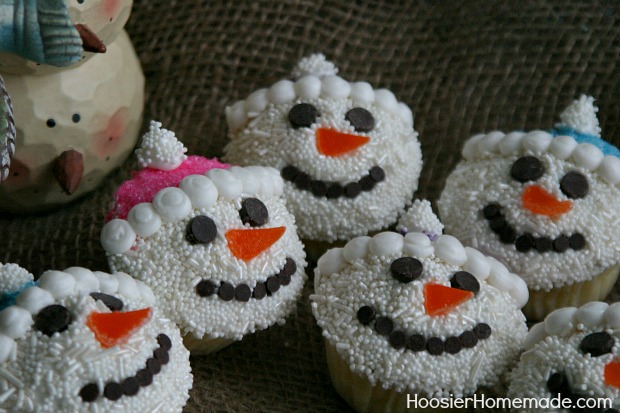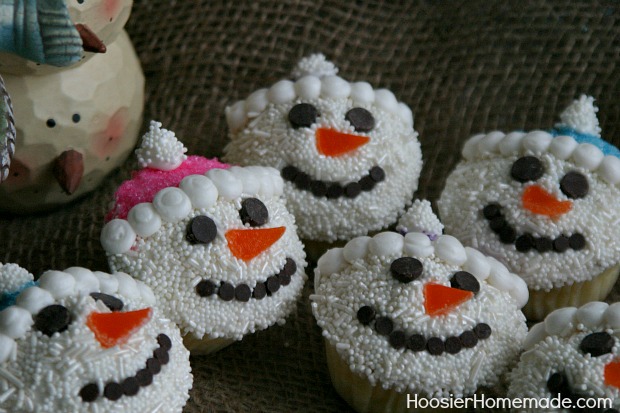 Let's gather our supplies…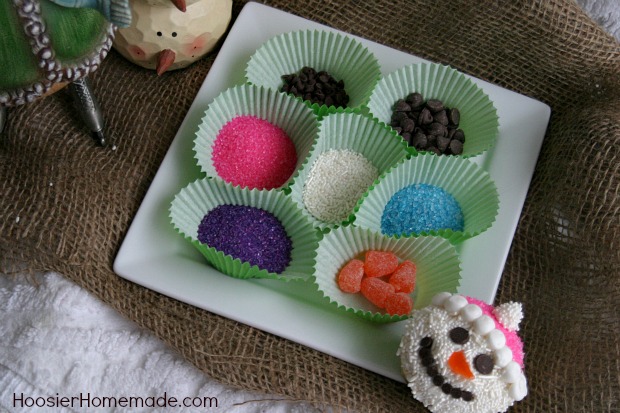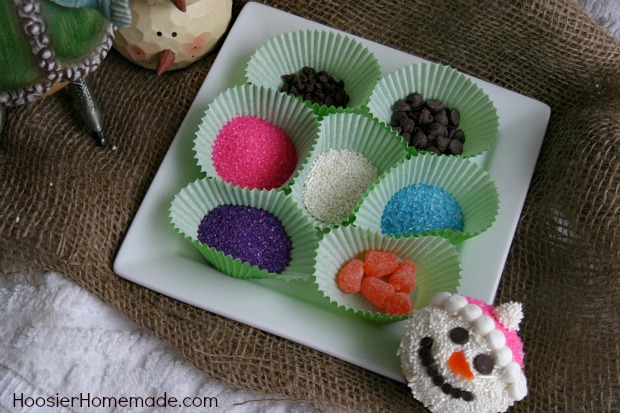 Snowmen Cupcake Supplies
Cupcakes, baked and cooled {your favorite flavor}
Frosting {Buttercream, Decorator Icing or your favorite}
Eyes – Regular size Chocolate Chips
Mouth – Mini size Chocolate Chips
Orange Gumdrops for nose
White Sprinkles – I used pearlized jimmies and white nonpareils mixed together
Decorator bag fitted with a round #10 tip {or you can use a resealable bag}
Colored sugar {or sprinkles} for the stocking hat
Instructions:
Frost cupcake, mounding the middle up a bit to make it rounded
Using a knife or toothpick, mark off 1/3 of the cupcake – this is where you will add the sprinkles for the hat
In a small bowl, combine pearlized jimmies and white nonpareils
Roll the edges and then the top of the cupcake in the white sprinkles, being careful not to get any in the hat area {add additional sprinkles with your fingers if necessary}
Working over a bowl, use a spoon to add the colored sugar for the hat
Fit a decorator bag with a round #10 tip, and fill with white icing
Pipe on small round balls for the brim of the hat and add a ball on the top, sprinkle with white nonpareils {Tip: if you get a little point of frosting, just run your finger under hot water and gently pat the tip down}
Add the regular chocolate chips for the eyes, pushing the pointed side into the frosting
Cut an orange gumdrop in half, then into a triangle for the nose. Add to cupcake
Add the mini chocolate chips for the mouth, pushing the pointed side into the frosting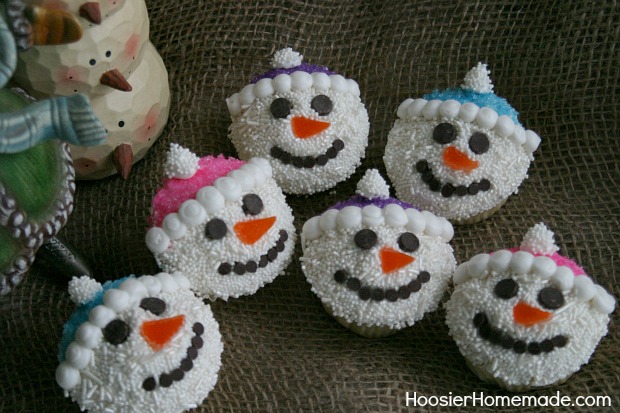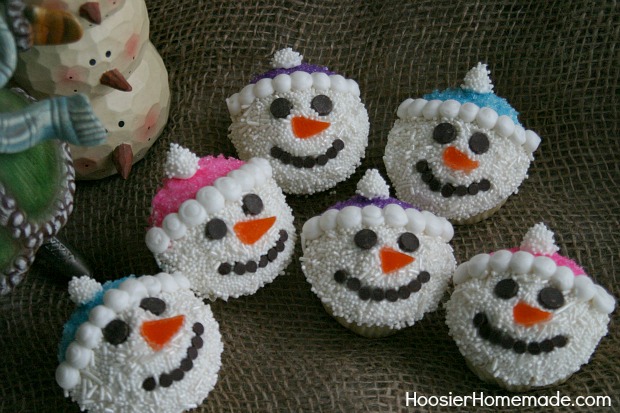 And if you are looking for more Snowmen Cupcakes, here are a few others I have shared…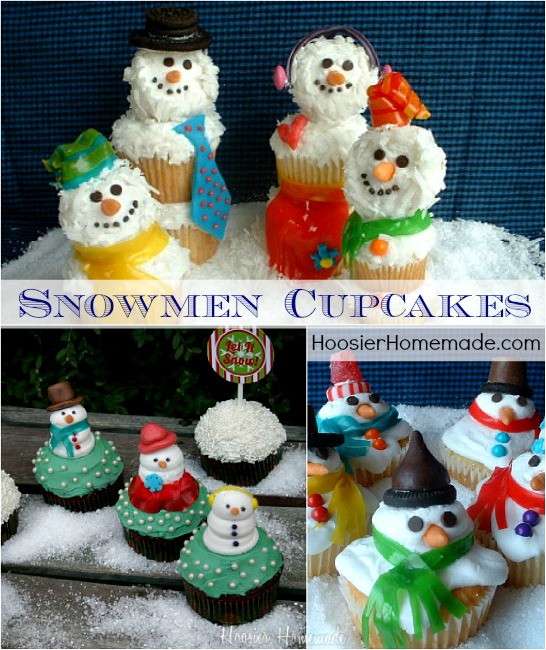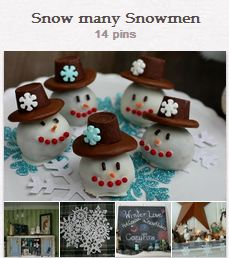 Love Snowmen? Follow my Snow many Snowmen Pinterest Board