Melting Snowman Cupcakes: Cupcake Tuesday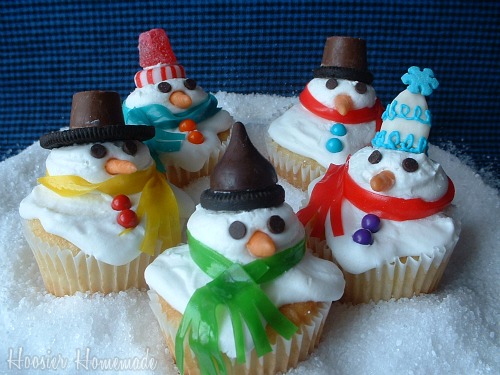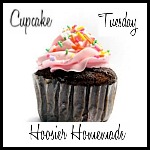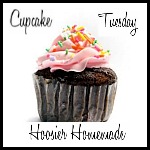 Welcome to Cupcake Tuesday! I'm so glad to have you! If you are new, you can find all my cupcake designs and recipes on the Cupcake Heaven page.
Do you have snow where you live? We usually do, although most of it melted last week. I have seen these Melting Snowman Cupcakes floating around on several blogs, and wanted to give them a try.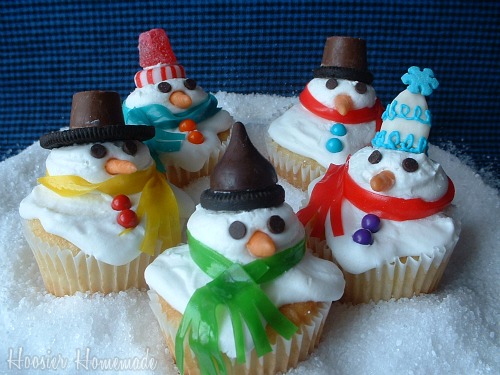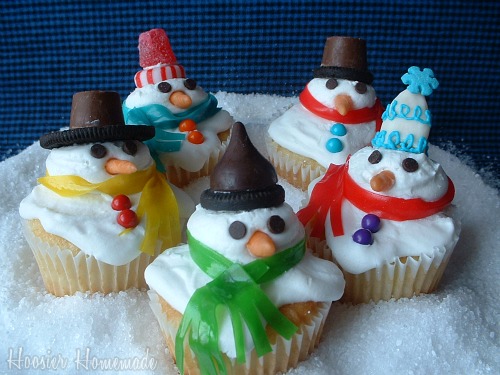 I think these cupcakes would be fun for a Winter party, gather all the decorations and let the kids have fun. I tried to make a stocking cap using a Bugle, you know the crunchy snack, they turned out looking more like a party hat, but I think they are still cute.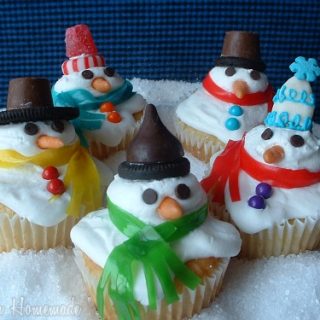 Melting Snowman Cupcakes
Fun Melting Snowman cupcakes for a winter party with kids from HoosierHomemade.com
Ingredients
Cupcakes; baked and cooled
White Buttercream Frosting
Orange Starburst
Mini Chocolate Chips
Fruit Roll-ups
Various candies for the hats
Instructions
Snow
Melt frosting in microwave about 15 seconds, you want it smooth and a little runny, but not too runny. Spoon a couple teaspoons of frosting into the middle of the cupcake, with the back of your spoon, carefully push the frosting into place making it look like it is melting over the edge. I made 4 piles (spots) of snow.
Snowman head
Fit your decorator bag with a giant round tip, and add white frosting. If you don't have a decorator bag, or the tip, you can use a ziploc bag or even a marshmallow. Pipe on a round ball of frosting. Smooth it out with your fingers, if needed.
Nose
Unwrap an orange Starburst and soften in the microwave for about 15 seconds. I cut 6 noses from 1 Starburst, then roll the candy into a carrot shape, making one end pointed.
Eyes
Use 2 mini chocolate chips for the eyes. Placing them in with the pointed side into the frosting, so the round edge shows.
Scarves
Cut thin strips of Fruit Roll-ups for the scarves. Cut a little wider strip and "fray" the end by cutting it 3 or 4 times.
Buttons
Use various candies for the buttons, I used mini jaw breakers.
%http://hoosierhomemade.com/wp-content/uploads/Melting-Snowman-Cupcakes-collage.jpg
Hats
#1: Mini Oreo and a Hershey Kiss…use the cookie part of the Oreo and add the Kiss with a little frosting.
#2: Bugle, White Melting Chocolate, Blue frosting and Jumbo Blue Snowflake Sprinkle …melt white chocolate in microwave, coat the Bugle and set on wax paper until chocolate is set. Fit a decorator bag with a small round tip, and add blue frosting, pipe frosting onto Bugle in whatever design you like. Then add the Snowflake Sprinkle.
#3: Oreo Cookie (regular size) and Rolo Candy…use the cookie part of the Oreo and add the Rolo with a little frosting.
#4: Red Gumdrop and Red Peppermint Candy…add the gumdrop to the peppermint with a little frosting.
#5: Mini Oreo and a Rolo…use the cookie part of the Oreo and add the Rolo with a little frosting.
It's was so fun looking back at all of the cupcake creations from last year. Be sure to see my Best of 2010 Cupcakes!
 Now it's your turn…show off your cupcake creations! I'd appreciate a link back and be sure to check out the other cupcakes!