Pecan Caramel Popcorn Crunch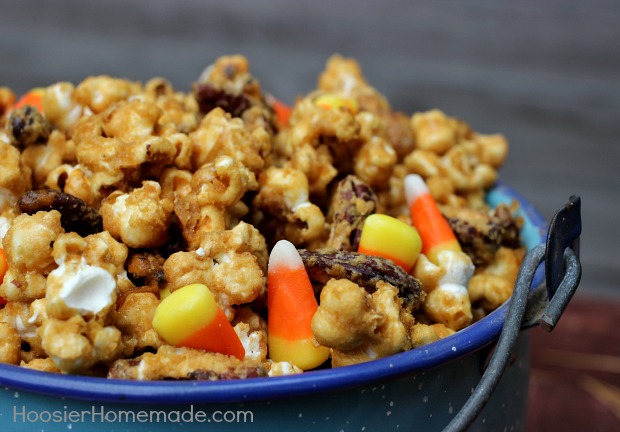 There's nothing quite like a family movie night is there? Gathering up your loved ones and having a group vote to decide which movie to watch is half the fun. Then you all settle down and pop the film in. But something's missing… the popcorn!
But fear not, because today I have a recipe for you that, with the help of my new partner Fisher Nuts, will satisfy your snack craving. I am very excited to be partnering with Fisher Nuts, and we've got a lot more great recipes on the way for you. But for now, enjoy this delicious Pecan Caramel Popcorn Crunch with your family.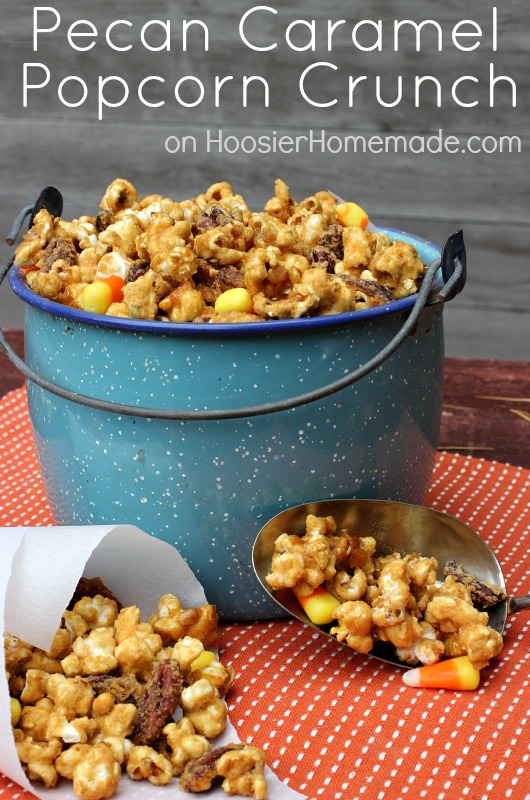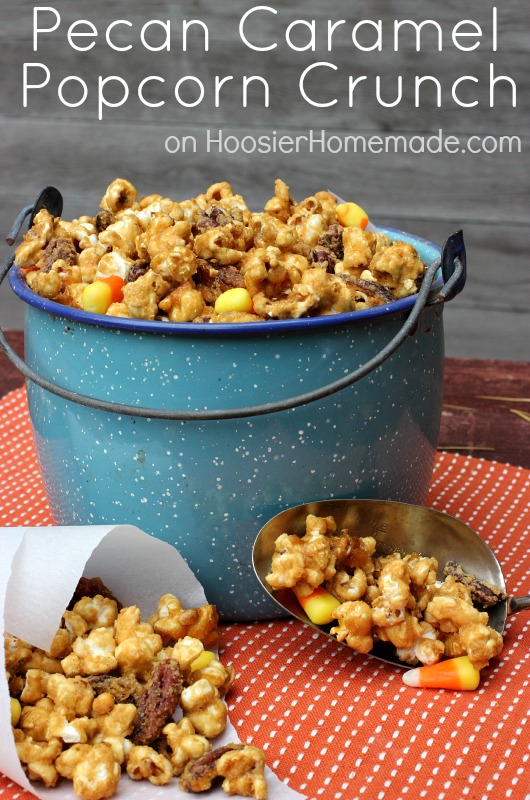 Not only is this Pecan Caramel Popcorn Crunch perfect for those family nights, but it also makes a great gift. Maybe you have that hard to buy for boss or Father-in-law (like me) that you never know what to give them. Add a bag or container of this Caramel Corn along with a couple boxes of candy and movie tickets or DVD and you have a great gift.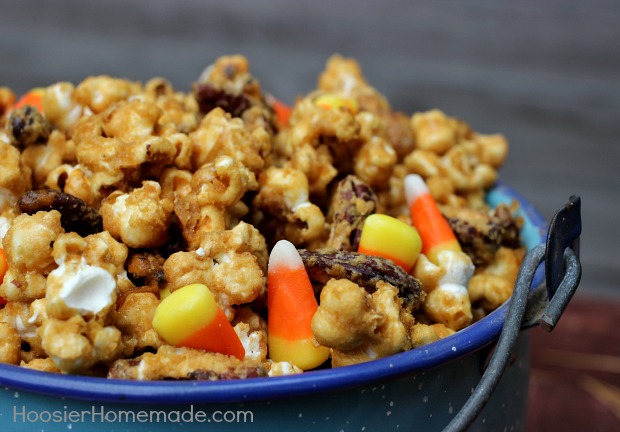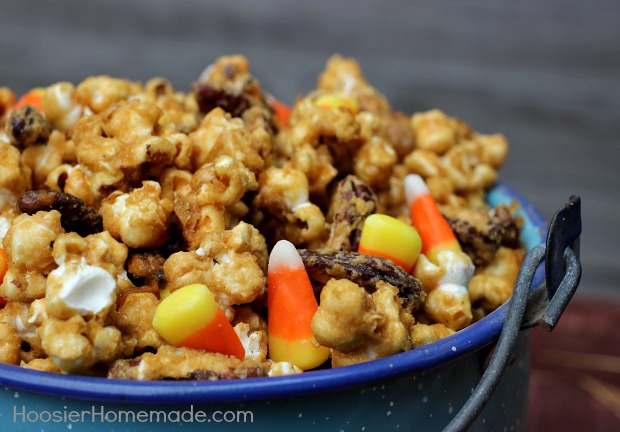 In addition to the Caramel Corn, I added Fisher Pecans. The addition of the Candy Corn is totally optional, but perfect for a Halloween or Fall treat.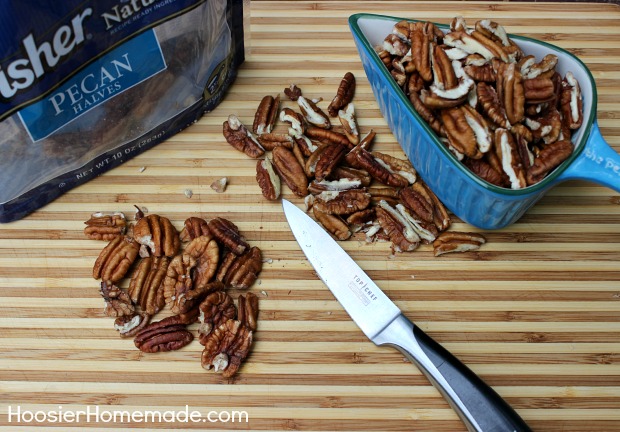 Fisher Nuts is currently hosting the My Fresh Twist recipe contest. You can enter the My Fresh Twist Contest by submitting a recipe now through 10/22. Voting for your favorite recipe is from 10/22 – 11/5. Chef Alex Guarnaschelli and a panel of judges will choose the grand prize winner from the top ten finalists and the winner will be announced on 11/22.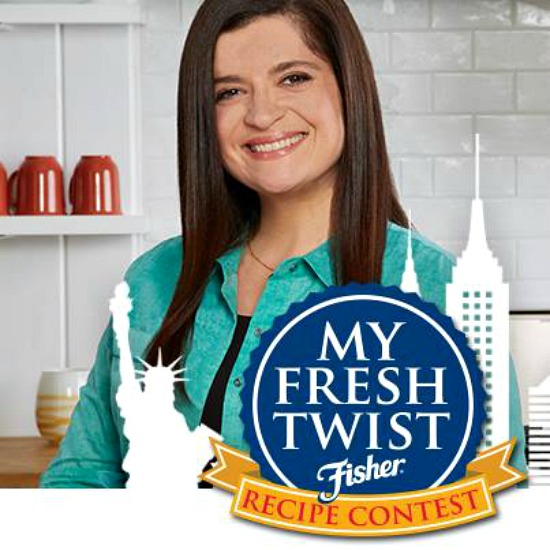 Recipes must include pecans, walnuts, almonds or peanuts and will be judged on their originality, integration of nuts, taste, and visual appeal. For a full list of prizes, visit the My Fresh Twist website.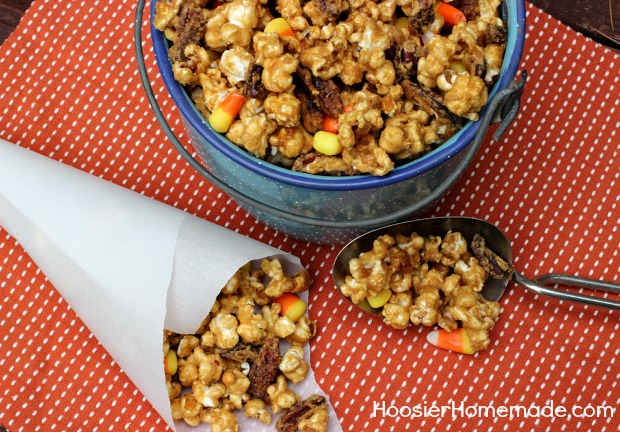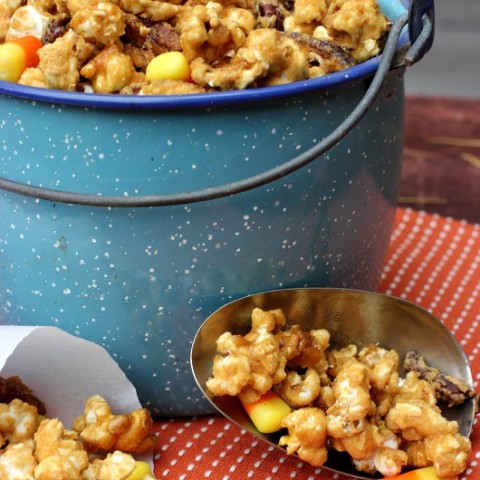 Pecan Caramel Popcorn Crunch
Ingredients
2 cups Fisher Pecans, cut in half
8 cups popped popcorn, about 1 cup of kernels
2 cups brown sugar, packed
1/2 cup (1 stick) butter
1/2 cup light corn syrup
2 teaspoons vanilla extract
1/2 teaspoon almond extract
1/2 teaspoon salt
1/2 teaspoon baking soda
2 cups candy corn, optional
Instructions
Preheat oven to 350 degrees
Place pecans on cookie sheet and bake for about 8-10 minutes or until toasted and fragrant
Reduce oven temperature to 250 degrees
Combine popcorn and pecans in a large bowl and set aside
In a medium heavy saucepan, combine brown sugar, butter and corn syrup
Bring to a boil over medium-high heat, stirring until the butter is melted
Cook mixture until it reaches 250-270 degrees, using a candy thermometer - about 4 minutes, do not stir
Remove from heat and add vanilla, almond extract, salt and baking soda, stir to combine
Carefully pour over popcorn mixture, toss well to combine
Place on greased cookie sheet and bake for about 1 hour stirring occasionally. Mixture should be dry but a little soft to the touch
Remove from oven, pour back into large bowl and add candy corn if desired
Store in airtight container up to 2 weeks
Follow Fisher Nuts on Facebook and Pinterest for more recipes!