This 4th of July Candy Tray with Printable Lollipop Covers would be so fun to enjoy while waiting for the fireworks or watching the 4th of July Parade!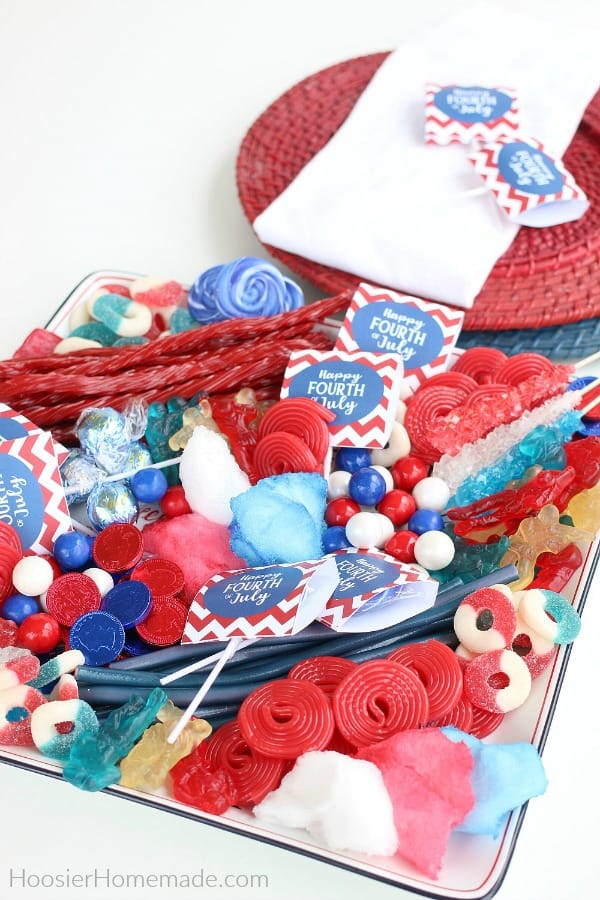 This fun 4th of July Candy Tray is part of the Simple Easy Creative Magazine Summer edition that has 15 pages full of Recipes, Summer Fun Ideas, a 4th of July Party Table with recipes and FREE Printables and more to celebrate will your family.
You can learn more about our brand new Simple Easy Creative Magazine and sign up to receive it for FREE!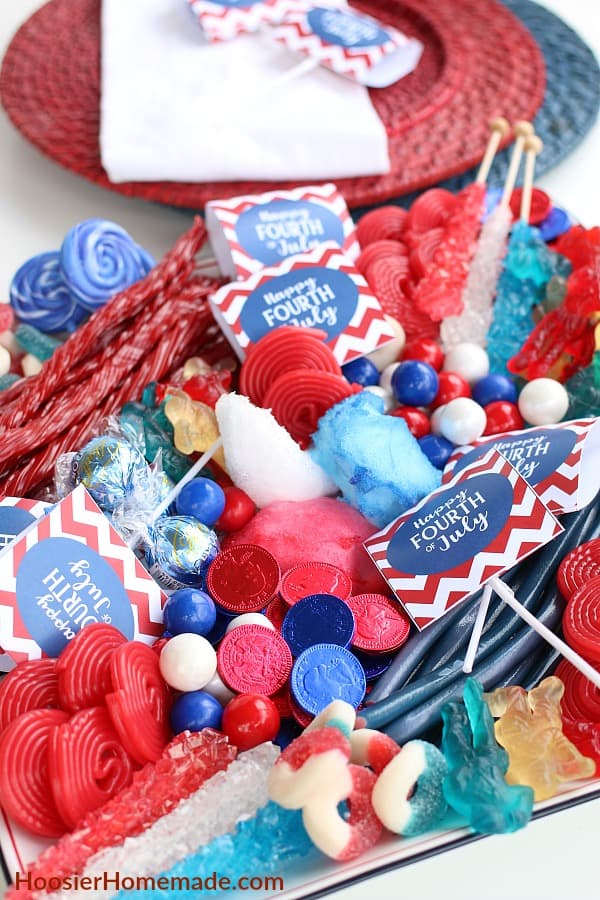 The Lollipop Covers are part of the 4th of July Printables set –
Included in this set are 10 pages of fun! –
Cupcake Toppers
Cupcake Wrappers
Tented Cards
Gift Cards
Drink Flags
Treat Buckets
Lollipop Covers
Bottle Labels
Treat Bags Toppers
The 4th of July Printables are available when you join the Monthly VIP Printables Club you will have instant access to ALL of the Exclusive printables we have shared with this special group!
Sign up below and we will send them right over –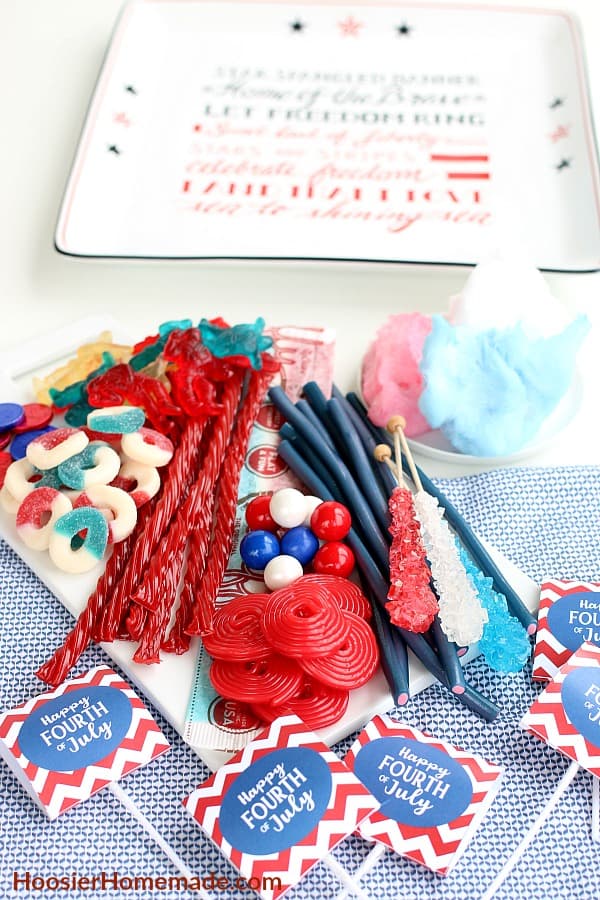 4th of July Candy Tray
Supplies
Tray – any size will work, I would suggest if you are taking the candy tray to the fireworks or parade, to use a disposable plate or tray
Lollipop Covers – print them FREE
Candy
Licorice – vines and wheels
Blue Raspberry Ropes – Haribo – found at World Market
Chocolate Coins – found at Party City
Gum Balls – found at Party City
Cotton Candy – this was a good thought, and it was great for a little bit, however if you want to add it, I would suggest adding it right before serving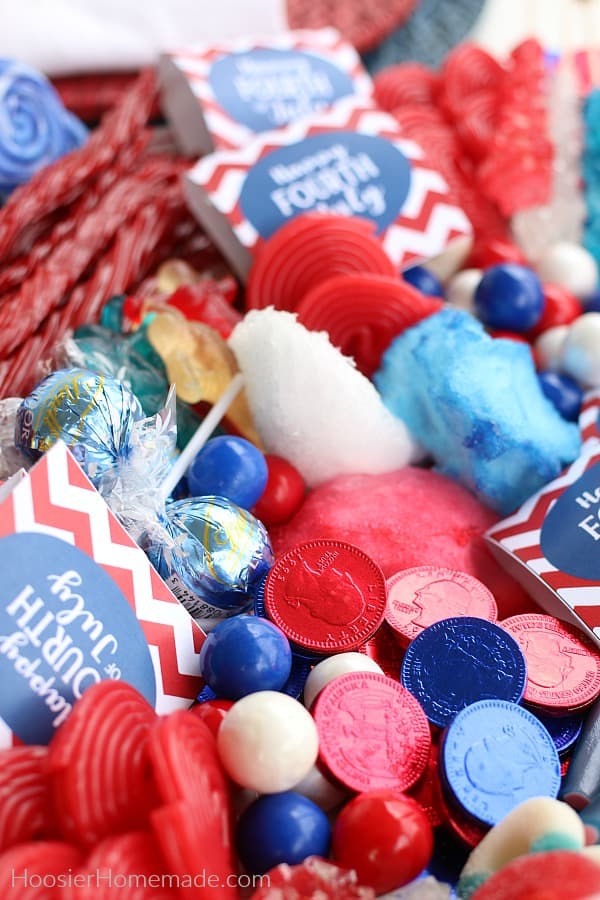 How to make a Candy Tray
The Candy Tray goes together just like the Charcuterie Boards. I like keeping a theme, and of course for the 4th of July we needed red, white and blue candy.
Begin by placing the largest pieces of candy, this time I started with the licorice vines and blue raspberry ropes.
Then added the rock candy, and licorice wheels. Continue filling in all the spaces with the candy of your choice.
Remember, if you are adding cotton candy, or any other candy that will not hold up well, add it right before serving.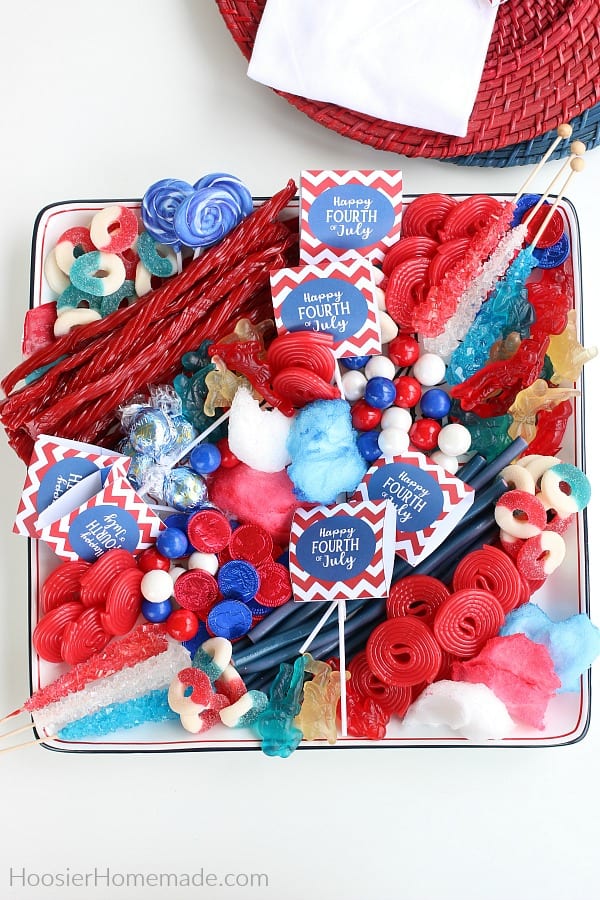 Be sure to print out the Lollipop Covers! You can add them to the candy tray, or give them as a take-home treat.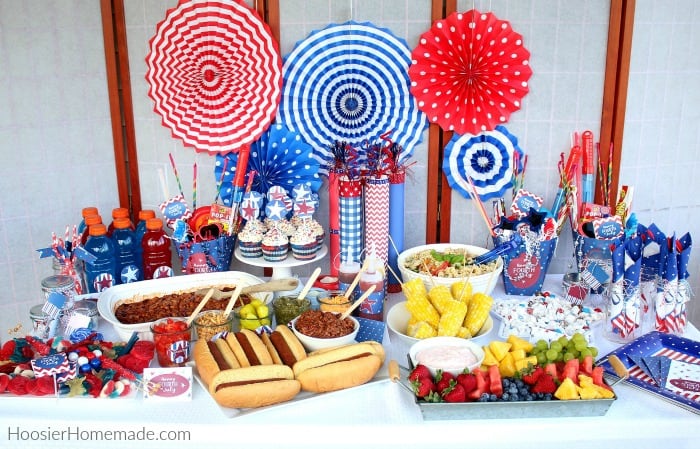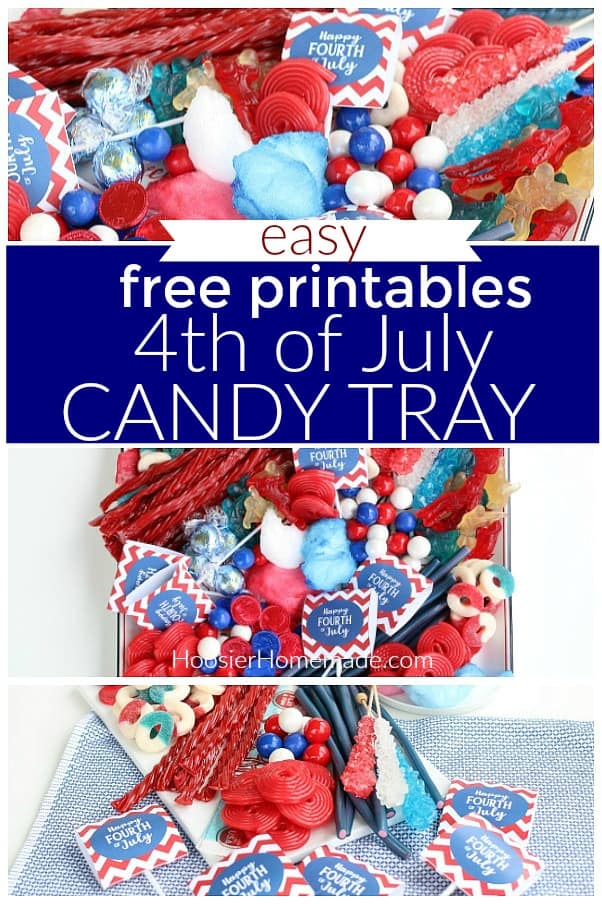 Looking for more 4th of July Party Ideas? Check these out –
Click on the photo for the instructions