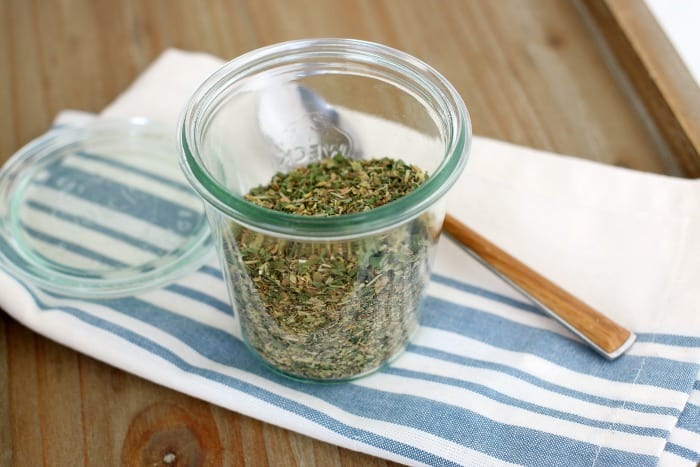 This Italian Seasoning Recipe goes together in minutes and is very versatile. You can add it to dressings, salads, pasta sauce, poultry, soups, and much more.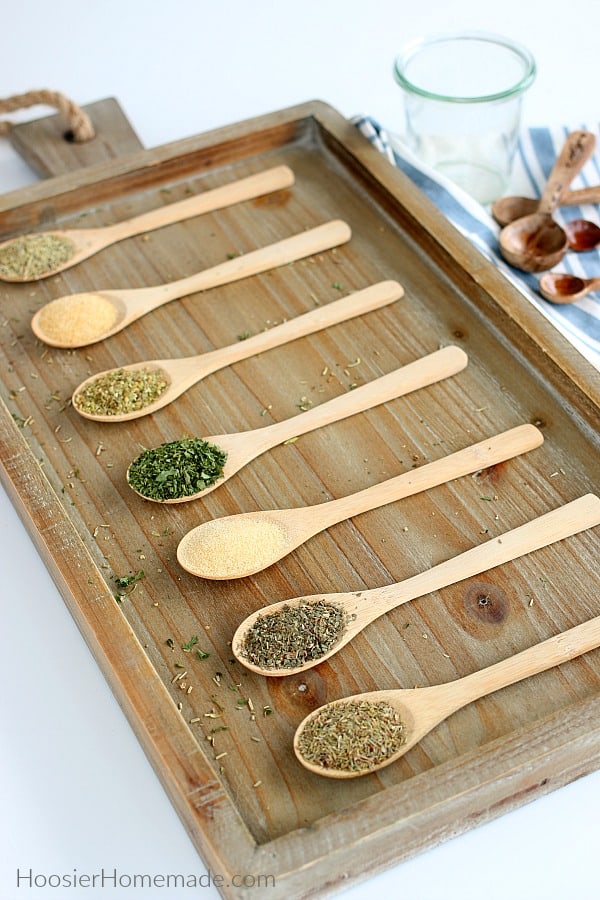 Making your own spice blends is not only super easy, it also adds great flavor to just about any recipe. Italian Seasoning can be used as a replacement for any recipe that calls for oregano or basil.
The best thing, in my opinion, about making your own spice blends is that you can customize the ingredients.
If you aren't a garlic fan, you can cut back on that spice. Or if you like a little more zip in your spices, you could add some red pepper flakes to the seasoning.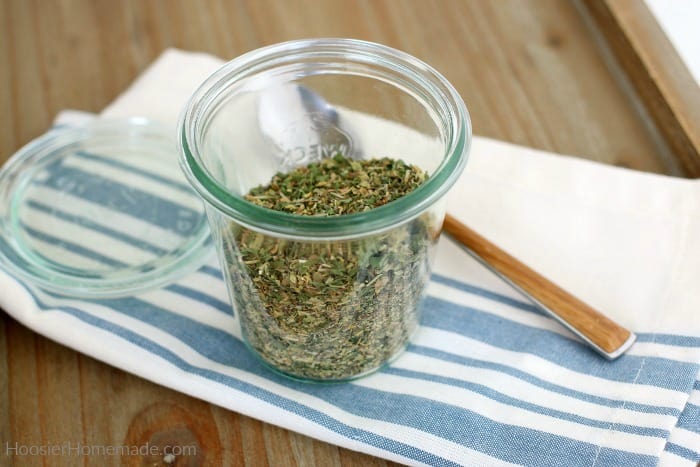 Italian Seasoning Recipe – Frequently Asked Questions
What is in Italian Seasoning?
Depending on your taste, you can add a variety of spices to this seasoning mix, however the basic spices that you will need are Parsley, Rosemary, Oregano, Thyme and Basil. Then you can add Garlic Powder, Onion Powder, Red Pepper Flakes, or Marjoram.
Why should I make my own seasoning?
There are several reasons, in my opinion, why making your own seasoning is a good thing. Here are a few –
It's super easy and you can customize the flavors you like
It's cost effective
You won't get the additives, like salt, that you get in store bought.
How long does it take to make the seasoning?
It should take you less than 5 minutes to measure each of the ingredients and stir them together.
What if I don't have all the ingredients?
The nice thing about making your own spice blends is that you can customize them.
How long will the Italian Seasoning last?
As long as you store it in an airtight container, it should last you at least 4 months in the pantry.
What recipes can I use the Italian Seasoning in?
Oh my, there really are hundreds. Some of my favorites are –
Italian Pasta Salad
Homemade Italian Dressing
Grilled Chicken
Spaghetti Sauce
Soups or Stews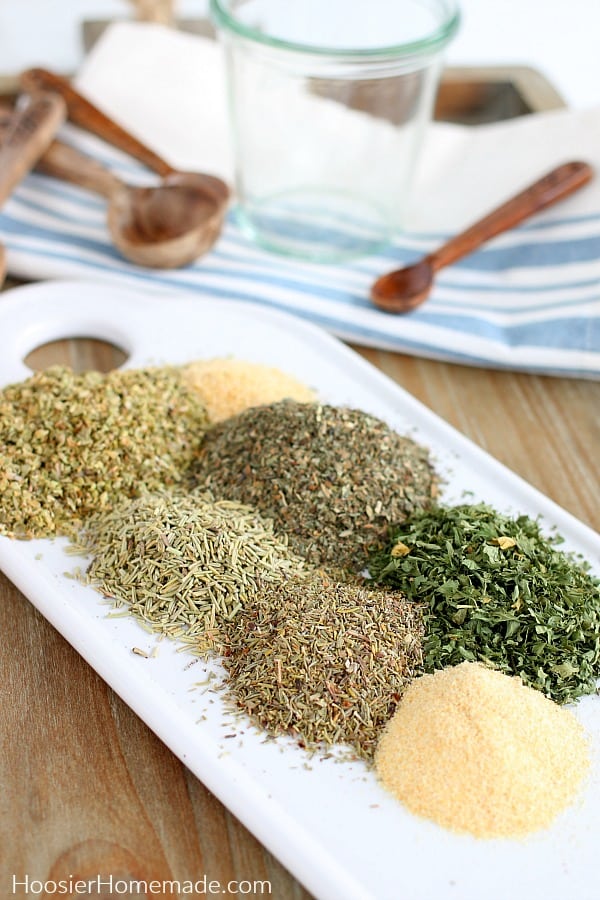 Italian Seasoning Recipe
The ingredients in Italian Seasoning are very basic, and I bet you have all or at least most of them in your pantry right now. Many store bought seasonings have additives like extra salt in them, so why not take a few minutes and make your own?
Ingredients
Dried Parsley
Dried Oregano
Dried Basil
Dried Rosemary
Dried Thyme
Garlic Powder
Onion Powder
Kitchen Essentials Needed
Small bowl
Jar with lid for the Italian Seasoning – lately I am loving this Weck Jars
Tablespoon Measuring
Teaspoon Measuring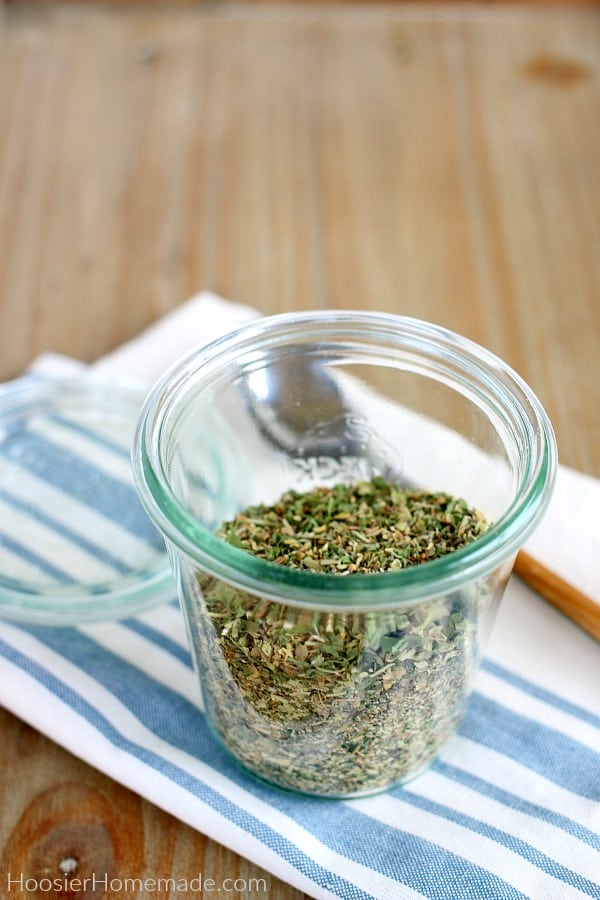 After you have all the spices blending well, store them in a jar with a lid in your pantry. Then you can use the Italian Seasoning on a variety of recipes.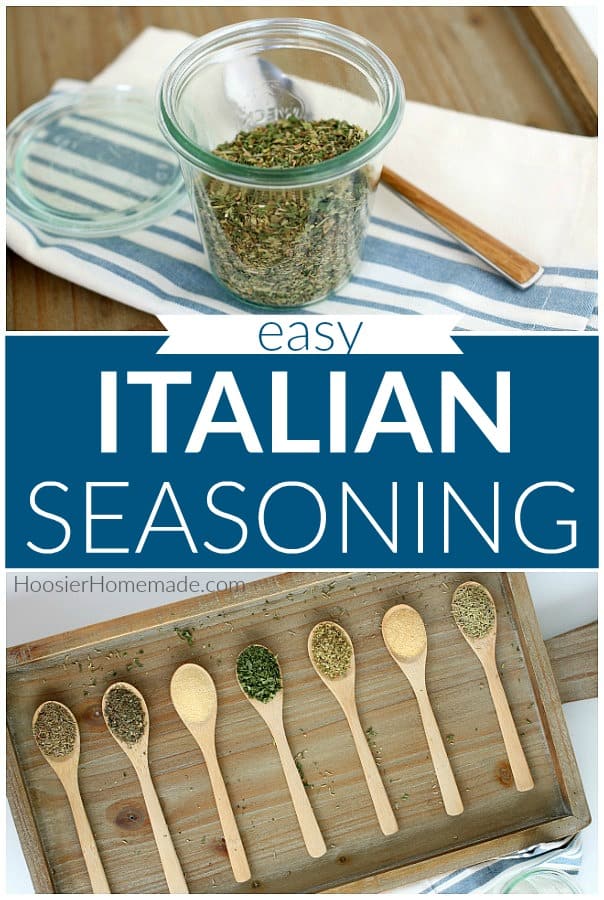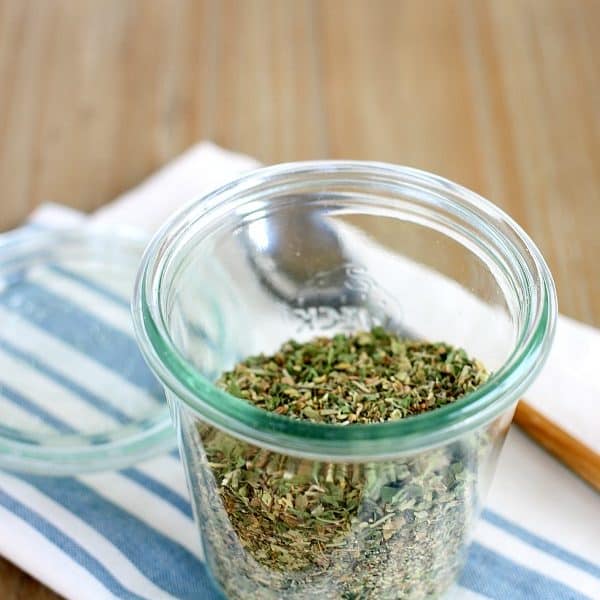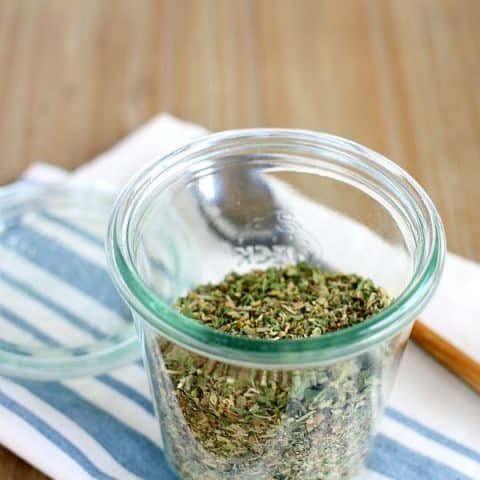 Italian Seasoning Recipe
A blend of spices to add to your favorite salads, dressings, poultry and more.
Ingredients
2 tablespoons Dried Parsley
2 tablespoons Dried Oregano
2 tablespoons Dried Basil
1 tablespoon Dried Thyme
1 tablespoon Dried Rosemary
2 teaspoons Garlic Powder
1 teaspoon Onion Powder
Instructions
Add all ingredients to a small bowl and mix well
Store in airtight container in cabinet or pantry for 4-6 months