Oatmeal Chocolate Chip Cookie Milkshake Freakshake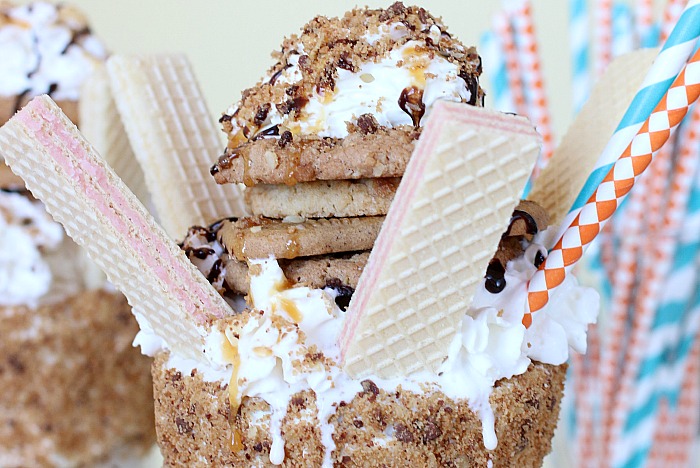 Did you know that Freakshakes are all the rage now? They are really fun to make too! This Oatmeal Chocolate Chip Cookie Milkshake Freakshake is fun for the whole family to create and enjoy together!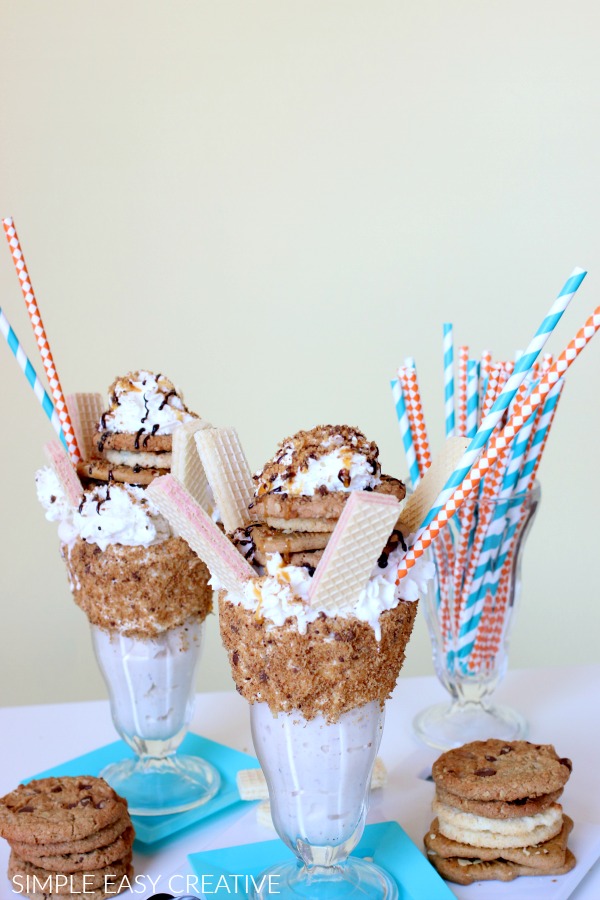 This recipe is brought to you by Voortman Bakery. As always, the opinions are my own.
Let's talk about these over-the-top, ultimate – Freakshakes! Wow!
First, have you heard of a freakshake? I have been seeing lots of different types of these ultimate shakes on social media, but I wasn't really sure what a Freakshake was.
Apparently the term "freakshakes" was born in Australia, where they are less of a milkshake and more like dessert. They can have a wide variety of "toppings" added to them like donuts, brownies, marshmallows, pretzels and much, much more!
The key though? The more outrageous, the more fun they are!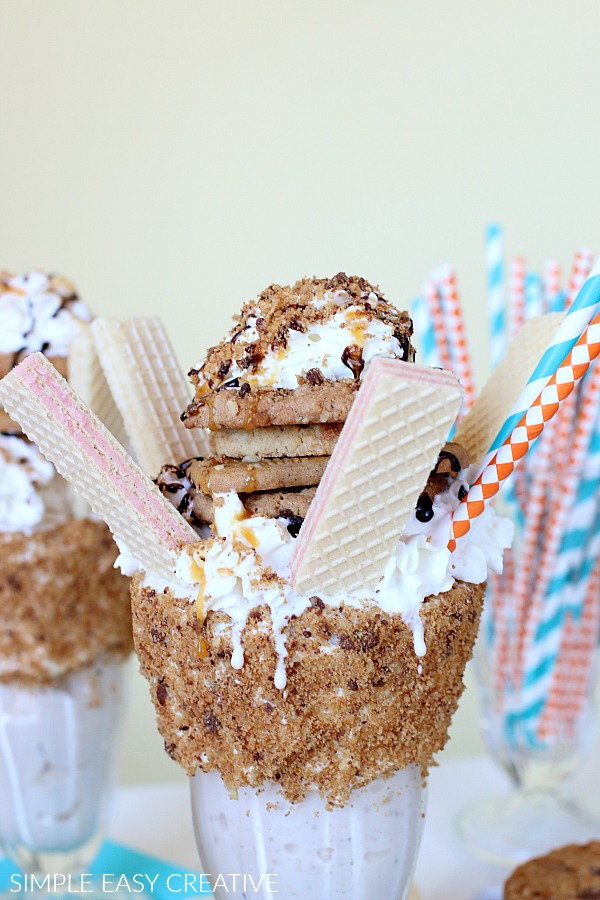 For this Freakshake, we decided to use cookies, but of course, we wanted it to be outrageous, so we used a variety of cookies from Voortman Bakery – Oatmeal Chocolate Chip, Windmill, Coconut and Wafers. Made with REAL ingredients, the bakers at Voortman Bakery believe in the art of baking, believe that cookies should taste delicious and are committed to giving their customers quality, flavor and simply better cookies.
I think the wafer cookies are my favorite! And Voortman Bakery has some new flavors that I'd love to try – S'mores, Blueberry and Cinnamon Bun! Yum!
Let's put this milkshake together –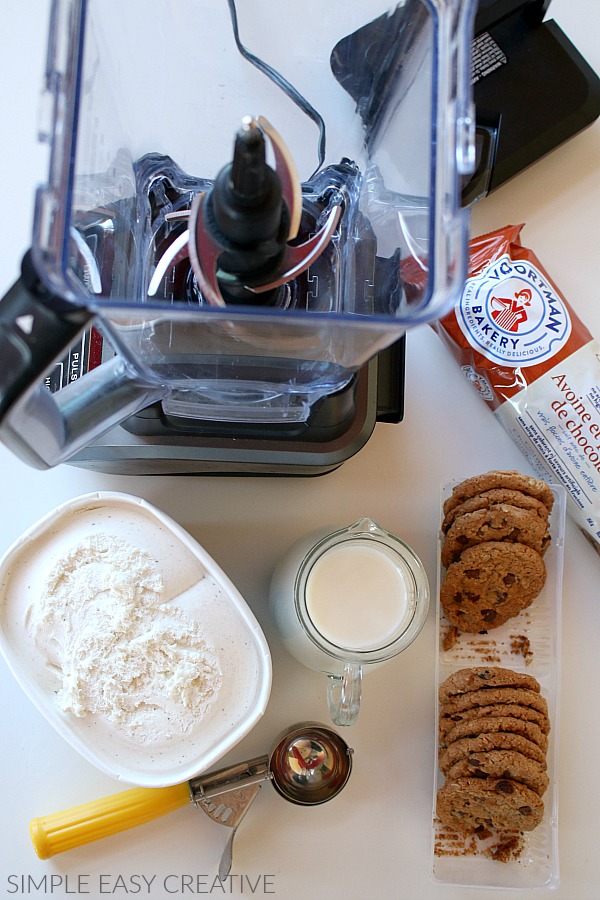 The ingredients are very simple – milk, ice cream and Voortman Bakery's Oatmeal Chocolate Chip Cookies. The amount that you need will depend on how many shakes you are making. For 2 milkshakes, we used 8 scoops of ice cream, about 1/2 cup milk and 6 cookies.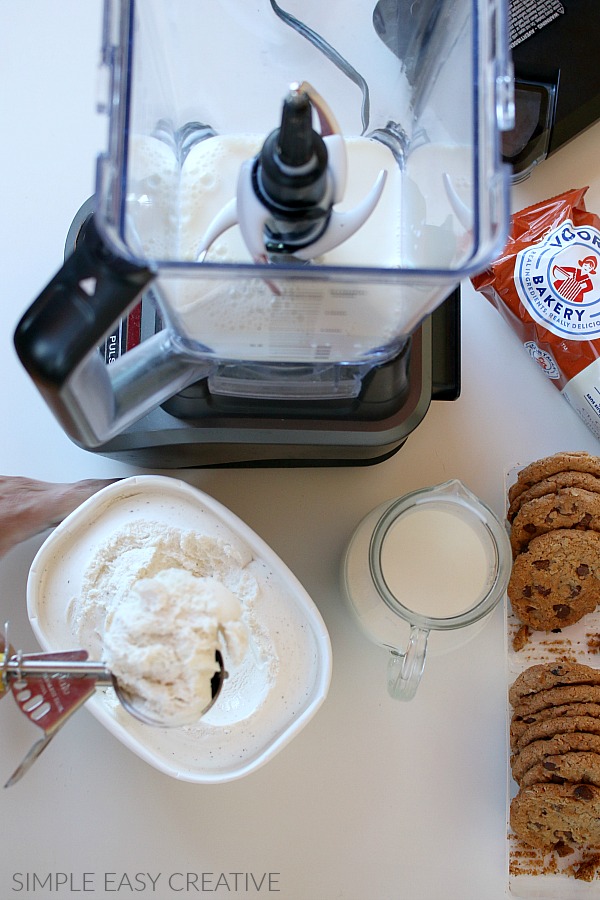 Whenever I blend a milkshake, I found it easiest to add the milk first. Then add the ice cream. This time we used vanilla bean, but you can easily use whatever flavor is your favorite.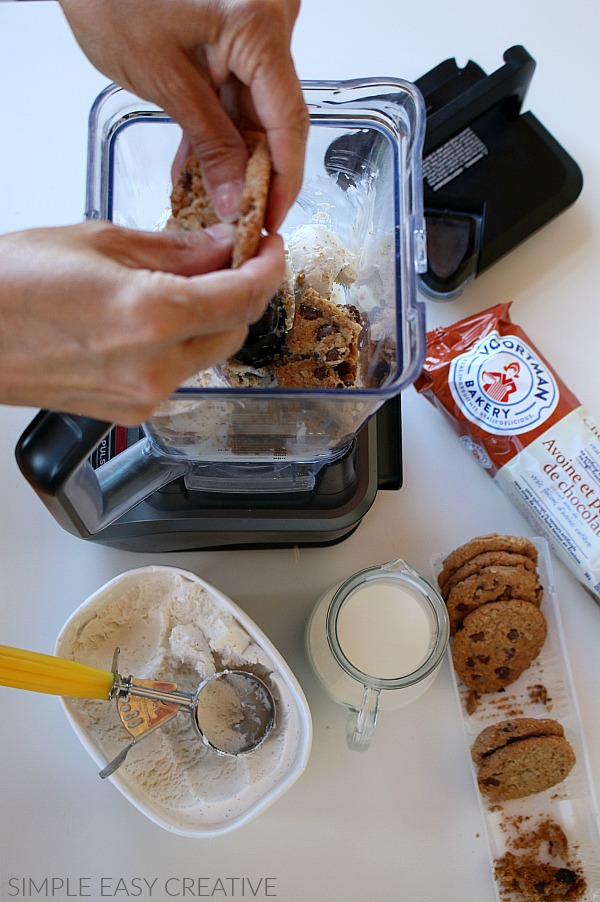 Now break up the cookies and add them to the blender. They don't need to be small pieces, let the blender do the work.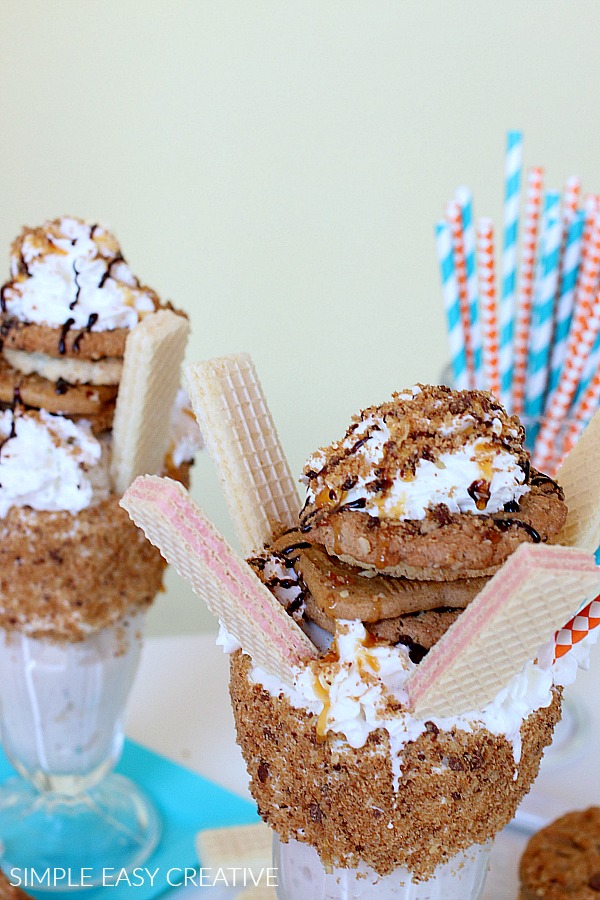 Let your creativity go when you make your Freakshake! Here are a few helpful ideas to get you started –
To rim the glass – I put the Oatmeal Chocolate Chip Cookies in the Food Processor. Then "frosted" the side of the glass with canned vanilla frosting, then rolled the glass in the cookie crumbs.
Then fill the glass almost full with the milkshake, leaving a little room at the top.
We added 2 small scoops of ice cream on top of the shake. You don't have to do this, but it was easy for the cookies to set on top of the ice cream. Bonus — it made the shake taste even better!
Then it's time to decorate! I added a stack of cookies from Voortman Bakery on top of the ice cream. Then I stuck the wafer cookies around the edges.
Fill in the open spots with whip cream, and add more on top of the cookies.
Drizzle with Hot Fudge and Caramel Ice Cream toppings.
Finish with a sprinkle of cookie crumbs.
And don't forget the straws and spoons.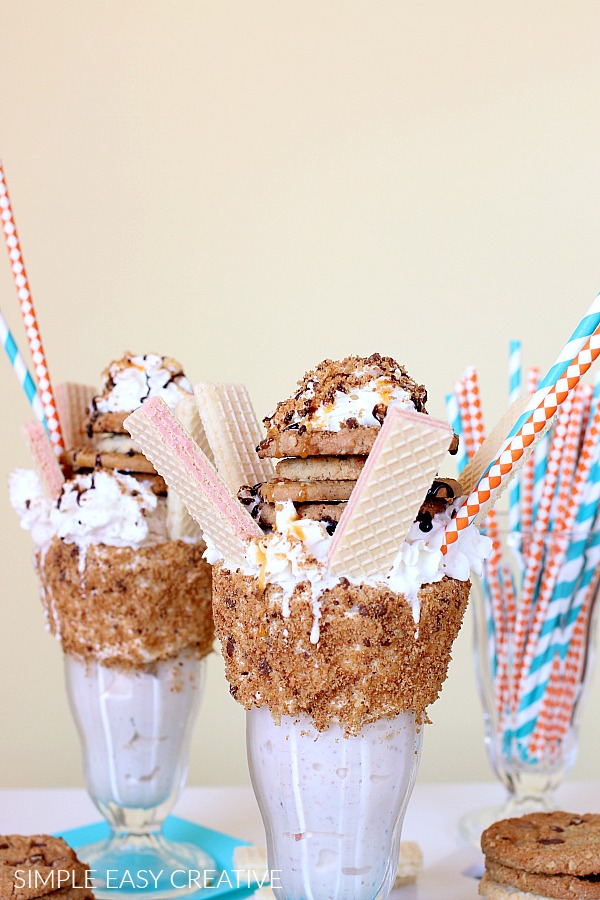 Summertime is the perfect time to enjoy a milkshake! But honestly, who doesn't love ice cream and cookies any time of the year!
What is your favorite flavor combination?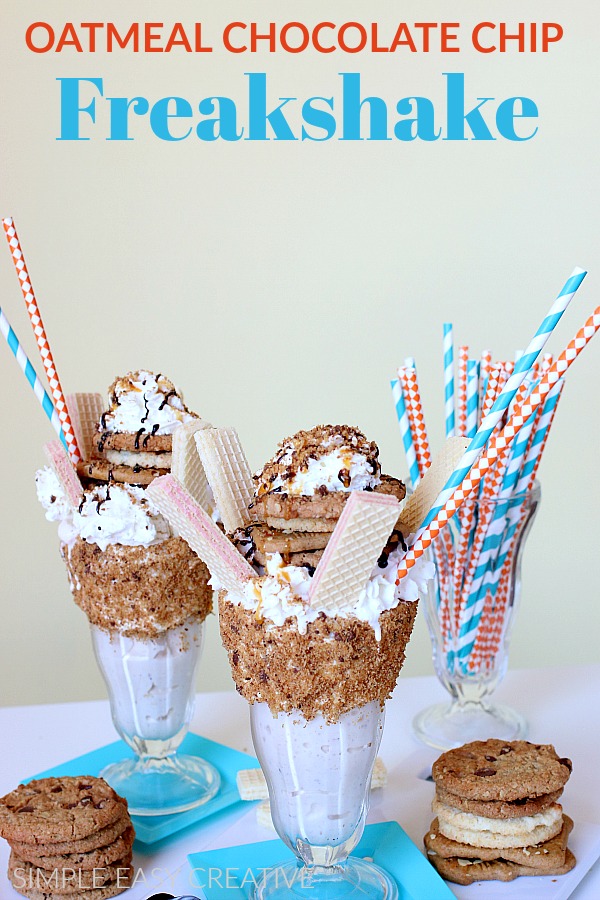 Visit Voortman Bakery for more cookies, and follow them on Instagram and Facebook.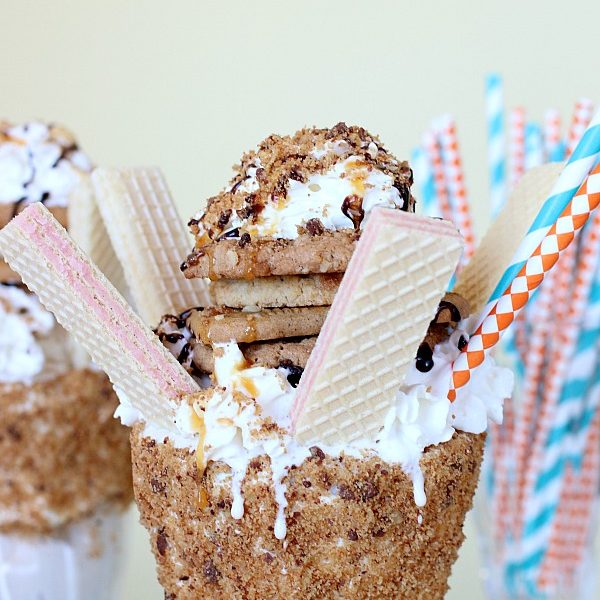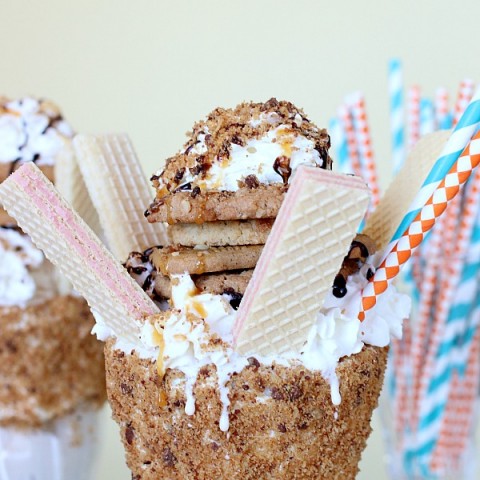 Oatmeal Chocolate Chip Cookie Milkshake Freakshake
This easy to make milkshake is over-the-top fun to eat!
Ingredients
8 scoops vanilla ice cream
1/2 cup milk
6 Oatmeal Chocolate Chip Cookies (or your favorite)
Instructions
Add all ingredients to a blender and blend until smooth
For Freakshake -
Crush cookies in food processor
Frost side of glass with canned vanilla frosting and roll glass in cookie crumbs
Add milkshake to glass
Stack cookies on top, and add wafers around the sides
Fill in holes with whip cream
Drizzle with Hot Fudge and Caramel Ice Cream Toppings
Sprinkle with more cookie crumbs