This Miniature Fairy Garden makes a great gift in a jar! Just a few supplies and in under 30 minutes and you have a gift that just about anyone will love. OR keep it for yourself!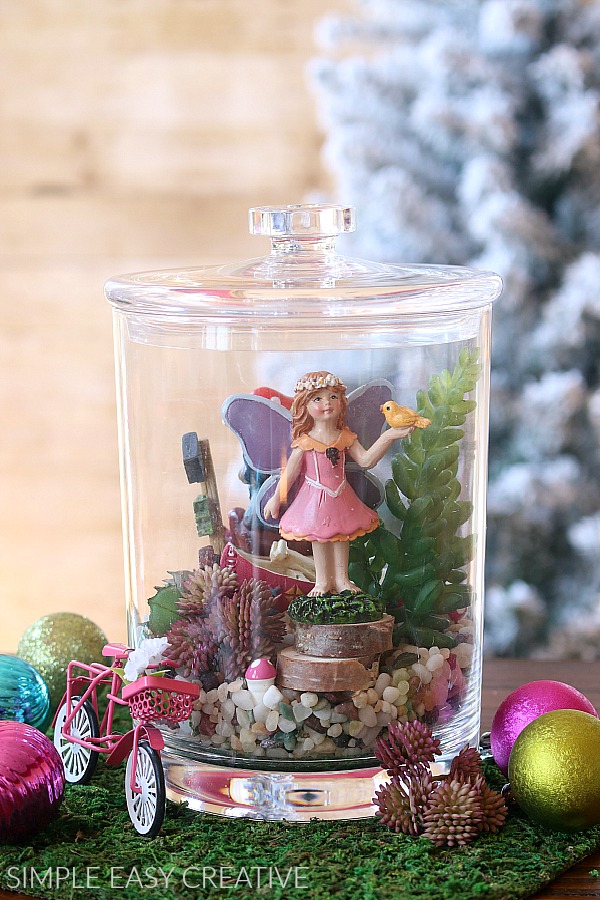 Fairy Gardens are all the rage now and they are super easy to put together! When I put together my first Fairy Garden, I instantly fell in love and knew right away they would make great gifts.
What is Fairy Gardening?
When you think about it, fairy gardening is simply gardening in miniature. You are building a garden that a fairy might like to live in. They are great for the entire family to work together on and since we are using fairy garden supplies that you can find at almost any craft store this makes for a great winter craft project.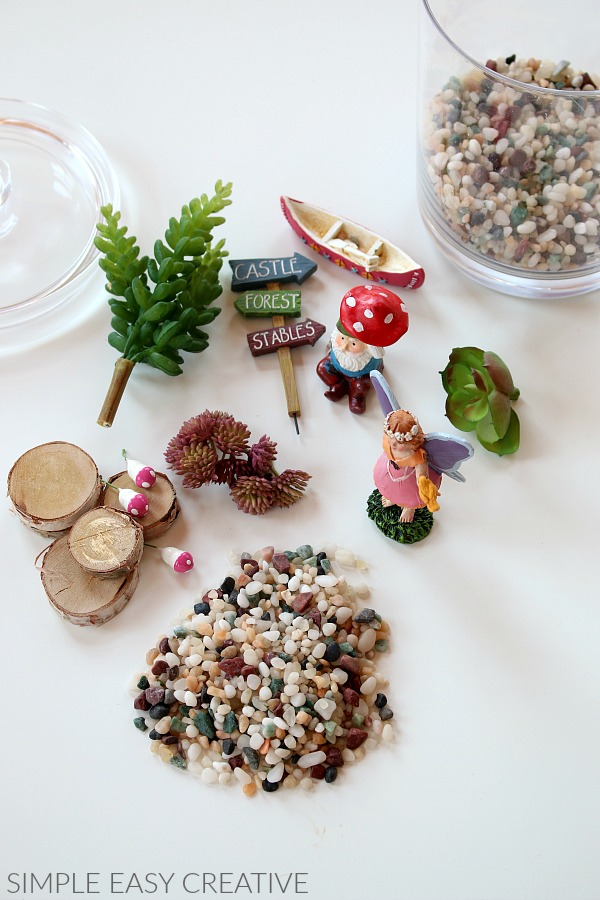 The Fairy Garden supplies are easy to find and come in a wide variety. I used a few of the supplies that I had left from the Fairy Garden I made and then added a few more. The size of your jar will determine the supplies you will need. This jar is medium in size – 5 inches in diameter and 6.5 inches tall –  and you can see it didn't take very many supplies.
There are two options when you are giving this Fairy Garden in a jar as a gift – you can go ahead and put together the Fairy Garden and give it already made, or you can fill the jar and give the supplies for the person you are giving it to, so they can make their own Miniature Fairy Garden. Either way, I think it's a super cute mason jar gift idea!
Fairy Garden Supplies and Accessories
Jar – any size or shape will work, I found that one with a larger opening was easier to work with
Fairies or other figures
Decorate filler stones
Artificial plants
Slices of wood
Moss sheets
I found all of these supplies at Michaels. You can also find them online or at other hobby or craft stores.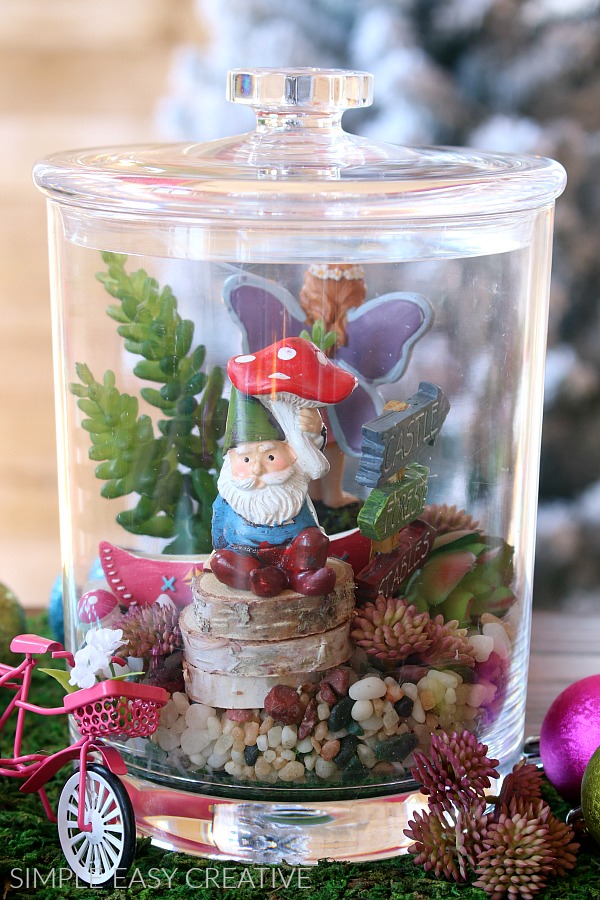 After you have chosen the accessories to add to your Fairy Garden, begin by adding the stones, then the larger items. The gnome and fairy are sitting on top of the wood slices to give them height.
Then it's time to fill in the rest of the jar with the plants and smaller accessories.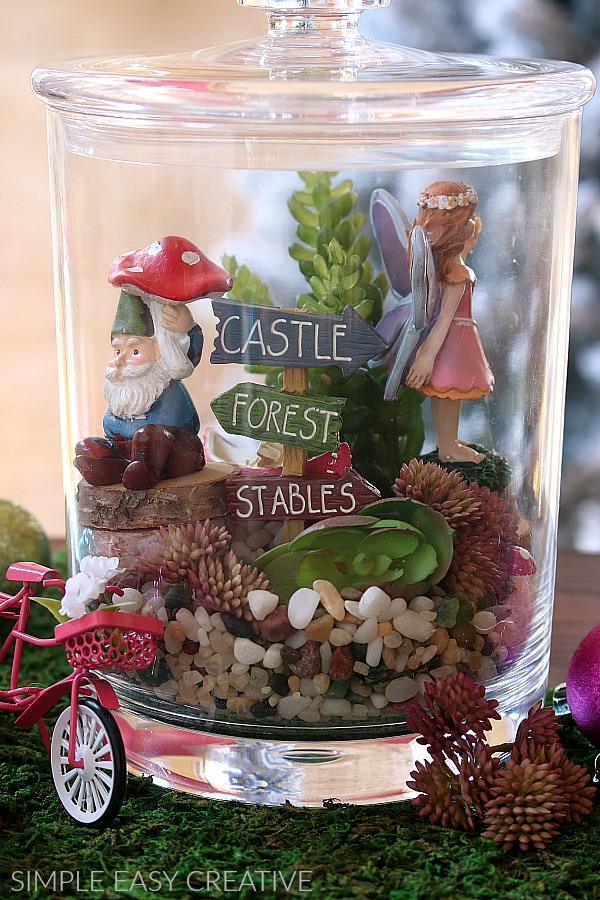 The step-by-step process is really easy and fun! The kids will love to help put these Miniature Fairy Gardens together too! It's a great way for the kids to use their imaginations and explore what a world where they would be a giant might look like!
They make a great gift for teachers, neighbors, friends and more! And for any occasion – birthday, Mother's Day, Christmas, Welcome to the Neighborhood, Just Because I Love You – really, any occasion!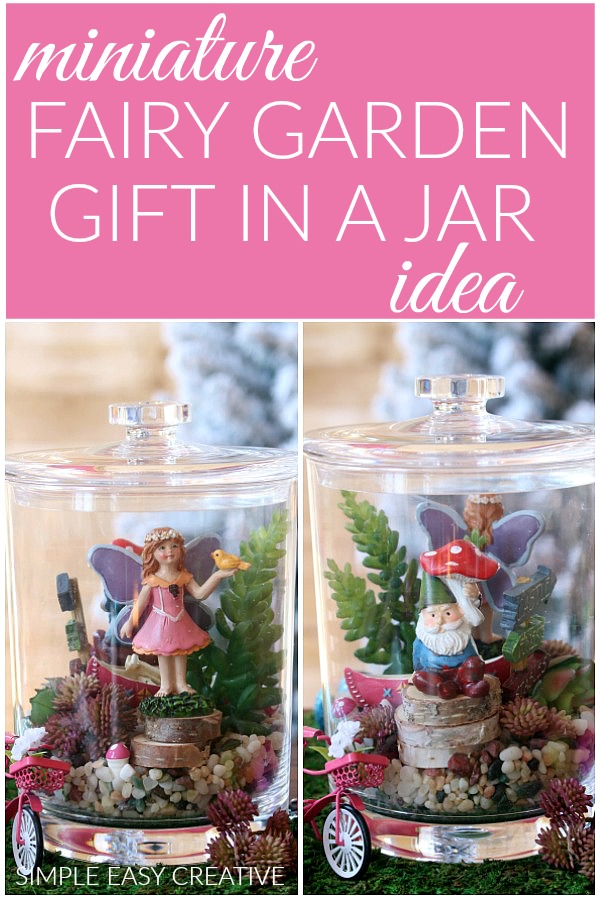 Looking for more EASY Gift Ideas? You may like these –
Click on the photo to see them