I don't know about you, but buying gifts for men is difficult. Especially when they don't offer you suggestions of what they would like to have. One way I have found to make it a little easier is to tap into what they love, whether they are gardeners, movie watchers or avid sports fans. This Sports Themed Gift Bucket is sure to please the Baseball Lover in your life!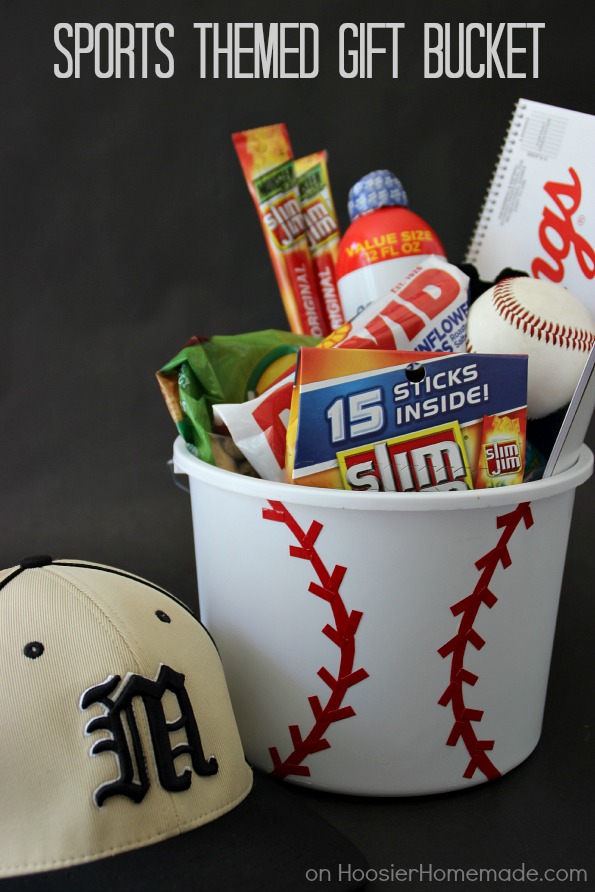 This Baseball Gift Bucket is a combination of two of our popular projects – the Love Bucket and the Baseball Bucket Gift Card Holder.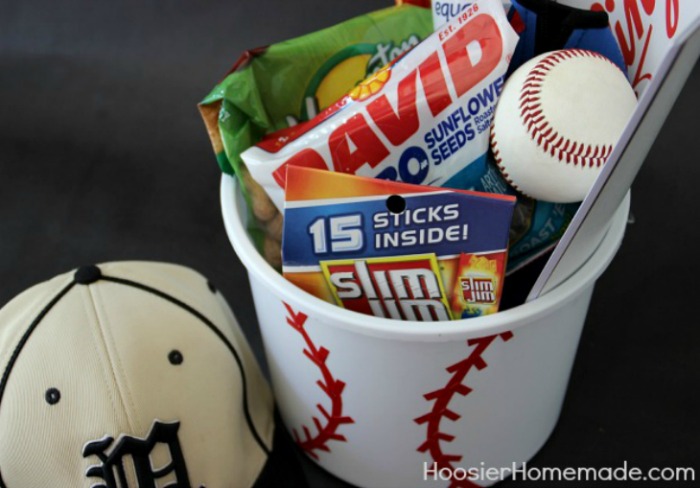 Because we are a Baseball loving family, this Gift Bucket makes the perfect Father's Day Gift. But you could also use it for a Birthday gift for a boy, or even as a gift for the Baseball Coach. As Nick finished each baseball season, I would either add money to the hat to purchase a gift for the coach or give him something from us. Baseball Coaches often put it many hours and just volunteer their time.
The ideas are endless for these types of Gift Buckets – Football or Basketball Bucket, Movie Lover's Bucket, Gardener's Bucket and more!
Let's get started…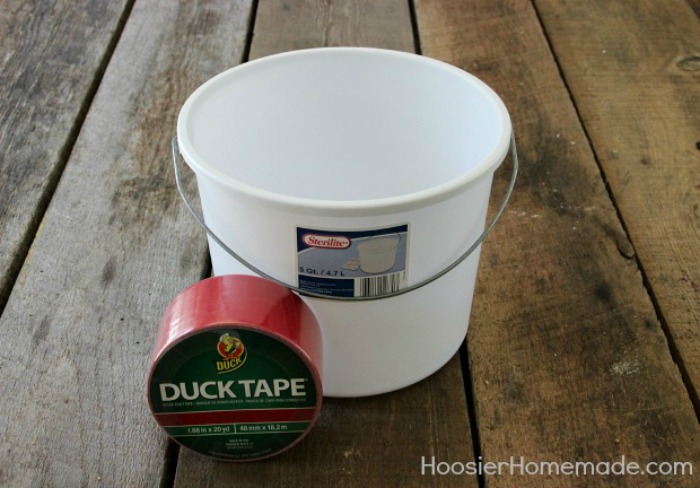 All you need to make the Baseball Bucket is a white pail, we used a Sterilite Plastic 5 quart size and Red Duck Tape.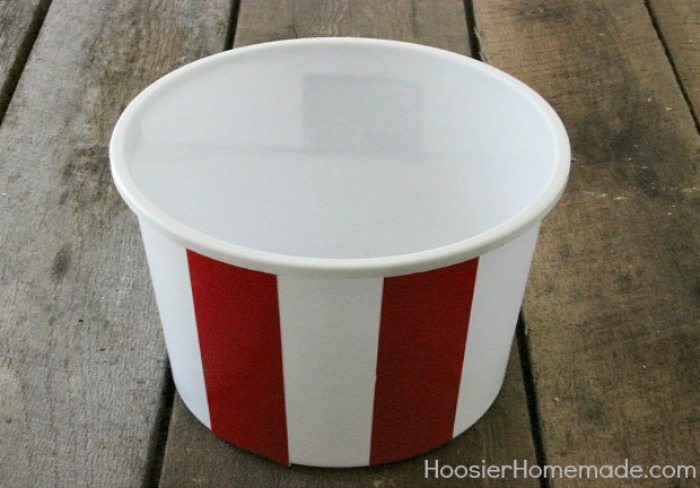 Position 2 strips of Duck Tape vertically on the bucket, approximately 1 3/4 inch apart.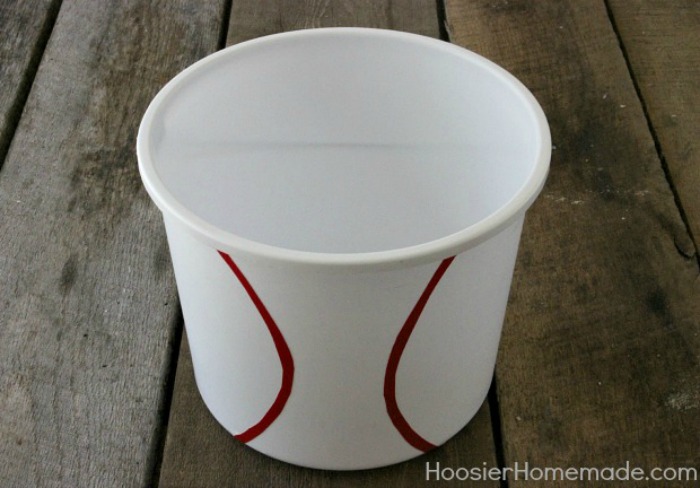 Using an X-ACTO Knife, mark an inward arc on the pieces of Duck Tape approximately 1/4 inch wide and cut along the arc and remove excess tape.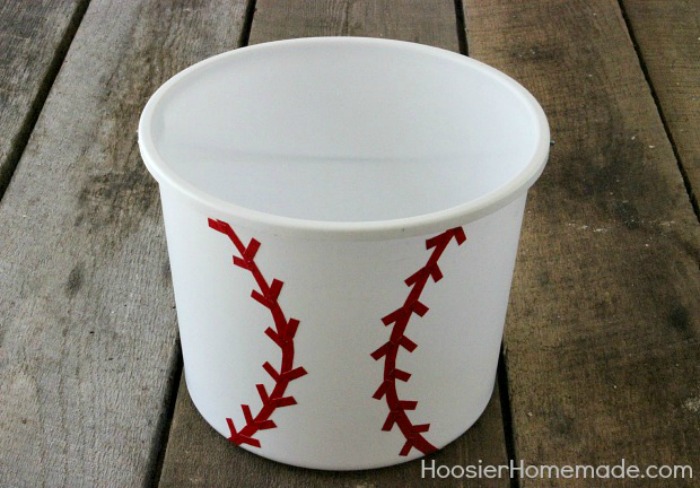 Cut small strips approximately 1/2 centimeter by 1 1/2 centimeters of Duck Tape and add it for the strings on the baseball.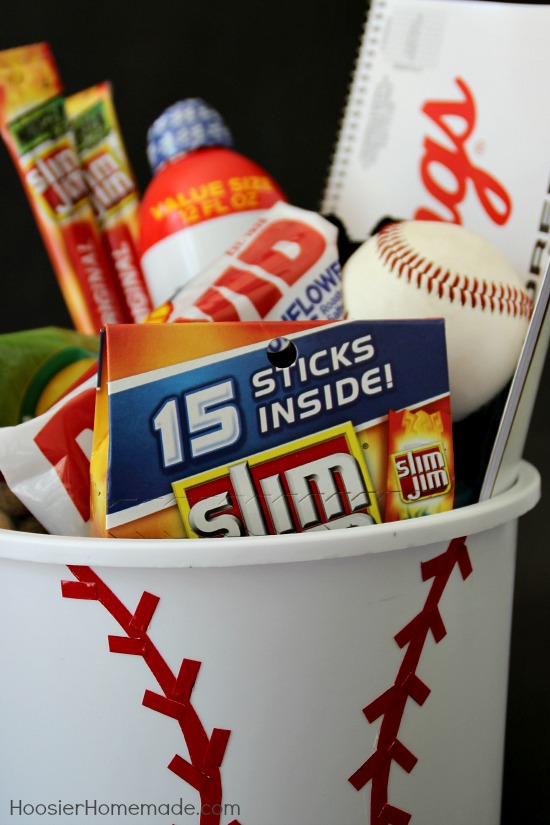 Now it's time to fill the Gift Bucket, we used…
Sunscreen – for those sunny days at the Baseball Park
Peanuts
Sunflower Seeds
Beef Sticks
Koozie – for a cold drink
Baseball
Hat – from their favorite team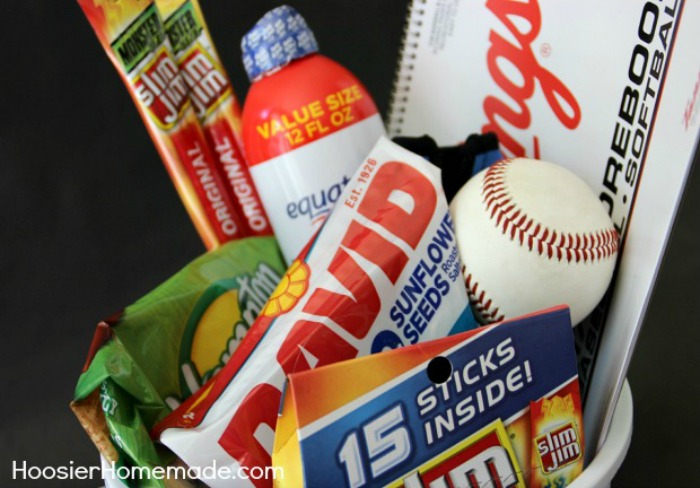 Have fun! Fill a bucket for that special man in your life!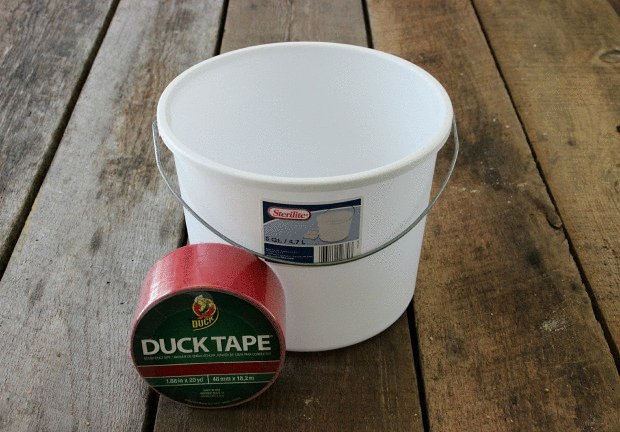 What will you be getting Dad for Father's Day?