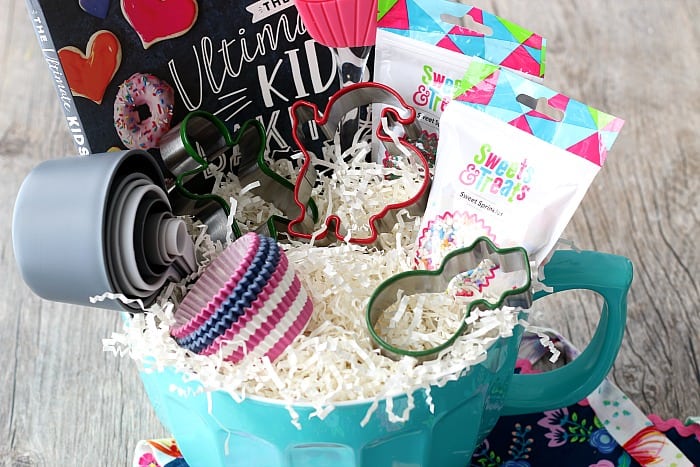 Do you have an aspiring little baker in your life? This Kids' Baking Gift Basket is super easy to put together and your little baker will love it!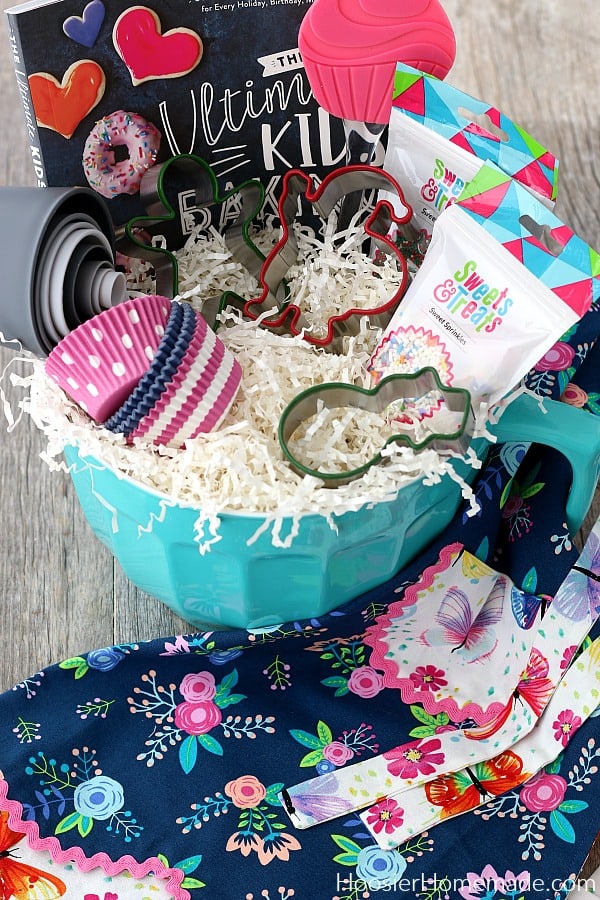 Welcome to Day 58 of the 100 Days of Homemade Holiday Inspiration! Each day we will be inspiring you with recipes, decorating ideas, crafts, homemade gift ideas and much more!
Putting together this Kids' Baking Gift Basket is fun and it goes together in minutes. Here is what I used –
Kids' Baking Gift Basket
Supplies
Container or Basket – I used a large mixing bowl
Tissue paper and/or shredded paper for filler
Child's Apron – Angie from My Little Arrows is a central Indiana artist. She offers products that are unique like popsicle holders, playing card holders, busy bags, and seashell bags. AND the most adorable aprons you will find. You can find this floral apron along with many other designs in her shop.
Baking Book – fellow blogger Tiffany from Peanut Blossom recently published this adorable Kids Baking Book. It has different sections in the book including baking school, party themes like spring, summer, fall and winter, plus party tips.
Sprinkles – kids (and adults) love sprinkles, so be sure to include a couple. You can find these sprinkles at Sweet & Treats.
Cupcake Liners – these are also from Sweet & Treats and the ONLY cupcake liners that I have found that do not fade when you bake them.
Baking tools – the pink cupcake spatula is from Hobby Lobby, measuring cups and cookie cutters are from Target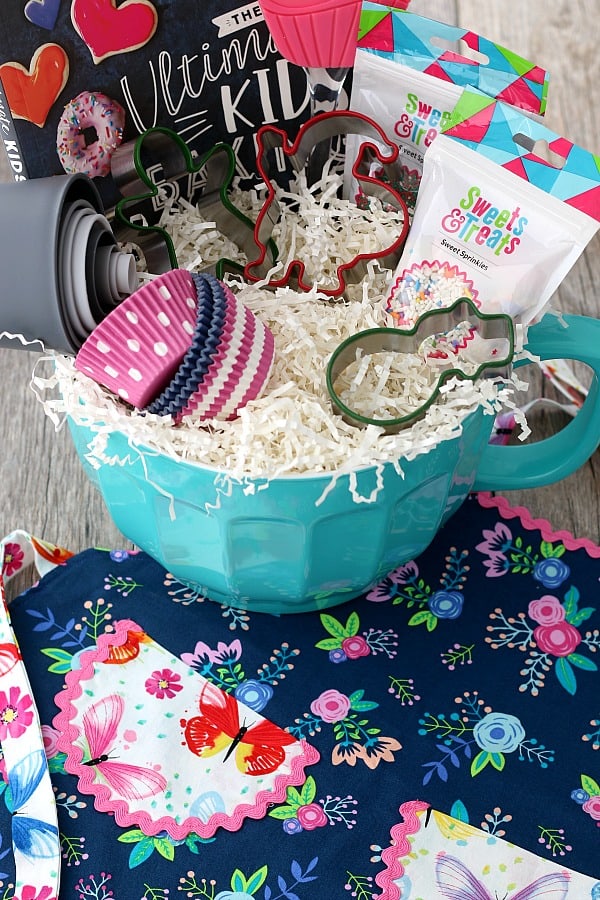 Here are some more ideas for Kids' Gift Baskets –
Arts and Craft Creative Box
Games – depending on their age
Book Lovers Basket
Animal Lover – add tickets or season pass to the zoo
Movie Themed Basket – don't forget the popcorn and snacks
Follow along with the 100 Days of Homemade Holiday Inspiration for more simple recipes, easy crafts, homemade gift ideas, decorating tips and much more!