Keeping our garage organized is one of those things that we struggle with. It takes a good system and a good plan. The tools, toys, bikes, and supplies can quickly become overwhelming. Let me show you How to Organize Your Garage in 5 Simple Steps.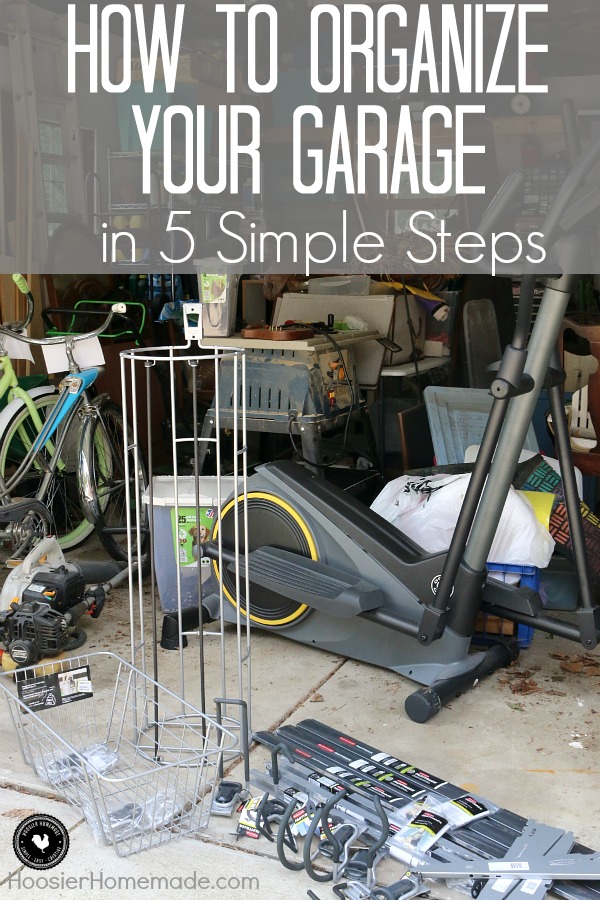 A couple years back, we cleaned out the garage, put up dry wall and painted, then organized it. While that was awesome for a little while, the trouble was, we really didn't have a plan to keep everything organized. Part of the tools and toys were in a special spot, but we didn't have the perfect spot or organizing tool to keep them straight and clean. And well, as it often happens – life gets in the way.
One of my biggest goals this year was to simplify our lives and our home. Little by little we have been achieving both, from working on my morning routine to organizing the craft supplies that had taken over the studio and basement areas.
So as we have made our way through the house, and organized, that left us with bags and boxes full of things that we wanted to sell in a garage sale. And you guessed it, they all ended up in the garage on top of the already unorganized chaos.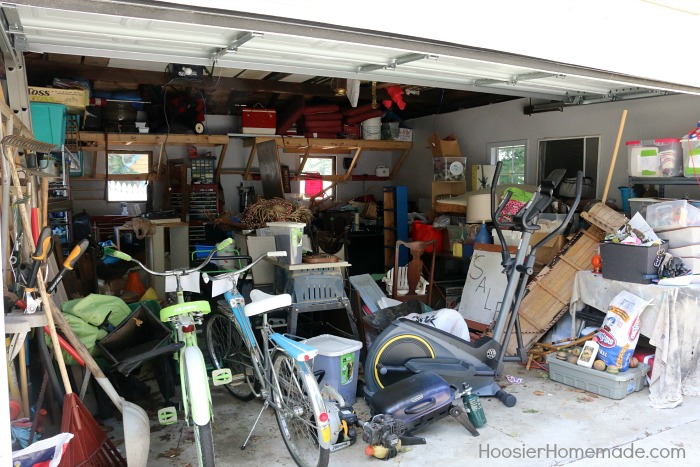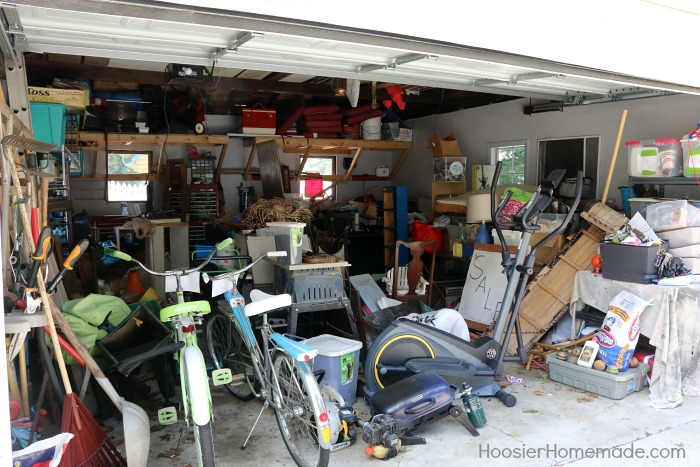 It has gotten to be so bad that Doug has absolutely no room to work in the garage on projects. We decided it was time to tackle the garage once and for all.
Over the next couple weeks, we are going to take you through our process on how to organize your garage. Doug and I have had our eye on the Rubbermaid FastTrack system for a couple years. So we were super excited to use their products for garage organization.
I first became familiar with the Rubbermaid FastTrack Garage Organizing System when I was in Arizona helping with The Home Depot Celebration of Service. I saw how easy it was to install and how everything had a spot so the garage would stay organized.
How to Organize Your Garage in 5 Simple Steps
Step 1 – Planning 
Plan a time to go through your garage. This will definitely take some time, so plan ahead. Talk about the goal for the garage, do you want it to have a specific spot to work on projects, or is it a space to store extra household items? Or maybe you are like us and just need it organized so you can have a spot for everything, so you don't have to hunt for things when you need them.
Have a goal and get the kids involved. Cleaning out and organizing the garage is a chore that is not really too fun, but you can certainly make it that way – turn on some music, take the kids out to eat or to get ice cream at the end of the day, or even plan a garage sale to earn some extra cash with the items you are purging.
Step 2 – Clearing
Clear out the mess, but don't just grab and toss. Have a plan. We like separating into zones. Have a spot for outdoor tools like rakes and shovels, indoor tools like hammers and screwdrivers, and if you have children, have a zone for the kid's toys.
Step 3 – Purging
Now it's time to start purging some of your things. Do you really need 5 hammers? Do you really need 15 basketballs? Believe me, we know. Sometimes I look at our home and wonder how in the world did we accumulate all this stuff.
Like I said in Step 1, if you have a goal of earning some extra cash from selling your things, clearing out and organizing the garage doesn't seem too bad.
Step 4 – Evaluating
After the zones and piles have all been gone through and separated into items to keep and get rid of, now it's time to figure out exactly what you need and determine how you are going to organize your garage.
The Rubbermaid FastTrack System has rails and accessories that help you store 10 times the amount by using the space between the studs. When you have determined exactly what you need and how to want to organize, I suggest heading to The Home Depot. They have everything you need to get started with the Rubbermaid FastTrack Garage Organization System.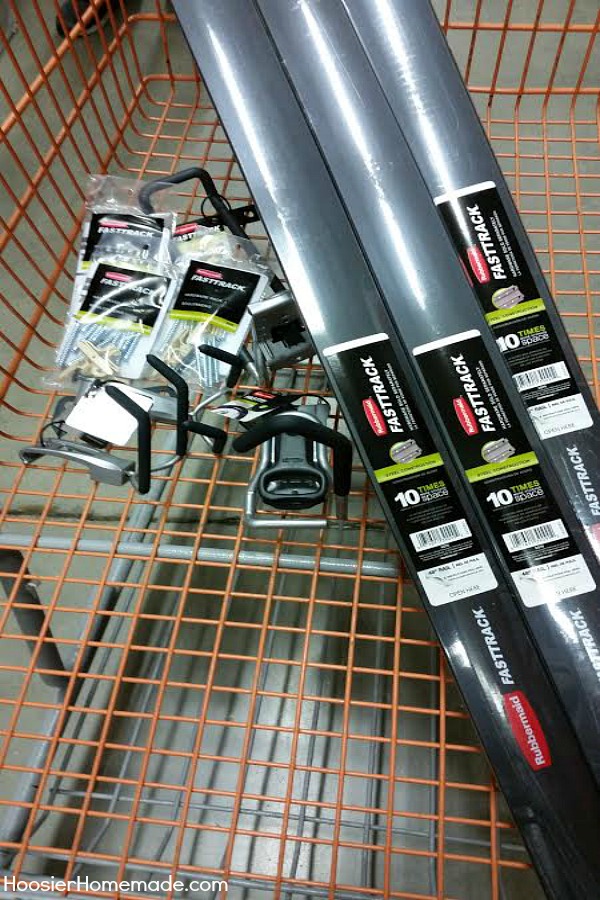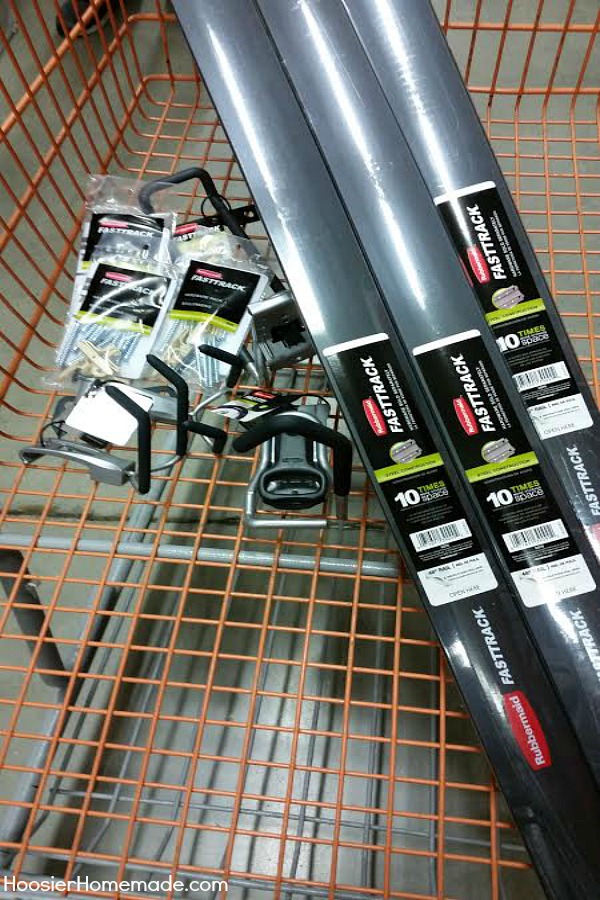 Step 5 – Organizing
Now it's time for all the work of clearing and cleaning to pay off. It's time to organize your garage, and keep it that way, once and for all.
After everything has a spot, be sure to take the family on a tour. I can't tell you how many times that I "think" the boys know where something is, and then I'm told "you never told me where you put it." It seems pretty oblivious, but if you don't tell them they need to put things back where they found it, the kids, husbands, and yes we will eventually get in a hurry and just stick it anywhere.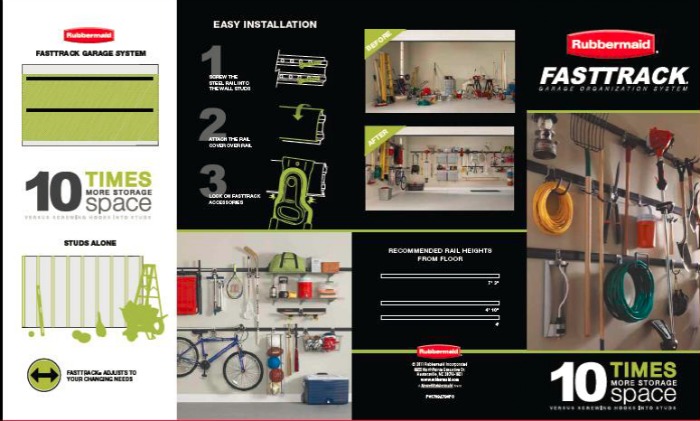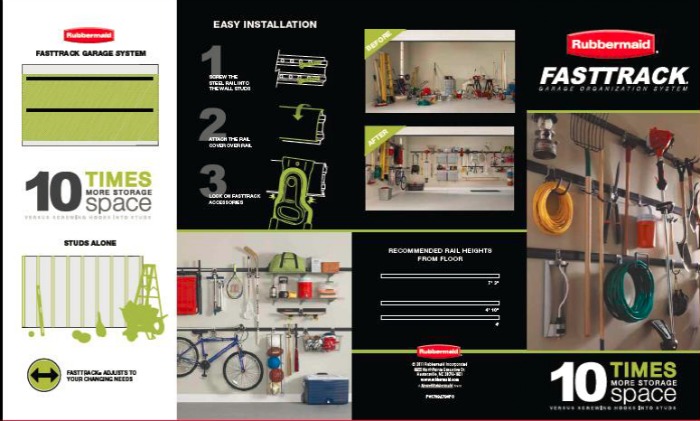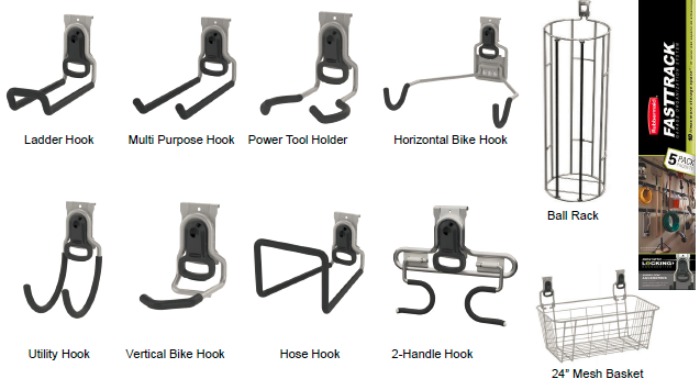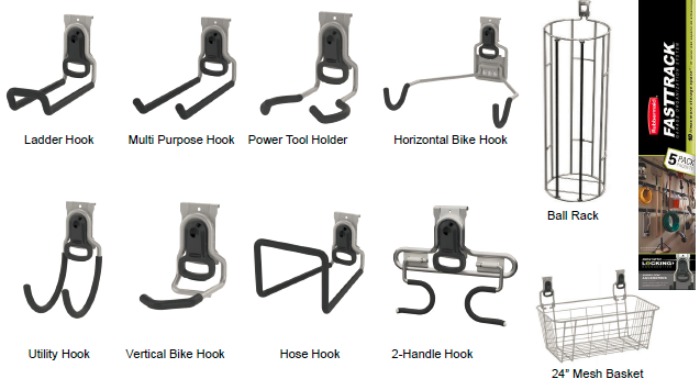 Keep it this way! This is HUGE for us, and I bet you too. You spend hours and hours on organizing the house, and then a month or two later, it's right back where it was. Something that I have been doing lately that is so simple, but makes a big difference is the ONE minute rule.
If it can be done in ONE minute – Do it!
Don't just set down the box of cereal on the counter, when it takes one minute (or less) to put it away in the pantry.
Don't just toss the ball into the garage, when it takes one minute (or less) to put it away in the ball rack.
Stay tuned over the next couple of weeks while we share with you how we organize our garage and share with you how to organize your garage too!
Fast, easy, fun. The FastTrack Garage Organization System is easy to install and allows you to store more by making use of your entire wall…not just where the wall studs are located!  Visit your local Home Depot today!
This is a sponsored conversation written by me on behalf of RUBBERMAID®. The opinions and text are all mine.