Thick Porterhouse Pork Chops are stuffed with a flavorful combination of asparagus, onions and seasonings, and grilled to perfection. Wow your friends and family at your next cookout! Shh…don't tell them these Grilled Stuffed Pork Chops are super easy to make!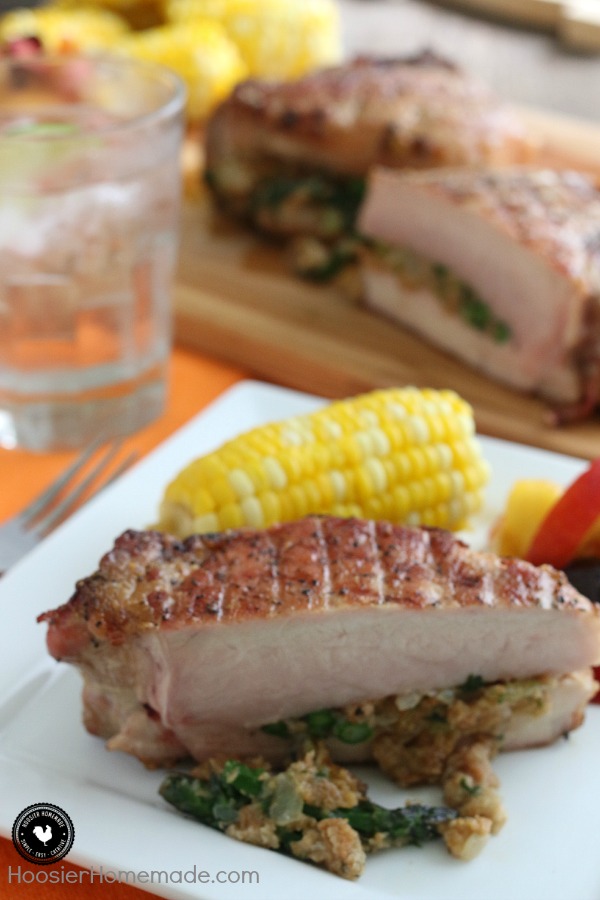 With grilling season upon us, you can never have enough great recipes to serve your family and friends. And let me tell you, these Stuffed Pork Chops need to be on your menu right away!
We have enjoyed pork chops on the grill many, many times, but honestly, I have never made a stuffed pork chop before. It was much easier than I thought, and the flavors are amazing!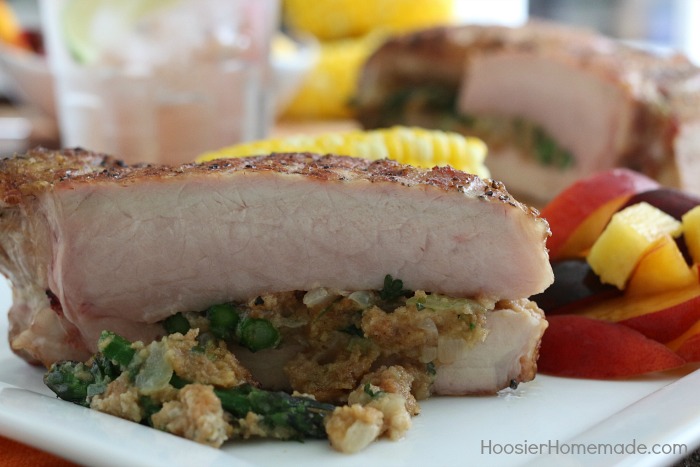 Inspired by the National Pork Board and their #grillpork campaign, we decided to head to the kitchen and transform our ordinary pork chops into something extraordinary.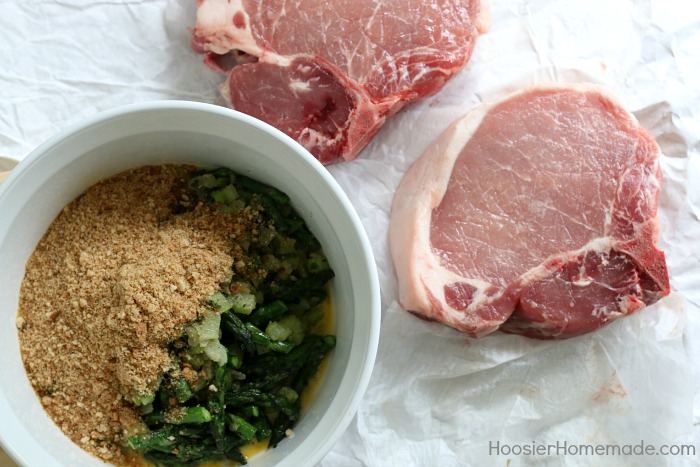 We began by preparing the stuffing on the stovetop. First we sauteed onions, asparagus, parsley, salt, pepper and garlic powder in butter until the vegetables were soft but not too far done. Then mixed them with breadcrumbs and an egg.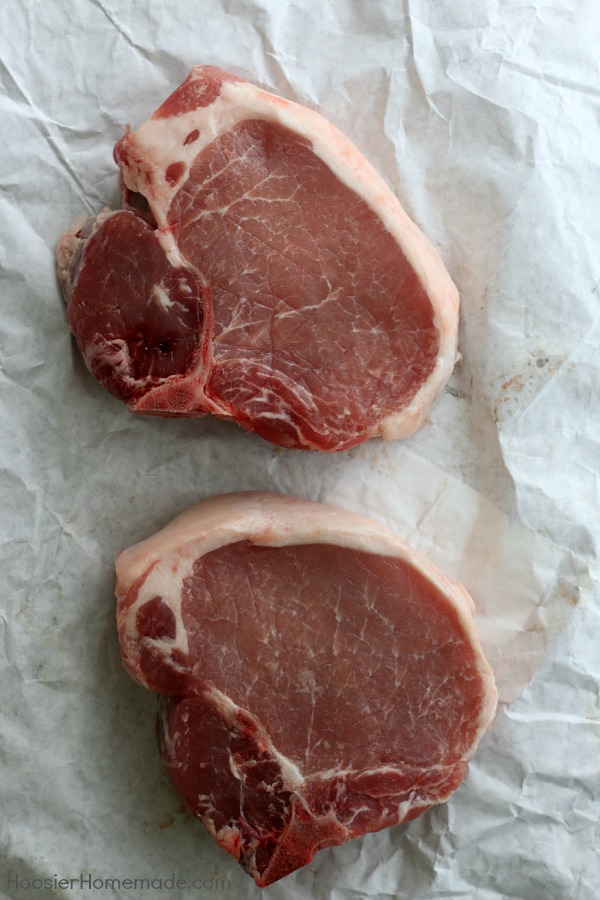 After the stuffing was ready, it was time to prepare the Pork Chops. We began we a nice, thick Porterhouse Pork Chops. A few years back, the National Pork Board renamed some of their pork chops because there was a misunderstanding that all pork chops were equal, and they aren't. When Doug bought the Porterhouse Pork Chops, he learned from the butcher that it gets it's name from the extra piece of loin much like the Porterhouse Steak.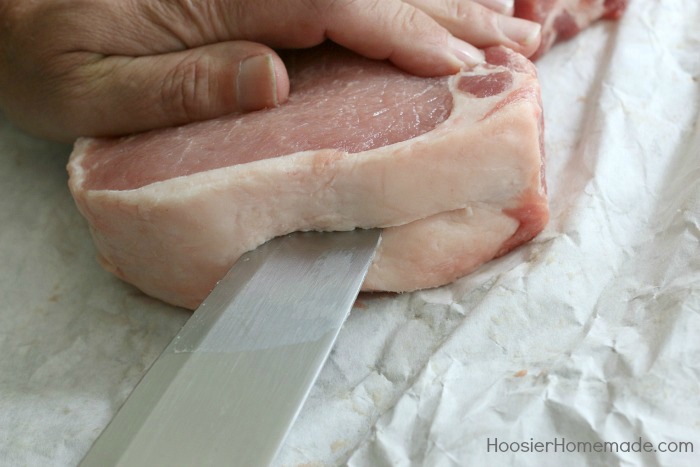 The Pork Chops we bought were 1 1/4 inches thick. To prepare the Pork Chops for the stuffing, Doug cut a slit in the pork chop down to the bone.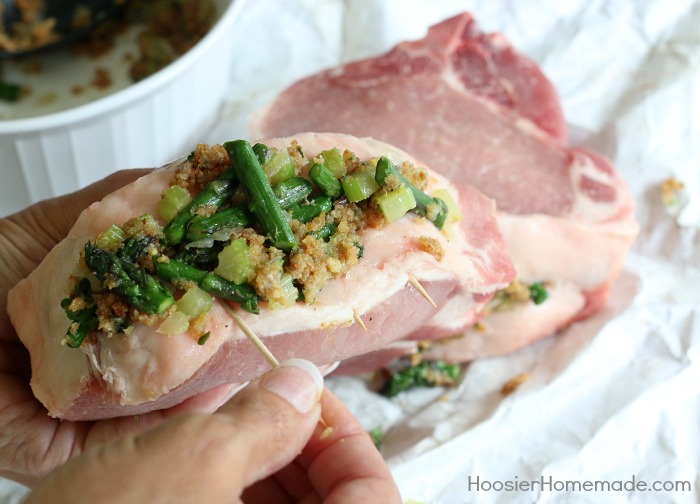 Then I filled the pork chop with stuffing and used toothpicks to hold it together.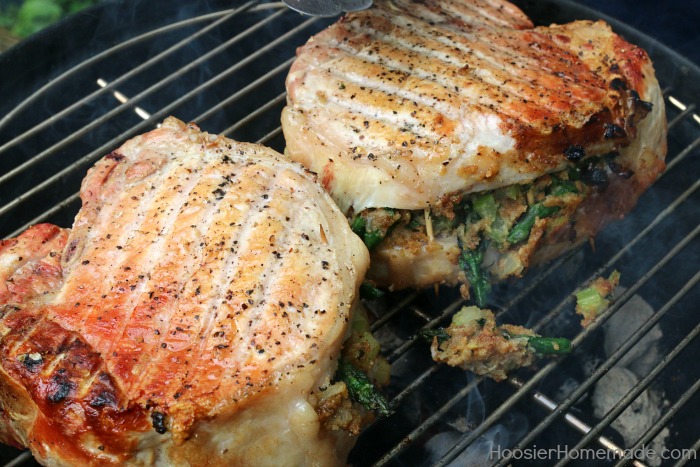 Doug grilled the stuffed pork chops over medium heat, turning several times.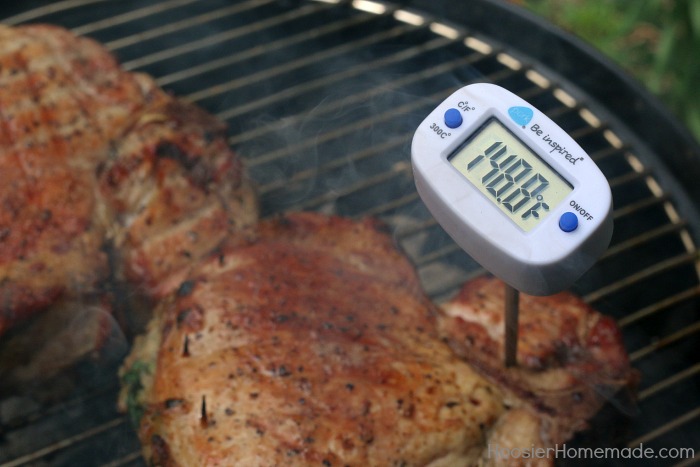 The best way to make sure your Pork Chops are done to perfection is to use a thermometer. The pork should be between 145 and 165 degrees depending on how you like your pork cooked, remembering that they will continue cooking while they are resting.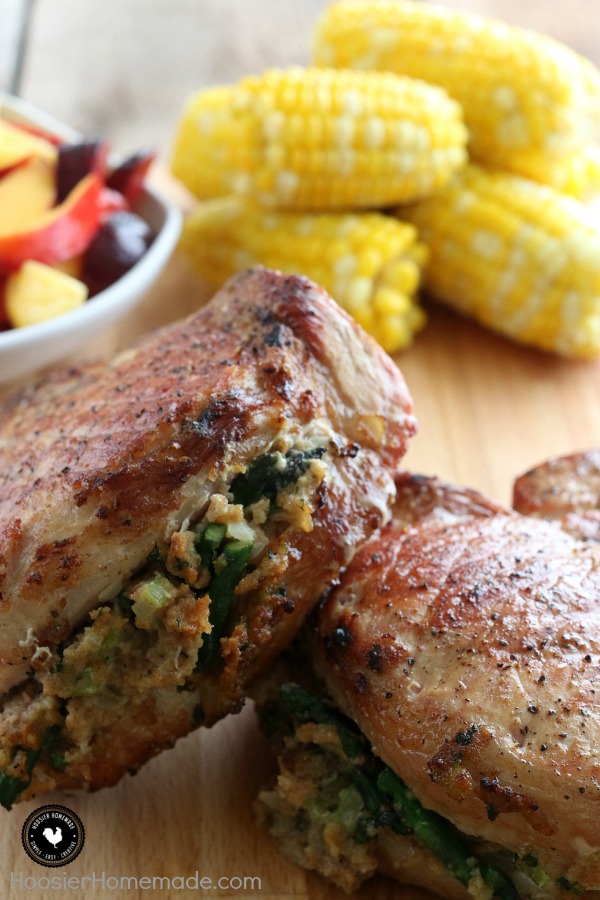 Even with our teenage boys eating, the two Grilled Stuffed Pork Chops were enough for the four of us. The boys loved them.
The Grill Crashers over at PorkBeInspired.com are changing the way you think about grilling with their flavor-filled grillfest. They have added saucy salsa to ribeye pork chops, a basil-garlic rub, wrapped bacon (who doesn't LOVE bacon?) around New York Pork Chops and more.
Whether you are grilling at home for family, or hosting a backyard barbecue for friends and neighbors, or maybe crashing the beach like Donald Faison did, surprise everyone with one of these flavorful pork chops.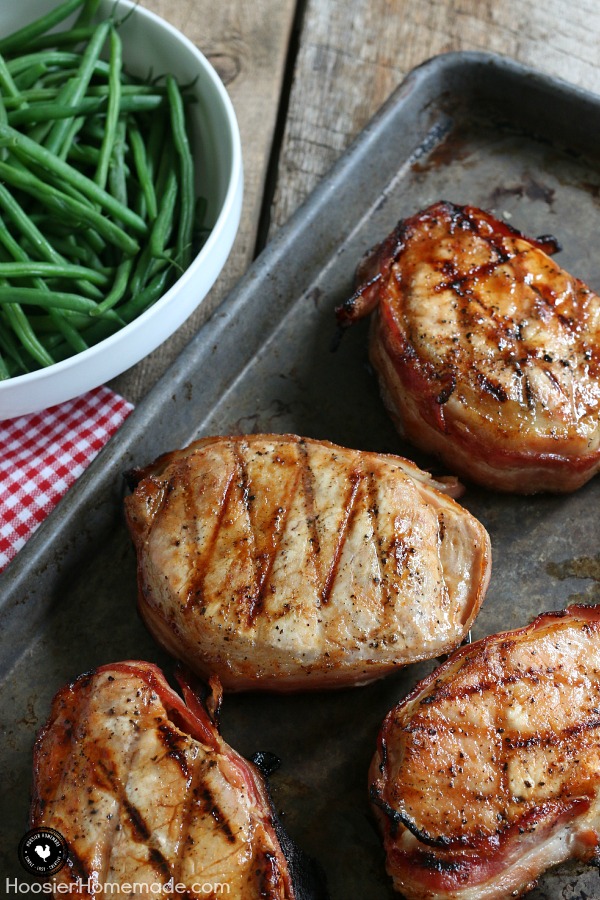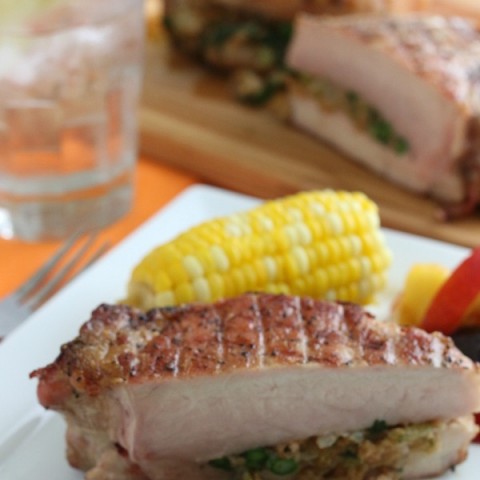 Grilled Stuffed Pork Chops
Thick Porterhouse Pork Chops are stuffed with a flavorful combination of asparagus, onions and seasonings, and grilled to perfection
Ingredients
2 Porterhouse Pork Chops - 1 to 1 1/2 inches thick is best
Stuffing
6 tablespoons butter
1 cup fresh asparagus tips
1 cup onion, finely chopped
2 tablespoons fresh parsley
Salt and Pepper to taste
1 teaspoon garlic powder
1/2 cup breadcrumbs
1 large egg, lightly beaten
Instructions
Melt butter in a large skillet, saute onions, asparagus, and parsley. Add salt, pepper and garlic powder and continue cooking until vegetables are tender, about 5 minutes.
Remove from heat, transfer to bowl, add breadcrumbs and egg. Mix well.
Cut a slit in the pork chops down to the bone.
Stuff pork chop and use toothpicks to secure
Heat grill to medium heat
Cook pork chops, turning several times until thermometer reads 145 to 165 degrees, depending on how done you like them
Remove from heat and let rest 5 to 10 minutes
Serve immediately