Homemade Chicken N' Noodles and our Menu Plan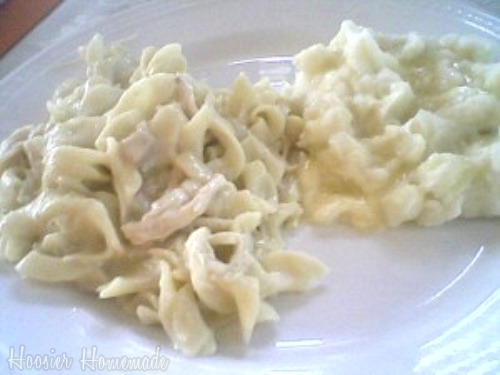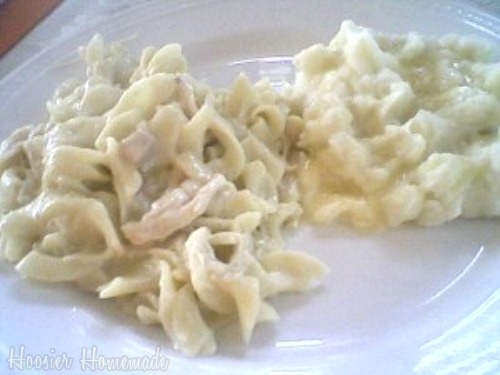 Homemade Chicken N' Noodles…an oldie but goodie!
I've shared this recipe before, it's been a long time though, in fact, May 2009! I think it's time to share again…don't you think?
I've made Chicken N' Noodles lots of different ways, but I always seem to keep coming back to this recipe. When you boil the chicken, it just adds so much more flavor to the Noodles.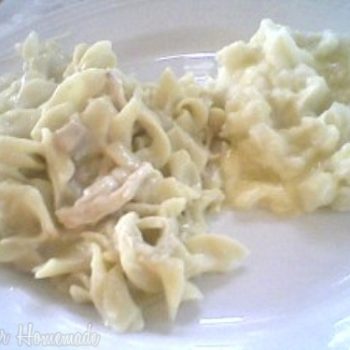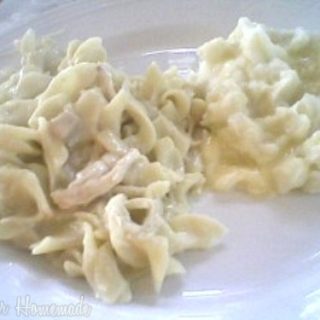 Homemade Chicken 'N' Noodles
Homemade Chicken 'N' Noodles recipe from HoosierHomemade.com
Ingredients
1 whole chicken (I buy mine at Aldi's, usually around $4)
Onions, celery and carrots, chopped roughly
Salt, Pepper, Parsely flakes (any other seasoning you like)
2 bags of wide noodles
2 cans Cream of Chicken Soup
1 can of milk
Instructions
Place chicken in a very large pot with vegetables and cover with water.
Add seasonings.
Bring to boil, and allow to boil for about 30 minutes, then turn to low and cook for 2-3 more hours. This will make a really great stock, that you will use to cook the noodles.
Drain chicken, saving stock. You don't need the veggies, they are just for flavor.
Cook noodles in stock, drain, save stock.
While the noodles are cooking you can de-bone the chicken.
Add soup and milk to the noodles.
Stir in chicken pieces. You may need to add a little stock to the Chicken N' Noodles, if they are too dry.
Serve with Mashed Potatoes, a Veggie and some rolls for a perfect hearty meal that your family is sure to love!
Our Weekly Menu Plan:
25 ~ Chicken N' Noodles, Mashed Potatoes, Corn
26 ~ Tuna Casserole
27 ~ Beef & Bean Chimichangas ($5 Dinners recipe) and Salad
28 ~ Italian Dunkers, Soup
29 ~ Sloppy Joes and Oven Fries
30 ~ Halloween Party
31 ~ Trick or Treat Night – Leftovers from Party
I'm linking to…Eat at Home